Ed.'s note:
The
Senior Executive Service
(SES) is a position classification in the civil service of the United States federal government, equivalent to general officer or flag officer ranks in the U.S. Armed Forces. It was created in 1979 when the Civil Service Reform Act of 1978 went into effect under President Jimmy Carter. SES was formed based on the UK's privatization of civil service under Margaret Thatcher.
Thatcher's doctrine in
line with neo-liberalism, was centered on competition
and this was then followed in the US with the creation of the SES which is a quasi government corporation. SES employees have huge incomes (GS-15 Step 1 employees come in around $126,148 for 2018), full employment benefits, pensions (pensions can be huge perhaps even $80,000 a year), perks, status and rewards as SES career employees. Under the Thatcher privatization neoliberal regime if you were
opposed to the privatization of government agencies
you were black listed. The same can probably be said in the US when whistle blowers come forward with their experiences working in the corrupt D.C. SES cockroach-infested swamp.
Virginia is residence to most of the D.C. swamp - Senior Executive Service (more of a paramilitary organization) operatives who use their big fat government SES salaries and bonuses to live lavishly in the suburbs of Virginia, just outside of their offices in D.C. When Donald Trump signed the
Combating Bureaucratic Abuse and Holding Federal Agencies Accountable
executive order for more bureaucratic accountability, the SES deeply embedded 8,000 or so career SES operatives probably immediately felt threatened.
As we observe closely what is happening in the state of Virginia concerning gun control, are the SES roaches and rats getting nervous that
patriots know who they are
, where they work and live? Contact them and demand accountability and transparency. Geographically, they are so easy to find. All nested up in the D.C. corridors like in bunkers. The problem here is that there are probably very hard core leftists inside roughly 75 SES-controlled bureaucracies who have spent their entire SES careers building their own personal power bases and they will fight to the death to protect their power. This is a deeply embedded army of bureaucrats with privileges and access to power no other Americans have access to who act as a choke hold on the flow of information.
There are four basic types of SES appointments:
• Presidential Appointments with Senate Confirmation: There are 1,212 senior leaders, including the Cabinet secretaries and their deputies, the heads of most independent agencies and ambassadors, who must be confirmed by the Senate.

• Presidential Appointments without Senate Confirmation: There are 353 positions which make up much of the White House staff, although they are also scattered throughout many of the smaller federal agencies.

• Non-career Senior Executive Service: Members of the Senior Executive Service (SES) work in key positions just below the top presidential appointees, bridging the gap between the political leaders and the civil service throughout the federal government.

• Schedule C Appointments: There are 1,403 Schedule C appointees who serve in a confidential or policy role. They range from schedulers and confidential assistants to policy experts.
The underlying problem for Americans is that these Senior Executive Service employees in 2016 had 8,156 members who are appointees. It is alleged
Barack Obama who was in office for eight years "appointed over 7,000 of them to these key positions."
Most of these appointees
do not arise from inside the respective agencies through a merit system and often are not qualified
. It is hard to believe, and may leave a person outraged, witnessing the audacity of career government employees and the corruption of the systems politicians have put in place. Deep State cronyism built upon graft and obfuscation fills the Senior Executive Service.
________
Source:
Epoch Times
Democrats' Election Win in Virginia Yields Gun Registration Proposal
BY MATTHEW VADUM | 29 Comments | December 15, 2019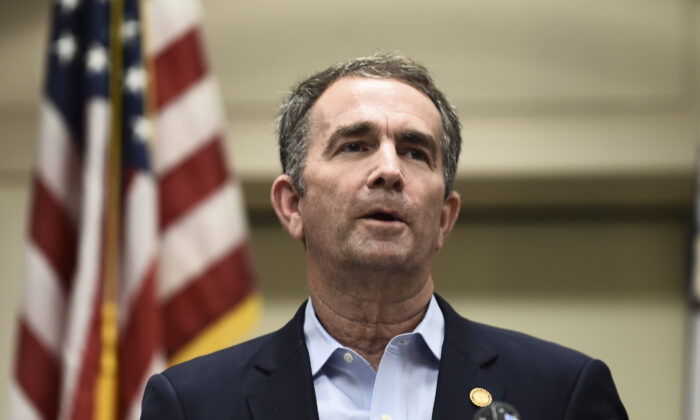 Virginia Governor Ralph Northam speaks to the press about a mass shooting in Virginia, Beach, Va., on June 1, 2019. (ERIC BARADAT/AFP via Getty Images)
Virginia
Democrats are proposing a mandatory state gun registration measure after widespread public outrage forced them to back off a more aggressive plan to confiscate so-called assault weapons, a designation that gun experts have long rejected as arbitrary.
Gun-control advocates call modern sporting rifles—such as the popular AR-15—assault weapons, likening them to weapons of war.
But Gov. Ralph Northam's plan still calls for a ban on assault weapons, albeit with a grandfather clause allowing those who already own such weapons to keep them, Northam spokeswoman Alena Yarmosky said in a statement,
The Daily Wire
reported on Dec. 12.
The grandfather clause will apply only if the owners register their weapons with the government "before the end of a designated grace period," Yarmosky said.
Northam issued what Cam Edwards of the pro-
Second Amendment
website Bearing Arms characterized as a "veiled threat" to use force against political subdivisions of the state that refuse to comply with new laws.
"If we have constitutional laws on the books and law enforcement officers are not enforcing those laws on the books, then there are going to be consequences, but I'll cross that bridge if and when we get to it," Northam reportedly said Dec. 10.
The recent flurry of activity in Virginia on gun policy comes in the wake of Democrats' Nov. 5 takeover of both houses of the General Assembly in Richmond, an electoral development that some observers say completes the years-long transition of the formerly red state into a blue state. Democrats now control all the levers of political power at the state level, including the governorship and the attorney general's office. The left's assault on Second Amendment rights moved into high gear after a May 31 shooting in Virginia Beach that left 12 people dead boosted gun control proposals and emboldened activists. Everytown for Gun Safety, a gun-control pressure group created in 2014 by billionaire
Michael Bloomberg, the former New York mayor who recently launched a campaign for the 2020 Democratic presidential nomination, spent $2.5 million in the state this year to elect pro-gun-control Democrats
.
Please go to
Epoch Times
to read the entire article then forward this information with intensity please.
________
Virginia was one of the most pro-gun states in America with the state being once a predominantly "red" state. This has all drastically changed in the last several months. Follow the Bloomberg money into Virginia:
Bloomberg Bought Virginia Legislators Introduce Confiscatory Gun Ban
Mike Bloomberg's gun-control group just vastly outspent the NRA to help Democrats win in Virginia
Virginia Lawmakers Threaten 2nd Amendment Sanctuaries with National Guard
National Guard Responds To Virginia Congressman Who Proposed Using It To Enforce Gun Control
Related:
The Inspector General's Report on 2016 FBI Spying Reveals a Scandal of Historic Magnitude: Not Only for the FBI but Also the U.S. Media
"Civil War" Sides Selected: "Blue" State Against "Red" State