Ed.'s note:
Watch Chile. It is about to explode into violence. The Bolshevik communists have taken over Chilean universities and sometimes shut them down for months at a time. The Bolsheviks are going to burn down Chile and then rebuild with the cooperation of the media. The Marxist communists in Chile have three stages of destruction: 1) first wave: peaceful demonstrators who build road barricades; 2) second wave: the barricades allow looting and burning; 3) third wave: Chilean police doing their jobs escalate starting with rubber bullets. The lesson here: Do not take the stability of your country for granted. The leftist indoctrination of youth needs to end. It is a very slow process leftists use to destroy youth turning them into violent narcissistic criminals using them in an incredibly cynical way.
Protestors attack a policeman who are severely restricted in trying to respond:
Brutal agresión a carabinero
Most of the leftist students and youth involved in the coming destruction of Chile are living with their parents. Thugs, gang members and drug bandits come in to do the dirty work which are never identified by the leftist media (total leftists). There are also criminal organizations working with the leftist student groups coordinating with the hard left. Home owners, neutrals and business owners are going to get pillaged in the coming anarchy. What is developing in Chile are the hard core nihilists who want to simply destroy Chile for destruction's sake. For the time being events have stabilized but could go violent at any time.
Because of the looting and violence costs for businesses have increased 50 percent while the Chilean currency has lost 15 percent of its value to the US dollar which many Chilean businesses use. In the past 30 days thousands of small businesses in Chile have gone broke. The leftists will claim this is because of capitalism and then they will take over with their communist infiltration.
Here are a few examples of the three stages of violence now taking place in Chile.
Protestors attack police car stuck in traffic:
Atacan con piedras y elementos contundentes a una patrulla de Carabineros en Chile
Police station attacked with rocks. Police are prevented from using firearms so the police throw rocks back:
Más ataques a Carabineros
Protestors take over a bus and use it to loot a department store:
Saquean tienda Hites usando un bus del Transantiago
________
Source:
Bloomberg
Two Communist Lawmakers Are Suddenly Setting the Agenda in Chile
By Eduardo Thomson and Daniela Guzman | August 20, 2019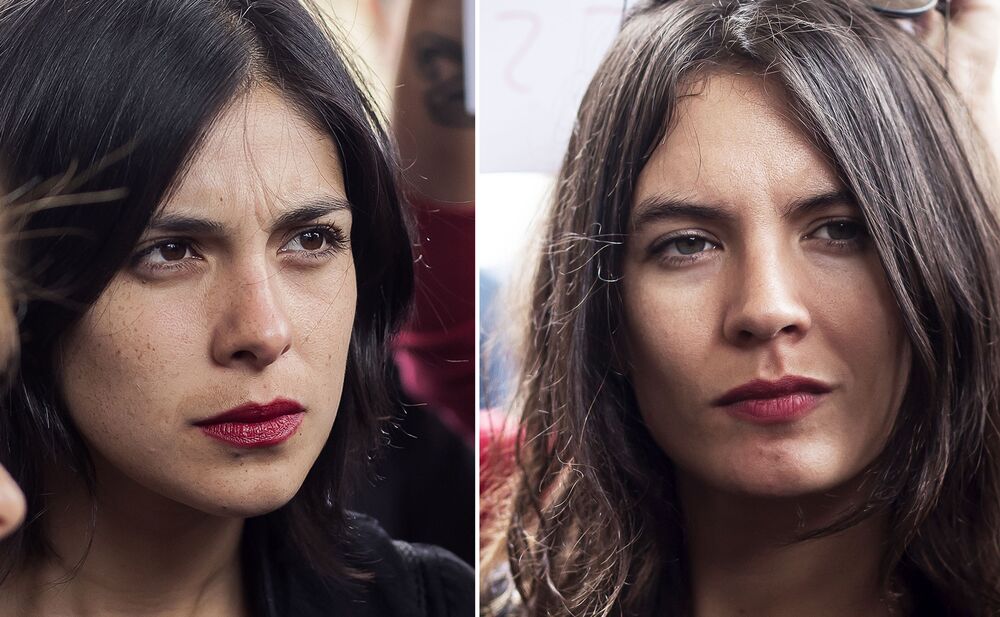 Karol Cariola, left, and Camila Vallejo Photographer:Fernando Lavoz/NurPhoto via Getty Images
In a country that's long stood out as the beacon of free-market principles in Latin America, two young communist women are capturing much of the attention in government circles.
A labor-reform bill introduced by Chile's Camila Vallejo and Karol Cariola, who made a name for themselves as student-movement leaders eight years ago, is gaining widespread support -- and putting the two Communist Party lawmakers in the crosshairs of right-leaning President Sebastian Pinera.
At issue is a plan to cut the country's maximum work week to 40 hours from 45. Pinera has called the bill unconstitutional, vowing to fight it in court if it wins approval. He has his own proposal that's struggling to move forward.
For Pinera, a 69-year-old billionaire in his second stint as president, the labor squabble and congressional gridlock are far from what was envisioned near the midpoint of his term. He was elected in late 2017 under the promise of bringing in major reforms that would usher in an economic boom. Now, growth is expected to cool as key tax and pension bills are also stalled, just as the U.S.-China trade war is hitting prices for copper, the country's top export.
"The government should be setting the agenda and using its political capital," Macarena Lobos, who served as deputy finance minister for Pinera's predecessor, Michelle Bachelet, said in an interview at radio Pauta Bloomberg. "Instead, it's being pushed aside in its key reforms."
The economy has already showed signs of weakness, with the central bank cutting its growth estimates for 2019 to 2.8% from 3.6% at the beginning of the year. The country's benchmark IPSA stock index is down about 6% this year, while the MSCI EM Latin America Index is little changed.
Student Protests
In Chile, the president has powers to decide what's discussed at the legislative level, making the rise of the communist duo's bill all the more surprising.
Vallejo, 31, and Cariola, 32, could be considered early versions of Alexandria Ocasio-Cortez, the New York congresswoman who's become a leftist star in America. Vallejo gained notoriety during Pinera's first tenure by leading student demonstrations over Chile's education system. Hundreds of thousands of people joined the protests, fueled by discontent over inequality. Pinera's response included a cabinet shuffle and a new education fund, but Chilean students were unsatisfied. His approval ratings sank while Vallejo became a rising star of the Communist Party, backed by popular support. Polls in 2011 showed she was even more admired than Bachelet or famous revolutionary songstress Violeta Parra. Cariola, also a young activist of the Communist Party, joined the ranks of the student leaders and traveled around the globe with Vallejo as a representative of the movement. They became congressional deputies in 2014, turning into powerful politicians on the left, and Pinera's adversaries.
Please go to
Bloomberg
to read the entire article.