Source:
Big League Politics
The Epstein saga continues to get fishier and fishier.
December 3, 2019 | By Shane Trejo
Corporate banker Thomas Bowers, who ran the U.S. division of private wealth management for Deutsche Bank AG,
reportedly committed suicide last month
at the age of 55 by hanging himself with a rope in his California residence.
However, his extensive ties to deceased sex trafficker Jeffrey Epstein – who also died from a mysterious suicide – has caused speculation about what the real cause of Bowers' death may be.
Epstein
moved millions of his personal wealth
through Deutsche Bank before his death. He switched to Deutsche Bank in 2013 after his conviction for child sex crimes when even JP Morgan would no longer do business with him. Following investigations into civil cases exposing the extent of Epstein's criminal network by the
Miami Herald
, Deutsche Bank finally began to close his accounts.
"Deutsche Bank is closely examining any business relationship with Jeffrey Epstein, and we are absolutely committed to cooperating with all relevant authorities," a spokesperson for the bank said.
Former bank executive Mike Moore, who led a Citigroup division's anti-money laundering unit during a time when Citi was in bed with Epstein, commented on the nature of Epstein's loans with the corporate lender.
"The loans to Epstein were personal and commercial," Moore said. "The Citi loans I can confirm were for more than $25 million. Some were secured, some were not."
According to sources that spoke with True Pundit, Epstein received similar loans from both Citigroup and Deutsche Bank, and it is not a coincidence that Bowers worked in the same role for both banks when Epstein was doing business with them. Bowers was chief of The Citi Private Bank, and led Citigroup's Global Markets and Wealth Management businesses before he made his way to Deutsche Bank.
The FBI reportedly subpoenaed Deutsche Bank earlier this year for loans and accounts with ties to Epstein. Bowers was among the individuals who they hoped to interview about Epstein's finances. They will never get the chance, and never get the answers they were seeking because of his convenient suicide.
Even though Epstein allegedly refused to pay Citi back for the loans they gave him, Bowers continued to do business with him because of his elite connections. He also reportedly traveled to Epstein's private island, Little St. James, and was a frequent visitor to Epstein's lavish New York City home.
"Epstein made Bowers and his financial institutions hundreds of millions of dollars," one banking executive told True Pundit. "It really didn't even matter that Epstein stiffed Citi for $30 million in defaults because he brought so much new money, new blood in. Citi made far more than it lost."
Anything that Bowers may have been able to divulge about Epstein's network died with him. Loose ends are being tied up, and the powerful individuals who Epstein provided with illicit child sex services have to be breathing a sigh of relief as a result.
Please go to
Big League Politics
to read the entire article.
_________
Source:
National Vanguard
Barry Krischer, the Jewish Prosecutor Who Let Jeffrey Epstein Get Away
By Rosemary W. Pennington · 21 JULY, 2019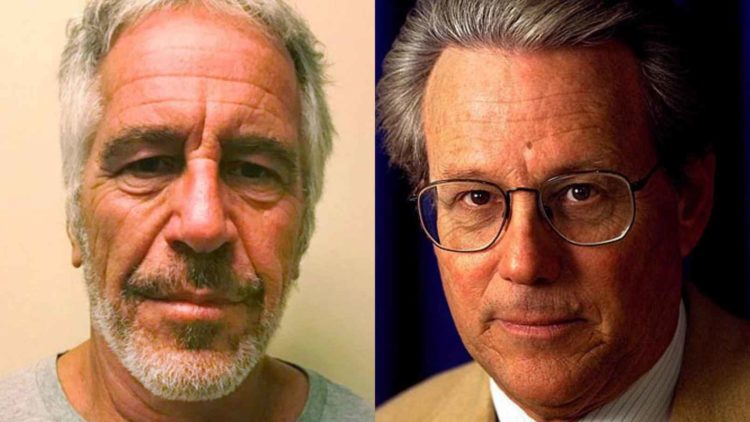 Krischer is the Jew on the right.
ONE OF THE MOST disgusting people in America right now, without a doubt, is Jeffrey Epstein, the human sex trafficker who is currently facing serious charges that could put him away for a long, long time.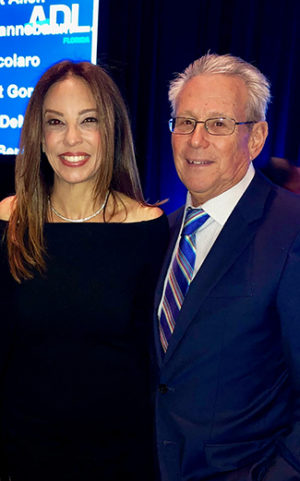 Here we see Barry Krischer and friend at the event where he received the Jewish ADL's "Jurisprudence Award" after letting fellow Jew Leffrey Epstein, a serial abuser of White girls, off of all serious charges. The ADL award was made in December 2018, long after Epstein was caught sexually using, purchasing, and "passing around" probably hundreds of young White girls, some as young as 12, to his wealthy elite associates — and long after Krischer helped him almost completely escape punishment for these crimes.
What's truly aggravating about his case is the number of opportunities that have existed to take this guy down and put him behind bars where he could no longer hurt people.
One of the folks responsible for these failures is Florida attorney (and Epstein's fellow Jew) Barry Krischer.
Sons Of Liberty Media has a closer look at this deplorable man:
The YWCA of Palm Beach County ("eliminating racism, empowering women") offers the Barry Krischer Humanitarian Award and the Domestic Violence Council has a Barry Krischer scholarship. Last year, the ADL honored Krischer with its Jurisprudence Award.
The Florida Bar had honored Kirscher with a lifetime achievement award and he's still listed as a member in good standing. Even Jeb Bush had bestowed a Peace at Home award on the prosecutor.

Krischer sits on the Criminal Justice Commission and offers training to law enforcement, court personnel and child welfare providers

on dealing with crimes

of sexual violence. His bio states that he remains active in "child welfare issues" through his work with the Department of Children and Families.

The former Palm Beach County State Attorney had made national news three times during his career. Once when he went after Rush Limbaugh, then after Ann Coulter, and when, after being handed the case of Epstein, a co-founder of the Clinton Global Initiative, he gave him a pass.

[Barry Krischer is a leftist Jew. Jeffrey Epstein is a billionaire donor to Jewish causes.]

As Chief Prosecutor, Krischer had

made his reputation

with a zero-tolerance policy of prosecuting juveniles as adults. But after Epstein had abused underage girls, Krischer, according to the detective on the case, ignored police efforts to charge him with four counts

of unlawful sexual activity with a minor

and instead the billionaire abuser

was indicted

only on a minor charge of solicitation of prostitution.

Interviews with over a dozen girls and witnesses were ignored.

The victims were not notified of when they needed to appear before Krischer's Grand Jury. Calls by the police to issue warrants for the arrest of Epstein and his associates were ignored by Kirscher's subordinates. Eventually, Kirscher's people stopped taking phone calls from the police.

The Palm Beach police chief claimed that information was being leaked to Epstein's lawyers and wrote a

public letter

attacking Krischer and urging him to disqualify himself from the case. Instead, the travesty went on. State prosecutors allowed Epstein to skip sex offender counselling, and hire a private shrink.

When the judge asked assistant state prosecutor Lanna Belohlavek if all the victims had signed off on the deal, she claimed that they had. The lawyer for the victims has said that was not the truth.
It's disturbing to see someone like Epstein get away with causing so much destruction and devastation. The lives he's ruined, the souls he's damaged, are too many to count.
Please go to
National Vanguard
to read the entire article.
_________
Source:
medium.com
World Elite EXPOSED: How Mossad's International Spy For Hire Jeffrey Epstein Orchestrated 'Honeytrap'
December 5, 2019 | By Dylan Howard
In this exclusive extract from the sensational new book EPSTEIN: DEAD MEN TELL NO TALES, former CIA counter-terrorism specialist Philip Giraldi said he also has "little doubt" that Epstein was running an intelligence operation, and that his knowledge helped him escape justice. But who orchestrated the "sweetheart deal" that allowed him to evade justice for masterminding an international child sex ring? The answer lies within.
"Epstein was sort of flying very important people around the world, providing young girls for some of them," said author Martin Dillon, after conversations with sources in the Mossad. "Building files. It's how the intelligence services work."
"They call it the honeytrap," Dillon said, referring to the time-honored intelligence practice of spies using the lure of sex to entrap targets. "But it's much more sophisticated than that."
The honey trap
— or "love trap," as it is sometimes known — has a long and salacious history in American espionage. According to a 1975 Washington Post report, "For years, the Central Intelligence Agency operated love traps in New York and San Francisco, where foreign diplomats were lured by prostitutes in the pay of the CIA."
"Through hidden one-way mirrors, CIA agents filmed the sexual adventures and later tried to blackmail the victims into becoming informants."
Virginia Giuffre — previously known as Virginia Roberts — this week told the BBC that when she was 17 years old she was trafficked by Epstein and forced to have sex with his friends, including the Duke of York, Prince Andrew—a claim he denies.
The article noted, "The CIA possibly got the idea from the Russians, who have long used sex blackmail to entrap Westerners into spying for them."
CIA reps told the
Washington Post
reporters that they "had never heard of this." But for Epstein,
the playbook was already written
.
"If you're an intelligence community, and you have someone like Epstein, who's kind of a celebrity, who can attract celebrities, who can be in part of conversations about world events about the most secret things. If you could put people like Clinton on his planes and you can put Ehud Barak, a former Prime Minister of Israel and a former general, then he is a guy who really matters to you," Dillon continued.

"If he is going to be your friend, he is going to work for you. He is going to be an asset for you. Look what he can do. He can give you information on all those politicians; on their private behavior, their peccadilloes, all these things are important to intelligence communities."
Former CIA counter-terrorism specialist Philip Giraldi said he also has "little doubt" that Epstein was running an intelligence operation, and that his knowledge helped him escape justice.
"There is no other viable explanation for his filming of prominent politicians and celebrities having sex with young girls," Giraldi wrote in the
American Herald Tribune
in August 2019. "Epstein clearly had contact with former Israeli Prime Minister Shimon Peres and Ehud Barak and [Epstein's client Leslie] Wexner also had close ties to Israel and its government."
In addition to flying on the Lolita Express,
former Israeli Prime Minister Ehud Barak also visited Epstein at his Manhattan home
. In January 2016, he was photographed entering the property, followed by four young women soon after.
"I was there, for lunch or chat, nothing else. So what?" said Barak in a statement when the visit was reported. "I never attended a party with him. I never met Epstein in the company of women or young girls." He also admitted to having visited Little St. James, but said he did not attend any parties or see any young girls there either.
The prosecutor running a governor-ordered Epstein investigation wants to know what went on in Krischer's grand jury.
According to Giraldi, former
Palm Beach County State Attorney Barry Krischer also may have been responsible for swaying Acosta in 2008
, behind-the-scenes.
Krischer had won the prestigious Anti-Defamation League (ADL) Award ten years before.
(The ADL is a US-based Jewish organization with a long history of domestic spying allegations.)
"
The Jewish state regularly tops the list for ostensibly friendly countries that aggressively conduct espionage against the U.S.
," Giraldi claimed. "Mossad would have exploited Epstein's contacts… Those blackmailed would undoubtedly in most cases cooperate with the foreign government involved to avoid a major scandal."
Please go to
medium.com
to read the entire article.
_________
Here are a couple of interpretations of events surrounding Jeffrey Epstein and Deutsche Bank that might also answer a few questions about what is happening.
YET ANOTHER BANKSTER DEATH, WITH TWO MAJOR INTERPRETATIONS
The world is talking about Trump's relationship with Deutsche Bank. Here's why it's drawing intense scrutiny.
Trump loses appeal to block Deutsche Bank, Capital One from handing his financial records to Congress