Ed.'s note:
We're sorry, we meant the streets of Jersey City.
Very important news update to this story for
11 December 2019
:
Mass shooting in Jersey City: Multiple people dead, including police officer - UPDATE: Gunmen targeted Jewish community
Shaping up to look like another "project":
UPDATE: Suspect Published Anti-Semitic Posts Before Kosher Grocery Store Shootout That Killed Six
News update for
11 December 2019
:
From killing detective at cemetery to kosher store gun battle: What we know about Jersey City shooting (VIDEOS)
________
Source:
RT News
NJ shooting: 6 dead, including officer and suspects, after intense gun battle in Jersey City (VIDEOS)
10 December, 2019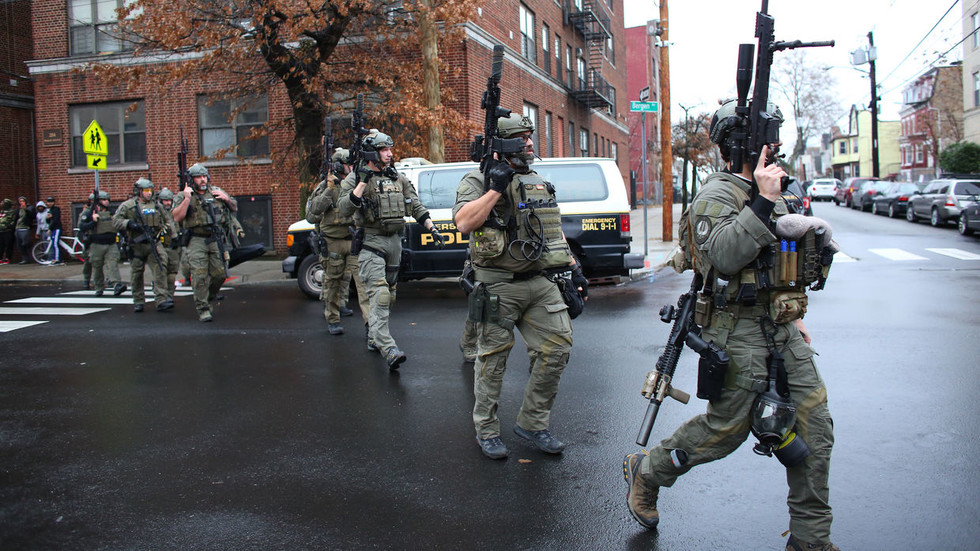 One officer and three civilians were killed after two shooters ambushed police before holing up in bodega and firing from behind the barricade in Jersey City, New Jersey. Both suspects were also killed in the exchange.
During a press briefing after the gunfight died down, New Jersey Police Chief Michael Kelly confirmed that three civilians and two suspects were found dead inside the store. Separately, a police officer shot at the start of the standoff succumbed to his wounds.
Kelly identified the officer as a 39-year-old father of five.
— RT (@RT_com) December 10, 2019
Police warned on radio transmission that the suspects were shooting at anyone they see on the street, NJ.com said. One officer was heard saying that gunfire begins each time a police officer attempts to move toward the bodega.
— GT: a Majik FTB 🎩 (aFTB Creator Nba 2k) (@MajikFromXbox) December 10, 2019
— NYC Blue Lives Photographer (@bluelivesphoto) December 10, 2019
The two suspects reportedly arrived in the area in a U-haul van and are carrying "long guns." The two shooters are apparently a male and a female, dressed in black. Local media reported that police said in transmissions that "pipe bombs" were found in their U-Haul.
Please go to
RT News
to read more about this battle that took place on the streets of Baghdad, sorry, we mean Jersey City.
________
Update:
FOR THE RECORD, THESE ARE THE PEOPLE THAT TARGETED THE KOSHER STORE IN JERSEY CITY
Comment:
"As it turns out, they were part of a radical BLACK JEWISH movement and were pissed at mainstream Jews. And the Jews then flipped the narrative saying "white supremacists" did it. Just sayin. And by the way, targeting kosher stores is no way to fight a civil war. Do your homework first. This got spun as something different that was a lot more politically useful, considering the leftists, who are predominantly Jews, want whites wiped out. SOP for the tribe. Can't trust a damn thing from them."
More:
BREAKING: Jersey City Shooters Identified, David Anderson and Francine Graham Members of Antisemitic, Violent "Black Hebrew Israelites" Cult
Black Hebrews make a Khazar Jew kid cry