Ed.'s note:
It's not about ending gun violence. Let's not mince words. It's about disarming Americans who could potentially be a threat to Jewish power. That is ultimately what this is about. How do we know this? Because the Chairman and CEO
Stephen A. Schwarzman of the Blackstone Group
who is also Jewish, put a request out to all of Blackstone's fund managers in an effort to find out
what gun manufacturers are in Blackstone portfolios
shortly after the Parkland, Florida shooting in February, 2018. To this day we still do not know how much of this alleged shooting was faked or contrived. There is no confirmation on whether or not Blackstone divested of these gun manufacturers. On what Americans call "Black Friday," the
US saw the second highest gun
background checks ever. People like Bloomberg and Schwarzman are not concerned about gun safety, not when over
two-thousand people every year
just in Chicago are gunned down.
________
Source:
RT News
Data service owned by Bloomberg caught promoting his campaign page, blames 'oversight'
5 Dec, 2019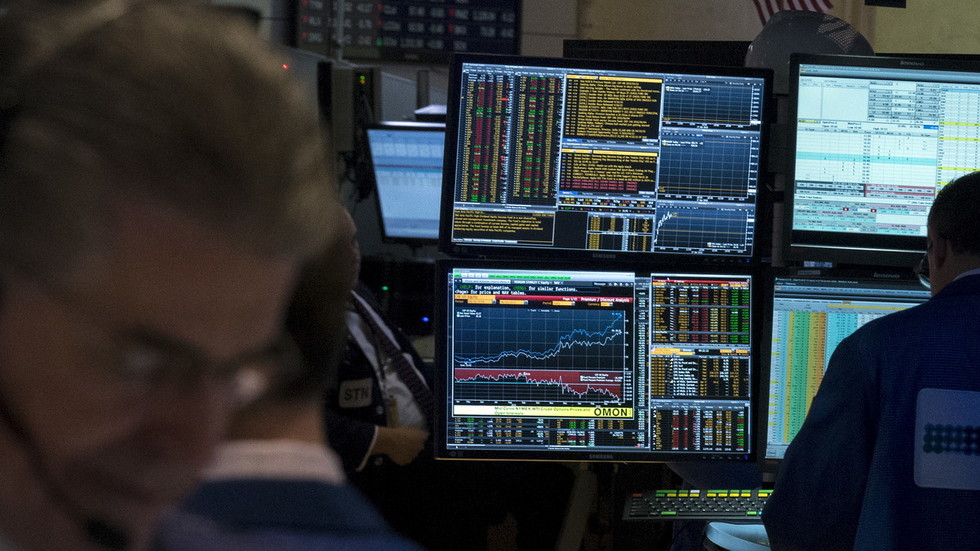 FILE PHOTO: A Bloomberg terminal is seen inside a kiosk on the floor of the New York Stock Exchange April 17, 2015. © REUTERS/Brendan McDermid
Bloomberg Terminal, a platform that offers real-time data and news to financial professionals, had a built-in search shortcut directing users to Mike Bloomberg's presidential campaign site, at least until the "
glitch
" was exposed.
The service, that prides itself of being "
the most powerful, flexible platform for financial professionals who need real-time data, news, analytics
" while "
sitting on the desks of 325,000 of the world's most influential decision makers
" has been caught red-handed peddling the presidential campaign of its owner, former New York Mayor Michael Bloomberg.
Until recently, if a user typed in "Mike" or "Mike Bloomberg" into a search box at the terminal, the first result would have been none other than the billionaire Democratic candidate's official campaign website, the
Financial Times
reported in its
scoop
on Thursday.
Just type in 'MIKE' or 'Mike Bloomberg' and users are automatically redirected to the campaign site, including a slickly-produced video narrating his journey from "a middle-class kid who had to work his way through college" to a billionaire businessman and politician

— Phil Georgiadis (@Philgeorgiadis)

December 5, 2019
None of the other Democratic candidates, or US President Donald Trump, received the same kind of preferential treatment by the service, which normally offers a standardized biography page as the first option in the drop-down menu.
Aside from his brief profile and a couple of tweets, a quick search for Trump's name has also turned up less conventional results, such as a page that features updates on the betting odds for "whether Trump will be impeached in his first term," the FT reports.
More:

Bloomberg's decision 'not to investigate Mike' is no surprise — corporate media never antagonizes its owners
Confronted over the newly-detected "
glitch
" with the Terminal, a Bloomberg spokesperson went into a damage control mode, telling FT that the "Mike" shortcut has been embedded into the service since 1997, and was originally created to help the media mogul to promote his autobiography.
Please go to
RT News
to read the entire article.
________
Source:
Summit News
Bloomberg Unveils Extreme Gun Control Plan
6 December, 2019 | By Steve Watson
Every gun control proposal that has failed in the past is included
Democratic presidential candidate Michael Bloomberg has announced a radical anti-Second Amendment program, calling for outright bans and a requirement for every gun buyer to obtain a permit.
Appearing in Aurora, Colorado Thursday, the location of the 2012 movie theatre shooting, Bloomberg vowed to put an end to a "nationwide madness" where firearms are concerned.
"I'm just getting started," Bloomberg declared, adding that "As president, I will work to end the gun violence epidemic once and for all."
"I promise you I will never back down from this fight," he said. "That's the kind of president this country needs and you deserve."
How To End Gun Violence | Mike Bloomberg 2020
Bloomberg went on to outline a gun control plan that includes every proposal that has ever been attempted, and has failed.
These include proposals to:
— Reinstate the federal ban on assault weapons and high-capacity magazines.
— Require every gun buyer to obtain a permit before making a purchase.

— Require point-of-sale background checks on all gun purchases while closing the gun show loophole.

— Institute a new age limit of 21 for those wishing to buy handguns, semi-automatic rifles and shotguns.

— Require a mandatory 48-hour waiting period for all gun purchases.

— Institute a federal "red flag" law to deny permits to "troubled people who pose a danger to themselves or others."

— Institute a temporary ban on gun possession for those convicted of assault or other violent misdemeanors.

— Ban all guns in K-12 schools, colleges, and universities, except for law enforcement.

— Reverse the law that gives gun makers and gun dealers immunity from lawsuits.

— Create the position of White House gun coordinator "to mobilize the public to fight gun violence and launch an inter-agency hub to fight gun violence."
"My agenda is not some johnny-come-lately list of borrowed ideas," Bloomberg claimed, adding "This is part of my life's work, and I'm just telling you I will get this done whether I get elected or not."
Addressing the proposal for permit requirement, Bloomberg attempted to conflate the idea with voting rights.
"Now I know critics will say that Americans shouldn't need a permit to exercise their constitutional rights. But voting is a constitutional right, and we require people to register to protect the rights of all citizens, and this exactly the same idea," he argued, "because a criminal with a gun can destroy our right to life, liberty and the pursuit of happiness."
Critics argue that Bloomberg is redefining the notion of inalienable rights and misconstruing the US Constitution to frame his agenda.
Please go to
Summit News
to read the entire article.
________
News update for
6 February 2020
:
MSNBC panelist freaks out after Sanders surrogate calls Bloomberg an 'oligarch,' because it's a 'Russian' term
Related:
Bloomberg for President? God No!
If You Take Off His Brooks Brothers Suit He Will Be a Bolshevik In Britches