Ed.'s note:
Was this done as satire or as a spoof? We've already posted several essays on how money laundering is done through art. Notice when you go to the
Art Basel website
the symbol of
UBS Bank
in the upper right of the website.
I Would Like to File a Suspicious Transactions Report on the entire 20th century
________
Source:
Hype Beast
Bananas Duct-Taped to Wall Selling for $120K USD at Art Basel
Two iterations of 'Comedian' have reportedly sold for six figures apiece.
By Mallory Chin | December 6, 2019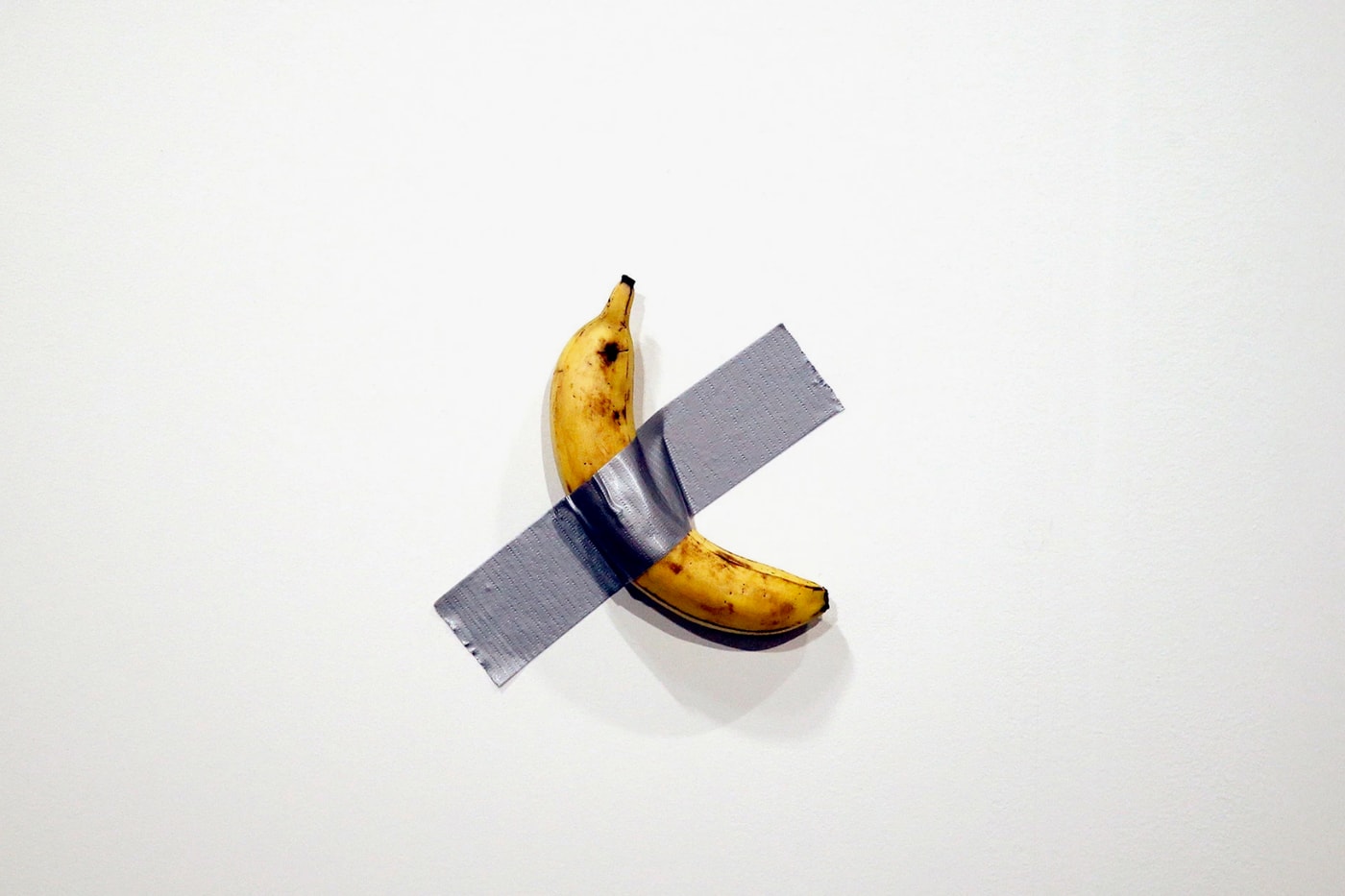 Art Basel Miami
Beach has officially kicked off, with plentiful artworks, limited goods and
product launches all rolling out
in the Floridian metropolis. Perhaps the most unusual offering on display is a humble banana, duct-taped to a wall; amazingly, two editions of the produce have sold for $120,000 USD each.
The creative behind the work is 59-year-old Italian artist
Maurizio Cattelan
. Dubbed Comedian, the creation bears a cheeky resemblance to Andy Warhol's iconic 1967 pop art fruit.
A first edition for Comedian apparently came from a local
Miami
supermarket and sold to a French collector for $120,000 USD by
Perrotin
, an international art gallery, according to
Artnet's site
. A second edition sold to another French connoisseur for the same price, while a third edition of the work will reportedly sell for a staggering $150,000 USD.
Comedian is currently on display at the Galerie Perrotin booth at the Basel fair. Gallery owner Emmanuel Perrotin called the phenomenon a "miracle," adding "I don't know how this happened!" Perrotin went on to tell
CNN
the banana is "a double entendre, as well as a classic device for humor," explaining that they're vehicles of both "critique and delight."
This isn't the first time Cattelan has set the art world abuzz. In September, the artist made headlines after his
18-karat gold toilet
— valued at $6 million USD — was swiped from Winston Churchhill's boyhood home.
For more conventional Art Basel fare, check out our guide to
Art Basel Miami Beach 2019
.
Please go to
Hype Beast
to read more.
________
Related:
$100 Million for a Painting? Not This Auction Week
A Monumental Canvas by Yoshitomo Nara Sells for $25 Million in Hong Kong, Shattering the Artist's Previous Auction Record
At Solid $325.3 M. Christie's Contemporary Art Sale in New York, Ed Ruscha Is King
What do the Art Basel banana and the Trump impeachment have in common?