Source:
The Guardian
Top investment banks provide billions to expand fossil fuel industry
By
Patrick Greenfield | Sun 13 Oct 2019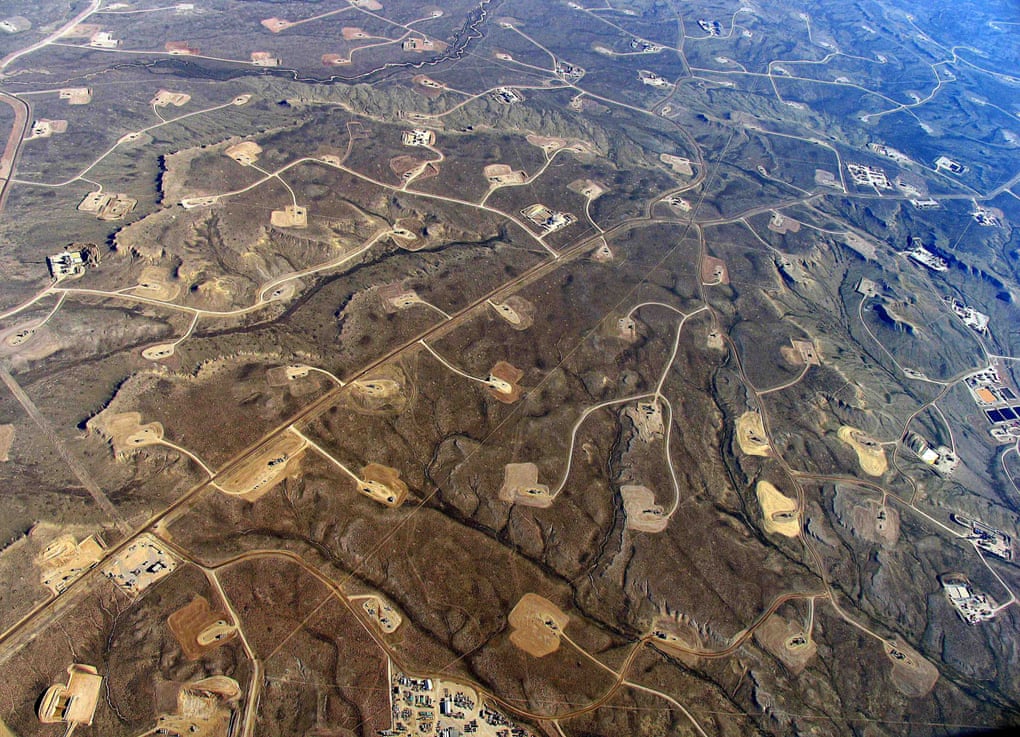 J
onah Field gasfields in Wyoming, US. Photograph: Courtesy of Simon Fraser University
Exclusive: analysis reveals lenders provided $700bn to expand sector since Paris climate pact
The world's largest investment banks have provided more than $700bn of financing for the fossil fuel companies most aggressively expanding in new coal, oil and gas projects since the Paris climate change agreement, figures show.
The financing has been led by the Wall Street giant JPMorgan Chase, which has provided $75bn (£61bn) to companies expanding in sectors such as fracking and Arctic oil and gas exploration, according to the analysis.
The New York bank is one of 33 powerful financial institutions to have provided an estimated total of $1.9tn to the fossil fuel sector between 2016 and 2018.
The data shows the most aggressively expanding coal-mining operations, oil and gas companies, fracking firms and pipeline companies have received $713.3bn in loans, equity issuances and debt underwriting services from 2016 to mid-2019.
Other top financiers of fossil fuel companies include Citigroup, Bank of America and Wells Fargo.
Using Bloomberg financial data and publicly available company disclosures, the analysis was compiled exclusively for the Guardian by Rainforest Action Network, a US-based environmental organisation.
The figures update the group's Banking on Climate Change 2019 report from April, which showed the practices of key investment banks were aligned with a climate disaster.
Figures show fracking has been the focus of intense financing, with Wells Fargo, JPMorgan Chase and Bank of America providing about $80bn over three years, much of it linked to the Permian basin in Texas.
Please go to
The Guardian
to read the entire article.
________
This is where oil comes from:
The Dirty Truth About Oil
Gearing up for the monopolization of oil production and a coming war on Iran. Trump's pulling the US military out of Syria is political PR.
Trump Brings Troops Back Home to Saudi Arabia
Russia wants to know what Saudi Arabia's plans are with all those US military personnel arriving in the kingdom.
Russian president Vladimir Putin lands in Saudi Arabia