Source:
Maine Republic Email Alert
January 16, 2017
by David Robinson
State of the Nation
How does one corporation — a mammoth British transnational corporation at that — provide so many critical services throughout the USA's
Military-Industrial Complex
and yet very few have ever heard of them?
In view of its sheer size, scope of operations, and far-reaching penetration of both the American and British national security states, it's inconceivable that S
ERCO
has remained so conveniently under the radar for so many years.
Just how much "Bringing service to life" does
SERCO
do here in the United States? The following is a truncated list of their affiliations in and around the U.S. Federal Government and Armed Services. Their website is quoted as follows:
"Skilled resources and a global presence to execute any CONUS or OCONUS* task".
*OCONUS = Outside [the] contiguous United States
It is only by correctly understanding the true role that the

SERCO

s of the world have in the running of the planet that anyone can even begin to apprehend the enormity and complexity, pervasiveness and profundity of the Government-Corporate Complex. Truly, the warnings of George Orwell's 1984 have found their full manifestation in the real 800 pound gorilla that currently rules the realm — the entire planetary civilization. As follows:

The Government-Corporate Complex Takes Complete Control Of The USA
The
SERCO
website goes on to say:
"
Serco
is dedicated to providing military support in ways that matter most to our clients' missions. The vast majority of our
employees are embedded in military bases
, working side-by-side with servicemen and women to deliver military support—real mission-critical and mission-support solutions."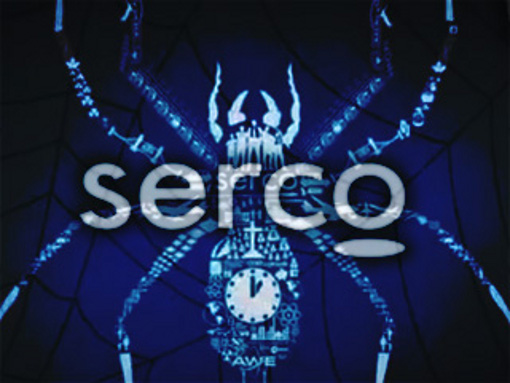 Now have a look at
SERCO
's many ways of
"Bringing service to life" throughout the USA
.
Air Force
Air Combat Command
Air Force Director of Personnel
Air Force District of Washington
Air Force Electronics Systems Center
Air Force Education and Training Command
Air Force Information Warfare Center
Air Force Institute for Advanced Distributed Learning
Air Force Materiel Command
Air Force Research Lab
Air Force Space Command
Space and Missile System Center
Tinker Air Force Base
Army
Army Communications Electronics Command
Army Defense Ammunition Center
Army Enterprise Information Systems
Army Human Resources Command
Army IMCEM
Army Materiel Command/Aberdeen Proving Ground
Army Medical Department
Army Research Labs
Army Research, Development & Engineering Center
Army Space and Missile Defense Command
Army Training & Doctrine Command
National Ground Intelligence Center
Army Family and Morale, Welfare and Recreation Command
Army Medical Command
Army Installation Management Command
Army Recruiting Command
Please go to the
Maine Republic Email Alert
blog to read the entire post.