United States Marine Field McConnell
Plum

City Online - (

AbelDanger.net

)
January 27, 2017
Abel Danger
(
AD
) has shown how President Trump and U.K. Prime Minister Theresa May can track MH Flight 370 through missing or missed May Day calls to confessions by Khalid Sheikh Mohammed (KSM) after alleged torture on Diego Garcia (BIOT) and the unlawful modifications which apparently allowed
Serco
to impute ad hoc way points from 8(a) war rooms on the 47th floor of WTC#1 (North Tower) into the Boeing aircraft used for the 9/11 attacks.
AD
claims that Serco agents working with Boeing in Chicago used the expertise of the Obamas' mentor Bernardine Dohrn at Northwestern University to develop the "Torture · Paradigms and Practices" which appear to have persuaded KSM to confess to a principal role in the WTC attacks of 1993 and 9/11.
AD
claims that
Serco
shareholders positioned Kristine Marcy in 1994 as director of the US Justice Prisoner and Alien Transportation System (JPATS = Con Air) to transport felons or parolees embedded in 8(a) companies and provide alibis for torturers, blackmailers, saboteurs and killers based out of elite hotels.
AD
claims that in 1998,
Serco
shareholders positioned Marcy as Chief Operating Officer of the Small Business Administration where she allegedly set up the Office of SBIC Liquidation with BNY Mellon serving as trustee and
Gold
man Sachs, Credit Suisse and JPMorgan as underwriters for funds needed by 8(a) companies in the attacks of 9/11.
AD
claims that former CAI Special Investor, the late Gen. Alexander Haig set up 8(a) war rooms in WTC#1 and the Boeing HQ in Chicago and used
Serco
agents – allegedly including KSM – to launch a media play which attributed the crash of AA Flight 11 to the Bin Laden Group 14 minutes after impact.
AD
claims that
Serco
shareholders
including the U.K. and Saudi Arabian governments
gave General Haig and the late John Shalikashvili the keys to the Federal Bridge Certification Authority and the Red Switch networks in 1998 and ordered them to prepare Boeing's HQ in Chicago for
Stand Down 9/11
.
AD
claims that
Serco
has equipped Haig and his CAI Special Investor colleagues with real-time access to the Federal Bridge so they could coordinate attacks by
Serco
's 8(a) protégés and liquidate the assets of mentors such as Boeing, Lockheed Martin, Northrop Grumman and Raytheon from their hotel rooms.
AD
claims that
Serco
positioned Maureen Baginski in 1996 as National Security Agency (NSA) Signals Intelligence Director to integrate elite-hotel security systems used by CAI Special Investors with Boeing's C4I network hub in the Chicago HQ and the Diego Garcia facilities used by the 'Five Eyes' countries since the mid-1960s.
AD
has prioritized possible qui tam suits against
Serco
and its shareholders for procurement frauds on government programs including rendition overseen by Marcy, Baginski and CAI Special Investors.
After private conversation with his sister Kristine Marcy, United States Marine Field McConnell – Global Operations Director of
Abel Danger
– has become an original source relator for any
Qui tam
lawsuit in respect of
Serco
procurement frauds.
McConnell is now asking to meet with President Trump to explain how qui tam remedies as suggested by Ms. Marcy, can be used to fund a Marine Corps war on terror and kill anyone found transmitting – or suspected as about to transmit – unlawful ad hoc way points or stand down orders through networks in the custody of the National Command Authority.
Boeing Honeywell Uninterruptible Autopilot
Trump saw on 9/11/2001: bombs were used in WTC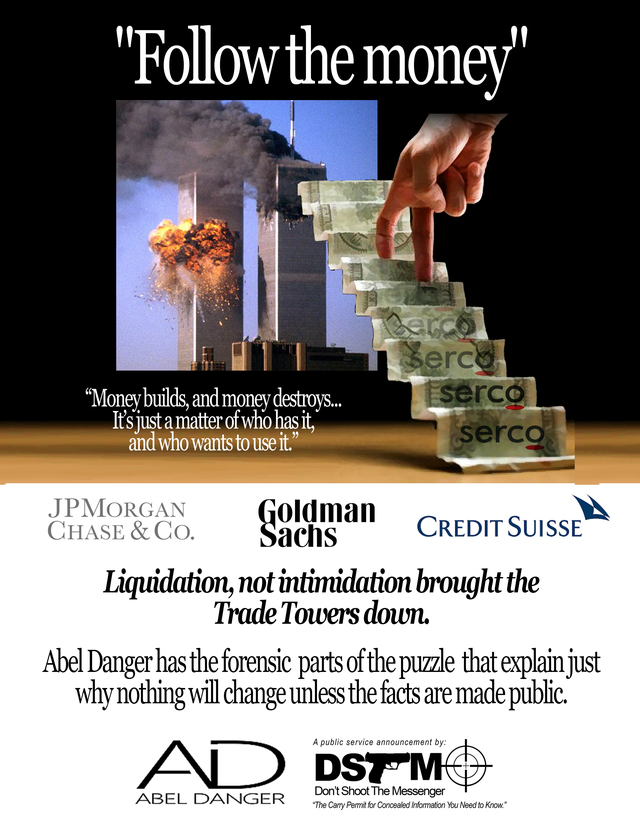 9/11 Alexander Haig Had Inside Knowledge Of The World Trade Center Bombing
SERCO

Owns the World, | Big Brother Watch




Copy of

SERCO

GROUP PLC: List of Subsidiaries AND Shareholders!

(Mobile Playback Version)

The Coup D'état The CLINTON Legacy SEPT 11 2001 Bush

"Angel is Next" AIR FORCE ONE's Call Sign

"Digital Fires Instructor Serco – Camp Pendleton, CA Uses information derived from all military disciplines (e.g., aviation, ground combat, command and control, combat service support, intelligence, and opposing forces) to determine changes in enemy capabilities, vulnerabilities, and probable courses of action."


"Was Malaysia Airlines Flight 370 Redirected to Diego Garcia? | Cabal ...

Mar 12, 2014 - It was a hi-jack (transponder turned off, no Mayday), and the plane .... the range ofMH370, based on its last radar contact, and Diego Garcia is ..."
"Khalid Sheikh (Shaikh) Mohammed (born March 1, 1964) is a militant held by the United States at the

Guantanamo Bay detention camp

under terrorism-related charges. He was named as "the principal architect of the 9/11 attacks" in the 9/11 Commission Report.[5] According to the prosecution, Sheikh Mohammed was a member of

Osama bin Laden

's

al-Qaeda

organization, leading al-Qaeda's propaganda operations from around 1999 until late 2001. He confessed to FBI and CIA agents to a role in many of the most significant terrorist plots over the last twenty years, but the use of

enhanced interrogation techniques

on him has put his confessions into question.[6] ..
Mohammed was captured on March 1, 2003, in the Pakistani city of

Rawalpindi

by a combined operation of the US Central Intelligence Agency (CIA) and Pakistan's

Inter-Services Intelligence

(ISI), and immediately extradited to the United States. By December 2006 he had been transferred to military custody at Guantanamo Bay detention camp. In March 2007, while being interrogated, Mohammed confessed to masterminding the September 11 attacks, the Richard Reid shoe bombing attempt to blow up an airliner, the Bali nightclub bombing in Indonesia, the 1993 World Trade Center bombing, the murder of

Daniel Pearl

, and various foiled attacks, as well as numerous other crimes.[7][8] He was charged in February 2008 with war crimes and murder by a U.S. military commission at Guantanamo Bay detention camp which could carry the death penalty if convicted. In 2012, a former military prosecutor criticized the proceedings as insupportable due to confessions gained under torture.[8]"
"AUGUST 2, 2008

The CIA's Secret Prison on Diego Garcia

by

ANDY WORTHINGTON

……………… The existence of a secret, CIA-run prison on the island of Diego Garcia in the Indian Ocean has long been a leaky secret in the "

War on Terror

," and yesterday's revelations in

TIME

— based on disclosures by a "senior American official" (now retired), who was "a frequent participant in White House Situation Room meetings" after the 9/11 attacks, and who reported that "a CIA counter-terrorism official twice said that a high-value prisoner or prisoners were being interrogated on the island" — will come as no surprise to those who have been studying the story closely.
Despite these previous disclosures, yesterday's article, by Adam Zagorin, is particularly striking because of the high-level nature of the source, and his admission that "the CIA officer surprised attendees by volunteering the information, apparently to demonstrate that the agency was doing its best to obtain valuable intelligence." In addition, the source noted that "the U.S. may also have kept prisoners on ships within Diego Garcia's territorial waters, a contention the U.S. has long denied."
Zagorin also spoke to Richard Clarke (at the time the National Security Council's Special Advisor to President Bush regarding counter-terrorism), who explained, "In my presence, in the White House, the possibility of using Diego Garcia for detaining high value targets was discussed." Although Clarke "did not witness a final resolution of the issue," he added, "Given everything that we know about the administration's approach to the law on these matters, I find the report that the U.S. did use the island for detention or interrogation entirely credible," and he also pointed out that using the island for interrogations or detentions without British permission "is a violation of UK law, as well as of the bi-lateral agreement governing the island."
Zagorin's source did not name the prisoners, but it seems clear that the period he was referring to ("2002 and possibly 2003") was when three particular "high-value detainees" — Abu Zubaydah, Khalid Sheikh Mohammed and Ramzi bin al-Shibh — are reported to have been held on the island, and it seems entirely plausible, therefore, that after these three were transferred to another secret CIA facility in Poland, the prison was used not only to hold Hambali, but also to hold the two other "high-value detainees" captured with him — Mohammed bin Lep (aka Lillie) and Mohd Farik bin Amin (aka Zubair). The addition of Mustafa Setmariam Nasar, who, it seems, may have been held into 2006, not only confirms that a secret prison existed, but that it was possibly in use for four years straight.
These damaging revelations seal Diego Garcia's reputation as a quagmire of injustice. A British sovereign territory — albeit one that was leased to the United States nearly 40 years ago, when the islanders were shamefully discarded by the British government and exiled to face destitution and death by misery in Mauritius — Diego Garcia has long been a source of shame to opponents of modern colonial activity. Until now, however, the only admission that any activities connected with the "War on Terror" had taken place on the island came in February, when, after years of denials on the part of the British government, David Miliband, the Foreign Secretary, finally conceded that requests for information from his U.S. counterparts had revealed that, in 2002, two rendition flights had refuelled on the island. "In both cases," Miliband stated with confidence, "a U.S. plane with a single detainee on board refuelled at the U.S. facility in Diego Garcia. The detainees did not leave the plane, and the U.S. Government has assured us that no U.S. detainees have ever been held on Diego Garcia."
"A distress is a condition of being threatened by serious and/or imminent danger and of requiring immediate assistance. Examples: ditching, crash landing imminent, total engine failure... If a pilot finds himself in such a situation, obviously he will have to: · transmit a distress message: "Mayday, Mayday, Mayday", (3 times mayday) "This is [aircraft call sign]" · transmit as many of the following elements as necessary and as time permits : o aircraft position and heading o flight level, altitude or height o aircraft type and POB (number of persons on board) o nature of emergency o intentions and abilities or limitations o any other relevant piece of information (weather, endurance, intentions...) If the pilot is unable to send any radio message at that time, he can and should try to set his transponder to squawk 7700. In IVAO, it is recommended to squawk 7700 in any case of declared emergency. When an aircraft is no longer in a state of distress, a cancellation message shall be transmitted on the frequencies used for the (original) distress message."
"

SERCO

: 'The biggest company you've never heard of' JULY 7, 2013 BY

21WIRE

As politicians asset-strip the public's portfolio of properties, infrastructure and services, one multinational corporation has grown as a result – and its scope and reach may shock many people who have not been paying attention.
All around the globe, our governments are busy outsourcing public-sector services like health, education, police, prisons, money delivery and military – to the esteemed private sector. It's sold to the public as a solution to avoiding higher taxes, while retaining better services. But it's simply an accountancy shell game, where the government kicks the can down the road by spreading the bill to the taxpayer over a longer period of time, in order to avoid any large upfront payments – all the while, allowing a private corporation to extend its influence over society. This, by definition, is fascism.
They are called

SERCO

, and they run countries…




The Biggest Company You've Never Heard Of

As well as thanking God for his success, CEO Chris Hyman is a Pentecostal Christian who has released a gospel album in America and fasts every Tuesday. Coincidentally he was in the World Trade Centre on 9/11 on the 47th floor addressing shareholders."
"Boeing sets down Associated Press Published: Sept. 6, 2001 12:00 a.m. CHICAGO — Paying homage to their new star corporate resident, Gov. George Ryan and Mayor Richard Daley toured Boeing's new headquarters said the "marriage" between the Windy City and Boeing Co. is destined to last. And in case $51 million in incentives didn't get the message across, they publicly thanked the world's largest aerospace company for selecting the city.
The welcoming ceremony capped a dizzying 5- 1/2-month process that began last March when Boeing said it was leaving Seattle as its corporate base after 85 years, prompting seven weeks of frenzied wooing before Chicago was picked over Dallas-Fort Worth and Denver.
Setting a high standard for corporate relocations, Boeing leased the top dozen floors of an office tower at the edge of the downtown West Loop, tore them up and converted them into a high-tech management complex in less than four months.
Standing next to a 20-foot-tall blue banner reading "Chicago. Our home town," Ryan said he expects the state's investment to be returned many times over.
"We may have had a whirlwind romance last spring, but now we begin a marriage that I think is made to last," the Illinois governor said. Only 400 to 500 Boeing employees will be based in Chicago — 0.2 percent of its worldwide work force of 198,000 — and no more than 200 are on the job for the company's first week of operations next to the Chicago River.
But state and local leaders are enthusiastic about the $4.3 billion long-term economic effect Boeing is estimated to have on the area, along with the prestige of boasting the world's biggest exporter and airplane maker.
Ryan said Boeing's arrival will create new opportunities for the Illinois economy, including the potential for high-tech jobs and partnerships with area universities. He expects some of its suppliers will follow the company here.
Daley called Boeing's choice a big victory for Chicago. "You're Chicagoans, and we're very proud," he told Boeing employees who filled the ground-floor lobby.
Boeing's chairman and chief executive officer, Philip Condit, made the break with Seattle to speed its transformation into something more than just a jetmaker.
About 61 percent of its $51.3 billion in sales last year came from commercial airplanes — a reliance Boeing would like to gradually lessen by increasing revenue from satellites, military aircraft, missiles, space equipment, financial services, e-commerce or new ventures.
"What we've done by moving the headquarters here is to make sure that headquarters is focused on total-focus strategy — how we're going, where we're going — and that each of the business units is focused on running their business," Condit told reporters. "So if space and communications or military aircraft or commercial aircraft says, 'We need to expand,' they're the ones who will make that decision." Boeing's greater diversification, he said, puts it in better position to endure the decline in aircraft production.
"We don't think it (the manufacturing downturn) will be as deep as we've seen in the past, and we're all prepared for it," Condit said.

Comment on this story

"The advantage the Boeing Co. has now is it is a much broader company. We've got a growing space business, a really good strong military airplane business, to help balance the company."
About 80,000 employees remain based in the Seattle area, home to the commercial airplane business.
"American Airlines Flight 11 was a domestic passenger flight that was hijacked by five

al-Qaeda

members on September 11, 2001, as part of the

September 11 attacks

.

Mohamed Atta

deliberately crashed the plane into the North Tower of the World Trade Center in New York City, killing all 92 people aboard and an unknown number in the building's impact zone. The aircraft involved, a Boeing 767-223ER, registration N334AA,[1] was flying American Airlines' daily scheduled morning transcontinental service from Logan International Airport, in Boston, Massachusetts, to Los Angeles International Airport, in Los Angeles, California.
Fifteen minutes into the flight, the hijackers injured at least three people (possibly killing one), forcibly breached the cockpit, and overpowered the captain and first officer. Atta, an al-Qaeda member and licensed commercial pilot, took over the controls. Air-traffic controllers noticed the flight was in distress when the crew was no longer responding. They realized the flight had been hijacked when Mohamed Atta's announcements for passengers were transmitted to air traffic control. On board, flight attendants Amy Sweeney and Betty Ong contacted American Airlines, and provided information about the hijackers and injuries to passengers and crew.
The aircraft crashed into the North Tower of the World Trade Center at 08:46:40 local time. Countless people in the streets of New York City witnessed the strike, but few video recordings captured the moment. Documentary film maker Jules Naudet captured the only known footage of the initial impact from start to finish. Before the hijacking was confirmed, news agencies began to report on the incident and speculated that the crash had been an accident. The impact and subsequent fire caused the North Tower to collapse 102 minutes after the crash, resulting in hundreds of additional casualties. During the recovery effort at the World Trade Center site, workers recovered and identified dozens of remains from Flight 11 victims, but many body fragments could not be identified."
"

Serco

: Is it a company or a sovereign power? Posted on

2010 October 5

| Leave a comment

SERCO

– The Biggest Company You've Never Heard Of From Australian television [2:49]
If one single company had to be chosen as the exemplar of the military/industrial complex, esnl's pick would be

Serco

, a British company created in 1929 as a local branch of Radio Corporation of America. Today the firm runs air traffic control towers in the U.S., immigration detention centers in Australia, schools and the anti-missile defense system in Britain, and much, much more.
Of special interest to us is the company's growing role in the espionage world and intelligence world, especially here in the U.S., where it is based in Reston, Virginia, the nation's capital of corporate spookery.
According to Crocodyl, the company holds contracts with an alphabet soup of three- and four-letter agencies, including the National Security Agency [NSA}, National Geospatial-Intelligence Agency [NGA], the Defense Information Systems Agency (DISA), Office of Naval Intelligence, the Air Force Information Warfare Center, and the Department of Defense.
Here's an example of the folks who work for Serco, from a new hire announcement posted by the company two years ago:
Serco Inc., a provider of professional, technology, and management services to the federal government, ­announced today that Maureen Baginski has been named Vice President of the intelligence business and National Security Advisor at

Serco

. … From 2003 to 2005, Ms. Baginski served as the FBI's Executive Assistant Director for Intelligence where she was responsible for establishing and managing the FBI's first-ever intelligence program. Her mission was to adapt FBI intelligence capabilities with information technologies to create an intelligence-sharing operation that could identify threats before they became attacks.
From 1979 to 2003, Ms. Baginski served at the National Security Agency (NSA), where she held a variety of positions, including Signals Intelligence (SIGINT) Director, Senior Operations Officer in the National Security Operations Center; Executive Assistant to the Director of NSA/Central Security Service, Chief Officer of the Director; Assistant Deputy Director of Technology and Systems; and lead analyst for the Soviet Union. As SIGINT Director, Ms. Baginski successfully established and directed a unified program to exploit encrypted or denied information on global networks. Leading the NSA's Signals Intelligence Directorate, the Nation's high technology cryptology organization, she managed a complex and geographically dispersed distributed information production enterprise.
The company's CEO is an India-born Pentecostal Christian [shades of Dinesh D'Souza], and is profiled here by The Guardian's Janice Martinson in 2006."
"

Serco

Receives "Supplier of the Year" from Boeing for Enterprise Architecture Expertise Serco Inc. has been recognized as Supplier of the Year by The Boeing Company in the Technology category for its state-of-the-practice Enterprise Architecture solutions. Past News Releases RSS

Serco Wins Position on Two U.S....

VETS and Serco Team Awarded $117...

Serco Awarded New Social Security...

RESTON, VA (PRWEB) MAY 19, 2011

Serco

Inc., a provider of professional, technology, and management services to the federal government, has been recognized as Supplier of the Year by The Boeing Company in the Technology category for its state-of-the-practice Enterprise Architecture solutions.
The Boeing Supplier of the Year award is the company's premier supplier honor, presented annually to its top suppliers in recognition of their commitment to excellence and customer satisfaction. This year's 16 winners represent an elite group among more than 17,525 active Boeing suppliers in nearly 52 countries around the world. This selection was based on stringent performance criteria for quality, delivery performance, cost, environmental initiatives, customer service and technical expertise. This is the second time

Serco

has been recognized as Supplier of the Year by Boeing. In January 2011,

Serco

also received the Boeing Performance Excellence

Gold

Award in recognition of the Company's performance excellence.
"We are extremely honored to receive this recognition for our work in support of Boeing. This prestigious award demonstrates our passion for excellence and ability to apply

Serco

's Enterprise Architecture expertise across a broad range of applications," said Ed Casey, Chairman and CEO of Serco. "We continue to grow our EA practice, and over the past 15 years we have deployed solutions to support enterprises and systems across federal and commercial environments."


Serco

's Enterprise Architecture Center of Excellence is based in Colorado Springs, CO. The team provides a variety of services in support of Boeing's business units as well as research and development efforts.

Serco

's architecture employs object-oriented (OO)/Unified Modeling Language (UML) to define, design and satisfy defense agencies' mission-critical requirements, including Command, Control, Communications, Computers and Intelligence (C4I). This approach improves system developer's understanding of operational requirements and how best to integrate enterprise operations and systems for the optimal fulfillment of C4I and other operational needs. About

Serco

Inc.:

Serco

Inc. is a leading provider of professional, technology, and management services focused on the federal government. We advise, design, integrate, and deliver solutions that transform how clients achieve their missions. Our customer-first approach, robust portfolio of services, and global experience enable us to respond with solutions that achieve outcomes with value. Headquartered in Reston, Virginia,

Serco

Inc. has approximately 11,000 employees, annual revenue of $1.5 billion, and is ranked in the Top 30 of the largest Federal Prime Contractors by Washington Technology.

Serco

Inc. is a wholly-owned subsidiary of

Serco

Group plc, a $6.6 billion international business that helps transform government and public services around the world. More information about

Serco

Inc. can be found at

http://www.serco-na.com

."
"

Serco

's Office of Partner Relations (OPR) helps facilitate our aggressive small business utilization and growth strategies. Through the OPR,

Serco

mentors four local small businesses under formal Mentor Protégé Agreements: Three sponsored by DHS (Base One Technologies, TSymmetry, Inc., and HeiTech Services, Inc.,) and the fourth sponsored by GSA (DKW Communications, Inc.).

Serco

and HeiTech Services were awarded the 2007 DHS Mentor Protégé Team Award for exceeding our mentoring goals."
"Contact 111 Eighth Avenue New York, NY 10011 Description Base One Technologies, Ltd. is a DOMESTIC BUSINESS CORPORATION, located in New York, NY and was formed on Feb 15, 1994. This file was obtained from the Secretary of State and has a file number of 1795583." …. "Base One Technologies – Corporate Strategy – We are a Government Certified Women-Owned Business We practice Diversity Recruitment and Staffing for IT positions Base One was founded in 1994 by a women engineer who had made a career in technology research for many years. ..We are also partnered with firms that are 8A certified as Minority firms, Disabled Veteran firms, Native American firms, Vietnam

veteran firms

, women owned firms. .. Base One's staff of engineers are a diverse group of professionals. This diverse network of engineers helps us to branch out to other engineers and creates an even larger network of resources for us to work with. .. Information Security Planning is the process whereby an organization seeks to protect its operations and assets from data theft or computer hackers that seek to obtain unauthorized information or sabotage business operations.

Key Clients Benefiting From Our Information Security Expertise: Pentagon Renovation Program, FAA, Citigroup, MCI.

.. Performs architectural assessments and conducts both internal and external penetration testing. The results of these efforts culminate in an extensive risk analysis and vulnerabilities report. Develops, implements and supports Information Security Counter measures such as honey-pots and evidence logging and incident documentation processes and solutions."
"The 8(a) Business Development Program assists in the development of small businesses owned and operated by individuals who are socially and economically disadvantaged, such as women and minorities. The following ethnic groups are classified as eligible: Black Americans; Hispanic Americans; Native Americans (American Indians, Eskimos, Aleuts, or Native Hawaiians); Asian Pacific Americans (persons with origins from Burma, Thailand, Malaysia, Indonesia, Singapore, Brunei, Japan, China (including Hong Kong), Taiwan, Laos, Cambodia (Kampuchea), Vietnam, Korea, The Philippines, U.S. Trust Territory of the Pacific Islands (Republic of Palau), Republic of the Marshall Islands, Federated States of Micronesia, the Commonwealth of the Northern Mariana Islands, Guam, Samoa, Macao, Fiji, Tonga, Kiribati, Tuvalu, or Nauru); Subcontinent Asian Americans (persons with origins from India, Pakistan, Bangladesh, Sri Lanka, Bhutan, the Maldives Islands or Nepal). In 2011, the SBA, along with the

FBI

and the

IRS

, uncovered a massive scheme to defraud this program. Civilian employees of the U.S. Army Corps of Engineers, working in concert with an employee of Alaska Native Corporation Eyak Technology LLC allegedly submitted fraudulent bills to the program, totaling over 20 million dollars, and kept the money for their own use.[26] It also alleged that the group planned to steer a further 780 million dollars towards their favored contractor.[27]

Yours sincerely,

Field McConnell, United States Naval Academy, 1971; Forensic Economist; 30 year airline and 22 year military pilot; 23,000 hours of safety; Tel: 715 307 8222

David Hawkins Tel: 604 542-0891 Forensic Economist; former leader of oil-well blow-out teams; now sponsors Grand Juries in CSI Crime and Safety Investigation