United States Marine Field McConnell
Plum

City Online - (

AbelDanger.net

)
Abel Danger
(
AD
) has explained how President-elect Donald Trump can link the ISIS "Turkey Shoot" in Istanbul on New Year's Day to
Serco
's alleged qui tam frauds on the U.S. Defense Ammunition Center and an online Office of SBIC Liquidation allegedly established in elite hotels booked or patronized by the Clinton Foundation.
AD
claims that Clinton Foundation insiders outsourced the operation of the Defense Ammunition Center (DAC) to
Serco
in October 2008 in a qui tam fraud which has ensured regular supplies of ammunition by the Obama administration to the various terrorist groups spawned by Clinton donors in the 1990s.
AD
claims that Clinton Foundation aides established the Office of SBIC Liquidation in elite hotels in 1997 with
Serco
shareholders BNY Mellon acting as trustee and
Gold
man Sachs, Credit Suisse and JPMorgan acting as underwriters for debentures to fund murder-for-hire service for Clinton donors.
AD
claims that Hillary Clinton used
Serco
to bypass the Defense
Red
Switch Network privileges of POTUS 42 on 9/11 and link a private server in the basement of her home in Chappaqua New York to the Federal Bridge Certification Authority and liquidation offices in the Marriott World Trade Center.
AD
claims that Clinton's bypass of
Red
Switch privileges on 9/11 was run online out of an Office of SBIC Liquidation allegedly established in the Marriott Hotel by Kristine "Con Air" Marcy, Field McConnell's sister, in a joint venture with her partner the late Lenora Guarria, former Chief Operating Officer of the Equal Employment Opportunity Commission on the 18th floor of WTC#7.
AD
claims that Clinton used
Serco
's National Visa Center to book (JABS) the 9/11 demolition crews on Kristine Marcy's Con Air fleet of aircraft in and out of New York and current research suggests that Marcy had them taken to a rendition center to be debriefed and then killed.
AD
claims that the decoy and drone maneuvers for 9/11 were developed by Nicholas Soames, a grandson of Sir Winston Churchill, a former UK Minister of State for the Armed Forces (1994-1997) and a former personal assistant to the late Mark Hatfield, former chairman of the Senate Appropriations Committee.
AD
claims that the dark-web encryption and the alibi services which kept the auction under the radar of the blue team defenders on 9/11 was developed by
Serco
's Vice President of Intelligence Business and National Security Advisor Maureen Bagisnki, the former head of NSA Signals Intelligence (Sigint).
AD
has prioritized possible qui tam suits against
Serco
and the participants in the 8(a) auction who allegedly sold or bought red switch privileges to stand down military, federal civilian agencies and the intelligence community during the travel, liquidation and media-play operations of September 11 …
1. U.S. Defense Ammunition Center – ISIS supplied by
Serco
agents in Marriott hotels
2. National Visa Center – Pig farm M.C., shareholder and hijacker alibis for 9/11
3. Office of SBIC Liquidation – Goldman Sachs, Credit Suisse, JPMorgan, BNY Mellon
4. Defense
Red
Switch Network – Auctioned 'Flash Override' access to federal bridge
5. Federal Bridge Certification Authority – 8(a)
Red
Switch sovereign state extortion
6. Joint Automated Booking System – For Con Air/8(a) saboteurs and Zulu snuff-film ETA
7. FAA Contract Towers – Impute ad hoc waypoints through ITT Sheraton / Marriott
8. E-4B NAOC "Doomsday" Fleet – Boeing tracking and telemetry in Zulu time
9. U.S. Patent And Trademark Office – Lockheed penetrators, Alien Property Custodian
Having had private conversations with his sister Kristine Marcy and her partner the late Lenora Guarria, Field McConnell became an original source relator for the 9/11 attacks and is now asking to meet with President-elect Trump to explain how to use qui tam remedies – unwittingly suggested by Marcy– to raise funds to expand 'peacetime components of the Marine Corps to meet the needs of the war on terror and stop
Serco
's allegedly-ongoing use of U.S. ammunition and elite hotel networks to liquidate the Clinton's private or sovereign-state enemies .
Istanbul Turkish nightclub - on New Year Eve Claus opens fire! 2017
Defense Ammunition Center
US supplies Terrorists while Russia destroys ISIS Ammunition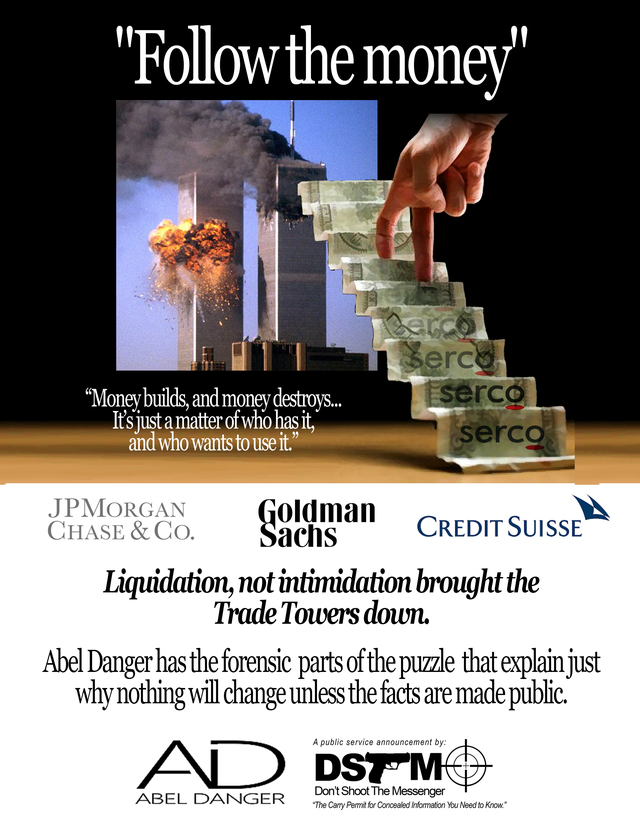 The 9/11 Hotel - Part 1 of 5




ENHANCED VERSION: News Reports WTC7 Fell Before It Happens!

SERCO

Owns the World, | Big Brother Watch

Copy of

SERCO

GROUP PLC: List of Subsidiaries AND Shareholders!

(Mobile Playback Version)

The Coup D'état The CLINTON Legacy SEPT 11 2001 Bush "Angel is Next"
AIR FORCE ONE's Call Sign

"Digital Fires Instructor Serco – Camp Pendleton, CA Uses information derived from all military disciplines (e.g., aviation, ground combat, command and control, combat service support, intelligence, and opposing forces) to determine changes in enemy capabilities, vulnerabilities, and probable courses of action." "Defense Ammunition Center (DAC) Contract Type Fixed Price Period of Performance 10/1/2008 to 9/30/2013 Project Overview: Since 2008,

Serco

has assisted DAC with the analysis, design, development, implementation, management/ administration, and evaluation of integrated, enterprise-wide and component-specific training, learning, knowledge management, and strategic human resource management interventions that are critical to achieving their mission.

Serco

holds an OPM TMA TO with DAC and also a contract through GSA Millenia Lite. When the GSA contract could not support all of DACs needs,

Serco

recommended the use of the OPM TMA vehicle. Through these contracts,

Serco

provides training program management support to deliver multi-faceted best practice solutions in training development and delivery, knowledge management, portal technologies, course conversions (ILT and CBT to WBT), mobile performance applications, and Learning Management Systems support.

Serco

applies the ADDIE model to all course development activities including ILT, WBT, and leading-edge technologies including mobile performance applications.

Serco

provided LMS support and also developed and continues to manage DAC's Ammunition Community of Excellence."
"Syria Truce Brokered as Russia, Turkey Grab Initiative From U.S. Stepan Kravchenko, Henry Meyer, Taylan Bilgic and Dana Khraiche December 29, 2016, 4:05 AM PST December 29, 2016, 10:27 AM PST Cease-fire in civil war takes effect at midnight, Russia says Russian-Turkish effort comes after U.S.-backed plans failed
Russia and Turkey announced they've brokered a cease-fire agreement in Syria that they hope will pave the way to a peace settlement ending the nation's civil war, seizing the initiative from the U.S. after years of failed diplomacy.
"A very great deal of work was done together with our partners from Turkey," President Vladimir Putin said at a televised meeting Thursday with his foreign and defense ministers. The accord is something we've "been waiting a long time for," he said.
The deal sidelines the U.S., which had led peace efforts without success for years, most recently when a similar cease-fire negotiated with Russia

collapsed

after only a week in September. Russia said the U.S. may join the accord once Donald Trump takes office as president in January. Russia stepped up its diplomatic campaign after its forces helped Syrian President Bashar al-Assad to defeat rebel fighters in the country's largest city, Aleppo, this month in a turning point in the war."
"Turkey strikes more than 100 Isis targets in Syria after Istanbul nightclub attack Manhunt continues for unknown gunman who shot dead at least 39 people, including more than two dozen non-Turkish nationals, 75 minutes into 2017

Peter Walker

@petejohn_walker 13 minutes ago The Independent Online Turkey has bombed and fired at more than 100

Isis

targets in Syria immediately after the nightclub attack in Istanbul. The country's chief of general staff's office, cited by the state-owned Anadolu Agency, said Turkish jets struck eight Isis targets and that tanks and artillery opened fired on 103 targets near the al-Bab stronghold. The retaliation, an immediate response to a gunman's killing of at least 39 people at the Reina bar on the banks of the Bosphorus, has reportedly killed 22 people.
Russian jets have also attacked Isis targets in Dayr Kak which lies around five miles southwest. Isis claimed responsibility for the attack on Monday morning.
Anti-terrorism squads meanwhile have arrested eight people now being questioned at Istanbul's police headquarters. A manhunt however is still under way for the gunman, who is believed to be from either Uzbekistan or Kyrgyzstan, who fired an automatic rifle and detonated hand grenades.
A statement from Isis reads: "In continuation of the blessed operations that Islamic State is conducting against the protector of the cross, Turkey, a heroic soldier of the caliphate struck one of the most famous nightclubs where the Christians celebrate their apostate holiday."


Antonello Guerrera @antoguerrera

BREAKING: ISIS claims the #Istanbul attack It also said the man opened fire with an automatic rifle, believed to be a kalashnikov, in "revenge for God's religion and in response to the orders" of its so-called leader Abu Bakr al-Baghdadi.
According to the country's Hurriyet and Karar newspapers, police believe the same Isis cell executed the high-casualty suicide bomb and gun

attack at Istanbul's Ataturk Airport in June

.
In direct retaliation, Turkish warplanes and artillery have killed 22 of the group's militants in the Syrian town of al-Bab, while Russian aircraft reportedly destroyed Isis targets in the area of Dayr Kak around five miles southwest. Turkey President

Recep Tayyip Erdogan

has already said the country, which has lost hundreds of citizens to terrorism this year, will "

fight to the end against terror

".
Footage shows gunman unleash wave of bullets outside Istanbul nightclub The manhunt for the killer, who is believed to have fired up to 180 bullets in the 700-capacity venue, continues. The onslaught, which murdered Saudi Arabians, Moroccans, Lebonese, Libyans, Tunisians, Indians and Jordanians, lasted approximately seven minutes.
The attack also killed one each from Kuwait, Canada, Israel, Syria and Russia, as well as a two Bavarian residents: one a Turkish national and the other a dual Turkish-German citizen.
Mr Erdogan earlier said: "As a nation, we will fight to the end against not just the armed attacks of terror groups and the forces behind them, but also against their economic, political and social attacks.
"They are trying to create chaos, demoralise our people, and destabilise our country with abominable attacks that target civilians.
In pictures: Istanbul nightclub attacked during New Year party "We will retain our cool-headedness as a nation, standing more closely together, and we will never give ground to such dirty games."
At least 69 people were being treated in hospital and four were said to be in a serious condition. Security in Turkish cities had been heightened during the run-up to the New Year and 17,000 police officers, some reportedly camouflaged as Santa Claus, were deployed.


Twin bombings outside the Besiktas football stadium last month

, an attack claimed by Kurdish militants, killed 38 people."
"U.S. continues to airdrop weapons and aid to ISIS - a group they're allegedly fighting

Brandon Turbeville

Activist Post Tue, 06 Jan 2015 14:00 UTC As the "convenient" and "accidental" airdrops of weapons and supplies by the US and NATO into the hands of

ISIS and al-Qaeda jihadists

fighting inside both Syria and Iraq begin to draw more attention throughout largely alternative media outlets, such convenient mistakes are also being questioned by national governments, particularly those who may be in the crosshairs of NATO in the very near future.
Individuals who have come to question the nature of the allegedly accidental air drops are legion, but one of the more recent and high profile skeptics is the Commander of Iran's Basij Force, Brigadier General Mohammed Reza Naqdi.
In an address to a group of Basij forces on January 5, Naqdi stated that "The US directly supports the ISIL in Iraq and the US planes drop the needed aids and weapons for ISIL in Iraq ..." In addition, he stated that the US Embassy in Baghdad is the command center for ISIL and other "takfiri" militants.
Indeed, while the United States military portrays the receipt of weapons and supplies by ISIS as entirely accidental, Naqdi presents the situation as quite the opposite. Contradicting the propaganda and stated aims of the US military, Naqdi stated that the Iraqi forces have managed to retrieve aid that was actually intended for ISIS fighters, not the other way around."
CBS/AP March 4, 2015, 6:18 AM Hillary Clinton's email server traced to home-based service: AP Last Updated Mar 4, 2015 7:32 AM EST WASHINGTON -- The computer server that transmitted and received Hillary Clinton's emails - on a private account she used exclusively for official business when she was secretary of state - traced back to an Internet service registered to her family's home in Chappaqua, New York, according to Internet records reviewed by The Associated Press.
If the details in the AP report are true, they add a new level of secrecy and sophistication surrounding her e-mail use while she was at the State Department, observes CBS News correspondent Margaret Brennan.
The highly unusual practice of a Cabinet-level official physically running her own email would have given Clinton, the presumptive Democratic presidential candidate, impressive control over limiting access to her message archives. It also would distinguish Clinton's

secretive email practices

as far more sophisticated than some politicians, including Mitt Romney and Sarah Palin, who were caught conducting official business using free email services operated by Microsoft Corp. and Yahoo Inc.
Most Internet users rely on professional outside companies, such as Google Inc. or their employers, for the behind-the-scenes complexities of managing their email communications. Government employees generally use servers run by the federal agencies where they work.
In most cases, individuals who operate their own email servers are technical experts or users so concerned about issues of privacy and surveillance they take matters into their own hands.
Clinton has not described her motivation for using a private email account that traced back to her own private email server registered under an apparent pseudonym - for official State Department business.
Operating her own server would have afforded Clinton additional legal opportunities to block government or private subpoenas in criminal, administrative or civil cases because her lawyers could object in court before being forced to turn over any emails. And since the Secret Service was guarding Clinton's home, an email server there would have been well protected from theft or a physical hacking.
But "homebrew" email servers are generally not as reliable, secure from hackers or protected from fires or floods as those in commercial data centers. Those professional facilities provide monitoring for viruses or hacking attempts, regulated temperatures, off-site backups, generators in case of power outages, fire-suppression systems and redundant communications lines.
A spokesman for Clinton did not respond to requests seeking comment from the AP on Tuesday." "

SERCO

: 'The biggest company you've never heard of' JULY 7, 2013 BY

21WIRE

21st Century Wire says

… As politicians asset-strip the public's portfolio of properties, infrastructure and services, one multinational corporation has grown as a result – and its scope and reach may shock many people who have not been paying attention.
All around the globe, our governments are busy outsourcing public-sector services like health, education, police, prisons, money delivery and military – to the esteemed private sector. It's sold to the public as a solution to avoiding higher taxes, while retaining better services. But it's simply an accountancy shell game, where the government kicks the can down the road by spreading the bill to the taxpayer over a longer period of time, in order to avoid any large upfront payments – all the while, allowing a private corporation to extend its influence over society. This, by definition, is fascism. They are called

SERCO

, and they run countries…




The Biggest Company You've Never Heard Of

As well as thanking God for his success, CEO Chris Hyman is a Pentecostal Christian who has released a gospel album in America and fasts every Tuesday. Coincidentally he was in the World Trade Centre on 9/11 on the 47th floor addressing shareholders."
"Opened in 1994 as the successor to the Transitional Immigrant Visa Processing Center in Rosslyn, Va., the NVC centralizes all immigrant visa preprocessing and appointment scheduling for overseas posts. The NVC collects paperwork and fees before forwarding a case, ready for adjudication, to the responsible post. … Only two Foreign Service officers, the director and deputy director, work at the center, along with just five Civil Service employees. They work with almost 500 contract employees doing preprocessing of visas, making the center one of the largest employers in the Portsmouth area. The contractor,

Serco

, Inc., has worked with the NVC since its inception and with the Department for almost 18 years. .. The NVC also preprocesses the chief of mission (COM) application required for the fi ling of a petition for a Special Immigrant Visa (SIV). Such visas, for foreign nationals who have performed services for the U.S. government in Iraq and Afghanistan, require COM concurrence before the applicant can file a petition with USCIS. The NVC collects the requisite documents from such applicants and, when complete, forwards the package to the U.S. embassies in Baghdad or Kabul for COM approval" "[Spoliation inference that JonBenet Ramsey murder on Christmas Day 1996, was a test run for Kristine Marcy and her associates at DOJ

Pride

in the use of SENTRI, JABS and JPATS in

Serco

's Con Air 8(a) murder for hire] FOR IMMEDIATE RELEASE AG TUESDAY, OCTOBER 22, 1996

[Two months before the Christmas Day rape, torture and murder of JonBenet]

(202) 616-2777 TDD (202) 514-1888 ATTORNEY GENERAL PRESENTS HAMMER AWARDS AT DOJ "LAB DAY" WASHINGTON, DC -- Attorney General Janet Reno presented Hammer Awards to three employee working groups from Justice Department components as part of the Department's "Justice Performance Review Lab Day," an event showcasing the achievements of the Department's 16 reinvention labs. The three Justice Department teams receiving the award are: The SENTRI Reinvention Lab, for developing a secure, high-tech, automated border inspection system at Otay Mesa, California; The Joint Automated Booking System (JABS) Lab, a multi-component effort which has significantly improved the prisoner booking process; The Justice Prisoner Alien Transportation System (JPATS)

[launched by the Janet Reno Gore-Hammer awardee, Kristine Marcy]

,

which combines the resources of several DOJ components to schedule and transport prisoners more quickly, safely, and economically. .. The JPATS Award The Justice Prisoner and Alien Transportation System (JPATS), an innovative partnership among the U.S. Marshals Service (USMS), the Immigration and Naturalization Service (INS), and the Federal Bureau of Prisons, carries prisoners and detainees under federal jurisdiction more safely and efficiently.

http://www.justice.gov/opa/pr/1996/Oct96/523ag.htm

"
"

Serco

in North America In North America,

Serco

is a trusted government service delivery partner with over 11,000 employees and more than 20 years' experience. We provide IT and management services to every branch of the U.S. military, federal civilian agencies, the intelligence community, and many other government agencies. We advise, design, integrate, and deliver services that solve our clients' most difficult service challenges. We work with our clients to understand exactly what they need and guide their projects through the complete lifecycle to completion. Serco North America, which includes the Canadian division, is currently headquartered in Reston, Virginia, and has annual revenues of over $1.5 billion."
"

Serco

's Office of Partner Relations (OPR) helps facilitate our aggressive small business utilization and growth strategies. Through the OPR, Serco mentors four local small businesses under formal Mentor Protégé Agreements: Three sponsored by DHS (Base One Technologies, TSymmetry, Inc., and HeiTech Services, Inc.,) and the fourth sponsored by GSA (DKW Communications, Inc.). Serco and HeiTech Services were awarded the 2007 DHS Mentor Protégé Team Award for exceeding our mentoring goals." "Contact 111 Eighth Avenue New York, NY 10011 Description Base One Technologies, Ltd. is a DOMESTIC BUSINESS CORPORATION, located in New York, NY and was formed on Feb 15, 1994. This file was obtained from the Secretary of State and has a file number of 1795583."
"Base One Technologies – Corporate Strategy – We are a Government Certified Women-Owned Business We practice Diversity Recruitment and Staffing for IT positions Base One was founded in 1994 by a women engineer who had made a career in technology research for many years. ..We are also partnered with firms that are 8A certified as Minority firms, Disabled Veteran firms, Native American firms, Vietnam veteran firms, women owned firms. .. Base One's staff of engineers are a diverse group of professionals. This diverse network of engineers helps us to branch out to other engineers and creates an even larger network of resources for us to work with. .. Information Security Planning is the process whereby an organization seeks to protect its operations and assets from data theft or computer hackers that seek to obtain unauthorized information or sabotage business operations. Key Clients Benefiting From Our Information Security Expertise: Pentagon Renovation Program, FAA, Citigroup, MCI. .. Performs architectural assessments and conducts both internal and external penetration testing. The results of these efforts culminate in an extensive risk analysis and vulnerabilities report. Develops, implements and supports Information Security Counter measures such as honey-pots and evidence logging and incident documentation processes and solutions." "The 8(a) Business Development Program assists in the development of small businesses owned and operated by individuals who are socially and economically disadvantaged, such as women and minorities. The following ethnic groups are classified as eligible: Black Americans; Hispanic Americans; Native Americans (American Indians, Eskimos, Aleuts, or Native Hawaiians); Asian Pacific Americans (persons with origins from Burma, Thailand, Malaysia, Indonesia, Singapore, Brunei, Japan, China (including Hong Kong), Taiwan, Laos, Cambodia (Kampuchea), Vietnam, Korea, The Philippines, U.S. Trust Territory of the Pacific Islands (Republic of Palau), Republic of the Marshall Islands, Federated States of Micronesia, the Commonwealth of the Northern Mariana Islands, Guam, Samoa, Macao, Fiji, Tonga, Kiribati, Tuvalu, or Nauru); Subcontinent Asian Americans (persons with origins from India, Pakistan, Bangladesh, Sri Lanka, Bhutan, the Maldives Islands or Nepal). In 2011, the SBA, along with the FBI and the IRS, uncovered a massive scheme to defraud this program. Civilian employees of the

U.S. Army Corps of Engineers

, working in concert with an employee of Alaska Native Corporation Eyak Technology LLC allegedly submitted fraudulent bills to the program, totaling over 20 million dollars, and kept the money for their own use.[26] It also alleged that the group planned to steer a further 780 million dollars towards their favored contractor.[27]" "OFFERING CIRCULAR $360,745,000 (Approximate) U.S. Small Business Administration Guaranteed 5.725% Debenture Participation Certificates, Series SBIC 2008-10 B Evidencing Fractional Undivided Interests in a Pool of 5.725% Debentures Due September 1, 2018 Issued by Small Business Investment Companies Distributions of interest payable March 10 and September 10, commencing March 10, 2009 The Certificates: U.S. Small Business Administration Guaranteed 5.725% Debenture Participation Certificates, Series SBIC 2008-10 B.
• The Certificates represent fractional undivided interests in a pool of debentures which will be issued, simultaneously with the Certificates, by small business investment companies licensed by the U.S. Small Business Administration, an independent agency of the United States.
• The Certificates are issued by SBA, through its agent The Bank of New York Mellon, as Trustee. SBICs: Small Business Investment Companies, licensed by the U.S. Small Business Administration.
The Pool: The Pool will be composed of $360,745,000 aggregate principal amount of 5.725% debentures to be issued on or about September 24, 2008, by thirty-eight SBICs. Payment Dates: Payment of interest on the debentures in the pool will be made on each March 1 and September 1, commencing March 1, 2009 …
The Certificates will be issued pursuant to a Trust Agreement dated as of February 1, 1997 (as amended from time to time, the "Trust Agreement"), among SBA, The Bank of New York Mellon, as Trustee, and SBIC Funding Corporation, as Fiscal Agent (as defined below). Holders will be entitled to the benefits of such Trust Agreement to the full extent provided therein. No Holder is intended to have, nor shall any Holder have any right by virtue of any provision of the Trust Agreement, to institute any suit, action or proceeding in equity or at law upon or under or with respect to the Trust Agreement. The rights of a Holder against SBA under the Guarantee are direct, and not through the Trustee. The responsibilities of the Trustee, summarized below, are limited to those set forth in the Trust Agreement, and no further responsibilities should be inferred. All references to time herein refer to New York City time. The Trust Agreement will be available for reasonable inspection and copying by any Holder or its designee, at such person's expense at the Trustee's Corporate Trust Office, 101 Barclay Street, FL4W New York, New York 10286 Attention: Corporate Trust Services (ABS). …
The Underwriters named below have severally agreed, subject to the terms and conditions of the Debenture Purchase, Pooling and Exchange Agreement between SBIC Funding Corporation, as Selling Agent of the SBICs, and the Underwriters, to purchase the Debentures together with the related Guarantee Agreement and to exchange such Debentures and Guarantee Agreement for the principal amount of Certificates set forth below opposite their respective names.
Principal Amount Underwriter of Certificates J.P. Morgan Securities Inc. . . . . . . . . . . $120,255,000 Goldman, Sachs & Co.. . . . . . . . . . . . . . . . . . . . . . $120,245,000 Credit Suisse Securities (USA) LLC . . . . . . . . . . . . . . . $120,245,000 Total . . . . . . . . . . . . . . . . . . . . . . . . . . . . . . . . . . . . . . . . $360,745,000
An Acceleration Event with respect to a debenture in the Pool will occur upon an event of default and transfer of the SBIC into liquidation status by SBA. See "Acceleration of Debentures." Upon an Acceleration Event, pursuant to its Guarantee, SBA will make a payment of 100% of the principal amount of a debenture in the Pool, together with interest accrued to the Payment Date next following an Acceleration Event. The anticipated frequency and amount of Acceleration Payments cannot be predicted and will be influenced by a variety of factors. See "Acceleration of Debentures.""

Yours sincerely,

Field McConnell, United States Naval Academy, 1971; Forensic Economist; 30 year airline and 22 year military pilot; 23,000 hours of safety; Tel: 715 307 8222

David Hawkins Tel: 604 542-0891 Forensic Economist; former leader of oil-well blow-out teams; now sponsors Grand Juries in CSI Crime and Safety Investigation