United States Marine Field McConnell
Plum

City Online - (

AbelDanger.net

)
February 24, 2017
Abel Danger
(
AD
) explains below how President Trump can track the murder of the former presenter of the
BBC
programme Crimewatch Jill Dando on 26 April 1999 to
Serco
's alleged use of Demon face-recognition software to control/extrort/blackmail the 8(a) pedophile network which appears to provide Steve Bannon's banking associates with a real-time fake-news and murder-for-hire service on the Federal Bridge Certification Authority.
AD
claims that Dando was murdered after her Crimewatch team discovered that former
BBC
director general, the 'hideously white' Greg Dyke had sold (?) keys to a BBC/MI5 archive of child pornography allegedly assembled by Lord Boothby (d. 1986), Clement Freud (d. 2009) and Jimmy Savile (d. 2011), to the Chicago-based clients of IP lawyer Michelle Obama for the extortion of mentors on the federal bridge.
AD
is proposing that Trump has
a fake news rule embedded in 18 U.S. Code § 1958
to deny
Serco
's 8(a) companies alleged use of government networks to generate fake news to conceal murder for hire as was allegedly the case with
BBC
broadcasts on the East Africa Embassy bombings of 1998 and the contract hit of Crimewatch presenter Jill Dando.
AD
claims that
Serco
shareholders including the UK government,
Gold
maan Sachs and the SocGen purchaser of Bannon & Co. in 1998 used bin Laden's media organ – The Advice and Reform Committee – in London(istan) to inject fake news on 8(a) murders through the US Treasury's Office of Foreign Assets Control on the federal bridge.
AD
claims that
Serco
(formerly RCA GB 1929) shareholders including the British government launched its fake-news service on February 1, 1942 – fifty-six days after the Japanese attack on Pearl Harbor and the entry of the United States into WWII – with short-wave broadcasts to Europe, Africa and the Far East of
BBC
and VOA* scripts from the late William Stephenson and American playwright Robert Sherwood.
VOA* = Voice of America
AD
claims that
Serco
ordered Kristine "Con Air" Marcy to integrate the BBC snuff film archive with 8(a) pedophile newsgroups and the Office of Foreign Assets Control on the federal bridge through the staged murders of prostitutes at a B.C. pig farm by the federally-registered 'Piggy Palace Good Times Society'.
AD
Global Operations Director Field McConnell claims that his sister Kristine Marcy and ICE staged the JonBenét Ramsey murder in December 1996 and used
Serco
'S.B.T.C' – 8(a) Small Business Technology Companies – newsgroups to extort access to mentor devices (US 6266704 B1) for the embassy attacks.
AD
claims that
Serco
authorized patent lawyer Hillary Clinton to use a patent pool of bridge technologies including weapons from mentors at Boeing, Lockheed Martin, Northrop Grumman and Raytheon to synchronize the
London-based Bin Laden
attacks on the East Africa embassies, USS
Cole
and 9/11.
AD
claims that
Serco
provided the UK Cabinet Office with resilience training on 9/11when Dyke's BBC pedophile elites allegedly injected fake news into media plays while 8(a) company actors,
experienced journalists and television crews
told Americans that they had been attacked by the Bin Laden Group.
Field McConnell is asking to meet with President Trump to explain how he can ensure Bannon and his bankers are not fooling him with fake news of Bin Laden murder-for-hire by using a 14-word amendment/addition [see brackets] to 18 U.S. Code § 1958 - Use of interstate commerce facilities in the commission of murder-for-hire where "
Whoever travels … with intent that a murder be committed
[or news or evidence of such a murder be concealed, withheld, destroyed or faked]
… and if death results, shall be punished by death or life imprisonment, or shall be fined not more than $250,000, or both
."
Reconstruction US Embassy Nairobi attack - Age of Terror -

BBC
The Real Killers of Jill Dando
SNL Mocks the Phone Calls From Donald Trump and Steve Bannon 2/4/2017
Steve Bannon Played Trump, Now Trump Is Struggling For Legitimacy
Steve Bannon Film Treatment Envisions 'Islamic States of America'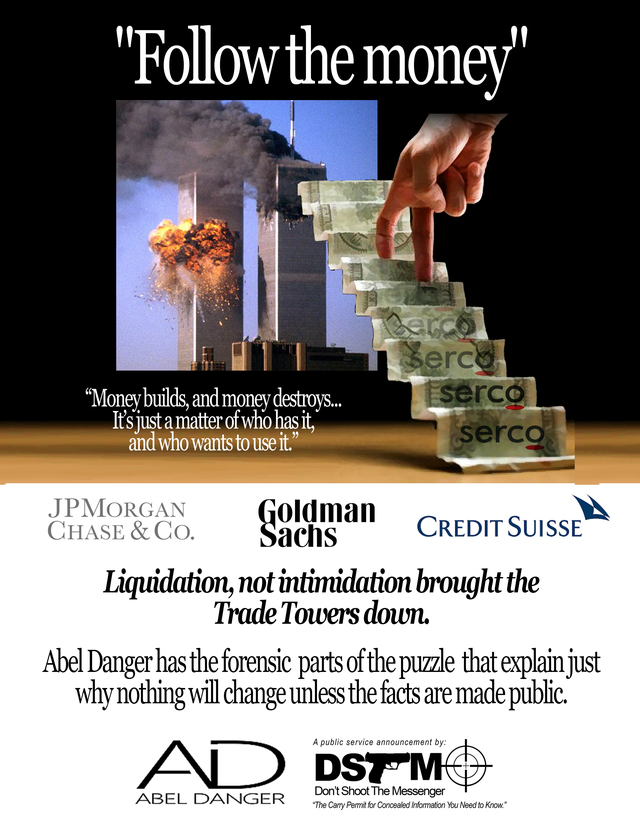 N.B. Bannon banking alma mater Goldman Sachs funded Liquidation 9/11!
Meet Field's Sister, Kristine Marcy (Sister Abel, Brother Cain)
SERCO

Owns the World, | Big Brother Watch




Copy of

SERCO

GROUP PLC: List of Subsidiaries AND Shareholders!

(Mobile Playback Version)

"Digital Fires Instructor

Serco

– Camp Pendleton, CA Uses information derived from all military disciplines (e.g., aviation, ground combat, command and control, combat service support, intelligence, and opposing forces) to determine changes in enemy capabilities, vulnerabilities, and probable courses of action." "Jill Wendy Dando (9 November 1961 – 26 April 1999) was an English

journalist

,

television presenter

, and

newsreader

who was 1997

BBC

Personality of the Year. At the time of her death, she was the presenter of the

BBC

programme

Crimewatch

.
On 26 April 1999, Dando was fatally shot outside her home in Fulham, London. A local man,

Barry George

, was convicted and jailed for the murder but was later acquitted after an appeal and retrial. A Yugoslav terrorist connection was initially dismissed by police, but has since acquired more credence. The case remains unsolved…."
"Khalid Abdulrahman al-Fawwaz (Arabic: خالد الفواز‎‎; kunya: Abu Omar al-Sebai (أبو عمر)‎[1] is a Saudi who was under indictment in the United States from 1998,[2]accused of helping to prepare the

1998 United States embassy bombings

. He was extradited to the United States and arraigned in October 2012.[3]
Al-Fawwaz appeared on the UN 1267 Committee's list of individuals belonging to or associated with al-Qaeda,[4] and was embargoed as a Specially Designated Global Terrorist by the US Treasury's

Office of Foreign Assets Control

.[5]
According to the Treasury statement, al-Fawwaz was born on August 25, 1962. He moved to London in 1994. He was appointed by Osama bin Laden as the first head of the media organ called the Advice and Reform Committee in London, where he met

Adel Abdel Bari

and

Abu Qatada

, amongst others.[2] In 1995, while bin Laden was in Sudan, al-Fawwaz was said to be attempting to pave the way for bin Laden to move to Britain.[6]
He was arrested under the

Prevention of Terrori$m Act 1989

, as part of Operation Challenge, which resulted in the arrest of seven UK-resident men, who were accused of links to al-Jihad.[7][8][9][10][11] One of the men was charged with possession of a weapon.[12][13] Six months after the arrests, British Muslims staged a demonstration in front of

10 Downing Street

to protest against the continued incarceration of the seven men.[14] L'Houssaine Kherchtou, testifying for the United States, claimed that al-Fawwaz had been the leader of an "Abu Bakr Siddique camp", which he contradictingly placed in Hayatabad, Pakistan, or Khost, Afghanistan.[1][15]
His trial, along with his co-defendant Abu Anas al Libi, also known as "Nazih al Raghie" or "Anas al Sebai", was scheduled to begin on 3 November 2014, before Judge

Lewis A. Kaplan

.[16] At the same time, his co-conspirator, Abdel Bari, pleaded guilty.[17] He was sentenced to life imprisonment on 15 May 2015.[18]
The term

Londonistan

is due in large part to his activities.[

19

]"
"Police: Hitman DID kill Crimewatch presenter Jill Dando A LEFT-HANDED hitman murdered Jill Dando 15 years ago this weekend, police believe. By DON HALE PUBLISHED: 00:01, Sun, Apr 27, 2014 The Crimewatch presenter was gunned down, aged 37, as she returned to her home in Fulham, west London.
Her death sparked one of the UK's biggest murder hunts.
Although Barry George was convicted of her murder in July 2001, he was eventually cleared on appeal in August 2008.
Theories about the killing range from a Serbian warlord, angry that she made a TV appeal on behalf of Kosovan refugees, to British underworld enforcers furious at her Crimewatch investigations.
Dando had received death threats before her murder on April 26, 1999, and the BBC was on lock down, with armed guards patrolling Television Centre in London.
A former senior Metropolitan Police officer, who asked to remain anonymous, says that soon after the killing the Home Office issued a detailed description of a man they wished to interview, including the fact he was left-handed, and that the bullet used was "rare or unusual".
He also said the killer's gun was probably used again in a Liverpool gangland shooting a few years later.
The source said: "The Home Office believed it was a professional hit and asked all police forces for support and to co-operate in a massive crackdown on gun dealers, reactivated weapons and especially on custom-made ammunition."
A detailed description of a man thought responsible for the attack suggested he was 6ft tall, dark haired, smartly dressed and of a Mediterranean appearance.
The source said the BBC was on notice of threats, claiming this was triggered by actions in Serbia.
Jill had received death threats before over Crimewatch. She rattled a few cages and upset some heavy-duty people A former senior Metropolitan Police officer He added: "Jill had received death threats before over Crimewatch. She rattled a few cages and upset some heavy-duty people."
Dando was preparing a programme about Britain's mobsters, the source added.
She was also investigating the death of her friend, Chelsea vice-chairman Matthew Harding, who was killed in a helicopter crash.
The source said: "Matthew had been nosing around in something he shouldn't and Jill was trying to find out the results of a blood test on the pilot.
"The strange thing is that Matthew Harding was also a close friend of Irish journalist Veronica Guerin, who was also shot dead a few months before Matthew's death.
"He had discussed his problem with both Veronica and Jill Dando – both were murdered and he too died in a mysterious helicopter crash."
During the investigation to trace the gun used in the killing, one Merseyside underworld figure said: "I knew there was a contract out on her. I think it came from Scotland.""
"The Office of Foreign Assets Control (OFAC) is a

financial intelligence

and enforcement agency of the

U.S. Treasury Department

charged with planning and execution of economic and trade sanctions in support of U.S.

national security

and foreign policy objectives. [3] Under Presidential national emergency powers, OFAC carries out its activities against foreign states as well as a variety of problematic organizations and individuals, like terrorist groups, deemed to be a threat to U.S. national security.[4]
As a component of the U.S. Treasury Department, OFAC operates under the auspices of the

Office of Terrorism and Financial Intelligence

and is primarily composed of intelligence targeters and lawyers. While many of OFAC's targets are broadly set by the White House, most individual cases are developed as a result of lengthy investigations by OFAC's Office of Global Targeting (OGT).[5]
Often described as one of the most powerful yet unknown government agencies,[5][6] OFAC has been in existence for more than a half-century and is playing an increasingly significant role as a foreign policy lever of the U.S. government. The agency is empowered to levy significant penalties against entities that defy it, including imposing colossal fines, freezing assets, and altogether barring parties from operating in the U.S. Notably, in 2014, OFAC reached a record $1 billion settlement with the French BNP Paribas, which was a portion of approximately $9 billion penalty imposed in relation to the case as a whole.[7]"
"Bannon was an officer in the United States Navy for seven years in the late 1970s and early 1980s, serving on the destroyer USS Paul F. Foster as a

surface warfare officer

in the Pacific Fleet and stateside as a special assistant to the

Chief of Naval Operations

at the Pentagon.[34] Upon his departure he was ranked as a lieutenant (O-3).[1][a] .. After his military service, Bannon worked at Goldman Sachs as an investment banker in the Mergers and Acquisitions Department.[36]When he left the company he held the position of vice president.[37][b] In 1990, Bannon and several colleagues from

Gold

man Sachs

launched Bannon & Co., a boutique investment bank specializing in media. Through this company, Bannon negotiated the sale of

Castle Rock Entertainment

to Ted Turner. As payment, Bannon & Co. accepted a financial stake in five television shows, including Seinfeld.

Société Générale

[

Serco

shareholder – check Soros fraud!!]

purchased Bannon & Co. in 1998.[32]"
"

Onion

routing network for securely moving data through communication networks US 6266704 B1 ABSTRACT The onion routing network is used to protect Internet initiators and responders against both eavesdropping and traffic analysis from other users of the Internet. In the onion routing of the invention, instead of making connections directly to a responding machine, users make connections through onion routers. The onion routing network allows the connection between the initiator and responder to remain anonymous. Anonymous connections hide who is connected to whom and for what purpose from outside eavesdroppers.
Publication number: US6266704 B1 Publication type: Grant Application number: US 09/086,541 Publication date: Jul 24, 2001 Filing date: May 29, 1998 Priority date: May 30, 1997 Fee status: Lapsed Inventors:

Michael G. Reed

,

Paul F. Syverson

,

David M. Goldschlag

Original Assignee: The United States Of America As Represented By

The Secretary Of The Navy

Export Citation: BiBTeX, EndNote, RefMan

Patent Citations

(11),

Non-Patent Citations

(16), Referenced by (107),Classifications (15), Legal Events (6)"
"Saturday, 6 January, 2001, 19:44 GMT Dyke: BBC is 'hideously white' Mr Dyke is worried by the BBC's make-up

BBC

director-general Greg Dyke has described the corporation as being "hideously white".
Mr Dyke did not say the corporation was racist but acknowledged that, like the Metropolitan Police, it had a problem with race relations.
He admitted the organisation's management structure was more than 98% white.
And he said it was unable to retain staff from ethnic minorities and questioned if they were made to feel welcome." "Trump furious at SNL sketch that portrayed Steve Bannon as the real president: report

BRAD REED

14 FEB 2017 AT 15:10 ET President Donald Trump has repeatedly expressed his displeasure with how he and his administration are portrayed on NBC's Saturday Night Live every week — and there's apparently a sketch he hates more than Melissa McCarthy roasting Sean Spicer. A new report claims that the president is particularly furious over

a recent sketch that portrayed top political strategist Steve Bannon

as the real political force in the White House.


According to the Washington Post

, Trump was recently "especially upset by a sketch that cast White House chief strategist Stephen K. Bannon as the Grim Reaper manipulating the president — who was ultimately relegated to a miniature desk, playing dolefully with an expandable toy."
Trump has been defensive about his relationship with Bannon, as

he angrily insisted earlier this month that he "calls his own shots"

shortly after MSNBC's Morning Joe had a panel discussion that pondered whether Bannon was the man "calling the shots" in the Oval Office." "The spoliation of evidence is the intentional, reckless, or negligent withholding, hiding, altering, fabricating, or destroying of evidence relevant to a legal proceeding. Spoliation has two possible consequences: in jurisdictions where the (intentional) act is criminal by statute, it may result in fines and

incarceration

(if convicted in a separate criminal proceeding) for the parties who engaged in the spoliation; in jurisdictions where relevant case law precedent has been established, proceedings possibly altered by spoliation may be interpreted under a spoliation inference, or by other corrective measures, depending on the jurisdiction."
"

Serco

Combined Resilience Exercising

http://www.epcollege.com/EPC/media/MediaLibrary/Downloads/Gold-Standard.pdf


Types of Exercise Workshop Exercises These are structured discussion events where participants can explore issues in a less pressurized environment.
They are an ideal way of developing solutions, procedures and plans rather than the focus being on decision making. Table Top Exercises These involve a realistic scenario and will follow a time line, either in real-time or with time jumps to concentrate on the more important areas. The participants would be expected to be familiar with the plans and procedures that are being used although the exercise tempo and complexity can be adjusted to suit the current state of training and readiness. Simulation and media play can be used to support the exercise. Table-top exercises help develop teamwork and allow participants to gain a better understanding of their roles and that of other agencies and organisations.
Command/Control Post Exercises These are designed primarily to exercise the senior leadership and support staff in collective planning and decision making within a strategic grouping. Ideally such exercises would be run from the real command and control locations and using their communications and information systems. This could include a mix of locations and varying levels of technical simulation support. The

Gold

Standard system is flexible to allow the tempo and intensity to be adjusted to ensure maximum training benefit, or to fully test and evaluate the most important aspects of a plan. Such exercises also test information flow, communications, equipment, procedures, decision making and coordination.
Simulation and Media Support The method of delivering an exercise is flexible and will be designed with the client to meet their requirements with options ranging from simple paper-based delivery through to full use of their real communications systems

[

Red

Switch Network and Hawkeye onion router surveillance aircraft]

and advance computer simulation

[In Trump's death pool and war room suites]

. In addition, media play can also be added in the form of news injects and the provision of experienced journalists and television crews to help test procedures and also assist in training key staff.
Gold Standard Emergency Planning College The Hawkhills, Easingwold, York North Yorkshire, YO61 3EG +44(0) 1347 821406 enquiries@emergencyplanningcollege.com

www.epcollege.com

"
"18 U.S. Code § 1958 - Use of interstate commerce facilities in the commission of murder-for-hire Current through Pub. L.

114-38

. (

See Public Laws for the current Congress

.)


US Code


(a) Whoever travels in or causes another (including the intended victim) to travel in interstate or foreign commerce, or uses or causes another (including the intended victim) to use the mail or any facility of interstate or foreign commerce, with intent that a murder be committed [or news of such a murder be concealed, withheld, destroyed or faked] in violation of the laws of any State or the United States as consideration for the receipt of, or as consideration for a promise or agreement to pay, anything of pecuniary value, or who conspires to do so, shall be fined under this title or imprisoned for not more than ten years, or both; and if personal injury results, shall be fined under this title or imprisoned for not more than twenty years, or both; and if death results, shall be punished by death or life imprisonment, or shall be fined not more than $250,000, or both.
(b) As used in this section and section 1959—
(1) "anything of pecuniary value" means anything of value in the form of money, a negotiable instrument, a commercial interest, or anything else the primary significance of which is economic advantage;

(2) "facility of interstate or foreign commerce" includes means of transportation and communication; and

(3) "State" includes a State of the United States, the District of Columbia, and any commonwealth, territory, or possession of the United States. (Added Pub. L. 98–473, title II, § 1002(a), Oct. 12, 1984, 98 Stat. 2136, § 1952A; renumbered § 1958 and amended Pub. L. 100–690, title VII, §§ 7053(a), 7058(b), Nov. 18, 1988, 102 Stat. 4402, 4403; Pub. L. 101–647, title XII, § 1205(k), title XXXV, § 3558, Nov. 29, 1990, 104 Stat. 4831, 4927; Pub. L. 103–322, title VI, § 60003(a)(11), title XIV, § 140007(b), title XXXII, § 320105, title XXXIII, § 330016(1)(L), (N), (Q), Sept. 13, 1994, 108 Stat. 1969, 2033, 2111, 2147, 2148; Pub. L. 104–294, title VI, §§ 601(g)(3), 605(a), Oct. 11, 1996, 110 Stat. 3500, 3509; Pub. L. 108–458, title VI, § 6704, Dec. 17, 2004, 118 Stat. 3766.)

"OUR PURPOSE The ICE Foundation is a nonprofit organization that supports the mission and the 20,000-plus employees worldwide who comprise US Immigration and Customs Enforcement (ICE), in part, through financial aid, awareness campaigns and scholarships. We also strive to assist victims of immigration- and customs-related crimes, such as human trafficking, through educational scholarships for college and vocational training.
WE'RE HERE TO PROMOTE PUBLIC SAFETY AND A SECURE AMERICA
Support the Mission
We aid ICE in developing and maintaining relationships with all levels of law enforcement in the United States, as well as international law enforcement and public and private corporations. These networks are central to protecting America's infrastructure from sabotage, guarding our intellectual property and identifying and removing national security threats. Honor Those Who Serve
When the unthinkable happens, we're there to support the agency's employees. The foundation provides financial assistance to the families of agents injured and killed in the line of duty.
Heal Those Rescued
ICE is the United States' principal agency responsible for policing human trafficking and child exploitation. The foundation supports that effort by helping to reintegrate the victims of such crimes by providing them with educational financial aid and access to resources.
Heighten Public Awareness
Beyond our campaigns to educate the public about the potential threats to our borders and the agency's role in combating them, the foundation also provides educational scholarships to exemplary children who've been identified by federal law enforcement and the military for demonstrating a commitment to their communities and country.
Kristine Marcy Board Director The National Academy of Public Administration (NAPA)
Kristine M. Marcy served as President and CEO of the National Academy of Public Administration, a non-profit organization chartered by Congress and dedicated to improving Government from January 2011 to June 30, 2011 at the unanimous request of the Board of Directors. Ms. Marcy is a retired federal executive with over 30 years of experience in ten federal departments and agencies including Small Business Administration, Department of Justice Immigration and Naturalization Service, DOJ U.S. Marshals Service, and DOJ Office of the Deputy Attorney General. During her career, Ms. Marcy blended deep technical knowledge with extensive hands-on experience to assist agencies in both operational and leadership positions. Post retirement, Ms. Marcy was an executive consultant for McConnell International, a Government Relations consulting firm, and brought her considerable network of contacts and her direct knowledge of many US federal agencies to help private sector clients develop business strategies." "DHS ICE OTD … Since 1986, through various contracts,

Serco

has provided full training lifecycle support for all areas of this key Law Enforcement organization including Inspections, Border Patrol, Enforcement, and DHS operations at the Federal Law Enforcement Training Academy in Glynco, GA. ..

Serco

developed and scripted three scenarios based on negligent practices identified by the IG report that have resulted in the use of lost or uncontrolled weapons for robbery, murder, and the accidental death of a child. We used creative animation techniques, sound effects, music, and talented voice actors playing multiple characters to create an emotional appeal much different—and infinitely more powerful—from the standard WBT offering.

Serco

has trained more than 400,000 DHS students in every region and district, at every land, air and sea border crossing, in classrooms, through WBT, train-the-trainer programs, on-the-job training and through the implementation of performance support systems in a blended learning environment. In collaboration with ICE OTD, our latest efforts have resulted in the accreditation and completion of three programs, including HSI FOTP, ICE OTD IDC, and ICE OPR.

Serco

was integral to the ICE team that was recognized by the 2012 "Excellence in Law Enforcement" Award given to the ICE Domestic Field Operations Training Program (DFTOP) Accreditation Project for having greatly improved ICE training, increasing operational efficacy and efficiency, and minimizing safety issues to ICE officers and the public."
"

Serco

: Is it a company or a sovereign power? Posted on

2010 October 5

| Leave a comment

SERCO

– The Biggest Company You've Never Heard Of From Australian television [2:49] If one single company had to be chosen as the exemplar of the military/industrial complex, esnl's pick would be

Serco

, a British company created in 1929 as a local branch of Radio Corporation of America.
Today the firm runs air traffic control towers in the U.S., immigration detention centers in Australia, schools and the anti-missile defense system in Britain, and much, much more.
Of special interest to us is the company's growing role in the espionage world and intelligence world, especially here in the U.S., where it is based in Reston, Virginia, the nation's capital of corporate spookery.
According to Crocodyl, the company holds contracts with an alphabet soup of three- and four-letter agencies, including the National Security Agency [NSA], National Geospatial-Intelligence Agency [NGA], the Defense Information Systems Agency (DISA), Office of Naval Intelligence, the Air Force Information Warfare Center, and the Department of Defense.
Here's an example of the folks who work for

Serco

, from a new hire announcement posted by the company two years ago:

Serco

Inc., a provider of professional, technology, and management services to the federal government, ­announced today that Maureen Baginski has been named Vice President of the intelligence business and National Security Advisor at

Serco

. … From 2003 to 2005, Ms. Baginski served as the FBI's Executive Assistant Director for Intelligence where she was responsible for establishing and managing the FBI's first-ever intelligence program. Her mission was to adapt FBI intelligence capabilities with information technologies to create an intelligence-sharing operation that could identify threats before they became attacks.
From 1979 to 2003, Ms. Baginski served at the National Security Agency (NSA), where she held a variety of positions, including Signals Intelligence (SIGINT) Director, Senior Operations Officer in the National Security Operations Center; Executive Assistant to the Director of NSA/Central Security Service, Chief Officer of the Director; Assistant Deputy Director of Technology and Systems; and lead analyst for the Soviet Union. As SIGINT Director, Ms. Baginski successfully established and directed a unified program to exploit encrypted or denied information on global networks. Leading the NSA's Signals Intelligence Directorate, the Nation's high technology cryptology organization, she managed a complex and geographically dispersed distributed information production enterprise.
The company's CEO is an India-born Pentecostal Christian

[shades of Dinesh D'Souza]

, and is profiled here by The Guardian's Janice Martinson in 2006."
"

Serco

's Office of Partner Relations (OPR) helps facilitate our aggressive small business utilization and growth strategies. Through the OPR,

Serco

mentors four local small businesses under formal Mentor Protégé Agreements: Three sponsored by DHS (Base One Technologies, TSymmetry, Inc., and HeiTech Services, Inc.,) and the fourth sponsored by GSA (DKW Communications, Inc.).

Serco

and HeiTech Services were awarded the 2007 DHS Mentor Protégé Team Award for exceeding our mentoring goals."
"Contact 111 Eighth Avenue New York, NY 10011 Description Base One Technologies, Ltd. is a DOMESTIC BUSINESS CORPORATION, located in New York, NY and was formed on Feb 15, 1994. This file was obtained from the Secretary of State and has a file number of 1795583." …. "Base One Technologies – Corporate Strategy – We are a Government Certified Women-Owned Business We practice Diversity Recruitment and Staffing for IT positions Base One was founded in 1994 by a women engineer who had made a career in technology research for many years. ..We are also partnered with firms that are 8A certified as Minority firms, Disabled

Veteran firms

, Native American firms, Vietnam veteran firms, women owned firms. .. Base One's staff of engineers are a diverse group of professionals. This diverse network of engineers helps us to branch out to other engineers and creates an even larger network of resources for us to work with. .. Information Security Planning is the process whereby an organization seeks to protect its operations and assets from data theft or computer hackers that seek to obtain unauthorized information or sabotage business operations.

Key Clients Benefiting From Our Information Security Expertise: Pentagon Renovation Program, FAA, Citigroup, MCI.

.. Performs architectural assessments and conducts both internal and external penetration testing. The results of these efforts culminate in an extensive risk analysis and vulnerabilities report. Develops, implements and supports Information Security Counter measures such as honey-pots and evidence logging and incident documentation processes and solutions."
"The 8(a) Business Development Program assists in the development of small businesses owned and operated by individuals who are socially and economically disadvantaged, such as women and minorities. The following ethnic groups are classified as eligible: Black Americans; Hispanic Americans; Native Americans (American Indians, Eskimos, Aleuts, or Native Hawaiians); Asian Pacific Americans (persons with origins from Burma, Thailand, Malaysia, Indonesia, Singapore, Brunei, Japan, China (including Hong Kong), Taiwan, Laos, Cambodia (Kampuchea), Vietnam, Korea, The Philippines, U.S. Trust Territory of the Pacific Islands (Republic of Palau), Republic of the Marshall Islands, Federated States of Micronesia, the Commonwealth of the Northern Mariana Islands, Guam, Samoa, Macao, Fiji, Tonga, Kiribati, Tuvalu, or Nauru); Subcontinent Asian Americans (persons with origins from India, Pakistan, Bangladesh, Sri Lanka, Bhutan, the Maldives Islands or Nepal). In 2011, the SBA, along with the FBI and the IRS, uncovered a massive scheme to defraud this program. Civilian employees of the U.S. Army Corps of Engineers, working in concert with an employee of Alaska Native Corporation Eyak Technology LLC allegedly submitted fraudulent bills to the program, totaling over 20 million dollars, and kept the money for their own use.[26] It also alleged that the group planned to steer a further 780 million dollars towards their favored contractor.[27]"

Yours sincerely,

Field McConnell, United States Naval Academy, 1971; Forensic Economist; 30 year airline and 22 year military pilot; 23,000 hours of safety; Tel: 715 307 8222

David Hawkins Tel: 604 542-0891 Forensic Economist; former leader of oil-well blow-out teams; now sponsors Grand Juries in CSI Crime and Safety Investigation