Ed.'s note:
This is another economically motivated war to take control of Bolivia's resources. And don't get confused about socialism either. It has an entirely different political and socio-economic meaning in not only Venezuela, but Bolivia as well compared to what the average American knows about what is going on in South America. Bolivia
has at least a quarter of the world's lithium
, including the single largest deposit in the Salar de Uyuni, a salt pan so large it can be seen from space. The western big tech cartels want the "white gold" or "white petroleum" and they want it at cheap prices.
________
Source:
The Canary
Leaked emails suggest shocking US mercenary plot in Bolivia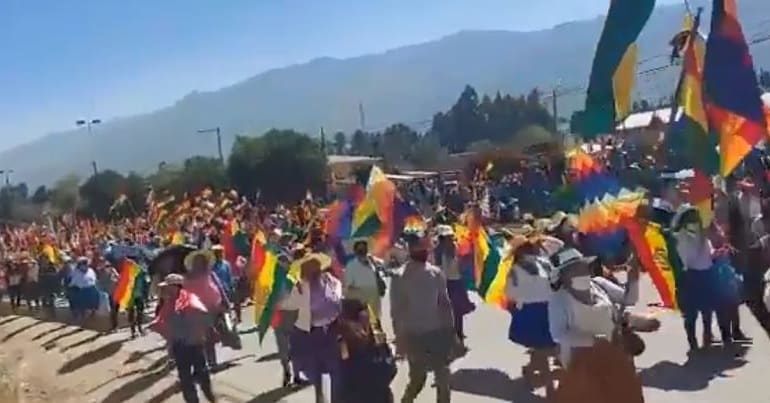 October 23, 2020
Bombshell leaked communications indicate scores of US military and intelligence veterans have been secretly recruited for wide-ranging covert action of an indeterminate nature in Bolivia.
The private correspondence, which has already been
reported on
by
Morning Star
, and which hasn't yet been fully verified, doesn't offer specific details of what's to take place and when. However, it does make clear
something significant, and highly sinister, is in the works in the country
. And apparently has been for some time, with
around 1,500 mercenaries signed on to contracts of up to seven months for the operation
.
The deployment of these mercenaries was delayed by the elections being moved from 6 September to mid-October. This suggests that whatever's to take place is
intimately tied to the crunch vote
. The vote itself has been
precipitated
by a US-backed coup in November 2019.
Upon declaring herself Morales' replacement,
senate vice president Jeanine Añez
– who believes indigenous Bolivians to be "satanic" desert people, and "whose party received 4% of the vote share" in the October 2019 election –
"

expelled

hundreds of Cuban doctors", broke off "ties to Venezuela and pulled Bolivia out of multiple international and intercontinental organizations and treaties"
.
In September 2020
, the
Guardian
reported that Human Rights Watch said Añez's interim government was
"abusing the justice system to wage a politically motivated witch-hunt" against Morales and his allies
.
Añez withdrew from the election
that same month
claiming the Bolivian opposition needed to unite in order to prevent front-runner Movement for Socialism's (MAS) Luis Arce from winning. This was after having consistently polled far behind Arce and Revolutionary Left Front candidate Carlos Mesa.
The effort was unsuccessful – Arce has won an outright

majority

, with 55.09% of the vote.
The "Bolivia project", however, shows that
some want his victory to be short-lived
.
"Very sensitive"
It appears
a key recruiter for the operation is an individual named Joe Milligan
. This is someone who speaks of having
250 law enforcement professionals signed up to "go south"
, in a deployment delayed by the elections from 6th September to mid-October. Despite the rejigged timetable, however, Milligan reassures contractors that things are "
still on track" to get them into the country "early enough" to equip and train them
. That's if "everything goes right with the team working… in Bolivia". The faster they can provide Milligan with necessary documentation, "the faster we can get you there".
Contractors are warned
the operation is "very sensitive", with a "lot of moving parts", and that it should be kept "secure as possible"
. "We don't want to jam up the other guys that are working on the ground to make this happen", the email reads.
The other individual named in the communications is David Shearman
, who boasts "things are moving forward". He says the project is still in the market for "interested professionals with tenured law enforcement experience who are interested in this type of unique mission".
Shearman says
the project is also in

search

of throw-bots
(spy robots which the
Morning Star
says "transmit audio and video to a remote-control unit")
drone pilots and technical surveillance software personnel
. In respect to dress code for the operation,
applicants are urged to "think low-profile, blending in
, and being able to fit into the populace". Jeans, casual pants, long and short sleeve shirts "
capable of concealed carry
", and cargo pants "in muted colors like tan, brown, grey" are the order of the day, as "we're not seeking a typical contractor – former military type look".
Operatives were further instructed to
"school up" on "Guerilla Group" MAS
, "the main foe down there", while keeping the "opportunity" off social media. Shearman begs for patience, noting "things change every day due to issues outside of our control". He also reminds them "our program is
adding to an existing program
and our program is still being stood up and this takes time".
Please go to
The Canary
to read the entire article.