Ed.'s note:
"Those who tested it can't talk about it?" What's in the vaccine ingredients? Where did this alleged tweaked coronavirus originate from? China wasn't it? Bet the Muslims living in Malaysia really look forward to this especially considering the way China's CCP has been treating Muslims in China.
________
Source:
cilisos.my
By Sabrina Noor | October 19, 2020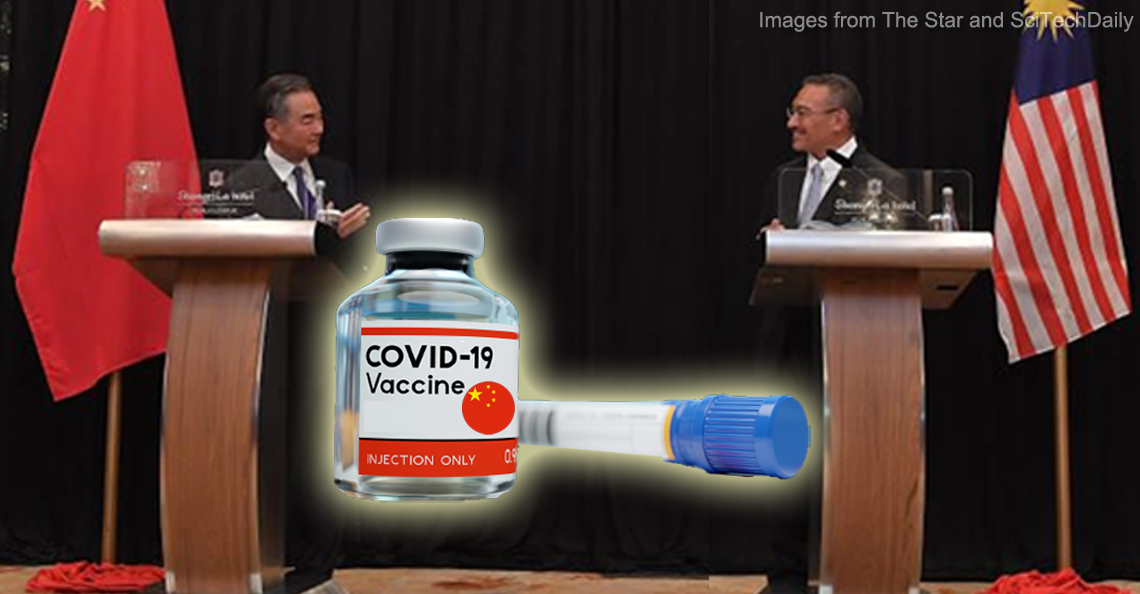 When we talk about Covid-19 vaccines, you may be thinking of the race between
China
,
Russia
and
the US
in making a Covid-19 vaccine. Or you may have heard of
Covax
. But, just recently,
China said that it is

prioritising Malaysia
in providing its vaccines.
In fact, Malaysia's
fav abah
Prime Minister
Muhyiddin Yassin
said that
Malaysia would be

the first country
to get China's vaccine.
"China has assured us that Malaysia will be the first country that it would help in supplying the Covid-19 vaccine." – Muhyiddin, as quoted by

NST

.
But is this actually true? And if it is true, then does that mean we're all GUINEA PIGS considering how China is
still testing out
its vaccines?! Well, as it turns out…
African countries will be the first to get China's vaccine
So China has been making vaccines (yea, not one but
FOUR of them
to date) since July 2020. There are
three major companies
involved in making these vaccines –
Sinovac Biotech
,
Sinopharm
and
military-affiliated
private firm,
CanSino Biologics
.
China launched a
vaccine emergency use
programme to test out its vaccines and since then, those vaccines have been tested out on
tens
– if not hundreds –
of thousands of people
in China. We're
talking about
frontliners, politicians, military officials and even employees of the vaccine companies themselves! You can take a look at the
video
below by SCMP to see how the vaccines are developed.
And by now, China
is already in Phase 3
of its clinical trials on these vaccines. What this means is that China is currently
trying out its vaccines on people in other countries
. One reason for this is because the
Covid-19 cases in the republic are under control
.
But that
doesn't mean China is turning Malaysians into guinea pigs
although it has plans to
test its vaccines out in countries
that are involved in the
Belt and Road Initiative
. At the time of writing, China is conducting
clinical trials in more than six countries
including Brazil and Indonesia besides planning to conduct more of these trials in
18 other countries
.
Please go to Source:
cilisos.my
to read the entire article.
________
You can always expect more with China:
China's super rich got $1.5 trillion richer during pandemic: report