Ed.'s note:
How many people the world over are fed up with Facebook? Likely millions yet they continue returning to this addictive social (social chaos) media platform thinking that somehow it is making their lives better or that it actually contributes any value? We agree. Facebook doesn't need to be broken up as many want under anti-trust laws. Facebook needs to be
disgorged
. There is a likely reason behind this release of information on Hunter Biden and that probably is related to the CIA whistle blower story that broke two days ago on the events of the Benghazi attack that happened in 2012. Benghazi veteran
John Tiegen was kicked off of Facebook
and Instagram (Instagram is owned by Facebook).
Big tech is part of the surveillance state and initiates the technology being deployed. The
New York Post
released the story
about Biden's laptop computer. A "smoking gun" alright when there will be no indictments leading to prosecution (not with the current FBI and "
swamp creatures
"), so we know this is likely cover for the CIA turban-wearing falcon guy release on Obama, Clinton, Brennan and Biden's involvement in Benghazi. Facebook censors are "fact checking" his story so don't be surprised if all this is kept out of Facebook. Too bad Facebook, this material has now all been released. With every high crime political scandal being revealed Facebook continues to lose all credibility. When this CIA turban-wearing whistle blower falcon guy releases what he claims are in his possession, terabytes of audio and video of the entire Benghazi event, let's see whether or not bin Laden was alive in Abbottabad (OBL's double), not dead in December 2001?
_______
Censorship Of Hunter Biden Bombshell Validates Republican Skepticism Of Big Tech Promises
October 14, 2020 | By Tristan Justice
Big Tech made big promises this summer, with the biggest platforms' leaders pledging
under oath
before congressional lawmakers in July their platforms would refrain from engaging in election interference on behalf of Democratic presidential candidate Joe Biden.
"I certainly do not want our platforms to be run in a way that has any ideological bias… That would be unacceptable in our operation," Facebook CEO Mark Zuckerberg
testified
before the House Judiciary's subcommittee on antitrust.
Republicans on the committee, however, remained skeptical of big tech's promises they had heard many times before.
"Unfortunately, I don't have much faith in the CEOs' promises to not interfere in this year's election on behalf of Joe Biden," Florida Rep. Greg Steube
told
The Federalist
following the hearing. "Despite abundantly clear evidence, not one of the CEOs in yesterday's hearing admitted that they are biased against conservative media. If they aren't honest about it now, why should we trust them to be transparent or balanced during a major election year?"
Ohio Republican Rep. Jim Jordan offered a simpler response when asked how much faith he held in Big Tech's commitments: "Zero." Jordan was also the most vocal critic of big tech's neutrality pledge before the hearing had even concluded.
"I'll just get to the chase, Big Tech's out to get conservatives," Jordan declared before blasting
Twitter's absence
from the proceedings. "That's not a suspicion. That's not a hunch. That's a fact."
Sure enough, two and a half months later, Facebook and Twitter's blocking of news about Hunter Biden's corruption involving his father, according to newly discovered emails, these lawmakers' skepticism was well-founded.
________
Source:
State of the Nation
Facebook Admits to Shadowbanning New York Post Story
October 14, 2020 | by State of the Nation
Facebook's Democratic comms chief admits to SHADOWBANNING NYPost story on Hunter Biden emails
RT.com
A former Democratic Party staffer now working for Facebook has admitted to shadowbanning a viral story allegedly exposing Democratic presidential candidate Joe Biden's Ukrainian ties and has encouraged "fact-checkers" to shred it.
As a
New York Post
story claiming Biden scion Hunter had introduced his father to a Ukrainian energy executive less than a year before the then-Vice-President pressured Kiev into firing the country's top prosecutor swept across social media on Wednesday morning, Facebook communications exec Andy Stone
announced
the social media behemoth was "
reducing [the story's] distribution on our platform
."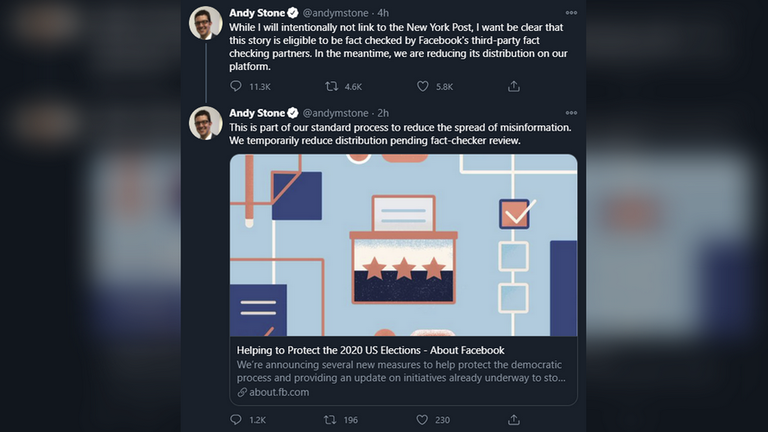 The reduced distribution was only a temporary measure until "
Facebook's third-party fact checking partners
" could stamp their seal of (dis)approval on the story, Stone clarified in a
later tweet
, apparently confirming he'd preemptively flagged the story as disinformation. Stone openly touts his history with the Democratic Party in his Twitter profile, which shows he worked with the House Majority Political Action Committee, California Democrat Senator Barbara Boxer, the Democratic Congressional Campaign Committee, and California Democrat Rep. Jerry McNerney.
Stone's announcement caught the eye of Federal Communications Commissioner Brendan Carr.
Zuckerberg: "I don't think that Facebook or internet platforms in general should be arbiters of truth"

Facebook: We're censoring a news story as "misinformation" *before* any "third-party fact checking." https://t.co/ythskziNcp

— Brendan Carr (@BrendanCarrFCC) October 14, 2020
The "
bombshell
" story Stone was so eager to keep off Facebook claims the younger Biden had introduced his father to Ukrainian energy executive Vadim Pozharskyi, a senior employee of Burisma Holdings, less than a year before the VP strong-armed Kiev into firing a prosecutor who was investigating Burisma. Hunter Biden was infamously paid $83,000 per month to sit on Burisma's board, despite having no experience with either Ukraine or the energy sector.
The Post's story is based on emails allegedly retrieved from a computer belonging to Hunter Biden by a repairman who was given the laptop to fix last April. In another email, Pozharskyi allegedly asks Hunter how he might "
use his influence
" on Burisma's behalf with the Obama administration. Both the computer and its hard drive were allegedly seized in December by the FBI after the repairman contacted the agency, but the repairman claimed to have made copies of the incriminating material.
Continue reading at:
https://www.rt.com/usa/503523-facebook-shadowbans-nypost-hunter-biden/