Source:
RT News
Detroit cops arrest their own police commissioner at heated meeting over facial recognition (VIDEO)
13 Jul, 2019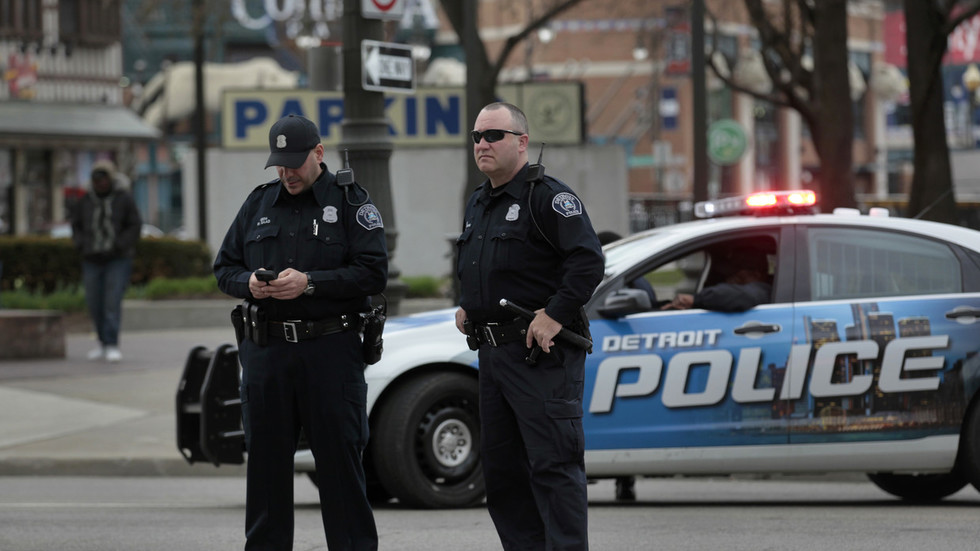 FILE PHOTO Detroit Police Officers © Reuters / Rebecca Cook

A police board meeting escalated when Detroit cops tackled a police commissioner to the ground and arrested him at a heated hearing where protesters demonstrated against the city's controversial facial recognition scheme.

Commissioner Willie Burton was annoyed that the Board of Police Commissioners had held secret, closed door meetings that he and the public were not allowed to attend during which an expansion of the facial recognition scheme was planned, Metro Times

reports

. He attempted to call out the board on the issue at Thursday's meeting, but was told to be quiet by board chair Lisa Carter, who objected to him speaking for longer than his allotted time, and then asked that he be removed.

More:

You've been warned: Widespread US face surveillance is 'imminent reality', says tech privacy report

"If you throw me out of this office that I am duly elected to, this disenfranchises 100,000 votes that I represent in the 5th District

," Buron shouted as he was surrounded by three officers. "You must throw us all out!"

"Don't touch me. Get your hands off me," Burton said as the officers attempted to remove him from his seat. He was dragged to the ground before being escorted from the room. Burton was arrested for disorderly conduct and was released after posting bail.

A number of protesters who were at the meeting to voice their opposition to the controversial facial recognition scheme were held back by other officers. At least one protester was arrested.

Burton and others oppose the planned city-wide rollout of facial recognition cameras on traffic lights.

It was revealed in May that Detroit police had been using the technology to arrest people for two years without police commission approval.

Burton had earlier called for a ballot so residents could have a say, but this was rejected, as was his proposal to hold a public hearing.

The commission is due to vote to formally approve the scheme next week.
Things got heated tonight at the. detroit Police Commissioners meeting. Commissioner Willie Burton arrested after the Chair asked him to be removed.

pic.twitter.com/ynuw0OPeEQ

— ALAN CAMPBELL (@AlanCampbellTV) July 12, 2019
Please go to
RT News
to read the entire article.
________
Source:
South China Morning Post
Baidu offers facial recognition technology to help Beijing airport streamline boarding, traffic
By Meng Jing | 24 Aug, 2017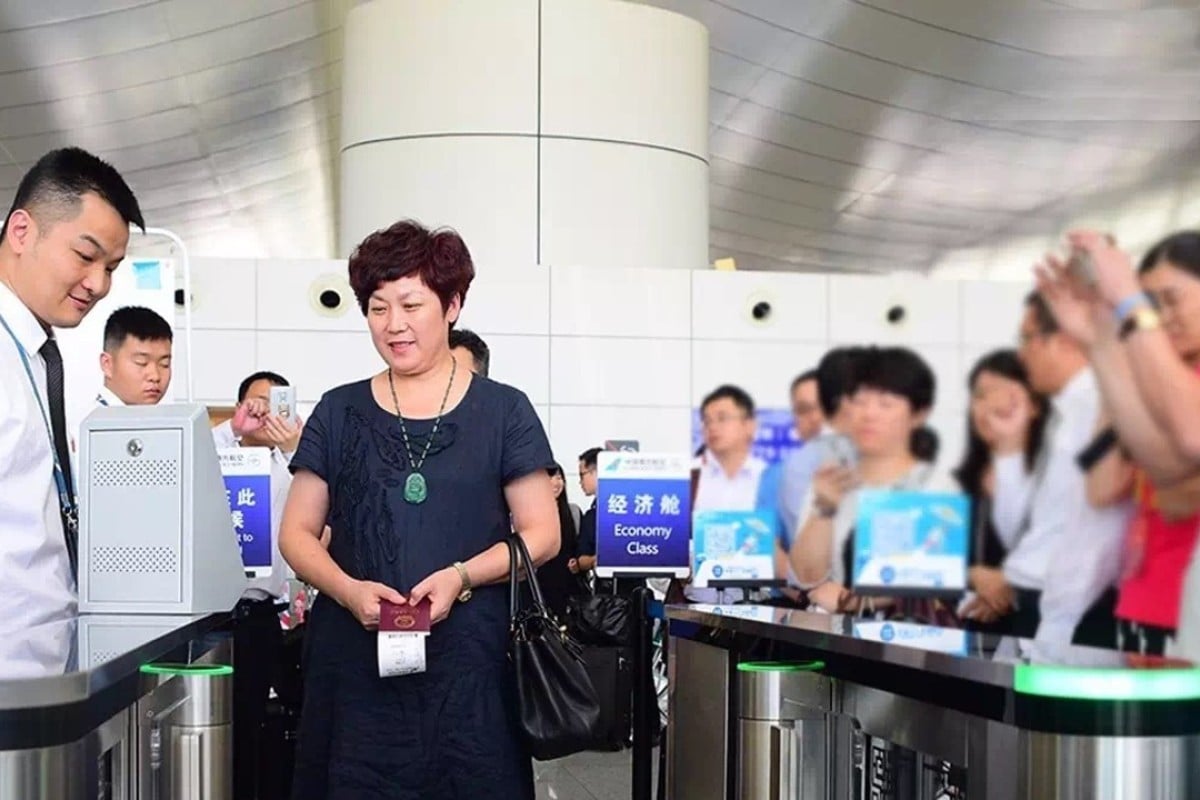 Passengers boarding at the Jiangying Airport in Nanyang by having their faces scanned in lieu of using boarding passes. The airport supported by BaiduÕs technologies is ChinaÕs first to allow passengers to board with the support of facial recognition. Photo: Handout
Baidu, the dominant Chinese internet search operator that's trying to recast itself as a leader in artificial intelligence, will provide its technology to streamline the operations and improve efficiency at Beijing's main airfield.
The company will provide the airport with its AI-enabled facial recognition technology for the admission of ground crew and staff, gradually expanding the capability to verify the identities of passengers. Eventually, passengers will be able to board their flights just by having their faces scanned at the airport, with the "face as boarding pass" capability ready for implementation as early as 2018, Baidu said.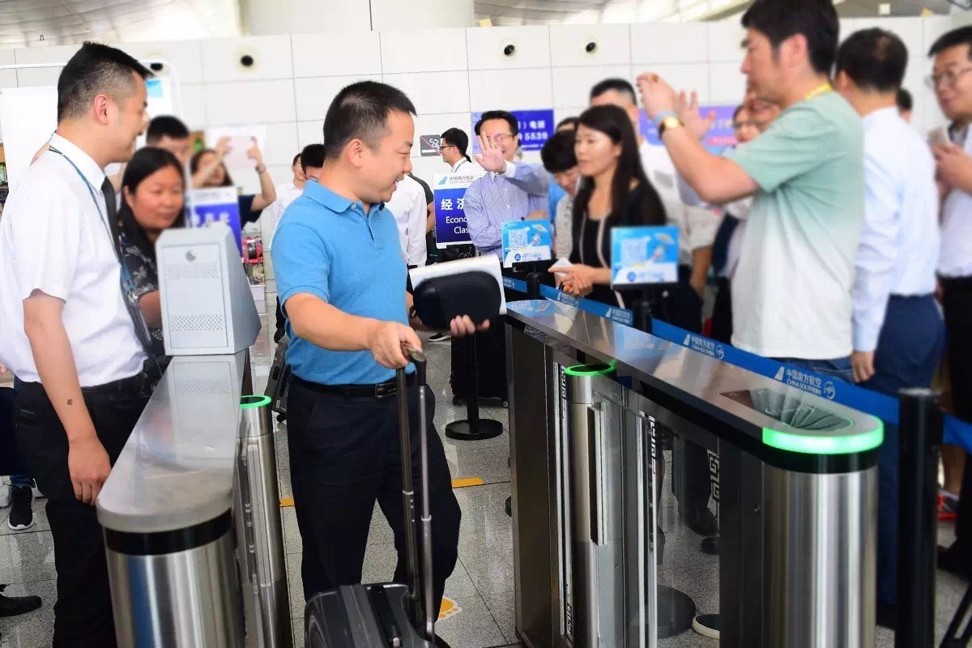 Passengers are boarding at the Jiangying Airport in Nanyang of Henan province by having their faces scanned in lieu of using boarding passes. The airport supported by BaiduÕs technologies is ChinaÕs first to allow passengers to board with the support of facial recognition. Photo: Handout
The project comes at a critical time for New York-listed Baidu, as it tries to transform from being the dominant operator of China's internet search into the country's leader in AI, with applications from big data analysis to autonomous driving, after tighter government control in internet advertising hurt its revenues.
To be sure, Beijing airport isn't the first test of Baidu's technology. A similar application is at work at the Jiangying airport at the Henan provincial city of Nanyang, allowing passengers to verify their identities through facial scans against documented images before boarding their flights.
Baidu's project in Beijing will be much bigger in scale and scope, as the airport handled 94.39 million passengers last year, the world's second-largest airfield by traffic.
Please go to
South China Morning Post
to read the entire article.
________
Source:
Interesting Engineering
Why Chinese Artificial Intelligence Will Run The World
How the Chinese tech giants Baidu, Alibaba, and Tencent will develop the systems that will run the world.
By John Loeffler | November 06th, 2018
If you've been paying attention in the past year, it seems that all anyone can talk about is the coming artificial intelligence boom on the horizon. Whether it's the Amazon, Google, or Facebook, everyone seems to be getting in on the AI game as fast as they can. And with good reason—they're having to play catchup with the rapid growth of artificial intelligence in China.
The Rise of the BAT: Chinese Tech Giants Baidu, Alibaba, and Tencent
For the past few decades, China has developed a reputation as being the undisputed source of manufacturing for a whole host of well-established Western companies. Whether this bred Western complacency is debatable, but what is indisputable is that China has been diligently laying the groundwork to breakout into the tech world in its own right—with the power to start calling the shots on the world stage.
More from Interesting Engineering
Three companies have been leading this charge: Baidu, Alibaba, and Tencent. To many in the West, these names aren't familiar since their products and services have not made significant inroads into Western markets, but these three firms dominate the world's 2nd largest economy.
Source: Simone Brunozzi/Flickr

Commonly thought of as China's Google, it ranks 23 on Forbes' Top 100 Digital Companies, with close to $100B market capitalization and 65% of the market share for searches in China. Like Google, it offers services such as Newsfeed, Shopping, and an app comparable to Google Maps as well as other services.

Please go to

Interesting Engineering

to read the entire article.

________

Hugely related:




Data Sheet—How China's Surveillance State Reflects 'Black Mirror'




Rise Of China's Big Tech In AI: What Baidu, Alibaba, And Tencent Are Working On




The World's Top Tech Firms Turn to Israel - The 'Top 10' global tech companies

– Microsoft, Apple, Amazon, Google, Facebook, Alibaba, Intel, Oracle, Samsung and

Baidu

– have something in common: they're all doing

mission-critical work in Israel




Putin urges for the guarantee of Russia's technological sovereignty