Source:
The Guardian
UK's claims questioned: doubts voiced about source of Salisbury novichok
Ceremony to mark the destruction of Russia's stock of chemical weapons was held last November
March 15, 2018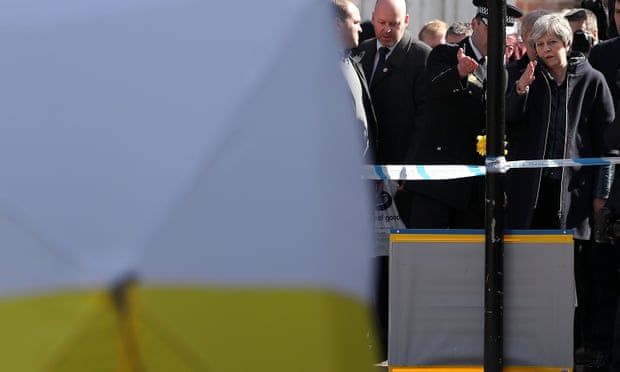 Theresa May with Wiltshire police's chief constable, Kier Pritchard, in Salisbury on Thursday. Photograph: Daniel Leal-Olivas/AFP/Getty Images
It was a historic moment largely ignored at the time by most of the world's media and might have remained so but for the attack in Salisbury. At a ceremony last November at the headquarters of the world body responsible for the elimination of chemical weapons in The Hague, a plaque was unveiled to commemorate the destruction of the last of Russia's stockpiles.
Gen Ahmet Üzümcü, the director general of the Organisation for the Prohibition of Chemical Weapons (OPCW), which works closely with the UN, was fulsome in his praise. "This is a major achievement," he said. The 192-member body had seemingly overseen and verified the destruction of Russia's entire stock of chemical weapons, all 39,967 metric tons.
The question now is whether all of Russia's chemical weapons were destroyed and accounted for. Theresa May – having identified the nerve agent used in the Salisbury attack as novichok, developed in Russia – told the Commons on Wednesday that Russia had offered no explanation as to why it had "an undeclared chemical weapons programme in contravention of international law". Jeremy Corbyn introduced a sceptical note, questioning whether there was any evidence as to the location of its production.
The exchanges provoked a debate echoing the one that preceded the 2003 invasion of Iraq over whether UN weapons inspectors had overseen the destruction of all the weapons of mass destruction in the country or whether Saddam Hussein had retained secret hidden caches.
On social media, there were arguments that the novichok could have come from some part of the former Soviet Union other than Russia, such as Uzbekistan, Kazakhstan or Ukraine, or some non-state group, maybe criminals.
Please go to
The Guardian
to read the entire article.