United States Marine Field McConnell
Plum

City Online - (

AbelDanger.net

)
March 4, 2017
Abel Danger
(
AD
) has explained how President Trump can 'pin'
Serco
to fake news injections through the Federal Bridge Certification Authority which
Serco
's international network of 8(a) agents allegedly used to conceal murder for hire, the blackmail of pedophiles with Demon face-recognition software and ongoing frauds on the Treasury Asset Forfeiture Fund.
Abel Danger
uses 'pin' – a winning condition in wrestling – because Serco shareholders allegedly entrapped and blackmailed Dennis Hastert, a former Speaker of the House and former wrestling coach, in an 8(a) pedophile honey pot and forced him to fake the news of the 9/11 murders for hire over the federal bridge at Boeing headquarters in Chicago.
AD
Global Operations Director Field McConnell claims that
Serco
's Small Business Technology Companies ('S.B.T.C') used his sister Kristine Marcy, a former Senior Counsel for Detention and Deportation at the Department of Justice, Immigration and Naturalization Service (INS), to stage the JonBenét Ramsey murder in December 1996 and set Demon traps for pedophiles on the federal bridge.
Abel Danger
claims that
Serco
used 8(a) and ICE agents on the federal bridge to link pedophile newsgroups to various patented devices including the onion router (US 6266704 B1) and the Boeing Uninterruptible Autopilot GyroChip (US 5755978 A), needed to coordinate the
BBC
's fake news of the 9/11 attacks.
Abel Danger
claims that
Serco
– C4I supplier to Boeing – operates a
BBC
/MI5 archive of child pornography, partially assembled by Lord Boothby (d. 1986), Clement Freud (d. 2009) and Jimmy Savile (d. 2011), and allegedly forced Boeing to move its HQ to Chicago to mentor the attacks over the federal bridge on 9/11.
Abel Danger
claims that
Serco
provided the UK Cabinet Office with 8(a) resilience training on 9/11when the
BBC
pedophile elites allegedly injected fake news into media plays while 8(a) company actors,
experienced journalists and television crews
produced the "
first live broadcast mass snuff film in human history
."
Field McConnell is asking to meet with President Trump to explain how he can pin (stop)
Serco
's fake news injections allegedly used by its 8(a) companies to conceal murder for hire, with a 14-word amendment/addition [see brackets] to 18 U.S. Code § 1958 - Use of interstate commerce facilities in the commission of murder-for-hire where
"Whoever travels … with intent that a murder be committed
[or news or evidence of such a murder be concealed, withheld, destroyed or faked]
… and if death results, shall be punished by death or life imprisonment, or shall be fined not more than $250,000, or both."
Trump saw on 9/11/2001: bombs were used in WTC
Address from the US Capitol 9/11/01
9/11 Alexander Haig Had Inside Knowledge Of The World Trade Center Bombing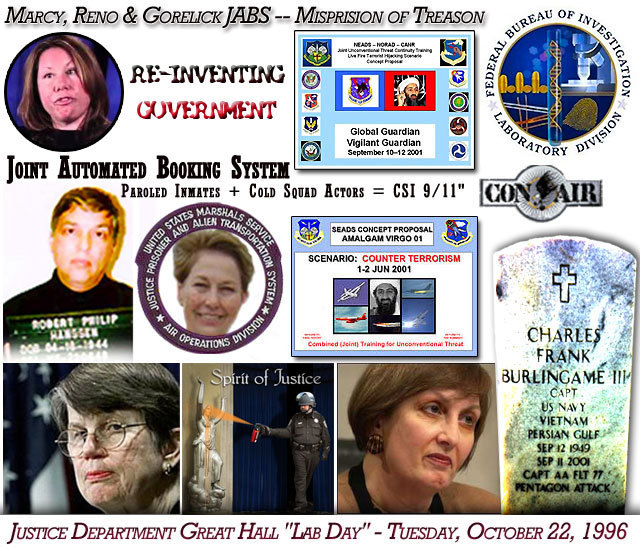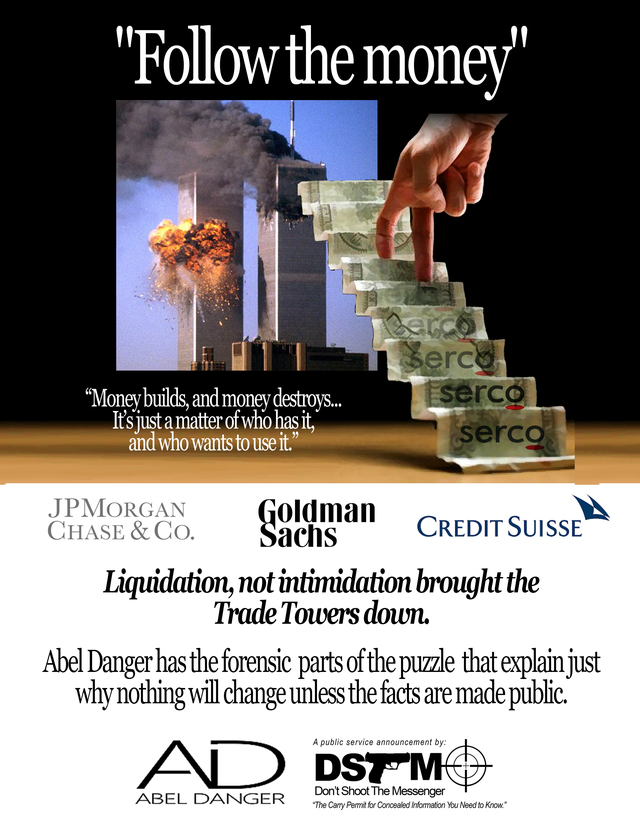 Meet Field's Sister, Kristine Marcy (Sister Abel, Brother Cain)
SERCO

Owns the World, | Big Brother Watch
Copy of

SERCO

GROUP PLC: List of Subsidiaries AND Shareholders!
(Mobile Playback Version)
"Digital Fires Instructor

Serco

– Camp Pendleton, CA Uses information derived from all military disciplines (e.g., aviation, ground combat, command and control, combat service support, intelligence, and opposing forces) to determine changes in enemy capabilities, vulnerabilities, and probable courses of action." "A pin, or fall, is a victory condition in various forms of

wrestling

that is met by holding an opponent's shoulders or scapulae (shoulder blades) on the wrestling mat for a prescribed period of time."
"Hastert: I always remember the day obviously. I was in Washington. I was there early because I had had a meeting with the president the afternoon of the Monday before (Sept. 10). And so I was in my office early, 7:30 in the morning, and I had some meetings and an appointment and I remember somebody knocked -- it was [Chief of Staff Sam Lancaster] -- came to my office and knocked on the door and said, "Mr. Speaker, something happened in New York. Nobody really saw what happened, but either a small plane or helicopter hit one of the World Trade towers, and there's a fire." And, so, I said, "Well, I'll be upstairs in a second." I walked upstairs, and I walked in [just in time] to see the second plane fly into the World Trade tower. And I knew that certainly was not an accident, that somebody had planned this -- you couldn't have two of these things happen at the same time.

http://www.realclearpolitics.com/articles/2011/09/07/remembering_911_former_speaker_of_the_house_dennis_hastert_r-ill_111218.html#ixzz4aNHjsR9z

" "

The REAL Hastert Scandal: Pedophilia, Drug Money and Blackmail

Corbett • 10/15/2015 • 3 Comments by James Corbett

BoilingFrogsPost.com

October 13, 2015 In May of this year a federal grand jury indicted former Speaker of the House John Dennis Hastert. The charges: that he had "structured" withdrawals of over $950,000 from various bank accounts to skirt bank reporting laws and that he had lied to federal agents about these withdrawals. According to the indictment the withdrawals were part of a bid to pay $3.5 million in blackmail to cover up "past misconduct" from his time as a high school teacher in Illinois.
The story seemed perfect fodder for the tabloid corporate press. It featured a former high-ranking politician, blackmail and intrigue, and just enough details about Hastert's former life as a teacher and wrestling coach to suggest that the "past misconduct" referred to a salacious scandal of sexual abuse of a minor. But for some reason the story faded from the headlines almost as quickly as it appeared. And now that Hastert's legal team has announced that they are seeking a plea deal with prosecutors in order to avoid a trial, it seems the story is likely to disappear completely.
But a series of revelations from FBI whistleblowers reveal that this story is just the tip of a very seedy iceberg, one that implicates Hastert, his top aide, other Congress members and government officials in a criminal network involved in sexual intrigue, foreign espionage, blackmail, and drug money.
In 2002 Gilbert Graham, a Special Agent in the Washington Field Office of the FBI, blew the whistle on an illegal surveillance program being conducted out of the Bureau's Washington headquarters. According to the unclassified version of his complaint, obtained by the National Security Whistleblowers Coalition in 2007, Graham alleged violations of the Foreign Intelligence Surveillence Act "in conducting electronic surveillance as a subterfuge to acquire evidence of criminal activity."
These allegations were backed up by a former FBI Counterintelligence Specialist in the Washington Field Office, who told the National Security Whistleblowers Coalition: "…you are looking at covering up massive public corruption and espionage cases; to top that off you have major violations of FISA by the FBI Washington Field Office and HQ targeting these cases. Everyone involved has motive to cover up these reports and prevent investigation and public disclosure."
According to FBI whistleblower Sibel Edmonds, revealing the details of this program for the first time in a series of podcasts in the wake of the Hastert revelations, this illegal surveillance program — dubbed COINTELPRO II by the agents who were asked to implement it — dates back to the mid-1990s, when the Clinton White House was being rocked by a series of sex scandals.
In the mid-1990s, still bogged down with the Paula Jones Scandal, a case that refused to quickly go away, while preparing for another sexual scandal, the Monica Lewinsky case, Bill Clinton and his top White House team put together a political retaliation plan meant to retaliate against and then neutralize the Republican Party and key elected Republican officials. The main objective of the plan was to:
Collect major dirt on key Republican officials Use the information to blackmail those Republicans as a means to prevent impeachment Strategically release the cases of those who did not back down by blackmail if the impeachment process were to proceed [SOURCE: Probable Cause Podcast #23 | BoilingFrogsPost.com]
The plan, implemented with the help of Clinton appointees Janet Reno and Louis Freeh, was remarkably effective.
In December 1998, on the eve of the House debate on Clinton's impeachment hearings, Washington was rocked by House Speaker-elect Bob Livingston's sudden announcement of marital infidelity and resignation from the House. As the Chicago Tribune reported at the time:
The speaker-elect said those investigating him were trying to find "indiscretions which may be exploitable against me and my party on the eve of the upcoming historic vote on impeachment."
Livingston did not give details of any affairs and said he was admitting them only because he had learned that unnamed "individuals" had been working with news organizations.
At the time, Larry Flynt claimed credit for forcing Livingston's resignation, saying that he had an audiotape of the Congressman engaged in "raunchy" phone sex. This audiotape, according to Edmonds, came directly from the FBI's counterintelligence unit and the COINTELPRO II program. Livingston's resignation was only the latest in a string of high-profile Republican sex scandals that involved information "leaked" to the media by unnamed sources in the wake of the Lewinsky scandal. Representatives Henry Hyde, Helen Chenoweth, and Dan Burton's adulterous relationships were all outed in the run up to impeachment, with Burton admitting to fathering a child out of wedlock.
Livingston was replaced as Speaker by Dennis Hastert, a Congressman no stranger to scandal himself. In 2005 Vanity Fair drew on FBI insiders, FEC filings, sworn testimony and other documents to report on some of the information the Bureau dug up on Hastert. This included FBI wiretaps capturing Turkish agents boasting of tens of thousands of dollars in payments they had used to assure Hastert's flip flop on the US Congress' Armenian genocide resolution.
Hastert Spokesman: This is all nonsense. It's not being reported by the mainstream press because there's no factual evidence. The reporter does not have a transcript of any wiretap conversations that we know of, and even if he did it's preposterous. The speaker does not have any connections to American Turkish interests. [SOURCE: Kill The Messenger] Shortly after leaving the House in 2007, Hastert registered as a foreign agent lobbying on the hill for the Turkish government. But the dirt on Hastert and his associates went much deeper than this.
Information on Hastert's nefarious and illegal sexual activities between 1996 and 2002 is far more explosive than the activities "exposed" in the recent so-called revelations. Hastert's sexual activities were videotaped and thoroughly recorded not only by two US government agencies, but also by a foreign network — a criminal foreign network — headquartered in Chicago and involved in NATO/CIA Gladio operations. Between 1996 and 2002, Dennis Hastert engaged in illegal fundraising activities in Illinois. These activities included receiving and laundering foreign sourced cash funds, some of them drug money.
Several other high-level elected officials were also involved in these illegal activities. Representative Dan Burton was a key figure. The mayor of Chicago, the governor of Illinois, and at least three high-level staff members were involved as well. [SOURCE:

Probable Cause Podcast #20

| BoilingFrogsPost.com]
Hastert's "nefarious and illegal sexual activities" have been broached in media reports going back at least a decade, since the time that Hastert, as Speaker of the House, helped

cover up the Mark Foley scandal

involving the sexual abuse of male House pages. Not only has Hastert's sexual relationship with his live-in chief of staff, Scott Palmer, been repeatedly hinted at in articles by the likes of former US Senate Staffer Laurence O'Donnell, but as far back as 2006 investigative reporter Wayne Madsen was tying the Foley scandal and Hastert into Tom DeLay, Jack Abramoff, Southeast Asia, and child sex prostitution."
"Terrorism and Financial Intelligence Treasury Executive Office for Asset Forfeiture ​The Treasury Executive Office for Asset Forfeiture (TEOAF) administers the Treasury Forfeiture Fund (TFF). The TFF is the receipt account for deposit of non-tax forfeitures made pursuant to laws enforced or administered by it participating Treasury and Department of Homeland Security agencies. The Fund was established in 1992 as the successor to what was then the Customs Forfeiture Fund. The TFF participating agencies are:
Internal Revenue Service Criminal Investigations Division (IRS-CI), U.S. Department of the Treasury;

U.S. Immigration and Customs Enforcement

(ICE), Department of Homeland Security;

U.S. Customs and Border Protection

(CBP), Department of Homeland Security;

U.S. Secret Service

(USSS), Department of Homeland Security;

U.S. Coast Guard

, Department of Homeland Security.
The TFF is a special fund. Special funds are federal fund collections that are earmarked by law for a specific purpose. The enabling legislation for TFF (Title 31 U.S.C. 9703) defines those purposes for which Treasury forfeiture revenue may be used. In addition to the agencies listed above, the funds can be allocated to other law enforcement entities that do not have forfeiture authority, such as financial Crimes Enforcement Network (FinCEN), Federal Law Enforcement Training Center (FLETC), and Tax and Trade Bureau.
As the administrator for the TFF, TEOAF performs the following functions:
Promotes the use of proceeds from asset forfeitures to fund programs and activities aimed at disrupting criminal enterprises and enhancing forfeiture capabilities; Manages TFF revenues to cover the cost of asset forfeiture program; Promotes financial stability and vitality of the Fund; Identifies and addresses program risks.

Mission

Resources

Contacts


The Mission of the Treasury Forfeiture Fund (TFF) is to affirmatively influence the consistent and strategic use of asset forfeiture by participating agencies to disrupt and dismantle criminal enterprises."
"

Serco

: Is it a company or a sovereign power? Posted on

2010 October 5

| Leave a comment

SERCO

– The Biggest Company You've Never Heard Of From Australian television [2:49] If one single company had to be chosen as the exemplar of the military/industrial complex, esnl's pick would be

Serco

, a British company created in 1929 as a local branch of Radio Corporation of America.
Today the firm runs air traffic control towers in the U.S., immigration detention centers in Australia, schools and the anti-missile defense system in Britain, and much, much more.
Of special interest to us is the company's growing role in the espionage world and intelligence world, especially here in the U.S., where it is based in Reston, Virginia, the nation's capital of corporate spookery.
According to Crocodyl, the company holds contracts with an alphabet soup of three- and four-letter agencies, including the National Security Agency [NSA], National Geospatial-Intelligence Agency [NGA], the Defense Information Systems Agency (DISA), Office of Naval Intelligence, the Air Force Information Warfare Center, and the Department of Defense.
Here's an example of the folks who work for

Serco

, from a new hire announcement posted by the company two years ago:

Serco

Inc., a provider of professional, technology, and management services to the federal government, ­announced today that Maureen Baginski has been named Vice President of the intelligence business and National Security Advisor at

Serco

. … From 2003 to 2005, Ms. Baginski served as the FBI's Executive Assistant Director for Intelligence where she was responsible for establishing and managing the FBI's first-ever intelligence program. Her mission was to adapt FBI intelligence capabilities with information technologies to create an intelligence-sharing operation that could identify threats before they became attacks.
From 1979 to 2003, Ms. Baginski served at the National Security Agency (NSA), where she held a variety of positions, including Signals Intelligence (SIGINT) Director, Senior Operations Officer in the National Security Operations Center; Executive Assistant to the Director of NSA/Central Security Service, Chief Officer of the Director; Assistant Deputy Director of Technology and Systems; and lead analyst for the Soviet Union. As SIGINT Director, Ms. Baginski successfully established and directed a unified program to exploit encrypted or denied information on global networks. Leading the NSA's Signals Intelligence Directorate, the Nation's high technology cryptology organization, she managed a complex and geographically dispersed distributed information production enterprise.
The company's CEO is an India-born Pentecostal Christian

[shades of Dinesh D'Souza]

, and is profiled here by The Guardian's Janice Martinson in 2006." "DHS ICE OTD … Since 1986, through various contracts,

Serco

has provided full training lifecycle support for all areas of this key Law Enforcement organization including Inspections, Border Patrol, Enforcement, and DHS operations at the Federal Law Enforcement Training Academy in Glynco, GA. ..

Serco

developed and scripted three scenarios based on negligent practices identified by the IG report that have resulted in the use of lost or uncontrolled weapons for robbery, murder, and the accidental death of a child. We used creative animation techniques, sound effects, music, and talented voice actors playing multiple characters to create an emotional appeal much different—and infinitely more powerful—from the standard WBT offering.

Serco

has trained more than 400,000 DHS students in every region and district, at every land, air and sea border crossing, in classrooms, through WBT, train-the-trainer programs, on-the-job training and through the implementation of performance support systems in a blended learning environment. In collaboration with ICE OTD, our latest efforts have resulted in the accreditation and completion of three programs, including HSI FOTP, ICE OTD IDC, and ICE OPR.

Serco

was integral to the ICE team that was recognized by the 2012 "Excellence in Law Enforcement" Award given to the ICE Domestic Field Operations Training Program (DFTOP) Accreditation Project for having greatly improved ICE training, increasing operational efficacy and efficiency, and minimizing safety issues to ICE officers and the public."
"

DAILY NEWS

28 November 2001 Global swoop on newsgroup paedophiles By Will Knight More than 130 people in 19 different countries have been arrested or are under investigation after police traced the distribution of child pornography through different internet newsgroups. Technical experts at UK internet service provider Demon Internet aided officers from the National Crime Squad's new Hi-Tech Crime Unit with the investigation.
A spokesperson from Thus, Demon's parent company, says that investigators were not given access to the server logs that record Demon users'activities.
Investigators were simply provided with access to newsgroup postings in the same way as any other Demon customer. Technical experts from Demon then helped officers distinguish the identifying information contained within the message "headers" of particular postings.
Face recognition
Officers traced postings relating to certain images to different internet service providers around the world and then contacted Interpol to track down suspects.
Investigators say they discovered 10,000 suspect postings to over 30 different newsgroups and identified 60,000 new images. They plan to use face recognition software to identify victims in different images, to help trace them. This software has been developed in conjunction with UK company Serco, although no technical details have been released". "

Serco

Awarded $95 Million Patent Classification Contract with the U.S. Patent and Trademark Office November 30, 2015 RESTON, VA – November 30, 2015 –

Serco

Inc., a provider of professional, technology, and management services, announced today the Company has been awarded a patent classification services contract with the United States Patent and Trademark Office (USPTO). Serco will provide initial patent classification and reclassification services to support USPTO's core mission of examining, granting, and disseminating patents and trademarks. The recompete contract has a one-year base period with four one-year option periods, and is valued at $95 million over the five-year period, if all options and award terms are exercised." "

Onion

routing network for securely moving data through communication networks US 6266704 B1 ABSTRACT The onion routing network is used to protect Internet initiators and responders against both eavesdropping and traffic analysis from other users of the Internet. In the onion routing of the invention, instead of making connections directly to a responding machine, users make connections through onion routers. The onion routing network allows the connection between the initiator and responder to remain anonymous. Anonymous connections hide who is connected to whom and for what purpose from outside eavesdroppers.
Publication number: US6266704 B1 Publication type: Grant Application number: US 09/086,541 Publication date: Jul 24, 2001 Filing date: May 29, 1998 Priority date: May 30, 1997 Fee status: Lapsed Inventors:

Michael G. Reed

,

Paul F. Syverson

,

David M. Goldschlag

Original Assignee: The United States Of America As Represented By

The Secretary Of The Navy

Export Citation: BiBTeX, EndNote, RefMan

Patent Citations

(11),

Non-Patent Citations

(16), Referenced by (107),Classifications (15), Legal Events (6)"
"

Serco

Combined Resilience Exercising

http://www.epcollege.com/EPC/media/MediaLibrary/Downloads/Gold-Standard.pdf


Types of Exercise Workshop Exercises These are structured discussion events where participants can explore issues in a less pressurized environment.
They are an ideal way of developing solutions, procedures and plans rather than the focus being on decision making. Table Top Exercises These involve a realistic scenario and will follow a time line, either in real-time or with time jumps to concentrate on the more important areas. The participants would be expected to be familiar with the plans and procedures that are being used although the exercise tempo and complexity can be adjusted to suit the current state of training and readiness. Simulation and media play can be used to support the exercise. Table-top exercises help develop teamwork and allow participants to gain a better understanding of their roles and that of other agencies and organisations.
Command/Control Post Exercises These are designed primarily to exercise the senior leadership and support staff in collective planning and decision making within a strategic grouping. Ideally such exercises would be run from the real command and control locations and using their communications and information systems. This could include a mix of locations and varying levels of technical simulation support. The

Gold

Standard system is flexible to allow the tempo and intensity to be adjusted to ensure maximum training benefit, or to fully test and evaluate the most important aspects of a plan. Such exercises also test information flow, communications, equipment, procedures, decision making and coordination.
Simulation and Media Support The method of delivering an exercise is flexible and will be designed with the client to meet their requirements with options ranging from simple paper-based delivery through to full use of their real communications systems

[

Red

Switch Network and Hawkeye onion router surveillance aircraft]

and advance computer simulation

[In Trump's death pool and war room suites]

. In addition, media play can also be added in the form of news injects and the provision of experienced journalists and television crews to help test procedures and also assist in training key staff.
Gold Standard Emergency Planning College The Hawkhills, Easingwold, York North Yorkshire, YO61 3EG +44(0) 1347 821406 enquiries@emergencyplanningcollege.com

www.epcollege.com

" Kristine Marcy

[ICE Foundation]

Board Director The National Academy of Public Administration (NAPA) Kristine M. Marcy served as President and CEO of the National Academy of Public Administration, a non-profit organization chartered by Congress and dedicated to improving Government from January 2011 to June 30, 2011 at the unanimous request of the Board of Directors. Ms. Marcy is a retired federal executive with over 30 years of experience in ten federal departments and agencies including Small Business Administration, Department of Justice Immigration and Naturalization Service, DOJ U.S. Marshals Service, and DOJ Office of the Deputy Attorney General. During her career, Ms. Marcy blended deep technical knowledge with extensive hands-on experience to assist agencies in both operational and leadership positions. Post retirement, Ms. Marcy was an executive consultant for McConnell International, a Government Relations consulting firm, and brought her considerable network of contacts and her direct knowledge of many US federal agencies to help private sector clients develop business strategies."
"

Serco

's Office of Partner Relations (OPR) helps facilitate our aggressive small business utilization and growth strategies. Through the OPR,

Serco

mentors four local small businesses under formal Mentor Protégé Agreements: Three sponsored by DHS (Base One Technologies, TSymmetry, Inc., and HeiTech Services, Inc.,) and the fourth sponsored by GSA (DKW Communications, Inc.).

Serco

and HeiTech Services were awarded the 2007 DHS Mentor Protégé Team Award for exceeding our mentoring goals."
"Contact 111 Eighth Avenue New York, NY 10011 Description Base One Technologies, Ltd. is a DOMESTIC BUSINESS CORPORATION, located in New York, NY and was formed on Feb 15, 1994. This file was obtained from the Secretary of State and has a file number of 1795583." …. "Base One Technologies – Corporate Strategy – We are a Government Certified Women-Owned Business We practice Diversity Recruitment and Staffing for IT positions Base One was founded in 1994 by a women engineer who had made a career in technology research for many years. ..We are also partnered with firms that are 8A certified as Minority firms, Disabled , Native American firms, Vietnam veteran firms, women owned firms. .. Base One's staff of engineers are a diverse group of professionals. This diverse network of engineers helps us to branch out to other engineers and creates an even larger network of resources for us to work with. .. Information Security Planning is the process whereby an organization seeks to protect its operations and assets from data theft or computer hackers that seek to obtain unauthorized information or sabotage business operations.

Key Clients Benefiting From Our Information Security Expertise: Pentagon Renovation Program, FAA, Citigroup, MCI.

.. Performs architectural assessments and conducts both internal and external penetration testing. The results of these efforts culminate in an extensive risk analysis and vulnerabilities report. Develops, implements and supports Information Security Counter measures such as honey-pots and evidence logging and incident documentation processes and solutions."
"The 8(a) Business Development Program assists in the development of small businesses owned and operated by individuals who are socially and economically disadvantaged, such as women and minorities. The following ethnic groups are classified as eligible: Black Americans; Hispanic Americans; Native Americans (American Indians, Eskimos, Aleuts, or Native Hawaiians); Asian Pacific Americans (persons with origins from Burma, Thailand, Malaysia, Indonesia, Singapore, Brunei, Japan, China (including Hong Kong), Taiwan, Laos, Cambodia (Kampuchea), Vietnam, Korea, The Philippines, U.S. Trust Territory of the Pacific Islands (Republic of Palau), Republic of the Marshall Islands, Federated States of Micronesia, the Commonwealth of the Northern Mariana Islands, Guam, Samoa, Macao, Fiji, Tonga, Kiribati, Tuvalu, or Nauru); Subcontinent Asian Americans (persons with origins from India, Pakistan, Bangladesh, Sri Lanka, Bhutan, the Maldives Islands or Nepal). In 2011, the SBA, along with the FBI and the IRS, uncovered a massive scheme to defraud this program. Civilian employees of the U.S. Army Corps of Engineers, working in concert with an employee of Alaska Native Corporation Eyak Technology LLC allegedly submitted fraudulent bills to the program, totaling over 20 million dollars, and kept the money for their own use.[26] It also alleged that the group planned to steer a further 780 million dollars towards their favored contractor.[27]"

Yours sincerely,

Field McConnell, United States Naval Academy, 1971; Forensic Economist; 30 year airline and 22 year military pilot; 23,000 hours of safety; Tel: 715 307 8222

David Hawkins Tel: 604 542-0891 Forensic Economist; former leader of oil-well blow-out teams; now sponsors Grand Juries in CSI Crime and Safety Investigation