Editor's note:
The Lincoln Project "protecting democracy" by protecting their access to young men.
________
Source:
RT News
10 January 2021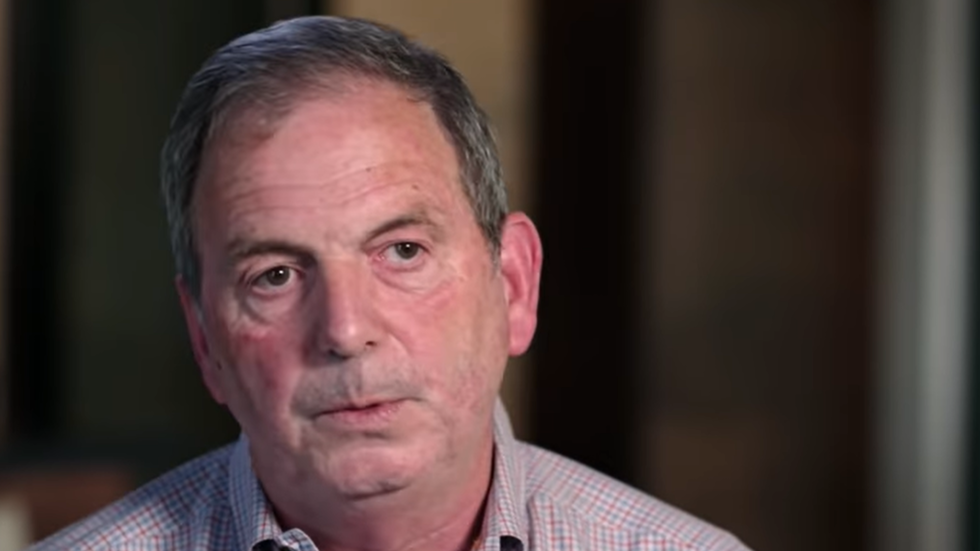 John Weaver speaks to CBS News' '60 Minutes,' October 12, 2020 © YouTube / 60 Minutes
Republican strategist John Weaver, a founding member of the anti-Trump Lincoln Project group, has been accused by conservative reporters and alleged victims of "
preying
" on young men by offering them work in exchange for sex.
A former strategist for George W. Bush, John McCain, and John Kasich, John Weaver was in a celebratory mood on Thursday,
declaring
"
America is great again
," after Congress formally certified Joe Biden's electoral victory. Though a Republican, Weaver is also a member of the Lincoln Project, a group of disaffected 'Never Trump' Republicans and neoconservatives formed with the sole purpose of defeating the president.
More:
'Rather be homeless than take a dime': Lincoln Project anti-Trumper has meltdown over $2,000 stimulus checks idea being praised
Emboldened by Trump's downfall, and buoyed by the
$67 million
they raised in the run-up to the election, the
Lincoln Project began work on a "database" of soon-to-be former Trump staff and officials, with a view to holding them "accountable" for the rest of their professional lives
. However, Weaver himself was soon confronted with some alleged skeletons in his own closet.
"
Maybe I should start talking about one of the founding members of the Lincoln Project offering jobs to young men in exchange for sex
," Conservative pundit Ryan Girdusky tweeted on Saturday, adding, "
his wife is probably interested.
"
Maybe I should start talking about one of the founding members of the Lincoln Project offering jobs to young men in exchange for sex... his wife is probably interested https://t.co/vAtUS9aPPl

— Ryan James Girdusky (@RyanGirdusky)

January 9, 2021
Girdusky went on to say he had been contacted by several men who claimed to have been groomed by the "
founding member
." Girdusky did not reveal more, but said he had screenshots of messages the Lincoln Project member sent to one recipient.
A Twitter user named Josh Price, who has since locked his account, soon came forward and
named
Weaver as the creep in question. He was followed by another liberal pundit, who claimed Weaver sent him "
pushy
" and "
flirty
" messages.
Please go to
RT News
to read more of the dirt on the Lincoln Project and Weaver.
________
Of course, if you are a Democrat and are into sexual exploitation for favors and all kinds of other questionable and criminal behavior, your Twitter account won't be shut down.
https://twitter.com/jwgop
We would be remiss if we didn't point out the fact that Stephen Mandel is Jewish and is the biggest contributor to the
Lincoln Project
. This is often the case with Jewish oligarchs: sabotaging America under their form of philanthropy which is predatory. The Jewish oligarch Mandel's private equity firm Lone Pine Capital doled out $5,893,300 to Democrats and $1,333,333 to Planned Parenthood during 2018. Lincoln Project isn't about profits or being the loudest anti-Trump outfit out here, they are lining their pockets by failed consultants attacking conservatives. Money grubbers...you want to play with us? Then pull your pants down and lube up...because the Democratic Party is a self-declared bunch of rich, fat, entitled fascists.
The Lincoln Project leadership goes on the offensive...they are calling it a "siege of the capital." It wasn't a "siege", it was a political stage show. A contrived shit show to divide Americans even more. Unless you extract yourself from this
destructive left-right paradigm
of being socially engineered slaves, you will never be able to extract yourself from these troublesome and dangerous circumstances. The Republican Party is destroyed. Good riddance. No wonder they are upset with President Trump.
Related:
Boycott Twitter - Bury Twitter in Their Own Arrogant Hubris
HONORED TO BE AN ESSENTIAL PUBLIC SERVICE PROVIDER.