Ed.'s note:
Hi Mike, nice to make your acquaintance. Ladies and gentlemen, direct from the City of London, allow us to introduce you to Mike Pompeo, the current US Secretary of State representing British interests in a fast collapsing America.
________
From Jack in the Antipodes
11 November 2020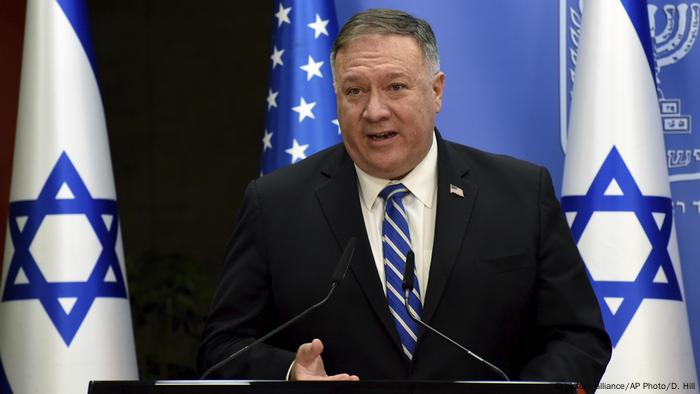 It seems like an odd thing to be talking about the US Secretary of State at a time like this, but Mike Pompeo is in some ways the most interesting person left in Donald Trump's inner circle. So I want to give some background and then put into some context a couple of things he's said recently that should have raised more interest than they did.
First up, Wikipedia says that he was born on 30 December 1963 to parents Wayne Pompeo and Dorothy (nee Mercer). It doesn't say what his parents did for a living but their family tree shows up nothing remarkable to my untrained eye, other than a great-great-grandmother on his mother's side who was a
Bechtel
, and a great-grandfather on his mother's side who was called
Ulysses Grant Mercer
. As Ulysses was born in 1868, three years after the end of the Civil War, I'd guess that it was a tribute to General Grant, who would have had the celebrity status in those days that we attribute to movie stars in the present.
Miles: no, more likely they were related. That is what we have always found. And Bechtel links us to the Bechtel Corporation, the largest construction company in the US, which built the nuclear plants including Three Mile Island. It was founded by Warren Abraham Bechtel, Jewish, who on his maternal side was also a Bentz and an Alspach. Also a Greenawalt and a Moyer on this father's side. The current head of Bechtel, Riley Bechtel, also sits on the board of JPMorganChase, the Trilateral Commission, and the National Petroleum Council.
Pompeo's ancestors on his father's side seem to be exclusively Italian and according to Wikipedia his paternal great-grandparents parents migrated separately from a small commune in the Abruzzo region, although they're not included in the Geneanet family tree.
Rather than take up space here describing his unremarkable origins you can go to Geneanet and see it for yourself at either of the two links below. If anyone sees anything that rings a bell you can let Miles know.
https://gw.geneanet.org/tdowling? lang=en&pz=timothy+michael&nz=dowling&m=A&p=michael+richard&n=pompeo&siblings=on&n otes=on&t=T&v=6&image=on&marriage=on&full=on
https://gw.geneanet.org/tdowling?lang=en&n=pompeo&oc=0&p=michael+richard
[Added November 12: See Pompeo's page at Geneanet, curated by our man Tim Dowling. That alone is a huge red flag. Then you get another with his maternal grandmother, Grace Mae
DOUGLASS
. Douglases were the kingmakers of Scotland, related to the royal Stewarts. Grace Mae married a Mercer. Mercers of the peerage are related to the Stewarts, as well as the Murrays, Grays, Elphinstones, etc. Pompeo is also a Taylor and a
Bennett
. The Bennetts lead us back to the
Masons
. We also link to the surnames Willis, Thatcher,
Armstrong
and Maris. Pompeo is a close cousin of Garner Ted Armstrong.
Also see the family photo posted at
Find a Grave
, listing a man named Bob Zimmerman. That's Bob Dylan's real name.]
[Added November 15: a reader just drew my attention to the fact that other sites contradict Tim Dowling at Geneanet on Pompeo's paternal line.
According the obituary posted at Fairhaven
Memorial Party and Mortuary, Pompeo's grandfather was not Harry Pompeo, but Salvatore Pompeo. His grandmother was not Fay Brandolino, but Gladys Mozell Cullender, daughter of Joseph Smith Cullender and
Parolee Catherine Ivey
. I would assume "Parolee" is not a name, it is a designation, meaning she had been in jail. The surname Cullender links us to witch trials, but not Salem. The Cullenders didn't come to MA until the 1800s. They were involved in the Bury St. Edmunds witch trials of Suffolk, England, in 1662. The Cullenders were not poor peasants, they were the owners on one of the largest cotton companies in England: Lees, Millington and Cullender of Manchester.
Joseph Smith Cullender is related to Comptons, Burrs, Davidsons, Phillips, Greens, and Batemans. This indicates he was Jewish, so we may have some link there to the Mormon Joseph Smith. That Joseph Smith was a
Mack and a Gates
, so you see why Dowling may be scrubbing that line in Pompeo's genealogy at Geneanet.]
Pompeo graduated from Los Amigos High School in Fountain Valley, Orange County, California. That rings the first bell of the day. I'm not from that part of the world but Wikipedia describes Fountain Valley as upper-middle class. As of 2000 the median household income was more than $90,000 and the black population was only 1.11 percent of the total. It's considered a classic commuter town.
Pompeo's father died this year and according to his obituary he worked for Standard Pressed Steel (SPS) for close to 50 years, as an inside salesman and production control manager. Whatever he did for a living it was enough for them to live in a prosperous commuter town in the heart of some of the wealthiest parts of California and therefore the country. It was solidly Republican and socially conservative, just the sort of place to stir certain ambitions.
After high school graduation Pompeo went to West Point and graduated there at the top of his class. Again, I'm not from around there but I think I'm right in saying that even the entrance exams to West Point are intensely competitive, and to come out on top after four grueling years of study and military training suggests someone who is not only very smart but also very driven.
Just by comparison, George Armstrong Custer came last in his class (at the time the title given to the biggest loser was 'the Goat'). But Custer was from the families so he knew he was going to get ahead regardless, so why stress out over getting good grades. Another who came last in his class was George Pickett of Pickett's Charge fame at the Battle of Gettysburg. In fact, there are six Goats at Gettysburg, three on each side.
Other famous people who went to West Point and failed to cover themselves in glory were Edgar Allen Poe (kicked out after six months for not showing up to assembly) and James McNeill Whistler (for failing chemistry by identifying silicon as a gas). Whistler became an artist, so not much to see there. Another who came top of the class and went on to some sort of fame was Douglas MacArthur, while Robert E. Lee came second in his year.
So Pompeo, who had majored in engineering management, was assigned as an armour officer with the Seventh Cavalry in West Germany. He left the army in 1991 with the rank of captain, which is hardly a stellar military career, but the US wasn't invading anyone around that time so chances of some real action wouldn't have come until the first Iraq War that kicked off when Iraq invaded Kuwait in August 1990, and ended in February 1991. Not really a war, more like a legally sanctioned massacre.
In 1994 he graduated with a Juris Doctor degree from Harvard Law School. Pompeo served as one of the 78 editors of the
Harvard Journal of Law & Public Policy
and on the 81-member board of editors of the
Harvard Law Review
. Again, a man driven to achieve and also to make connections for the future. On graduation he went to work at Williams and Connolly in Washington DC. For those who don't already know, this is not just any law firm. It was founded by Edward
Bennett
Williams, who is probably worth an in-depth look in his own right, and in 2019 it was ranked the most selective law firm in the United States. Often, lawyers from the firm will complete clerkships with federal judges prior to joining the firm. In 2015, the firm raised starting salaries to $200,000 for first-year associates, the highest base salary in the country.
So they could take their pick and Mike Pompeo, again, just marched in there. According to Wikipedia:
Williams & Connolly partner Robert Barnett has represented Barack Obama, Bill Clinton, George W. Bush, James Patterson, Hillary Rodham Clinton, Michelle Obama, Laura Bush, Bob Woodward, Sarah Palin, Dick Cheney, Alan Greenspan, Katharine Graham, Ben Bernanke, Paul Ryan, Tim Russert, Barbra Streisand, Jack Welch, Khaled Hosseini, Bill Walton, Mitch McConnell, Jake Tapper, and many others
.
High-profile cases include the successful defence of US President Clinton's impeachment, representation of Enron's law firm Vinson & Elkins, representation of the motion picture studios in the Kazaa/Grokster file-trading litigation, defence of the Vioxx cases, and counsel for the plaintiff states in the United States v. Microsoft antitrust remedy trial. The firm represented Colonel Oliver North during the Iran-Contra Affair and
John Hinckley
, the would-be assassin of Ronald Reagan.
The firm's corporate clients include Google, Disney, Samsung, Intel, Bank of America, The Carlyle Group, Medtronic, Genentech, Eli Lilly, and 21st Century Fox. Just briefly on Edward Williams though, Wikipedia makes a point of mentioning that he was friends with Ben Bradlee and Robert Maheu (otherwise known as IBM for Iron Bob Maheu), Howard Hughes' close associate and intelligence handler for many years.]
He was also treasurer of the Democrat National Committee from 1974-77 and when he died in 1988 from colon cancer his funeral, according to Wikipedia, 'was attended by most of Washington's power elite, including then-Vice President George H. W. Bush'. As the saying goes, the bigger the arsehole the bigger the funeral.
I hope I'm not missing anything here. I'm avoiding pointing out the red flags because I assume by now that Miles' readers have educated themselves sufficiently by reading his other papers not to need them. I'm just adding a few bits and pieces to provide context for what has been, by any measure, a stellar career for Mike Pompeo in a variety of fields.
Please go to
Updates
to read the entire background on Mike Pompeo.
________
Related:
If readers read the entire essay you will have come across the Koch brothers connection to Mike Pompeo.