Ed.'s note:
Before we get started here, read through this paper
The Baku-Tbilisi-CeyhanPipeline: Oil Window to the West
because this is at the core of this commercial war that just got kicked off in the Caucasus. When it comes to ethnicities and religions, those pesky concepts take a back seat to business and energy production related to gas and oil pipelines.
________
Source:
Fort Russ
MAJOR: CIA And MI6 Behind Armenian–Azerbaijani Conflict?
By Denis Churilov | October 2, 2020
The clash between Azerbaijan and Armenia has been escalating fast. There is a full scale war going on, with both sides using heavy artillery, tanks, and aviation, with confirmed causalities already being in the hundreds, including civilians.
This conflict is beneficial for both Azerbaijani and Armenian elites, in short term, as it allows to distract people from the economic issues (caused by the anti-coronavirus measures with the global recession/depression in the background) and temporary unite them in the face of a perceived threat, but there is also a distinct international dimension, with Turkey outrightly supporting Azerbaijan through its networks (president of France, Emmanuel Macron, among others,
has stated
that Syrian jihadists are fighting in Nagorno-Karabakh) and Turkish diplomats using highly militaristic rhetoric in relation to Armenia (Turkey should be quiet about anything that has to do with Armenia, given the history between the two in the early 20th century, but that is besides the point).
There are multiple factors at play, but there are a few minor details that analysts do not really pay attention to.
The current director of the CIA,
Gina Haspel
, was doing field assignments in Turkey in the early stages of her career, she reportedly speaks Turkish, and she has history of
serving as a station chief in Baku, Azerbaijan
, in the late 1990s. It is, therefore, presumable that she still has connections with the local government and business elites.
The current Chief of the MI6,
Richard Moore
, also has history of working in Turkey — he was performing tasks for the British intelligence there in the late 1980s and the early 1990s. Moore is fluent in Turkish and he also
served as the British Ambassador to Turkey
from 2014 to 2017.
The intelligence chiefs of the two most powerful countries in the Anglosphere are turkologists with connections in Turkey and Azerbaijan. It would be reasonable to assume that a regional conflict of such magnitude happening now, on their watch, is far from being a mere coincidence.
Besides, there are two other powers in the region that can get pulled into this conflict, eventually — Russia from north and Iran from south, the countries that have deep economic, cultural, diplomatic and security interests in Armenia and Azerbaijan respectively. Neither Russia nor Iran needs another warzone at their borders, and neither is known for being liked by the US and the UK elites.
Also, we shouldn't forget that this year is the Presidential Elections year in the United States, and it is common for Americans to try to solve their domestic issues through aggressive foreign policy (and they do have issues this time; probably the worst kind of issues they have had since the 1930s). Interesting that this conflict between Azerbaijan and Armenia (the conflict that has a potential of escalating into a World War 3) is happening now, mere weeks before the elections and the potential civil war in the United States.
Please go to
Fort Russ
to read the entire article.
________
Renewed Azerbaijani Attacks Seek to Destabilize Caucasus Region and Deprive Armenians of Their Ancestral Lands
by Lucine Kasbarian | Monday Sep 28th, 2020 11:24 PM
Repelling foreign invaders has been the single most recurring event throughout all of Armenian history. This year is no different.
In the early morning hours of Sept 27, Azerbaijan — with the military support of Turkey — launched an air and artillery attacks on the peaceful civilian populations in Nagorno-Karabakh (Armenian name, Artsakh) and the Republic of Armenia. Artsakh's capital, Stepanakert, was shelled, causing damage to roads and infrastructure, as was Mardakert, Artsakh's administrative center. Marduni, Vardenis and Goris in Armenian proper were also targeted. Among the civilian casualties were an elderly woman, her grandchild, and 18 others. Addressing Azerbaijan on national television, President Ilham Aliyev said that "there are losses among the Azerbaijani forces and the civilian population as a result of the Armenian bombardment," but did not elaborate.
Artsakh — a region some 4,400 square kilometers (1,700 square miles) is about the size of the U.S. state of Delaware. Its Armenian pedigree hearkens back to ancient times when around 180 B.C., Artsakh became one of the 15 provinces of the Armenian Kingdom. It has a population of roughly 155,000 is comprised of a majority of Armenians, and ethnic Talysh, Lezgin and Russian peoples. Neighboring Azerbaijan has an expanse of 86,600 square kilometers (33,400 square miles) and a population of 8 million, comprised of a majority of Azeris (also known as Caucasian Tatars), and a mix of the very same groups as mentioned above.
Azerbaijan, a military dictatorship run by the Ilham Aliyev clan, has challenged Artsakh sovereignty ever since this majority-Armenian populated enclave declared its independence from brutal Azeri rule in 1994 following a protracted war fought by indigenous Armenians for the right to govern themselves on their historic homeland.
Those close to the issues surrounding the status and security of this self-governing region have expected such attacks ever since Azerbaijan's most recent failed incursion into Armenian and Artsakh positions in July 2020.
According to Artsakh's Defense Ministry, Azerbaijani weaponry losses amid its attack on Artsakh include a Turkish F-16, an Azeri warplane, 14 Israeli UCAVs (unmanned combat aerial vehicles), 4 helicopters, 33 tanks, and an unspecified number of armored equipment. Unconfirmed reports state that high ranking officers of the Azeri side have been killed or captured. Both sides are claiming military casualties and both countries have declared martial law.
"Azerbaijan is facing the biggest political, economic, and social crisis it's faced probably since the collapse of the Soviet Union and the first part of the Nagorno-Karabakh war [in the late 1980s]," said Paul Stronski, a senior fellow in the Carnegie Endowment for International Peace's Russia and Eurasia Program. Political observers point to these as the motivation behind the Azeri attacks.
Azeri President Aliyev is among several world leaders who currently face ouster because of popular domestic discontent. Many political observers — including travel blogger Alexander Lapshin once blacklisted and imprisoned by Azerbaijan for writing about Armenia and Artsakh — believe that the present Azeri regime is spoiling for war because military dictator Aliyev needs to shore up his flagging power in his own land. The majority of Azerbaijanis live in abject poverty in spite of Azerbaijan's GDP of $27 USD billion in oil income but which is mostly appropriated by the Aliyev clan.
The current President's father, Heydar Aliyev, was a former Soviet Politburo member and the leader of Soviet Azerbaijan from 1969 to 1987. He became President of Azerbaijan in 1993 and began to build an autocratic system that installed Aliyev clan members into positions of power, depended on patronage, and lived off the largesse of domestic oil revenues. Heydar's son inherited his father's power, extending the reign of the dynasty. Amnesty International, Freedom House and the Index on Censorship are among those organizations that have charged the Azeri regime with violating press freedom, stifling dissent and using the energy wealth to win favor with the U.S. and EU. Aliyev Jr's authority also stems from manipulations of the Artsakh conflict, promoting a negative image of Armenia and Armenians as a scapegoat to compensate for the economic and social ills that his regime has created, exacerbated and ignored.
That goes a long way towards explaining why the majority of Western-backed mainstream media outlets, including the BBC, CNN, and
Time
magazine, have been covering for the oil-rich nation. Most have misrepresented the issue to charge that both sides simultaneously attacked each other or, that Armenia, which has in reality been maintaining a defensive posture, was the first to attack. Baku officials deny that Azerbaijan attacked Artsakh, claiming that it is conducting a counter-offensive. On the contrary, said Armenian Prime Minister Pashinyan, "the responsibility for these attacks rests solely on Azerbaijan." According to Armenian Foreign Ministry Spokeswoman Anna Naghdalyan, "Armenia has undeniable evidence that Azerbaijan started the hostilities in Karabakh."
When on Sept 25 the US Embassy of Armenia issued a security alert to its citizens in Armenia to exercise caution at the border between Armenia, Artsakh and Azerbaijan, it became clear that not only was the U.S. apprised of the coming attacks, but was not going to intervene, at least not at first.
Notably, in fiscal year 2018 and 2019 combined, Azerbaijan received over $100 million in military assistance from the U.S. Department of Defense via the Section 333 Building Partner Capacity program.
Azerbaijan has also received billions worth of advanced weapons from Israel
,
[Ed.'s note: It is closer to almost $1 billion now; see below]
in addition to technical and training support and the services of hired hacks to issue anti-Armenian propaganda articles on the media front.
Following the Azeri attacks, the U.S. State Department issued a statement of false parity, calling for both sides to cease hostilities. In a press briefing later on Sunday, U.S. President Donald Trump said that the U.S. would seek to stop the violence by talking to its friends in the region. Israeli officials remain silent. While the U.S., Russia, Iran and France, among others, have called for a cease fire, Turkey, Israel and Pakistan have issued no statements calling for peace. Instead they have thrown their weight behind Azerbaijan.
After enduring many years of Azeri government-sponsored hate campaigns, disinformation, provocations and attacks, the peaceful populations of Artsakh and Armenia have recognized that when they once more repel Azeri aggression, they must do so decisively so that the specters of imminent Azeri attacks do not perpetually loom over them. On Sept 27, Artsakh Prime Minister Arayik Harutyunyan stated, "If war is what Azerbaijan wants, war is what they will get."
In an emergency Sept 27 Security Council session of the Armenian parliament, Armenian Prime Minister Nikol Pashinyan said "After the fact, critics may chastise me for risking Armenian lives by mobilizing our men for battle. So my question to you all today is, are you ready to surrender to Azerbaijan and live under Azeri control the way Armenians once did and suffered as a result? Because, if so, we can resolve the conflict right now." The answer from the gallery was a resounding "No." Both Parliament as well as the Armenian nation signaled their readiness to pay with their lives for the right to live in liberty.
Thousands of able-bodied men in Armenia are mobilizing. More than 20,000 Armenian nationals residing in Russia signaled their readiness to fly back to Armenia for conscription.
Please go to
SOTN
to read the entire article.
________
Israel sending weapons to Azerbaijan as fight with Armenia rages on: Sources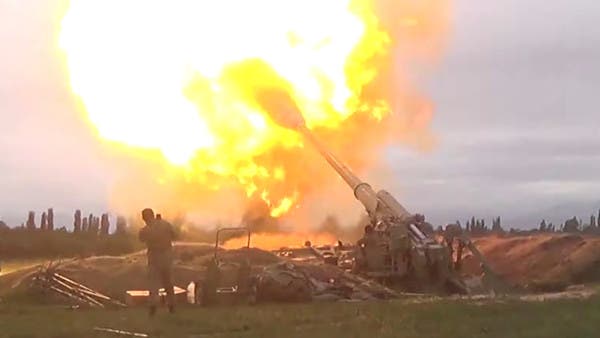 A still from Azerbaijan's Defense Ministry's video shows members of Azeri armed forces firing artillery during clashes between Armenia and Azerbaijan over Nagorno-Karabakh in an unidentified location, from footage released September 28, 2020. (Reuters)
By Joseph Haboush, Al Arabiya English | Wednesday 30 September 2020
Israel is sending weapons to
Azerbaijan
amid the most intense fighting between
Baku and Armenia in years
, according to officials and intelligence sources.
Heavy fighting between Armenian and Azerbaijani forces over the separatist region of Nagorno-Karabakh continued for a fourth straight day on Wednesday, with statements from both sides indicating that the flare-up of a decades-old conflict that has killed dozens of people since Sunday was no closer to an end.
Both sides have accused one another of using foreign fighters and mercenaries. Turkey, which has publicly spoken out in support of Azerbaijan and called Armenia the "biggest threat to peace" in the region, has reportedly sent fighters from Syria to Baku.
Russia, which has a military base in Armenia, has been accused of sending fighters to help prop up Armenian forces. Turkey and Russia have denied interfering.
Read more:
Turkey says it will support Azerbaijan in clashes with Armenia
Russian President Vladimir Putin and his French counterpart Emmanuel Macron called for an immediate ceasefire during a phone call Wednesday evening.
But as the fighting rages on, more countries are becoming involved for various political and strategic interests.
Israel has been one of the main providers of arms to Azerbaijan despite Armenia officially opening an embassy in Tel Aviv just this month.
Israel and Azerbaijan have a large amount of trade between oil and weapons.
Over the weekend, a US intelligence source told Al Arabiya English that Israel was sending planes full of weapons to Azerbaijan.
"Israel supplies weapons to [Azerbaijan]; two cargo flights from Israel have already landed in Baku today," the source said.
Asked about Turkish interference, the source said the Azeris would have the upper hand military, "unless the Russians do something."
Please go to
Al Arabyia
to read the entire article.
________
Israel has so far provided Baku with
$850 million
in weapons between 2006 and 2019. Armenia is a Christian country while Azerbaijan is a Muslim country:
More:
Turkey adds fuel to fire in Nagorno-Karabakh
Erdogan Says US-Russian-French Call for Ceasefire "Not Acceptable", Only Possible After "Armenian Withdrawal"