Source:
Sputnik
July 26, 2019
A senior US Navy official revealed that a senior enlisted member of Navy SEAL Team 7 is accused of sexually assaulting a female service member assigned to the platoon, just one day after reports that the same SEAL team, stationed in Iraq, was ordered to return home by the commander of the Special Operations Joint Task Force.
According to the Navy official, who spoke to the
New York Times
, "when commanders began investigating the allegations [of rape], the entire platoon invoked their right to remain silent."
"At that point, the official said, commanders decided to send the whole platoon home, including the lieutenant in command," the Times reported.
The Fifth Amendment to the US Constitution outlines the right not to testify against oneself in a trial.
Initially, the US Special Operations Command (USSOCOM) stated that the platoon, stationed in Iraq as part of the US mission to combat Daesh, had been ordered to return home due to
"perceived deterioration of good order and discipline."
On Thursday, however, two anonymous US defense officials told the Washington Post that in fact, the unit was sent back for abusing alcohol, in violation of General Order No. 1, which prohibits it even when off duty. It now appears that the alleged rape, in addition to alcohol abuse, may have been the last straw that convinced USSOCOM to send the
unit
packing.
Please go to
Sputnik
to read the entire article.
________
No kidding, you really have a problem hey? Especially after the SEALs in Afghanistan started "canoeing" (split their heads open with a round through the top of the head) Afghanistan "freedom fighters"and butchering them? The Pentagon basically has a "hit team" on call with the SEALs.
Exclusive: Top US Navy SEAL tells commanders in letter: 'We have a problem'
________
Source:
Military Crimes
SEAL Team 6 Member Charged with Impersonating Someone to Get Nude Photos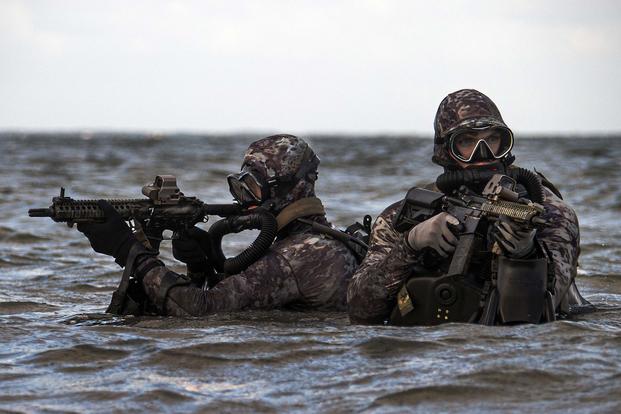 Navy SEALs conduct military dive operations off the East Coast of the United States on May 29, 2019. U.S. (Navy photo by Senior Chief Mass Communication Specialist Jayme Pastoric)
26 Jul 2019 | The Virginian-Pilot | By Brock Vergakis
VIRGINIA BEACH -- A member of the
Navy
's elite
SEAL Team 6
who was named its Sailor of the Year in 2016 has been charged with pretending to be someone else over text messages so he could get nude photographs from women.
Petty Officer 1st Class Aaron Howard faces a general court-martial at
Naval Station Norfolk
, although his civilian defense attorney is seeking to have the case dismissed during a hearing next week.
The case is thrusting the ordinarily secretive naval special warfare community into an uncomfortable spotlight once again.
On Wednesday, a platoon of San Diego-based SEALs was
sent home early from Iraq
"due to a perceived deterioration of good order and discipline within the team during non-operational periods." And earlier this week,
Navy Times reported
that members of Virginia Beach-based SEAL Team 10 routinely used cocaine and were able to cheat drug tests before they were caught last year.
Howard's case began with a broader investigation into spoofing -- the practice of disguising a communication to make it appear its from a trusted source -- at Naval Special Warfare Development Group, according to defense attorney Michael Waddington.
He said someone was using a program to send text messages from fake phone numbers to SEALs and others in the Virginia Beach-based command, which is also known as DEVGRU, or more popularly as SEAL Team 6.
Please go to
Military Crimes
to read the entire article.
________
Related:
US forces in South Korea only made it a month without a curfew before a soldier got drunk and stole a taxi
18 US Marines, one sailor arrested for alleged crimes including human smuggling and drug-related offenses
Military Crime
Pentagon Wants 16-year Old Kids to Fight the Empire's Wars
Unprecedented, Wasteful, and Obscene': House Approves $1.48 Trillion Pentagon Budget
So the military rolls out another Tom Cruise movie to boost moral and prepare for more war while flaunting the Pentagon's $1.48 trillion budget. Please, spare us the agony.
Top Gun: Maverick - Official Trailer (2020) - Paramount Pictures