Source:
RR Conner
History of the Huey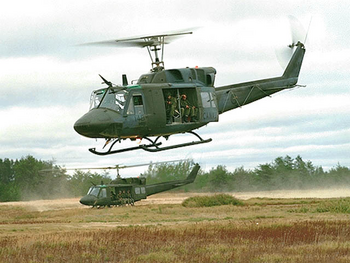 The first flight of the Huey was by Pilot, Floyd Carlson on October 22, 1956 in Fort Worth.
UH-1 aircraft have totaled more than 27 million flight hours since Oct. 22, 1956 when the first model of the huey was flown.
Army UH-1's totaled 7,531,955 flight hours in the Vietnam War between October 1966 and the end of 1975.
The Huey Cobra (AH-1G) had 1,038,969 flight hours in Vietnam
The Huey and the Cobra have more combat flight time than any other aircraft in the history of warfare.
Bell Helicopter built 10,005 Hueys from 1957 to 1975. Of the 10,005 production Hueys, 9,216 went to the U.S. Army, 127 to the U.S. Marine Corps, 79 to the U.S. Air Force and 42 to the U.S. Navy. The rest went to other countries.
Today, There are only 113 B models registered. 9 E models, 12 F models, 10 Training F Models, 1 HH-1K, 8 TH-1L's, 14 UH-1L, 3 M models, 1 P model, 5 civilian 205's and 547 UH-1H's. There are zero registered for all other makes and models of the military variant Hueys, leaving only 723 Military variant Huey models in all registered today.
The Huey remains a legend as the most successful rotor-craft in Aviation History.
Helicopter Losses During the Vietnam War
There are specific tail numbers for 11,827 total helicopters that served in the Vietnam War from all branches of the service. 1,925 Hueys were lost in combat, while 1,380 were lost in operational accidents. The high losses reflected their heavy use rather than a fragility of the aircraft, with the heavy use leading to crew fatigue that contributed to the high accident rate. Records indicate that 7,013 Hueys served in the Vietnam War. Almost all of those were with the Army.
Total Pilots served in Vietnam War 40,000
Total Helicopters Served in Vietnam War 11,827
Total helicopters destroyed in the Vietnam War was 5,086
Total Huey's served in the Vietnam War 7,013
Total Huey's destroyed in Vietnam War 3,305
Total Pilots Killed in Vietnam in all types of helicopters: 2,202
Total Pilots Killed in Huey's 1,074
Please go to
RR Conner
to read more on these statistics.
________
Fortunate Son - Vietnam 1965-1975 Helicopter
Magic Carpet Ride Steppenwolf Vietnam war
________
Related:
The real reason why: U.S does not have sufficient resources for military invasion of Iran