From: United States Marine Field McConnell
Plum

City Online - (

AbelDanger.net

) – April 29, 2017
To Whom It May Concern:
Field McConnell – United States Marine and Global Operations Director of
Abel Danger
(
AD
) – has linked the 1989 launch of the CAI Private Equity Group by Trump Shuttle creditors to a BC pig-farm debt-collection service allegedly organized (1996–2002) by CAI managing partner Tracey McVicar and drag-and-drop computers used for the 9/11 war games by a
Serco
dead pool on the 47th floor of WTC#1.
9/11 Alexander Haig

[(late CAI private-equity colleague of Tracey McVicar; David Johnston (federally registered pig-farm society) and Joseph Melone (Equitable partner in Trump Tower)]

Had Inside Knowledge Of The World Trade Center Bombing
AD
claims that McVicar – currently CAI managing partner – used
Serco
's tagged-offender service and Demon face-recognition software to track blackmail victims through pig-farm crime scenes and extort their participation in the '
the first live-broadcast mass snuff film in human history
' on 9/11.
AD
claims that CAI developed the drag-and-drop software through investee Macdonald Dettwiler and Associates for
Serco
– the world's largest air traffic controller – to extort outsourcing contracts for the 9/11 war games from the frequent-flyer likes of McConnell's ConAir sister Kristine Marcy; the former FAA Administrator Jane Garvey; the former Lockheed Martin director Lynne Cheney and the former National Security Advisor Condoleezza Rice.
McConnell can show President Trump and his newly-appointed Secret Service Director Randolph "Tex" Alles – Marine General, Top Gun Pilot – how to recognize drag-and-drop attacks on Boeing aircraft by Serco air traffic controllers and how to release victims from loan sharks at CAI Private Equity pig farms.
Trump saw on 9/11/2001: bombs were used in WTC
News Reports WTC7 Fell Before It Happens!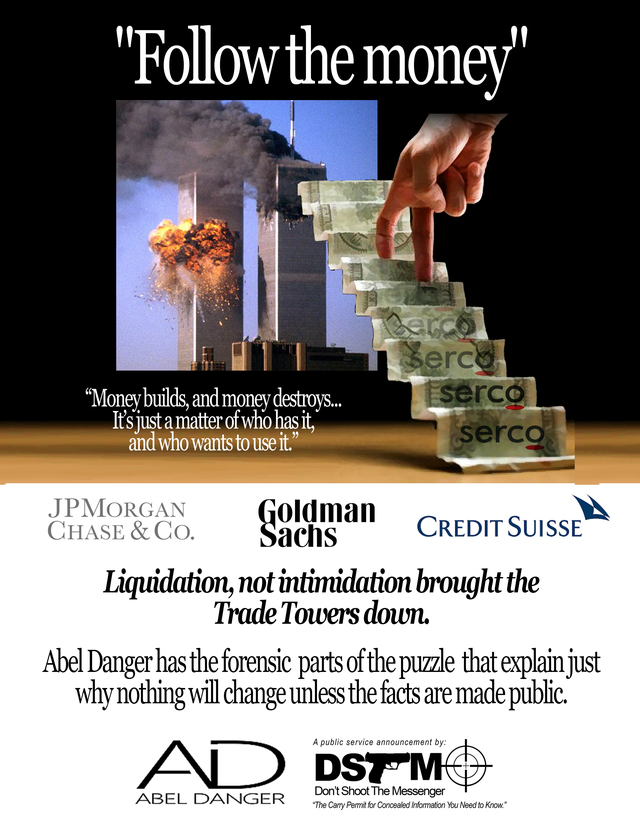 Boeing Honeywell Uninterruptible Autopilot

"Digital Fires Instructor

Serco

- Camp Pendleton, CA Posted 377 days ago Uses information derived from all military disciplines (e.g., aviation, ground combat, command and control, combat service support, intelligence, and opposing forces) to determine changes in enemy capabilities, vulnerabilities, and probable courses of action." "A dead pool, also known as a death pool, is a game of prediction which involves guessing when someone will die. Sometimes it is a bet where money is involved."
"Was Deadbeat Debtor Trump Too Big to Fail in 1990? Did the Bush 41 Administration Order Special Treatment for Wall Street Insider Donald Trump When the US Treasury Had Taken Control of Citibank, His Financial Angel? Was He Saved from Personal Bankruptcy and Allowed to Retain Valuable Property by Treasury Secretary Nick Brady and Fed Chair Alan Greenspan? … Citibank was Trump's best friend among all the Wall Street banking concerns. When Trump wanted to buy the former Eastern Airlines shuttle at LaGuardia Airport, he had convinced Citibank

[Chairman Walter Wriston – CAI Special Investor]

to lead the syndication that gave Trump the $365 million he needed for the transaction. Citibank then divided this debt burden among approximately 20 other banks. When, in January 1991, Trump's business empire finally went bankrupt, control of the Trump Shuttle reverted to Citibank

[Chairman Walter Wriston – CAI Special Investor]

as the main lender.
… Following the U.S. stock market crash of 1987, a global recession hit New York real estate. New construction stalled, and several big developers declared bankruptcy.
As the real estate market slumped, Trump ran out of cash.
At the beginning of 1990 he owed a combined $4 billion to more than 70 banks, with $800 million personally guaranteed by his own assets, according to Alan Pomerantz, a lawyer whose team led negotiations between Trump and 72 banks to restructure Trump's loans. Pomerantz was hired by Citibank but became lead counsel for the negotiations.
At the time, Trump was not considered a major developer, but he was a New York celebrity. His affair with the actress Marla Maples and his divorce from his first wife Ivana Trump made national news headlines, and his first book, The Art of the Deal, was a bestseller."
"How did an inexperienced pilot perform an intricate crash landing? How did the pilot maneuver the plane with such skill that experienced military aviation experts noted skills similar to a 'crack' military pilot?7 How did Hani Hanjour, the alleged hijacker who flew Flight 77, make a 330 degree turn, away from the White House and south towards the Pentagon, while descending 2200 feet, advance to full throttle and perform a crash landing with exact precision into the Pentagon? CBSNews reported, "And the complex maneuver suggests the hijackers had better flying skills than many investigators first believed."8 There is serious doubt that Hani Hanjour possessed the ability to maneuver a commercial plane in such an experienced fashion. According to another CBSNews report, managers at the flight school placed five complaints with the FAA expressing serious concern about his ability to fly safely.9 The Commission Report acknowledges his performance but does not acknowledge a possible problem with this information. The question remains unanswered by the United States government and invisible on mainstream media. Where are the media? _The media could have played an important role in the investigation of the Pentagon attack. In the months following the attack, few reports surfaced that questioned the validity of the independent investigation.10 Investigative reports emerged that addressed the skills of the alleged pilot and why Langley jets did not respond to the crisis. Rena Golden, executive vice-president and general manager of CNN International says, "Anyone who claims the U.S. media didn't censor itself is kidding you."11"
"September 17, 2001 .... NEW YORK, NY – The Equitable Life Assurance Society of the U.S. announced today a program to expedite the payment of claims and provide other complimentary services to families of victims of the terrorist attacks in the United States on Tuesday, Sept. 11, 2001. The announcement was made by Kip Condron, President and CEO of AXA Financial, Inc., parent company of Equitable Life. Two company "disaster relief" claims and information centers will be established: on the site of the AXA Gallery at 787 Seventh Avenue in midtown Manhattan and at the AXA Advisors Mid-Atlantic Regional headquarters at 3141 Fairview Park Dr. in Falls Church, VA, near Washington, DC. Beneficiaries can come to either location to receive immediate, on-site payment upon presentation of appropriate information. Both locations will be staffed by company service representatives to write and present claims-payment checks on the spot."
"Equitable woos away Pru president Joseph Melone

[CAI Special Investor]

. (Equitable Life Insurance Co., Prudential Insurance Company of America) National Underwriter Life & Health-Financial Services Edition November 5, 1990 | Crosson, Cynthia | Copyright .. Joseph J. Melone's recent decision to jump from the presidency of Prudential to the presidency of the Equitable took Prudential by surprise."
"Axa president arrested after investigation into tax evasion John Lichfield Wednesday 13 June 2001 23:00 BST Claude Bébéar, one of France's leading businessmen and founder and president of the Axa insurance company, was last night facing accusations of conspiring to allow wealthy French citizens to evade taxes. Claude Bébéar, one of France's leading businessmen and founder and president of the Axa insurance company, was last night facing accusations of conspiring to allow wealthy French citizens to evade taxes. Mr Bébéar, 65, spent Tuesday night in custody after being arrested for questioning in connection with alleged money laundering by a Luxembourg-based insurance company, PanEurolife, which was acquired by Axa in 1996. Under French law 'money laundering' (blanchissement d'argent) includes moving money out of the range of the tax authorities.
Axa is Europe's largest insurance company and the sponsor of the FA Cup in England. Mr Bébéar is president of the committee seeking to bring the Olympic games to Paris in 2008. In the UK, Axa was catapulted into the ranks of the insurance heavyweights in 1999 through its acquisition of Guardian Royal Exchange, which made it the country's third largest general insurer. Mr Bébéar was arrested on Tuesday and kept in custody until last night when he was expected to be " mis en examen" ­ placed under formal, criminal investigation ­ by Judge Dominique de Talancé for "fraud and aggravated money laundering".
Henri de Castries, the number two at Axa, was also arrested on Tuesday and was also expected to be placed under formal investigation by the judge ­ one step short of a charge in the French judicial system. Judge de Talancé is an investigating magistrate, specialising in fraud cases, who has been leading inquiries into the affair since last year. The case arises from the alleged illegal activities of PanEurolife, in the period after it was acquired by Axa (as part of the UAP group) in 1996 and before it was sold to the American group, Nationwide Global Holdings, in 1998."
Trump Tower is a 58-story, 664-foot-high (202 m) mixed-use

skyscraper

located at 721–725

Fifth Avenue

between 56th and

57th Streets

in

Midtown Manhattan

, New York City. Trump Tower serves as the headquarters for The Trump Organization. Additionally, it houses the penthouse condominium residences of the building's namesake and developer, U.S. President

Donald Trump

, who was a businessman and real estate developer at the time the tower was developed. Several members of the Trump family also reside in the building. The tower stands upon a plot where the flagship store of department-store chain

Bonwit Teller

was formerly located. Designed by

Der Scutt

of

Poor, Swanke, Hayden & Connell

and developed by Trump and the Equitable Life Assurance Company (renamed the AXA Equitable Life Insurance Company in 2004), the building broke ground in 1979."
"Tracey McVicar on her journey from Wall Street wizard to inner-city teacher to one of B.C.'s most influential board directors. It took one book to radically shake up Tracey McVicar's life.
Thanks to Ordinary Resurrections: Children in the Years of Hope, based on the experiences of educator Jonathan Kozol in a South Bronx school, McVicar left 12 years of investment banking during the frenzied technology run-up of the '90s to teach kids in an inner-city New York City school in 2001. Even though she later returned to finance (she's now the Vancouver managing partner of private equity firm CAI Capital Management Co.), it's a career curveball that she describes as "living a dream."
While she found investment banking rewarding and enjoyed how the high-performing environment attracted smart people, often with a good sense of humour, McVicar laments the singular focus on making money. The business, says the UBC commerce grad, is "bereft of helping others by its nature. To be really good, you have to be consumed by it and really live it." She describes an environment where people were hiring Bryan Adams for their weddings, and everybody one-upped each other on their latest luxury vehicle. "I wondered to myself, 'Just who are you?' I felt I was going in a direction that wouldn't be very fulfilling later." Turns out "fulfillment" is a recurring theme over our brunch of poached eggs and bacon at Mosaic restaurant in Vancouver's Hyatt hotel. McVicar—who worked at RBC Capital Markets from 1990 to 1997 and Raymond James Ltd. (and its predecessor, Goepel Shields & Partners) from 1997 to 2001—set up NYC-headquartered CAI in Vancouver after returning to B.C. following 9/11. "Of course that changed everything," says McVicar, who was in Brooklyn at the time of the attacks although had been due to pick up some computers, donated to her school, at the World Trade Center that morning. "My idealistic dream of teaching in the inner city, earning $28,000 a year, living in New York, was just that—a dream. I realized that both me and the school would be much better off if I went back to finance, back to Canada and donated that amount every year instead.""
"Cantor Fitzgerald's corporate headquarters and New York City office,[6][7] on the 101st–105th floors of

One World Trade Center

in

Lower Manhattan

(2–6 floors above the impact zone of a

hijacked airliner

), were destroyed during the

September 11, 2001 attacks

. At 8:46:46 A.M., six seconds after Cantor's tower was struck by the plane, a

Gold

man Sachs

server issued an alert saying that its trading system had gone offline because it wasn't able to connect with a Cantor server.[8][9][10] Cantor Fitzgerald lost sixty-eight percent of its workforce, considerably more than any of the other World Trade Center tenants or the New York City Police Department, the Port Authority of New York and New Jersey Police Department, the New York City Fire Department, and the United States Department of Defense. CEO and chairman

Howard Lutnick

, whose brother was among those killed, vowed to keep the company alive, and the company was able to bring its trading markets back online within a week.
"THE MT INTERVIEW: CHRIS HYMAN RESOLUTELY FIT, ABSTEMIOUS, RELIGIOUS, THE CEO OF SERVICE-SUPPLY FIRM

SERCO

- 4TH IN OUR MOST ADMIRED COMPANIES LIST - IS AN UNUSUAL BUSINESSPERSON IN AN UNFASHIONABLE SECTOR. SURVIVING 9/11 REINFORCED HIS BELIEF IN 'PEOPLE FIRST, PROFITS SECOND'. JUST DON'T CALL IT OUTSOURCING. by Chris Blackhurst Published: 01 Dec 2007 Last Updated: 09 Oct 2013 In 1994, he was head-hunted by

Serco

to be its European finance director, although, as he puts it: 'I found Serco - the company fitted everything I was looking for.' When he joined, annual turnover was £238m. In 2006, it was £2.5bn.
On 11 September 2001, he was in the World Trade Center. He was on the 47th floor when the plane hit, talking to

Serco

shareholders. They got out - but not the people in his previous meeting. He does not like talking about that terrible day. 'It confirmed my faith. It renewed my zest for getting the balance right and made me realise that time is not always your own. It made me think about my family and my health more - and about putting the balance back. You know, it's not a bad thing, to step back sometimes.'"
"For immediate release: May 3, 2001 MDA Wins Key U.S. Aviation Contract Richmond, B.C. - MacDonald, Dettwiler and Associates Ltd. (TSE: MDA) announced today the company has been awarded a contract by the United States Air Force to develop a system to be used by specialists at Air Force bases to design Instrument Approach Procedures (IAPs).
IAPs are published instructions to pilots specifying a series of aircraft maneuvers that must be executed for the aircraft to transition safely from an en route airway to a runway final approach when flying by instruments. MDA's system ingests digital terrain and elevation data, air navigation data (such as the locations of navigation aids, runways, buildings and towers) to build and display a virtual model of the physical environment surrounding an airport. It then develops the complex surfaces that define a safe approach corridor for any of the dozens of IAP variants, and determines whether any of the defined surfaces are penetrated by terrain or man-made obstacles. It flags these incursions to the operator, who can quickly modify the approach procedure through a drag-and-drop user interface.
This initial award, valued at $2.9 million (CDN), consists of a fixed price element to develop, integrate, and test the system. The next phase will include installation, government testing, and operator training. The contract includes an option for the U.S. Federal Aviation Administration (FAA) to adapt the system for their needs. The U.S. Air Force also has options to field the successful system at up to 108 air bases around the world, and to award T&M support contracts for up to 8 years. MDA plans to team up with Air Navigation Data (AND) of Ottawa to offer a custom solution, based on AND's "Final Approach" product. MDA President and CEO Daniel Friedmann said: "This is a significant project for MDA that has the potential to improve the safety of air transportation for many other air forces and civil aviation authorities world wide."
"DULLES, Va., May 31 /PRNewswire/ -- Orbital Sciences Corporation (NYSE: ORB) today announced that it has completed the sale of 12.35 million shares of its MacDonald, Dettwiler and Associates, Ltd. subsidiary (Toronto: MDA) for approximately $112 million. The closing of the transaction represents a major step forward in the company's execution of its company-wide restructuring that focuses on its core space technology products. Orbital stated that it intends to use the proceeds from the sale to reduce debt, toboost cash reserves for working capital and for other general corporate purposes. The shares were sold to a group of Canadian investors that include CAI Capital Partners and Company II, L.P., British Columbia Investment Management Corporation (BCIMC) and the Ontario Teachers' Pension Plan Board. Orbital is also aiming to close the sale of its remaining 5.65 million MDA shares by the end of June, which is allowed for under a one-month extension to the purchase option agreement with CAI and BCIMC that was originally announced on April 16, 2001."
"'To see her, you wouldn't think she's dangerous' By

ROSIE DIMANNO

Columnist Tues., Dec. 4, 2007 NEW WESTMINSTER, B.C.–The last time Dinah Taylor was spotted, along skid row, she was enveloped in a rain slicker that fell to her ankles, wiry brown hair tucked underneath a fisherman's hat.
She made only glancing eye contact with a sex-trade outreach worker who'd known her for years, as if defying the other female to say something.
In the shelters, drop-ins and social agencies around the Downtown Eastside, Dinah Taylor is not welcome – persona and purported she-pimp non grata. Indeed, she's been banned from most venues.
It is astonishing to many familiar with the Robert "Willie" Pickton saga that this key individual, portrayed in court as monster and potential serial killer herself, certainly a close associate of the accused, has returned to these sordid stomping grounds.
When this trial began, 10 long months ago, it was reported that Taylor had fled, long gone back to Ontario, where her parents still live. They, it's been claimed, had urged Dinah to co-operate with the massive police investigation into the murder of 26 women – for which Pickton has been charged – and the disappearance of scores more. But Taylor wasn't having any of this, it seems.
There's been no indication that this mysterious character has ever submitted to a formal police interrogation, though she was arrested and released (never charged) in connection with the case two weeks before Pickton was charged.
During the trial, Taylor actually spent much of one day in the area outside the main courtroom. At first friendly but then increasingly hostile with reporters, she finally fell asleep across a few chairs. That was in June.
Those who saw her then describe Taylor as looking terrible – completely strung out, weighing no more than 90 pounds, veins visible beneath pale skin.
Her appearance at court was provocative. Speculation has it the Crown was deliberately showing its hand, teasing the defence team with Taylor and perhaps daring them to call the woman as a witness on Pickton's behalf.
For sure, defence counsel have made much of Taylor's involvement with the missing and murdered women, all but pointing the finger at her as homicidal maniac, the real killer. What's not in dispute is that Taylor is one scary character – street-hardened, menacing, a procurer of prostitutes lured to the Pickton farm, contemptuous of both sex-trade workers (especially street walkers) and drug addicts.
"She's pure evil,'' says one outreach worker, who asked that her name not be used in any story about Taylor. She shudders merely at mention of the woman – a toxic fugue – who crossed her path again a few weeks ago.
"To see her, you wouldn't think that she's dangerous. She's so small and thin, kind of quiet and standoffish, very suspicious of everybody."
Even in the old days, before Pickton's arrest and the shocking revelations about Taylor's involvement with the accused, she was leery of those trying to help habitués of the Downtown Eastside. "She never wanted to engage with us," the outreach worker recalls. "She wouldn't come into our centre. She actually used to drag other women out of there, send them on dates."
Another neighbourhood activist, who's been keeping prostitutes abreast of events at the Pickton trial, has run into Taylor several times in recent weeks. "I warn the women to stay away from her. They're afraid of Dinah.''
Court has heard that Taylor's DNA was found on 113 items retrieved from the Pickton property – including handcuffs, condoms, clothing, syringes – and also on items that belonged to some victims – Brenda Wolfe's lipstick, Mona Wilson's rosary.
One witness, Pickton pal Pat Casanova, told the court he once received fellatio from a woman he knew as "Angel," who'd been brought to the farm by Taylor. He said he gave the money to Taylor, who shared some of it with "Angel."
Another witness, Gina Houston, put Taylor on the same bed with victim Sereena Abotsway, in Pickton's trailer.
In his lengthy police interview, Pickton repeatedly tells police he wants to speak with Taylor.
On the stand, Houston recounted a conversation she'd had with Pickton about Taylor, shortly before his arrest.
"Willie told me that he believed she (Taylor) would do the right thing when she came back. That she would take responsibility for what she said she would take responsibility for."
Dinah Taylor did come back, but that was all. And a lot of people wish she'd stayed the hell away."
"Call it ConAir and Little knows what you mean. It's the name the air transport system has picked up inside the U.S. Marshals Service, which flies a fleet of 13 airplanes on regular routes across the country every day.
During the past year, the prisoner airline spent $24 million moving more than 100,000 federal inmates -- including 12,000 from San Diego -- to and from trials, prisons and medical centers nationwide.
The inmates fly mostly on 727s and DC-9s. But the airline, which has merged with the air wing of the Immigration and Naturalization Service, also operates Convair 580s, a Lear jet and a number of smaller aircraft.
Among the most infamous of its recent travelers were Unabomber suspect Theodore Kaczynski and the men accused in the bombing of the Oklahoma City federal building, Terry Nichols and Timothy McVeigh.
Nichols and McVeigh were transported in the dead of night in an operation much akin to a clandestine military operation, Little said. He did not want to go into details but mentioned that a decoy plane was among the ploys used to guard against possible attempts by supporters to free the suspects.
Federal officials have always been circumspect about the fine points of prisoner movement. But ConAir soon could gain a higher public profile with the planned release in June of a movie by the same name.
In the Disney film, Nicolas Cage plays a hapless prisoner who wanders into a hijack plot aboard a Marshals Service plane carrying a group of high-security inmates.
The Hollywood marshals rough up some of the prisoners, and the plane crashes, leaving the real Marshals Service frowning on the silver screen's invention, said Kristine Marcy

,

[Field McConnell's sister]

a top official in charge of detentions. "We don't beat up our prisoners, and our planes certainly don't crash," Marcy said on a recent trip to San Diego, where she was trying to find more jail space for federal prisoners.
The space problem here is acute because of the high number of border arrests.
So, San Diego is a regular stop on ConAir's West Coast air route, with 12 flights per week scheduled into Lindbergh Field. Prisoners -- mostly people being held for entering the country with false documents -- are flown from San Diego to Las Vegas, where they are housed in the city jail. They are flown back a few days later for deportation hearings."
"DHS ICE OTD … Since 1986, through various contracts,

Serco

has provided full training lifecycle support for all areas of this key Law Enforcement organization including Inspections, Border Patrol, Enforcement, and DHS operations at the Federal Law Enforcement Training Academy in Glynco, GA. ..

Serco

developed and scripted three scenarios based on negligent practices identified by the IG report that have resulted in the use of lost or uncontrolled weapons for robbery, murder, and the accidental death of a child. We used creative animation techniques, sound effects, music, and talented voice actors playing multiple characters to create an emotional appeal much different—and infinitely more powerful—from the standard WBT offering.
Serco has trained more than 400,000 DHS students in every region and district, at every land, air and sea border crossing, in classrooms, through WBT, train-the-trainer programs, on-the-job training and through the implementation of performance support systems in a blended learning environment. In collaboration with ICE OTD, our latest efforts have resulted in the accreditation and completion of three programs, including HSI FOTP, ICE OTD IDC, and ICE OPR.

Serco

was integral to the ICE team that was recognized by the 2012 "Excellence in Law Enforcement" Award given to the ICE Domestic Field Operations Training Program (DFTOP) Accreditation Project for having greatly improved ICE training, increasing operational efficacy and efficiency, and minimizing safety issues to ICE officers and the public."


Serco

Receives "Supplier of the Year" from Boeing for Enterprise Architecture Expertise RESTON, VA (PRWEB) MAY 19, 2011 ..

Serco

's Enterprise Architecture Center of Excellence is based in Colorado Springs, CO. The team provides a variety of services in support of Boeing's business units as well as research and development efforts.

Serco

's architecture employs object-oriented (OO)/Unified Modeling Language (UML) to define, design and satisfy defense agencies' mission-critical requirements, including Command, Control, Communications, Computers and Intelligence (C4I). This approach improves system developer's understanding of operational requirements and how best to integrate enterprise operations and systems for the optimal fulfillment of C4I and other operational needs."

Yours sincerely,

Field McConnell, United States Naval Academy, 1971; Forensic Economist; 30 year airline and 22 year military pilot; 23,000 hours of safety; Tel: 715 307 8222

McConnell's Co-researcher David Hawkins Tel: 604 542-0891 Forensic Economist; former leader of oil-well blow-out teams; now sponsors Grand Juries in CSI Crime and Safety Investigation