United States Marine Field McConnell
Plum

City Online - (

AbelDanger.net

)
March 12, 2017
Abel Danger
(
AD
) has explained how President Trump can stop
Serco
from using deep-state assets – as allegedly assembled over 30 years by Kristine ('Con Air') Marcy – in murder-for-hire missions funded by Clinton Foundation donors or snuff-film productions staged by Marcy's
Senior Executive Service
(SES).
Abel Danger (
Abel Danger
) claims that
Serco
used Con Air planes to take deep state 'actors' on the day-care center bombing mission which killed 19 children in the Murrah Building OKC on April 19, 1995 and take Timothy McVeigh to a snuff-film production on June 11, 2001 at U.S. Penitentiary, Terre Haute, Ind.
Abel Danger
Global Operations Director Field McConnell claims that
Serco
used Kristine Marcy to stage the JonBenét Ramsey murder in December 1996 with Small Business [8(a)] Technology Companies ('S.B.T.C') and extort deep-state support with an
SES
snuff film distributed on the federal bridge
*
.
*
The Federal Bridge Certification Authority – A deep-state dark-web communications networks allegedly set up by
Serco
for senior bureaucrats to synchronize fake news and media plays with sabotage, assassination and propaganda missions.
Abel Danger
claims that
Serco
liaised with Marcy's
SES
associates in the NSA to set up the bin Laden office in London in 1994 and went on to coordinate a stand down for the East Africa African embassy bombings of August 7, 1998 where bin Laden used an extra 400 minutes on the satellite phone to detonate the bombs!
Abel Danger
claims that
Serco
– C4I supplier to Boeing – used a
BBC
/MOD archive of child pornography, partly assembled by Lord Boothby (d. 1986), Clement Freud (d. 2009) and Jimmy Savile (d. 2011), to blackmail Boeing into moving its HQ to Chicago and mentoring deep-state attacks over the federal bridge on 9/11.
Abel Danger
claims that
Serco
provided the UK Cabinet Office with deep state training for 9/11 when
BBC
pedophile elites allegedly injected fake news into media plays while 8(a) company actors,
experienced journalists and television crews
produced the "
first live broadcast mass snuff film in human history.
"
Abel Danger
claims that
Serco
and Marcy agents organized the late Clement Freud and Tony and John Podesta into a pedophile news group on the federal bridge and tracked their virtual identities with Demon face recognition software through the crime scenes associated with the abduction of Madeleine McCann on 3 May 2007 from her bed in a holiday apartment in Praia da Luz, a resort in the Algarve region of Portugal.
Field McConnell is asking to meet with President Trump to explain how, with a 14 word amendment (see below) to the criminal code he can stop deep-state bureaucrats such as his sister Kristine Marcy from generating fake news of murder for hire .…. "18 U.S. Code § 1958 Use of interstate commerce facilities in the commission of murder-for-hire where
"Whoever travels … with intent that a murder be committed
[or news or evidence of such a murder be concealed, withheld, destroyed or faked]
… and if death results, shall be punished by death or life imprisonment, or shall be fined not more than $250,000, or both."
1998 Nairobi Truck Bomb - Age of Terror -

BBC
Meet Field's Sister, Kristine Marcy (Sister Abel, Brother Cain)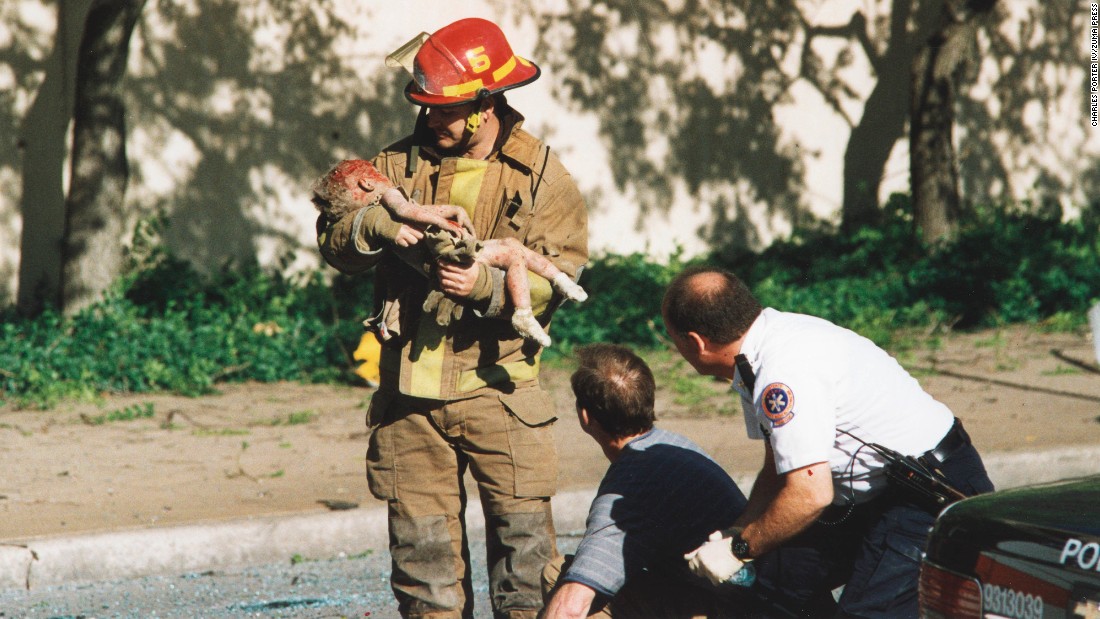 Serco

in Action - International Fire Training Centre
PEDO BROS. SMOKING GUN: The Podesta Brothers & Madeleine McCann
President Donald Trump's Statement On Human Trafficking
SERCO

Owns the World, | Big Brother Watch
Copy of

SERCO

GROUP PLC: List of Subsidiaries AND Shareholders!
(Mobile Playback Version)
"Digital Fires Instructor

Serco

– Camp Pendleton, CA Uses information derived from all military disciplines (e.g., aviation, ground combat, command and control, combat service support, intelligence, and opposing forces) to determine changes in enemy capabilities, vulnerabilities, and probable courses of action." "

July 29-August 7, 1998: NSA Listens to Surge of Phone Calls about Upcoming Embassy Bombings; No Warnings Are Given

Khalid al-Fawwaz. [Source: CNN]The NSA is monitoring phone calls between bin Laden in Afghanistan and Khalid al-Fawwaz in London, yet no action is taken after al-Fawwaz is given advanced notice of the African embassy bombings (see

10:35-10:39 a.m., August 7, 1998

). Al-Fawwaz, together with Ibrahim Eidarous and Adel Abdel Bary, are operating as bin Laden's de facto international media office in London, and the NSA has listened in for two years as bin Laden called them over 200 times (see

November 1996-Late August 1998

). On July 29, 1998, al-Fawwaz is called from Afghanistan and told that more satellite minutes are needed because many calls are expected in the next few days. Al-Fawwaz calls a contact in the US and rush orders 400 more minutes for bin Laden's phone. A flurry of calls on bin Laden's phone ensues, though what is said has not been publicly revealed. [KNIGHT RIDDER, 9/20/2001] On August 7 at around 4:45 a.m., about three hours before the bombings take place, a fax taking credit for the bombings is sent to a shop near al-Fawwaz's office. The fingerprints of his associates Eidarous and Abdel Bary are later found on the fax. They fax a copy of this to the media from a post office shortly after the bombings and their fingerprints are found on that fax as well. [SEATTLE POST-INTELLIGENCER, 7/13/1999;

DAILY TELEGRAPH, 9/19/2001

] Canadian intelligence is monitoring an operative named Mahmoud Jaballah who is serving as a communication relay between operatives in Baku and London. He is monitored talking to people both in Baku and London just before the fax is sent from Baku to London (see

August 5-7, 1998

). The NSA has also been monitoring the operatives in Baku (see

November 1996-Late August 1998

). It is not clear why the Canadians or the NSA fail to warn about the bombings based on these monitored phone calls. Before 9/11, bin Laden's phone calls were regularly translated and analyzed in less an hour or so. It has not been explained why this surge of phone calls before the embassy bombings did not result in any new attack warnings. The three men will be arrested shortly after the embassy bombings (see

Early 1994-September 23, 1998

).
Entity Tags: National Security Agency,

Khalid al-Fawwaz

,

Osama bin Laden

,

Adel Abdel Bary

,

Ibrahim Eidarous

,

Mahmoud Jaballah

Timeline Tags:

Complete 911 Timeline

"THE McVEIGH EXECUTION: OKLAHOMA CITY; Execution on TV Brings Little Solace By

JIM YARDLEY

JUNE 12, 2001 A few minutes after 7 this morning, the 232 people who had come to watch Timothy J. McVeigh die on closed-circuit television fell silent. The blank screen flickered awake, and the face that had been so haunting and so hateful to everyone in the room came into focus. He seemed, they said, as if he were only a few feet away.
People here had wondered if he would speak, if one last time he would mock them and those he killed. But he remained silent. Instead, they said, he lifted his head slightly off the gurney and stared into the camera beaming his image to Oklahoma City from Terre Haute, Ind. To the people watching him on the screen, his face seemed as hard as stone, his eyes looked black. And that, they said, spoke more than words.
"It was almost like the Devil was inside him looking at us," said Gloria Buck, who had driven from suburban St. Louis to witness the execution of the man whose bombing attack six years ago killed her uncle Rick Tomlin and 167 other people.
For many people in this city, Mr. McVeigh has always been a demon, his anger as unfathomable as his unwillingness to express contrition. And so in his death, the people who gathered before dawn to watch the telecast arranged by the Justice Department dissected meaning from the twitches of his eyebrows or a slight trembling of his jaw. Some saw hate, others claimed to have detected a trace of fear. All said they felt justice had been served. Only some said they were certain that their pain would finally be eased."
"At 9:02 a.m., Wednesday, April 19, 1995, terrorism struck Oklahoma City, when a bomb exploded in front of the Alfred P. Murrah Federal Building. The bomb was located within the confines of a 24-foot Ryder rental truck. The explosive mixture had been prepared for charge with a detonation cord and pre-positioned, parked parallel, in a loading lane on the north side of the Murrah Building, near the intersection of N.W. 5th Street and Robinson Avenue. The force of the explosion was of such magnitude that it destroyed approximately one-third of the Murrah Building. The entire north face of the structure was reduced to rubble and each of the nine floors, plus the roof, received extensive damage. Contents of the first and second floors were blown against the southern portion of the building, while the third through ninth floors were initially raised by the blast and proceeded to pancake one atop the other at street level. When the dust cleared, approximately one-third of the structure was located in a pile of debris, measuring in some places 35-feet in height and running the length of the building. At the time of the blast, the Murrah Building housed some 600 federal and contract workers, as well as an estimated 250 visitors. Federal agencies housed in the Murrah Building included the Bureau of Alcohol, Tobacco, and Firearms; the Drug Enforcement Administration; the Secret Service; the Department of Housing and Urban Development; the Social Security Administration; the U.S. Army and U.S. Marine Corps recruitment offices; the Veterans Administration; the General Accounting Office; the Department of Health and Human Services; the Department of Defense; the U.S. Customs Service; the Department of Agriculture; the Department of Transportation; and, the General Services Administration. An office of the Federal Employees Credit Union and the "America's Kids" Child Care Development Center were also housed in the building. (A floor plan of the Murrah Building is detailed in Exhibit A) Damage extended throughout Oklahoma City's downtown, covering an estimated 48-square-block area."
"Inspector General Uncovers SBA Encouraged Fraud for Over 20 Years ASBL Uncovers Over 20 Years of Fraud Investigations at the SBA May 06, 2015, 07:13 ET from American Small Business League PETALUMA, Calif., May 6, 2015 /PRNewswire-USNewswire/ -- As early as 1995 the Small Business Administration (SBA) Inspector General

uncovered rampant fraud

in federal small business contracting programs. The

American Small Business League

(ASBL) reviewed

20 years of investigations

that found the SBA clearly knew about rampant fraud, but adopted policies that encouraged fraud and protected fraudulent firms to inflate small business contracting data.
The investigation found the SBA Press Office responded to the damming Inspector General reports by claiming the fraud was the result of

miscoding, computer glitches, anomalies and simple human error

. They even released press releases claiming the fraud was a "myth."
The Inspector General suggested in Report 5-14, "If SBA had put as much effort into verifying whether the company currently met the award's size standard as it put into trying to find ways to earn credit towards its small business goals, then perhaps the contract action would have been awarded to a company that was legitimately small at the time of award."
A 1995 SBA Inspector General investigation found evidence of a "

particular fraudulent practice

" where large businesses continued to illegally misrepresent themselves as small to hijack federal small business contracts. The Inspector General recommended the SBA to publish a list of all the fraudulent firms and circulate the list to all federal agencies to prevent the fraudulent firms from continuing to receive small business contracts.
The SBA refused to adopt the Inspector General's recommendations. As a result, the fraudulent firms continued to receive billions of dollars in federal small business contracts. The

investigations revealed

the SBA has continued to knowingly include contracts to fraudulent firms in their annual small business contracting data for over 20 years.
In 2005, the SBA Inspector General released Report 5-15 that stated, "One of the most important challenges facing the Small Business Administration (SBA) and the entire Federal Government today is that large businesses are receiving small business procurement awards and agencies are receiving credit for these awards."
Report 5-14 uncovered

66 percent of the high dollar procurement

the SBA itself had reported as going to small businesses actually went to large businesses. One of those firms was Dutch corporate giant Buhrmann NV with over 26,000 employees around the world.
Report 5-16 uncovered the SBA knew large businesses were committing felony federal contracting fraud by making

"false certifications" and "improper smal lbusiness self-certifications."


A series of federal investigations have all found fraud and abuse in federal small business contracting programs. In 2009, the Government Accountability Office essentially accused the SBA of encouraging fraud.

NBC

, CBS, ABC, CNN, CNBC, Fox News and RTTV have all reported on the abuses.
For 20 years the SBA has refused to adopt policies to halt the fraud, but recently finalized the "safe harbor from fraud penalties" policy that helps protect fraudulent firms that are caught hijacking federal small business contracts. CONTACT: Steve Godfrey, sgodfrey@asbl.com, 707-789-9575"
"

DAILY NEWS

28 November 2001 Global swoop on newsgroup paedophiles By Will Knight More than 130 people in 19 different countries have been arrested or are under investigation after police traced the distribution of child pornography through different internet newsgroups.
Technical experts at UK internet service provider Demon Internet aided officers from the National Crime Squad's new Hi-Tech Crime Unit with the investigation.
A spokesperson from Thus, Demon's parent company, says that investigators were not given access to the server logs that record Demon users' activities.
Investigators were simply provided with access to newsgroup postings in the same way as any other Demon customer. Technical experts from Demon then helped officers distinguish the identifying information contained within the message "headers" of particular postings.
Face recognition
Officers traced postings relating to certain images to different internet service providers around the world and then contacted Interpol to track down suspects.
Investigators say they discovered 10,000 suspect postings to over 30 different newsgroups and identified 60,000 new images. They plan to use face recognition software to identify victims in different images, to help trace them. This software has been developed in conjunction with UK company Serco, although no technical details have been released". "

Serco

Awarded $95 Million Patent Classification Contract with the U.S. Patent and Trademark Office November 30, 2015 RESTON, VA – November 30, 2015 –

Serco

Inc., a provider of professional, technology, and management services, announced today the Company has been awarded a patent classification services contract with the United States Patent and Trademark Office (USPTO). Serco will provide initial patent classification and reclassification services to support USPTO's core mission of examining, granting, and disseminating patents and trademarks. The recompete contract has a one-year base period with four one-year option periods, and is valued at $95 million over the five-year period, if all options and award terms are exercised."
"

Serco

: Is it a company or a sovereign power? Posted on

2010 October 5

| Leave a comment

SERCO

– The Biggest Company You've Never Heard Of From Australian television [2:49] If one single company had to be chosen as the exemplar of the military/industrial complex, esnl's pick would be

Serco

, a British company created in 1929 as a local branch of Radio Corporation of America.
Today the firm runs air traffic control towers in the U.S., immigration detention centers in Australia, schools and the anti-missile defense system in Britain, and much, much more.
Of special interest to us is the company's growing role in the espionage world and intelligence world, especially here in the U.S., where it is based in Reston, Virginia, the nation's capital of corporate spookery.
According to Crocodyl, the company holds contracts with an alphabet soup of three- and four-letter agencies, including the National Security Agency [NSA], National Geospatial-Intelligence Agency [NGA], the Defense Information Systems Agency (DISA), Office of Naval Intelligence, the Air Force Information Warfare Center, and the Department of Defense.
Here's an example of the folks who work for

Serco

, from a new hire announcement posted by the company two years ago:

Serco

Inc., a provider of professional, technology, and management services to the federal government, ­announced today that Maureen Baginski has been named Vice President of the intelligence business and National Security Advisor at

Serco

. … From 2003 to 2005, Ms. Baginski served as the FBI's Executive Assistant Director for Intelligence where she was responsible for establishing and managing the FBI's first-ever intelligence program. Her mission was to adapt FBI intelligence capabilities with information technologies to create an intelligence-sharing operation that could identify threats before they became attacks.
From 1979 to 2003, Ms. Baginski served at the National Security Agency (NSA), where she held a variety of positions, including Signals Intelligence (SIGINT) Director, Senior Operations Officer in the National Security Operations Center; Executive Assistant to the Director of NSA/Central Security Service, Chief Officer of the Director; Assistant Deputy Director of Technology and Systems; and lead analyst for the Soviet Union. As SIGINT Director, Ms. Baginski successfully established and directed a unified program to exploit encrypted or denied information on global networks. Leading the NSA's Signals Intelligence Directorate, the Nation's high technology cryptology organization, she managed a complex and geographically dispersed distributed information production enterprise.
The company's CEO is an India-born Pentecostal Christian

[shades of Dinesh D'Souza]

, and is profiled here by The Guardian's Janice Martinson in 2006." "DHS ICE OTD … Since 1986, through various contracts,

Serco

has provided full training lifecycle support for all areas of this key Law Enforcement organization including Inspections, Border Patrol, Enforcement, and DHS operations at the Federal Law Enforcement Training Academy in Glynco, GA. ..

Serco

developed and scripted three scenarios based on negligent practices identified by the IG report that have resulted in the use of lost or uncontrolled weapons for robbery, murder, and the accidental death of a child. We used creative animation techniques, sound effects, music, and talented voice actors playing multiple characters to create an emotional appeal much different—and infinitely more powerful—from the standard WBT offering.

Serco

has trained more than 400,000 DHS students in every region and district, at every land, air and sea border crossing, in classrooms, through WBT, train-the-trainer programs, on-the-job training and through the implementation of performance support systems in a blended learning environment. In collaboration with ICE OTD, our latest efforts have resulted in the accreditation and completion of three programs, including HSI FOTP, ICE OTD IDC, and ICE OPR.

Serco

was integral to the ICE team that was recognized by the 2012 "Excellence in Law Enforcement" Award given to the ICE Domestic Field Operations Training Program (DFTOP) Accreditation Project for having greatly improved ICE training, increasing operational efficacy and efficiency, and minimizing safety issues to ICE officers and the public."
"

Serco

Combined Resilience Exercising

http://www.epcollege.com/EPC/media/MediaLibrary/Downloads/Gold-Standard.pdf


Types of Exercise Workshop Exercises These are structured discussion events where participants can explore issues in a less pressurized environment.
They are an ideal way of developing solutions, procedures and plans rather than the focus being on decision making. Table Top Exercises These involve a realistic scenario and will follow a time line, either in real-time or with time jumps to concentrate on the more important areas. The participants would be expected to be familiar with the plans and procedures that are being used although the exercise tempo and complexity can be adjusted to suit the current state of training and readiness. Simulation and media play can be used to support the exercise. Table-top exercises help develop teamwork and allow participants to gain a better understanding of their roles and that of other agencies and organisations.
Command/Control Post Exercises These are designed primarily to exercise the senior leadership and support staff in collective planning and decision making within a strategic grouping. Ideally such exercises would be run from the real command and control locations and using their communications and information systems. This could include a mix of locations and varying levels of technical simulation support. The

Gold

Standard system is flexible to allow the tempo and intensity to be adjusted to ensure maximum training benefit, or to fully test and evaluate the most important aspects of a plan. Such exercises also test information flow, communications, equipment, procedures, decision making and coordination.
Simulation and Media Support The method of delivering an exercise is flexible and will be designed with the client to meet their requirements with options ranging from simple paper-based delivery through to full use of their real communications systems

[

Red

Switch Network and Hawkeye onion router surveillance aircraft]

and advance computer simulation

[In Trump's death pool and war room suites]

. In addition, media play can also be added in the form of news injects and the provision of experienced journalists and television crews to help test procedures and also assist in training key staff.
Gold Standard Emergency Planning College The Hawkhills, Easingwold, York North Yorkshire, YO61 3EG +44(0) 1347 821406 enquiries@emergencyplanningcollege.com

www.epcollege.com

" Kristine Marcy

[ICE Foundation]

Board Director The National Academy of Public Administration (NAPA) Kristine M. Marcy served as President and CEO of the National Academy of Public Administration, a non-profit organization chartered by Congress and dedicated to improving Government from January 2011 to June 30, 2011 at the unanimous request of the Board of Directors. Ms. Marcy is a retired federal executive with over 30 years of experience in ten federal departments and agencies including Small Business Administration, Department of Justice Immigration and Naturalization Service, DOJ U.S. Marshals Service, and DOJ Office of the Deputy Attorney General. During her career, Ms. Marcy blended deep technical knowledge with extensive hands-on experience to assist agencies in both operational and leadership positions. Post retirement, Ms. Marcy was an executive consultant for McConnell International, a Government Relations consulting firm, and brought her considerable network of contacts and her direct knowledge of many US federal agencies to help private sector clients develop business strategies."
"

Serco

's Office of Partner Relations (OPR) helps facilitate our aggressive small business utilization and growth strategies. Through the OPR,

Serco

mentors four local small businesses under formal Mentor Protégé Agreements: Three sponsored by DHS (Base One Technologies, TSymmetry, Inc., and HeiTech Services, Inc.,) and the fourth sponsored by GSA (DKW Communications, Inc.).

Serco

and HeiTech Services were awarded the 2007 DHS Mentor Protégé Team Award for exceeding our mentoring goals."
"Contact 111 Eighth Avenue New York, NY 10011 Description Base One Technologies, Ltd. is a DOMESTIC BUSINESS CORPORATION, located in New York, NY and was formed on Feb 15, 1994. This file was obtained from the Secretary of State and has a file number of 1795583." …. "Base One Technologies – Corporate Strategy – We are a Government Certified Women-Owned Business We practice Diversity Recruitment and Staffing for IT positions Base One was founded in 1994 by a women engineer who had made a career in technology research for many years. ..We are also partnered with firms that are 8A certified as Minority firms, Disabled , Native American firms, Vietnam veteran firms, women owned firms. .. Base One's staff of engineers are a diverse group of professionals. This diverse network of engineers helps us to branch out to other engineers and creates an even larger network of resources for us to work with. .. Information Security Planning is the process whereby an organization seeks to protect its operations and assets from data theft or computer hackers that seek to obtain unauthorized information or sabotage business operations.

Key Clients Benefiting From Our Information Security Expertise: Pentagon Renovation Program, FAA, Citigroup, MCI.

.. Performs architectural assessments and conducts both internal and external penetration testing. The results of these efforts culminate in an extensive risk analysis and vulnerabilities report. Develops, implements and supports Information Security Counter measures such as honey-pots and evidence logging and incident documentation processes and solutions."
"The 8(a) Business Development Program assists in the development of small businesses owned and operated by individuals who are socially and economically disadvantaged, such as women and minorities. The following ethnic groups are classified as eligible: Black Americans; Hispanic Americans; Native Americans (American Indians, Eskimos, Aleuts, or Native Hawaiians); Asian Pacific Americans (persons with origins from Burma, Thailand, Malaysia, Indonesia, Singapore, Brunei, Japan, China (including Hong Kong), Taiwan, Laos, Cambodia (Kampuchea), Vietnam, Korea, The Philippines, U.S. Trust Territory of the Pacific Islands (Republic of Palau), Republic of the Marshall Islands, Federated States of Micronesia, the Commonwealth of the Northern Mariana Islands, Guam, Samoa, Macao, Fiji, Tonga, Kiribati, Tuvalu, or Nauru); Subcontinent Asian Americans (persons with origins from India, Pakistan, Bangladesh, Sri Lanka, Bhutan, the Maldives Islands or Nepal). In 2011, the SBA, along with the FBI and the IRS, uncovered a massive scheme to defraud this program. Civilian employees of the U.S. Army Corps of Engineers, working in concert with an employee of Alaska Native Corporation Eyak Technology LLC allegedly submitted fraudulent bills to the program, totaling over 20 million dollars, and kept the money for their own use.[26] It also alleged that the group planned to steer a further 780 million dollars towards their favored contractor.[27]"

Yours sincerely,

Field McConnell, United States Naval Academy, 1971; Forensic Economist; 30 year airline and 22 year military pilot; 23,000 hours of safety; Tel: 715 307 8222

David Hawkins Tel: 604 542-0891 Forensic Economist; former leader of oil-well blow-out teams; now sponsors Grand Juries in CSI Crime and Safety Investigation