United States Marine Field McConnell
Plum

City Online - (

AbelDanger.net

)
January 30, 2017
Abel Danger
(
AD
) has shown how ICE Foundation Board Director Kristine Marcy may have trapped President Trump by having
Serco
agents in the National Visa Center issue fraudulent visas to some of his pilots, contractors, demolition crews and hotel staff and then deploying them in 8(a) missions attributed to the Bin Laden Group.
AD
claims that in 1994,
Serco
shareholders positioned Marcy as director of the US Justice Prisoner and Alien Transportation System (JPATS = Con Air) so she could transport alibied felons or parolees for deployment as blackmailers and out-of-town killers by
Serco
8(a) companies embedded in elite hotels.
AD
claims that
Serco
shareholders used 8(a) companies to link the World Trade Marriott Hotel in New York and Pentagon City Sheraton hotel in Washington with Boeing's Chicago headquarters so donor / mentors in the Clinton Foundation could impute Angel-is-next way points into Air Force One on 9/11.
AD
claims that
Serco
– formerly RCA GB 1929 – has equipped Boeing aircraft and suites in hotels patronized by guests of the Clinton Foundation to track targets, stand down security and activate countdowns for death-betting pools on receipt of signal confirming the Angel has passed a target way point either on land, sea or air.
AD
claims that in 1998,
Serco
shareholders positioned Marcy as Chief Operating Officer of the Small Business Administration to set up the Office of SBIC Liquidation and finance the 8(a) attacks with BNY Mellon as trustee and
Gold
man Sachs, Credit Suisse and JPMorgan as underwriters for 9/11.
AD
claims that in 1996,
Serco
shareholders positioned Maureen Baginski as NSA Signals Intelligence Director to integrate Clinton hotel security systems with a Starnet pig-farm facility in Vancouver BC used by CAI Special Investors for online gaming, blackmail, extortion and trafficking in child pornography.
AD
claims that on 9/11,
Serco
shareholders met on the 47th floor of WTC1 and instructed CAI Special Investor the late Gen. Alexander Haig and Boeing director the late John Shallikashvili to fly AA Flight 11 through 8(a) way points selected by guests in Clinton hotels but attributed to the Bin Laden Group.
AD
claims that
Serco
shareholders
including the U.K. and Saudi Arabian governments
gave Haig and Shalikashvili the keys to the Federal Bridge Certification Authority and the
Red
Switch networks to stand down local hotel security systems, synchronize attacks and deploy clean-up crews to remove evidence.
AD
claims that
Serco
has equipped Haig and his CAI Special Investor colleagues with real-time access to the Federal Bridge so they could coordinate attacks by
Serco
's 8(a) protégés and liquidate the assets of mentors such as Boeing, Lockheed Martin, Northrop Grumman and Raytheon from Clinton hotel rooms.
AD
has prioritized possible
qui tam
suits against
Serco
and its shareholders for procurement frauds on government programs overseen by Marcy, Baginski, CAI Special Investors and the Clinton Foundation.
After private conversation with his sister Kristine Marcy, United States Marine Field McConnell – Global Operations Director of
Abel Danger
– has become an original source relator for any
Qui tam
lawsuit in respect of
Serco
procurement frauds.
Field McConnell is now asking to meet with President Trump to explain how America can escape from traps apparently set by ICE under cover of '
protecting infrastructure from sabotage, guarding our intellectual property and identifying and removing national security threats
.'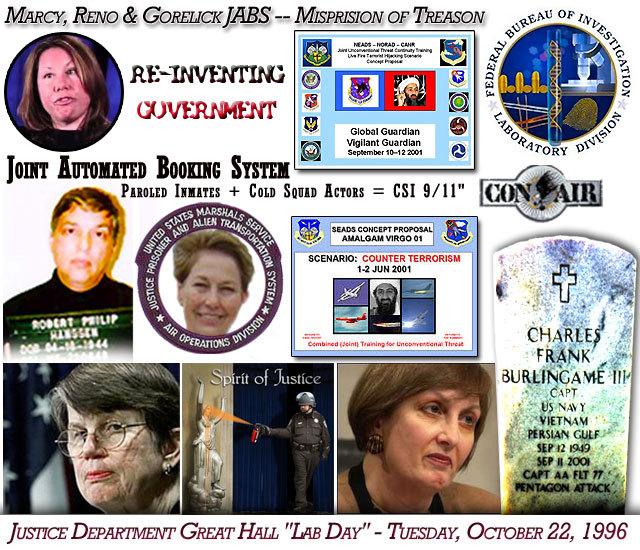 Meet Field's Sister, Kristine Marcy (Sister Abel, Brother Cain)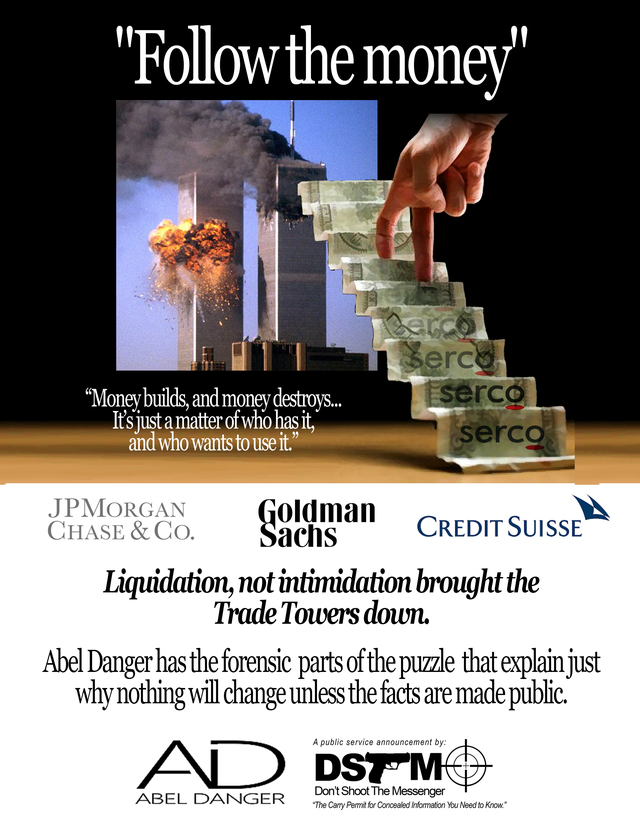 The Coup D'état The CLINTON Legacy SEPT 11 2001 Bush
"Angel is Next" AIR FORCE ONE's Call Sign
Boeing Honeywell Uninterruptible Autopilot
Trump saw on 9/11/2001: bombs were used in WTC
SERCO

Owns the World, | Big Brother Watch




Copy of

SERCO

GROUP PLC: List of Subsidiaries AND Shareholders!

(Mobile Playback Version)


"Digital Fires Instructor

Serco

– Camp Pendleton, CA Uses information derived from all military disciplines (e.g., aviation, ground combat, command and control, combat service support, intelligence, and opposing forces) to determine changes in enemy capabilities, vulnerabilities, and probable courses of action. "NVC Contract Award. On January 31, 2006, in a recompetition for our expiring National Visa Center, or NVC, contract, we

[

Serco

]

were awarded the successor contract for the NVC contract by the Department of State. Under the contract, we anticipate performing over 20 million immigrant visa transactions each year at the NVC in Portsmouth, New Hampshire and at the Kentucky Consular Center in Williamsburg, Kentucky. The prime contract has a one-year base period and four one-year options with a potential value of approximately $84 million, inclusive of the options. The prior NVC contract generated 9.1% of our total revenues in fiscal 2005 and 9.2% of our total revenues in fiscal 2004."
Six months after Sept. 11, hijackers' visa approval letters received March 13, 2002 Posted: 5:07 AM EST (1007 GMT) From Mark Potter and Rich Phillips CNN Miami Bureau MIAMI, Florida (CNN) -- Six months to the day after Mohamed Atta and Marwan Al-Shehhi flew planes into the World Trade Center, the Immigration and Naturalization Service notified a Venice, Florida, flight school that the two men had been approved for student visas. Rudi Dekkers of Huffman Aviation, where Atta, 33, and Al-Shehhi, 23, first trained in July 2000, showed the yellow INS forms to CNN during an interview Monday. Dekkers said he was surprised to get the forms at such a late date."
"What Donald Trump Knew About Undocumented Workers at His Signature Tower

Massimo Calabresi

Aug 25, 2016 In the summer of 1980,

Donald Trump

faced a big problem. For six months, undocumented Polish laborers had been clearing the future site of

Trump Tower

, his signature real estate project on Manhattan's Fifth Avenue, where he now lives, maintains his private offices and hosts his

presidential campaign

.
The men were putting in 12-hour shifts with inadequate safety equipment at subpar wages that their contractor paid sporadically, if at all. A lawyer for many of the Poles demanded that the workers be paid or else he would serve Trump with a lien on the property. One Polish worker even went to Trump's office to ask him for money in person, according to sworn testimony and a deposition filed under oath in a court case.
For help, Trump turned to Daniel Sullivan, a 6-ft. 5-in., 285-lb. labor consultant, FBI informant and future officer of the Teamsters Union. "Donald told me he had difficulties ...," Sullivan later testified in the case. "That he had some illegal Polish employees on the job."
Following his acceptance of the presidential nomination for the Republican party, Donald Trump has made a number of political gaffes.
Sullivan had been helping Trump negotiate a casino deal in New Jersey at the time, and he testified that he was shocked by Trump's admission. "I think you are nuts," Sullivan testified that he told Trump. "You are here negotiating a lease in Atlantic City for a casino license and you are telling me you have got illegal employees on the job."
For 36 years, Trump has denied knowingly using undocumented workers to demolish the building that would be replaced with Trump Tower in 1980. After Senator Marco Rubio raised the issue of undocumented Polish workers during a Republican primary debate this year, Trump described himself as removed from the problem. "I hire a contractor. The contractor then hires the subcontractor," he said. "They have people. I don't know. I don't remember, that was so many years ago, 35 years ago.""
"12/19/2001 Mechanics left towers before buildings collapsed By Dennis Cauchon, USA TODAY At the time the elevator mechanics left, dozens of people were trapped in stuck elevators. Other people lost their lives trying to rescue those trapped in elevators, including a mechanic from another company who rushed to the Trade Center from down the street.
The departure of elevator mechanics from a disaster site is unusual. The industry takes pride in rescues. In the Oklahoma City bombing in 1995, elevator mechanics worked closely with the firefighters making rescues.


http://www.usatoday.com/news/sept11/...tor-usat_x.htm


On Sept. 11, the mechanics left on their own, without instructions from police or fire officials. ACE Elevator supervisors say this was consistent with the emergency plan. All the mechanics survived. "We had a procedure. We had a procedure to follow, and they (the mechanics) followed it," Niederau says.
But the Port Authority says the emergency plan called for mechanics to stay and help with rescues. "The manuals consider many emergency scenarios and describe the role of the mechanics in detail in responding to them," Port Authority spokesman Allen Morrison says. "There was no situation in which the mechanics were advised or instructed to leave on their own. They were, depending on the situation, to be dispatched to various emergency posts or to respond to various pas
About 9:45 a.m., from the south tower lobby, Port Authority elevator manager Joseph Amatuccio radioed the ACE Elevator supervisors on their private radio channel. O'Neill recalls him asking: "Can you mobilize to come inside and see what's going on? Because I'm here with the fire department, and they're asking me questions I don't know."
O'Neill radioed John Menville, an ACE Elevator supervisor trained in rescues, and both tried to get back in the building. The supervisors had special ID badges with red stripes that allowed them behind police lines." "Just What Were Donald Trump's Ties to the Mob? I've spent years investigating, and here's what's known. By DAVID CAY JOHNSTON …… No other candidate for the White House this year has anything close to Trump's record of repeated social and business dealings with mobsters, swindlers, and other crooks. Professor Douglas Brinkley, a presidential historian, said the closest historical example would be President Warren G. Harding and Teapot Dome, a bribery and bid-rigging scandal in which the interior secretary went to prison. But even that has a key difference: Harding's associates were corrupt but otherwise legitimate businessmen, not mobsters and drug dealers.
This is part of the Donald Trump story that few know. As Barrett wrote in his book, Trump didn't just do business with mobbed-up concrete companies: he also probably met personally with Salerno at the townhouse of notorious New York fixer Roy Cohn, in a meeting recounted by a Cohn staffer who told Barrett she was present. This came at a time when other developers in New York were pleading with the FBI to free them of mob control of the concrete business.
From the public record and published accounts like that one, it's possible to assemble a clear picture of what we do know. The picture shows that Trump's career has benefited from a decades-long and largely successful effort to limit and deflect law enforcement investigations into his dealings with top mobsters, organized crime associates, labor fixers, corrupt union leaders, con artists and even a one-time drug trafficker whom Trump retained as the head of his personal helicopter service."
"OUR PURPOSE The ICE Foundation is a nonprofit organization that supports the mission and the 20,000-plus employees worldwide who comprise US Immigration and Customs Enforcement (ICE), in part, through financial aid, awareness campaigns and scholarships. We also strive to assist victims of immigration- and customs-related crimes, such as human trafficking, through educational scholarships for college and vocational training.
WE'RE HERE TO PROMOTE PUBLIC SAFETY AND A SECURE AMERICA Support the Mission
We aid ICE in developing and maintaining relationships with all levels of law enforcement in the United States, as well as international law enforcement and public and private corporations. These networks are central to protecting America's infrastructure from sabotage, guarding our intellectual property and identifying and removing national security threats.
Honor Those Who Serve
When the unthinkable happens, we're there to support the agency's employees. The foundation provides financial assistance to the families of agents injured and killed in the line of duty. Heal Those Rescued
ICE is the United States' principal agency responsible for policing human trafficking and child exploitation. The foundation supports that effort by helping to reintegrate the victims of such crimes by providing them with educational financial aid and access to resources.
Heighten Public Awareness
Beyond our campaigns to educate the public about the potential threats to our borders and the agency's role in combatting them, the foundation also provides educational scholarships to exemplary children who've been identified by federal law enforcement and the military for demonstrating a commitment to their communities and country.
Kristine Marcy Board Director The National Academy of Public Administration (NAPA)
Kristine M. Marcy served as President and CEO of the National Academy of Public Administration, a non-profit organization chartered by Congress and dedicated to improving Government from January 2011 to June 30, 2011 at the unanimous request of the Board of Directors. Ms. Marcy is a retired federal executive with over 30 years of experience in ten federal departments and agencies including Small Business Administration, Department of Justice Immigration and Naturalization Service, DOJ U.S. Marshals Service, and DOJ Office of the Deputy Attorney General. During her career, Ms. Marcy blended deep technical knowledge with extensive hands-on experience to assist agencies in both operational and leadership positions. Post retirement, Ms. Marcy was an executive consultant for McConnell International, a Government Relations consulting firm, and brought her considerable network of contacts and her direct knowledge of many US federal agencies to help private sector clients develop business strategies."
"

SERCO

: 'The biggest company you've never heard of' JULY 7, 2013 BY

21WIRE

As politicians asset-strip the public's portfolio of properties, infrastructure and services, one multinational corporation has grown as a result – and its scope and reach may shock many people who have not been paying attention.
All around the globe, our governments are busy outsourcing public-sector services like health, education, police, prisons, money delivery and military – to the esteemed private sector. It's sold to the public as a solution to avoiding higher taxes, while retaining better services. But it's simply an accountancy shell game, where the government kicks the can down the road by spreading the bill to the taxpayer over a longer period of time, in order to avoid any large upfront payments – all the while, allowing a private corporation to extend its influence over society. This, by definition, is fascism.
They are called

SERCO

, and they run countries…




The Biggest Company You've Never Heard Of

As well as thanking God for his success, CEO Chris Hyman is a Pentecostal Christian who has released a gospel album in America and fasts every Tuesday. Coincidentally he was in the World Trade Centre on 9/11 on the 47th floor addressing shareholders."
"American Airlines Flight 11 was a domestic passenger flight that was hijacked by five

al-Qaeda

members on September 11, 2001, as part of the

September 11 attacks

.

Mohamed Atta

deliberately crashed the plane into the North Tower of the World Trade Center in New York City, killing all 92 people aboard and an unknown number in the building's impact zone. The aircraft involved, a Boeing 767-223ER, registration N334AA,[1] was flying American Airlines' daily scheduled morning transcontinental service from Logan International Airport, in Boston, Massachusetts, to Los Angeles International Airport, in Los Angeles, California.
Fifteen minutes into the flight, the hijackers injured at least three people (possibly killing one), forcibly breached the cockpit, and overpowered the captain and first officer. Atta, an al-Qaeda member and licensed commercial pilot, took over the controls. Air-traffic controllers noticed the flight was in distress when the crew was no longer responding. They realized the flight had been hijacked when Mohamed Atta's announcements for passengers were transmitted to air traffic control. On board, flight attendants Amy Sweeney and Betty Ong contacted American Airlines, and provided information about the hijackers and injuries to passengers and crew.
The aircraft crashed into the North Tower of the World Trade Center at 08:46:40 local time. Countless people in the streets of New York City witnessed the strike, but few video recordings captured the moment. Documentary film maker Jules Naudet captured the only known footage of the initial impact from start to finish. Before the hijacking was confirmed, news agencies began to report on the incident and speculated that the crash had been an accident. The impact and subsequent fire caused the North Tower to collapse 102 minutes after the crash, resulting in hundreds of additional casualties. During the recovery effort at the World Trade Center site, workers recovered and identified dozens of remains from Flight 11 victims, but many body fragments could not be identified."
"

Serco

: Is it a company or a sovereign power? Posted on

2010 October 5

| Leave a comment

SERCO

– The Biggest Company You've Never Heard Of From Australian television [2:49]
If one single company had to be chosen as the exemplar of the military/industrial complex, esnl's pick would be

Serco

, a British company created in 1929 as a local branch of Radio Corporation of America. Today the firm runs air traffic control towers in the U.S., immigration detention centers in Australia, schools and the anti-missile defense system in Britain, and much, much more.
Of special interest to us is the company's growing role in the espionage world and intelligence world, especially here in the U.S., where it is based in Reston, Virginia, the nation's capital of corporate spookery.
According to Crocodyl, the company holds contracts with an alphabet soup of three- and four-letter agencies, including the National Security Agency [NSA}, National Geospatial-Intelligence Agency [NGA], the Defense Information Systems Agency (DISA), Office of Naval Intelligence, the Air Force Information Warfare Center, and the Department of Defense.
Here's an example of the folks who work for Serco, from a new hire announcement posted by the company two years ago:
Serco Inc., a provider of professional, technology, and management services to the federal government, ­announced today that Maureen Baginski has been named Vice President of the intelligence business and National Security Advisor at

Serco

. … From 2003 to 2005, Ms. Baginski served as the FBI's Executive Assistant Director for Intelligence where she was responsible for establishing and managing the FBI's first-ever intelligence program. Her mission was to adapt FBI intelligence capabilities with information technologies to create an intelligence-sharing operation that could identify threats before they became attacks.
From 1979 to 2003, Ms. Baginski served at the National Security Agency (NSA), where she held a variety of positions, including Signals Intelligence (SIGINT) Director, Senior Operations Officer in the National Security Operations Center; Executive Assistant to the Director of NSA/Central Security Service, Chief Officer of the Director; Assistant Deputy Director of Technology and Systems; and lead analyst for the Soviet Union. As SIGINT Director, Ms. Baginski successfully established and directed a unified program to exploit encrypted or denied information on global networks. Leading the NSA's Signals Intelligence Directorate, the Nation's high technology cryptology organization, she managed a complex and geographically dispersed distributed information production enterprise.
The company's CEO is an India-born Pentecostal Christian [shades of Dinesh D'Souza], and is profiled here by The Guardian's Janice Martinson in 2006."
"

Serco

Receives "Supplier of the Year" from Boeing for Enterprise Architecture Expertise Serco Inc. has been recognized as Supplier of the Year by The Boeing Company in the Technology category for its state-of-the-practice Enterprise Architecture solutions. Past News Releases RSS

Serco Wins Position on Two U.S....

VETS and Serco Team Awarded $117...

Serco Awarded New Social Security...

RESTON, VA (PRWEB) MAY 19, 2011

Serco

Inc., a provider of professional, technology, and management services to the federal government, has been recognized as Supplier of the Year by The Boeing Company in the Technology category for its state-of-the-practice Enterprise Architecture solutions.
The Boeing Supplier of the Year award is the company's premier supplier honor, presented annually to its top suppliers in recognition of their commitment to excellence and customer satisfaction. This year's 16 winners represent an elite group among more than 17,525 active Boeing suppliers in nearly 52 countries around the world. This selection was based on stringent performance criteria for quality, delivery performance, cost, environmental initiatives, customer service and technical expertise. This is the second time

Serco

has been recognized as Supplier of the Year by Boeing. In January 2011,

Serco

also received the Boeing Performance Excellence

Gold

Award in recognition of the Company's performance excellence.
"We are extremely honored to receive this recognition for our work in support of Boeing. This prestigious award demonstrates our passion for excellence and ability to apply

Serco

's Enterprise Architecture expertise across a broad range of applications," said Ed Casey, Chairman and CEO of Serco. "We continue to grow our EA practice, and over the past 15 years we have deployed solutions to support enterprises and systems across federal and commercial environments."


Serco

's Enterprise Architecture Center of Excellence is based in Colorado Springs, CO. The team provides a variety of services in support of Boeing's business units as well as research and development efforts.

Serco

's architecture employs object-oriented (OO)/Unified Modeling Language (UML) to define, design and satisfy defense agencies' mission-critical requirements, including Command, Control, Communications, Computers and Intelligence (C4I). This approach improves system developer's understanding of operational requirements and how best to integrate enterprise operations and systems for the optimal fulfillment of C4I and other operational needs. About

Serco

Inc.:

Serco

Inc. is a leading provider of professional, technology, and management services focused on the federal government. We advise, design, integrate, and deliver solutions that transform how clients achieve their missions. Our customer-first approach, robust portfolio of services, and global experience enable us to respond with solutions that achieve outcomes with value. Headquartered in Reston, Virginia,

Serco

Inc. has approximately 11,000 employees, annual revenue of $1.5 billion, and is ranked in the Top 30 of the largest Federal Prime Contractors by Washington Technology.

Serco

Inc. is a wholly-owned subsidiary of

Serco

Group plc, a $6.6 billion international business that helps transform government and public services around the world. More information about

Serco

Inc. can be found at

http://www.serco-na.com

."
"

Serco

's Office of Partner Relations (OPR) helps facilitate our aggressive small business utilization and growth strategies. Through the OPR,

Serco

mentors four local small businesses under formal Mentor Protégé Agreements: Three sponsored by DHS (Base One Technologies, TSymmetry, Inc., and HeiTech Services, Inc.,) and the fourth sponsored by GSA (DKW Communications, Inc.).

Serco

and HeiTech Services were awarded the 2007 DHS Mentor Protégé Team Award for exceeding our mentoring goals."
"Contact 111 Eighth Avenue New York, NY 10011 Description Base One Technologies, Ltd. is a DOMESTIC BUSINESS CORPORATION, located in New York, NY and was formed on Feb 15, 1994. This file was obtained from the Secretary of State and has a file number of 1795583." …. "Base One Technologies – Corporate Strategy – We are a Government Certified Women-Owned Business We practice Diversity Recruitment and Staffing for IT positions Base One was founded in 1994 by a women engineer who had made a career in technology research for many years. ..We are also partnered with firms that are 8A certified as Minority firms, Disabled Veteran firms, Native American firms, Vietnam

veteran firms

, women owned firms. .. Base One's staff of engineers are a diverse group of professionals. This diverse network of engineers helps us to branch out to other engineers and creates an even larger network of resources for us to work with. .. Information Security Planning is the process whereby an organization seeks to protect its operations and assets from data theft or computer hackers that seek to obtain unauthorized information or sabotage business operations.

Key Clients Benefiting From Our Information Security Expertise: Pentagon Renovation Program, FAA, Citigroup, MCI.

.. Performs architectural assessments and conducts both internal and external penetration testing. The results of these efforts culminate in an extensive risk analysis and vulnerabilities report. Develops, implements and supports Information Security Counter measures such as honey-pots and evidence logging and incident documentation processes and solutions."
"The 8(a) Business Development Program assists in the development of small businesses owned and operated by individuals who are socially and economically disadvantaged, such as women and minorities. The following ethnic groups are classified as eligible: Black Americans; Hispanic Americans; Native Americans (American Indians, Eskimos, Aleuts, or Native Hawaiians); Asian Pacific Americans (persons with origins from Burma, Thailand, Malaysia, Indonesia, Singapore, Brunei, Japan, China (including Hong Kong), Taiwan, Laos, Cambodia (Kampuchea), Vietnam, Korea, The Philippines, U.S. Trust Territory of the Pacific Islands (Republic of Palau), Republic of the Marshall Islands, Federated States of Micronesia, the Commonwealth of the Northern Mariana Islands, Guam, Samoa, Macao, Fiji, Tonga, Kiribati, Tuvalu, or Nauru); Subcontinent Asian Americans (persons with origins from India, Pakistan, Bangladesh, Sri Lanka, Bhutan, the Maldives Islands or Nepal). In 2011, the SBA, along with the

FBI

and the

IRS

, uncovered a massive scheme to defraud this program. Civilian employees of the U.S. Army Corps of Engineers, working in concert with an employee of Alaska Native Corporation Eyak Technology LLC allegedly submitted fraudulent bills to the program, totaling over 20 million dollars, and kept the money for their own use.[26] It also alleged that the group planned to steer a further 780 million dollars towards their favored contractor.[27]

Yours sincerely,

Field McConnell, United States Naval Academy, 1971; Forensic Economist; 30 year airline and 22 year military pilot; 23,000 hours of safety; Tel: 715 307 8222

David Hawkins Tel: 604 542-0891 Forensic Economist; former leader of oil-well blow-out teams; now sponsors Grand Juries in CSI Crime and Safety Investigation