United States Marine Field McConnell
Plum

City Online - (

AbelDanger.net

)
January 23, 2017
Abel Danger
(
AD
) has explained why
Serco
shareholders with custody of the assets of the SBA Office of SBIC Liquidation have allegedly ordered Valerie Jarrett to transfer White House facilities for the Defense
Red
Switch Network to Chicago so they can blackmail guests and/or owners of Trump hotels by threatening to stand down hotel security before a terrorist attack.
AD
claims that
Serco
used Jarrett as a handler for agents such as Michelle Obama (nee Robinson) whom Jarrett allegedly sent to Washington with a Sidley Austin team – possibly including Bernardine Dohrn – to set up a hotel-based pimp and blackmail ring in 1991 and whom she allegedly groomed for the marriage to Barack Obama (a.k.a. Barry Soetoro) in 1992.
AD
claims that
Serco
shareholders positioned Kristine Marcy in 1994 as US Justice Prisoner and Alien Transportation System (JPATS – a.k.a.Con Air) director to transport felons and/or parolees with weapons such as drag-and-drop hijack or anthrax powder devices for 8(a) blackmail missions out of elite hotels.
AD
claims that in 1998,
Serco
shareholders positioned Marcy as Chief Operating Officer of the Small Business Administration where she allegedly set up the Office of SBIC Liquidation to finance 8(a) attacks with BNY Mellon as trustee and Goldman Sachs, Credit Suisse and JPMorgan as underwriters for 9/11.
AD
claims that
Serco
shareholders including the U.K. and Saudi Arabian governments gave the Clinton Foundation keys to the Federal Bridge Certification Authority and
Red
Switch networks in 1998 and ordered Jarrett and the late John Shalikashvili to prepare Boeing's HQ in Chicago for Stand Down 9/11.
AD
claims that
Serco
has equipped the Clinton Foundation's pay-to-play donors with real-time access to the Federal Bridge so they could coordinate attacks by
Serco
's 8(a) protégés and liquidate the assets of mentors such as Boeing, Lockheed Martin, Northrop Grumman and Raytheon from their hotel rooms.
AD
claims that
Serco
positioned Maureen Baginski in 1996 as National Security Agency (NSA) Signals Intelligence Director to integrate the
Red
Switch with elite-hotel security systems – check Marriott – and modify Con Air planes so blackmailers and snuff-film crews could stand down crime scenes in Zulu time.
AD
has prioritized possible qui tam suits against
Serco
and its shareholders for procurement frauds on government programs allegedly overseen by Jarrett, Marcy, Baginski and Clinton Foundation insiders.
1. Defense
Red
Switch Network – Boeing E4B and HQ stood down White House on 9/11
2. U.S. Patent And Trademark Office – Navy onion router, Pentagon rocket bomb, anthrax powder
3. SBA Office of SBIC Liquidation –
Gold
man Sachs, Credit Suisse, JPMorgan, BNY Mellon. In November 2016, Jarrett pooled an interim credit facility with Federal Home Loan Bank of Chicago! 4. Defense Ammunition Center – Chemical Biological, Radioactive and Nuclear Weapons
5. USNO Master Clock – Fake news synchronized with
Serco
NPL for the 9/11 snuff film
6. E-4B NAOC "Doomsday" Fleet – Boeing tracking and telemetry in Zulu time
7. DoD Mentor Protégé Program –
Serco
8(a) attacks on Boeing, Lockheed Martin, Northrop Grumman and Raytheon through Federal Bridge Certification Authority
8. FAA Contract Towers –
Serco
9/11 ad hoc waypoints ITT Sheraton / Marriott
9. Joint Automated Booking System – 8(a) snuff crews in Marriott hotels before hit
10. National Visa Center –
Serco
8(a) aliens with dark-web alibis for 9/11
11. Pentagon Renovation Project – Capt. Gerald DeConto's team liquidated – no autopsies!
12. Justice Prisoner and Alien Transportation System (JPATS) – 8(a) vets on Con Air meds
13. Federal Bridge Certification Authority – 8(a)
Red
Switch sovereign state extortion
After private conversation with his sister Kristine Marcy, United States Marine Field McConnell – Global Operations Director of
Abel Danger
– has become an original source relator for any
Qui tam
lawsuit in respect of Serco procurement frauds.
McConnell is now asking to meet with President Trump to explain how
qui tam
remedies as suggested by Ms. Marcy, can be used to fund a Marine Corps war on terror and kill anyone found giving – or suspected as about to give – unlawful stand down orders on the Defense
Red
Switch Network.
Mr. President that Oval Office phone is bugged. Call Field McConnell at 1 715 307 8222 to understand who is listening !!!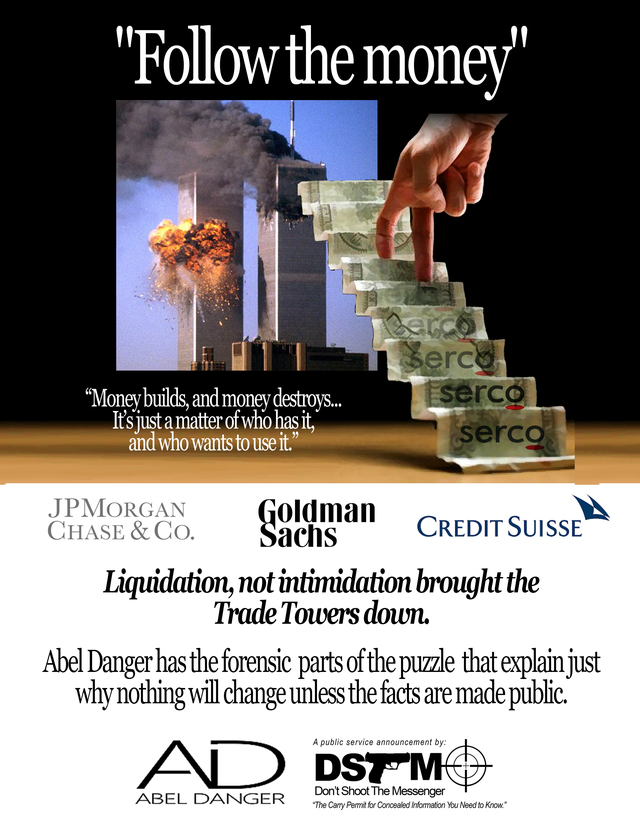 Check Baginski for removal of

Red

Switch terminal from Oval Office!!
SERCO

Owns the World, | Big Brother Watch
Copy of

SERCO

GROUP PLC: List of Subsidiaries AND Shareholders!
(Mobile Playback Version)



The Coup D'état The CLINTON Legacy SEPT 11 2001 Bush

"Angel is Next" AIR FORCE ONE's Call Sign


"Digital Fires Instructor

Serco

– Camp Pendleton, CA Uses information derived from all military disciplines (e.g., aviation, ground combat, command and control, combat service support, intelligence, and opposing forces) to determine changes in enemy capabilities, vulnerabilities, and probable courses of action."

"The 90-Minute Stand Down on 9/11: Why Was the Secret Service's Early Request for Fighter Jets Ignored?
Shoestring sun, 12/20/2009 - 10:05am
Shortly after the second World Trade Center tower was hit, at 9:03 a.m. on September 11, 2001, an officer at Andrews Air Force Base, just outside Washington, DC, was notified that the Secret Service wanted fighter jets launched over the nation's capital. It was now obvious the U.S. was under terrorist attack, and Washington would have been an obvious potential target. And yet the Secret Service's request came to nothing. No fighters had taken off from Andrews by 9:37 a.m., when the Pentagon was hit. Nor had any launched by the time Flight 93 apparently crashed in Pennsylvania, shortly after 10:00 a.m., while flying toward Washington. In fact, fighters did not launch from Andrews until over 90 minutes after the second attack in New York. The first fully armed fighters did not launch from there until more than two hours after that attack. So why was the Secret Service's early request for help not acted upon? Why did fighter jets only take off from this massive Air Force base to defend the capital well after the morning's attacks had ended?

SECRET SERVICE CALLS FAA HEADQUARTERS

The Secret Service agent who made the early request that fighter jets be launched appears to have been Nelson Garabito. Garabito was responsible for coordinating the president's movements, and was also the Secret Service's liaison to the Federal Aviation Administration (FAA). He was in the Secret Service Joint Operations Center (JOC) at the White House that morning. Just after Flight 175 crashed into the South Tower at 9:03 a.m., Garabito called Terry Van Steenbergen, his counterpart at the FAA, who was at the FAA headquarters in Washington. According to the 9/11 Commission, shortly into the call, Van Steenburgen told Garabito "that there were more planes unaccounted for--possibly hijacked--in addition to the two that had already crashed."

Possibly in response to this information, Garabito appears to have asked Van Steenbergen to arrange for fighters to be launched over Washington. Van Steenbergen asked three of his colleagues at the FAA to call various air bases to see if they could get fighters into the air. One of these colleagues, Karen Pontius, had previously worked at Andrews Air Force Base, so she made the call to the FAA air traffic control tower there. [1] Garabito would have been unable to call the tower himself, because, according to a 9/11 Commission memorandum, the Secret Service "did not have a phone line to the Andrews tower." ..

FIRST JET LAUNCHES AT 10:38

The first DCANG jet to take off from Andrews Air Force Base was an F-16 that had just returned from a training mission over North Carolina. It had little fuel remaining, carried no missiles, and had only practice ammunition. It took off at 10:38 a.m., an hour after the attack on the Pentagon. [17] Two more F-16s took off at 10:42 a.m., but these were also armed with only practice ammunition and had no missiles. [18] At 11:11 a.m., Rasmussen and Daniel Caine took off in their F-16s, the first fighters to launch from Andrews armed with missiles as well as bullets. [19] By that time, the attacks were long over.

Rasmussen has expressed his and the other DCANG pilots' frustration at having to wait around before being allowed to get airborne. He said that when his unit finally received authorization for its jets to take off, "We were relieved to actually be given permission to go up and do something, instead of feeling totally helpless. I mean, we are fighter pilots, just like guard dogs chomping at the bit, ready to go." [20] DCANG PROVIDES 'CAPABLE AND READY RESPONSE FORCES'

Although the DC Air National Guard was not part of the North American Aerospace Defense Command (NORAD) air defense force, its mission at the time of the 9/11 attacks included providing "capable and ready response forces for the District of Columbia in the event of a natural disaster or civil emergency." Lieutenant Colonel Phil Thompson, the chief of safety for the DCANG, said, "We practice scrambles, we know how to do intercepts and other things." [21] The unit was in fact known as the "Capital Guardians," implying that it was responsible for protecting Washington, DC. [22]

The fact that, in spite of an early request for help from the Secret Service, it took the DC Air National Guard so long to put together a response to the attacks should be of concern to all Americans. The unit's disastrously slow emergency response needs to be thoroughly probed as part of a rigorous new investigation of the 9/11 attacks."

"Chicago municipal politics[edit] Jarrett got her start in Chicago politics in 1987 working for Mayor Harold Washington[11] as Deputy Corporation Counsel for Finance and Development.[12] Jarrett continued to work in the mayor's office in the 1990s. She was deputy chief of staff for Mayor Richard Daley, during which time (1991) she hired Michelle Robinson, then engaged to Barack Obama, away from a private law firm. Jarrett served as commissioner of the department of planning and development from 1992 through 1995, and she was chairwoman of the Chicago Transit Board from 1995 to 2005.[12] … In 1991, as deputy chief of staff to Mayor Richard Daley, Jarrett interviewed Michelle Robinson for an opening in the mayor's office, after which she immediately offered Robinson the job.[30] Michelle Robinson asked for time to think and also asked Jarrett to meet Robinson's fiancé, Barack Obama. The three ended up meeting for dinner. After the dinner, Michelle took the job with the mayor's office, and Valerie Jarrett reportedly took the couple under her wing and "introduced them to a wealthier and better-connected Chicago than their own." Jarrett later took Michelle with her when Jarrett left the mayor's office to head Chicago's Department of Planning and Development."

"Her Early Career
Michelle Obama's maiden name is Robinson. After she earned degrees from Princeton and Harvard Law School, Michelle took her first job at the Chicago office of Sidley Austin, where she was part of the firm's marketing and intellectual-property practice groups. Published reports say Michelle Robinson worked on teams representing AT&T and Union Carbide. She met Barack Obama while at the firm, mentored him, then left the job after three years.

In 1991, Michelle Robinson was hired as a mayoral assistant by Valerie Jarrett, Chicago Mayor Richard Daley's chief of staff. Jarrett is now Michelle Obama's close friend and a senior adviser to the Obama campaign. Michelle Obama was not available for an interview, but NPR spoke with Jarrett.

"Usually, when issues get to the mayor's office, they have worked their way through the bureaucracy. And the problems are sufficiently complicated that it takes somebody with a very level head and an honest broker and a sense of right and wrong and reason to sort them through," Jarrett says. "So we were looking for a person who could help us do that, and Michelle was outstanding at that."

During her time at City Hall, Michelle Robinson became an assistant planning commissioner. That's also when she married Barack Obama."

"THE AYERS-OBAMA relationship would never have been an issue if Ayers (and Dohrn) had matured enough to leave their radical world behind.

Starting with their emergence from the underground and reentry into Chicago's liberal social scene, they never once expressed regret for what they had done. They had no remorse. They in fact emphasized, over and over again, that they remained committed radicals intent on destruction of Western values and the adoption of totalitarian socialism. In a 1998 interview with Connie Chung on ABC News, Dohrn said, "We'd do it again. I wish that we had done more. I wish we had been more militant." Ayers famously said almost the same thing in a New York Times interview published on September 11, 2001.

Even liberals found them unrepentant. Salon.com, for example, found "not even the faintest evidence of penitence or apology, nor any consciousness of the fact that almost everybody else in America–left, right or center–thinks they were completely out to lunch." And that perennial liberal apologist Michael Kinsley, writing in Time, said Ayers and Dohrn "remain spectacularly unrepentant, self-indulgent, unreflective — still bloated with a sense of entitlement, still smug with certainty."

And what about the Daley connection? Ayers's father, as mentioned, was an old friend and political supporter of Mayor Richard J. Daley. That same Daley, of course, presided over the Chicago police as they fought radicals like Ayers, who tried to disrupt the 1968 Democratic convention in his hometown. He had little time for war protesters.

But his son may have been one of Obama's most significant supporters in 2008. He provided several of Obama's most trusted aides and associates. They included consigliere Valerie Jarrett, campaign strategist David Axelrod, chiefs of staff Rahm Emanuel and William Daley (Richard M.'s brother), and other lesser-known henchmen. Richard M. Daley, as mentioned, guided Dohrn into her plea bargain, named Ayers Chicago's citizen of the year, and stoutly defended the Obama-Ayers friendship. As he told the Chicago Tribune "…his father was a great friend of my father….Ayers has been in the forefront of a lot of education issues and helping us in public schools and things like that…they're friends. So what? People do make mistakes in the past. You move on.

"C4ISR Case Studies … C4ISR Solutions …

Serco

also integrated voice, video teleconferencing capabilities and situational awareness displays, along with the VDI, into the facility's network distribution system across multiple networks. The result is an integrated IP-based total capability that is centrally managed and consistent across all platforms.

Serco

also implemented Defense

Red

Switch Network (DRSN), completed a structured fiber optic and Category 6 cabling system, and participated in the construction design working group to ensure supporting systems (e.g. Power and HVAC) were able to support the 24 AF's IT needs. As a result of

Serco

's support, 24th Air Force enjoys a true state-of-the-art environment that has delivers the high level of performance and security requires to continue fulfilling the important missions protecting the nation's security."

"The Defense

Red

Switch Network (DRSN) is a dedicated

telephone network

which provides global

secure communication

services for the

command and control

structure of the United States Armed Forces. The network is maintained by the Defense Information Systems Agency (DISA) and is secured for communications up to the level of

Top Secret SCI

.

The DRSN provides multilevel secure voice and voice-conferencing capabilities to the

National Command Authority

(NCA, being the President and the Secretary of Defense of the United States), the

Joint Chiefs of Staff

, the National Military Command Center (NMCC), Combatant Commanders and their command centers, warfighters, other DoD agencies, government departments, and NATO allies.



Department of Defense

and federal government agencies can get access to the network with approval of the Joint Staff.[2] Upon approval by the Joint Staff, DISA will work with the customer and the appropriate military department to arrange the service.[3]

The Defense

Red

Switch Network consists of four major subsystems: the Switching Subsystem, the Transmission Subsystem, the Timing and Synchronization Subsystem, and the Network Management Subsystem. The Switching Subsystem uses both

RED

and BLACK switches to provide an integrated

RED

/BLACK service. End users are provided with a single telephone instrument with which they can access both secure and nonsecure networks.

The DRSN carried around 15,000 calls per day prior to September 11, 2001. DRSN usage subsequently peaked at 45,000 calls per day and by mid-2003 was running at around 25,000 calls per day. In that period the Defense

Red

Switch Network was expanded to support 18 additional US Federal Homeland Defense initiatives.[4]

Nowadays, this network is also called the Multilevel Secure Voice service. It's the core of the Global Secure Voice System (GSVS) during peacetime, crisis and time of conventional war, by hosting national-level conferencing and connectivity requirements and providing interoperability with both tactical and

strategic communication

networks.[5]"

"

Serco

: Is it a company or a sovereign power?
Posted on

2010 October 5

|

Leave a comment




SERCO

– The Biggest Company You've Never Heard Of From Australian television [2:49] If one single company had to be chosen as the exemplar of the military/industrial complex, esnl's pick would be

Serco

, a British company created in 1929 as a local branch of Radio Corporation of America.

Today the firm runs air traffic control towers in the U.S., immigration detention centers in Australia, schools and the anti-missile defense system in Britain, and much, much more.

Of special interest to us is the company's growing role in the espionage world and intelligence world, especially here in the U.S., where it is based in Reston, Virginia, the nation's capital of corporate spookery.

According to Crocodyl, the company holds contracts with an alphabet soup of three- and four-letter agencies, including the National Security Agency [NSA], National Geospatial-Intelligence Agency [NGA], the Defense Information Systems Agency (DISA), Office of Naval Intelligence, the Air Force Information Warfare Center, and the Department of Defense.

Here's an example of the folks who work for

Serco

, from a new hire announcement posted by the company two years ago:



Serco

Inc., a provider of professional, technology, and management services to the federal government, announced today that

Maureen Baginski

has been named Vice President of the intelligence business and National Security Advisor at

Serco

. … From 2003 to 2005, Ms. Baginski served as the FBI's Executive Assistant Director for Intelligence where she was responsible for establishing and managing the FBI's first-ever intelligence program. Her mission was to adapt FBI intelligence capabilities with information technologies to create an intelligence-sharing operation that could identify threats before they became attacks.

From 1979 to 2003,

Ms. Baginski

served at the National Security Agency (NSA), where she held a variety of positions, including Signals Intelligence (SIGINT) Director, Senior Operations Officer in the National Security Operations Center; Executive Assistant to the Director of NSA/Central Security Service, Chief Officer of the Director; Assistant Deputy Director of Technology and Systems; and lead analyst for the Soviet Union. As SIGINT Director,

Ms. Baginski

successfully established and directed a unified program to exploit encrypted or denied information on global networks. Leading the NSA's Signals Intelligence Directorate, the Nation's high technology cryptology organization, she managed a complex and geographically dispersed distributed information production enterprise.

The company's CEO is an India-born pentecostal Christian [shades of Dinesh D'Souza], and is profiled here by The Guardian's Janice Martinson in 2006."

"

SERCO

: 'The biggest company you've never heard of'
JULY 7, 2013 BY

21WIRE


As politicians asset-strip the public's portfolio of properties, infrastructure and services, one multinational corporation has grown as a result – and its scope and reach may shock many people who have not been paying attention.

All around the globe, our governments are busy outsourcing public-sector services like health, education, police, prisons, money delivery and military – to the esteemed private sector. It's sold to the public as a solution to avoiding higher taxes, while retaining better services. But it's simply an accountancy shell game, where the government kicks the can down the road by spreading the bill to the taxpayer over a longer period of time, in order to avoid any large upfront payments – all the while, allowing a private corporation to extend its influence over society. This, by definition, is fascism. They are called

SERCO

, and they run countries…

The Biggest Company You've Never Heard Of

As well as thanking God for his success, CEO Chris Hyman is a Pentecostal Christian who has released a gospel album in America and fasts every Tuesday.

Coincidentally he was in the World Trade Centre on 9/11 on the 47th floor addressing shareholders.

"

"Group Starwood Hotels Group, owner of some of the world's most prestigious hotels, has appointed Serco as preferred bidder for a £7m contract to provide a range of support services to the Sheraton Grand in Edinburgh, the Westin in Dublin and the 5 star Turnberry resort on Scotland's west coast. The contract, which has a 5 year term, is an extension to services already provided to other hotels in the Starwood Group and includes buildings maintenance and security, engineering support and help desk services."

"

Serco

Receives "Supplier of the Year" from Boeing for Enterprise Architecture Expertise


Serco

Inc. has been recognized as Supplier of the Year by The Boeing Company in the Technology category for its state-of-the-practice Enterprise Architecture solutions.

Past News Releases
RSS


Serco Wins Position on Two U.S....




VETS and Serco Team Awarded $117...




Serco Awarded New Social Security...



RESTON, VA (PRWEB) MAY 19, 2011


Serco

Inc., a provider of professional, technology, and management services to the federal government, has been recognized as Supplier of the Year by The Boeing Company in the Technology category for its state-of-the-practice Enterprise Architecture solutions.

The Boeing Supplier of the Year award is the company's premier supplier honor, presented annually to its top suppliers in recognition of their commitment to excellence and customer satisfaction. This year's 16 winners represent an elite group among more than 17,525 active Boeing suppliers in nearly 52 countries around the world. This selection was based on stringent performance criteria for quality, delivery performance, cost, environmental initiatives, customer service and technical expertise. This is the second time

Serco

has been recognized as Supplier of the Year by Boeing. In January 2011,

Serco

also received the Boeing Performance Excellence

Gold

Award in recognition of the Company's performance excellence.

"We are extremely honored to receive this recognition for our work in support of Boeing. This prestigious award demonstrates our passion for excellence and ability to apply

Serco

's Enterprise Architecture expertise across a broad range of applications," said Ed Casey, Chairman and CEO of

Serco

. "We continue to grow our EA practice, and over the past 15 years we have deployed solutions to support enterprises and systems across federal and commercial environments."



Serco

's Enterprise Architecture Center of Excellence is based in Colorado Springs, CO. The team provides a variety of services in support of Boeing's business units as well as research and development efforts.

Serco

's architecture employs object-oriented (OO)/Unified Modeling Language (UML) to define, design and satisfy defense agencies' mission-critical requirements, including Command, Control, Communications, Computers and Intelligence (C4I). This approach improves system developer's understanding of operational requirements and how best to integrate enterprise operations and systems for the optimal fulfillment of C4I and other operational needs. About Serco Inc.:

Serco

Inc. is a leading provider of professional, technology, and management services focused on the federal government. We advise, design, integrate, and deliver solutions that transform how clients achieve their missions. Our customer-first approach, robust portfolio of services, and global experience enable us to respond with solutions that achieve outcomes with value. Headquartered in Reston, Virginia,

Serco

Inc. has approximately 11,000 employees, annual revenue of $1.5 billion, and is ranked in the Top 30 of the largest Federal Prime Contractors by Washington Technology.

Serco

Inc. is a wholly-owned subsidiary of

Serco

Group plc, a $6.6 billion international business that helps transform government and public services around the world. More information about

Serco

Inc. can be found at

http://www.serco-na.com

."

"

Serco

's Office of Partner Relations (OPR) helps facilitate our aggressive small business utilization and growth strategies. Through the OPR,

Serco

mentors four local small businesses under formal Mentor Protégé Agreements: Three sponsored by DHS (Base One Technologies, TSymmetry, Inc., and HeiTech Services, Inc.,) and the fourth sponsored by GSA (DKW Communications, Inc.).

Serco

and HeiTech Services were awarded the 2007 DHS Mentor Protégé Team Award for exceeding our mentoring goals."

"Contact 111 Eighth Avenue New York, NY 10011 Description Base One Technologies, Ltd. is a DOMESTIC BUSINESS CORPORATION, located in New York, NY and was formed on Feb 15, 1994. This file was obtained from the Secretary of State and has a file number of 1795583." ….

"Base One Technologies – Corporate Strategy – We are a Government Certified Women-Owned Business We practice Diversity Recruitment and Staffing for IT positions Base One was founded in 1994 by a women engineer who had made a career in technology research for many years. ..We are also partnered with firms that are 8A certified as Minority firms, Disabled

Veteran firms

, Native American firms, Vietnam veteran firms, women owned firms. .. Base One's staff of engineers are a diverse group of professionals. This diverse network of engineers helps us to branch out to other engineers and creates an even larger network of resources for us to work with. .. Information Security Planning is the process whereby an organization seeks to protect its operations and assets from data theft or computer hackers that seek to obtain unauthorized information or sabotage business operations.

Key Clients Benefiting From Our Information Security Expertise: Pentagon Renovation Program, FAA, Citigroup, MCI.

.. Performs architectural assessments and conducts both internal and external penetration testing. The results of these efforts culminate in an extensive risk analysis and vulnerabilities report. Develops, implements and supports Information Security Counter measures such as honey-pots and evidence logging and incident documentation processes and solutions."

"The 8(a) Business Development Program assists in the development of small businesses owned and operated by individuals who are socially and economically disadvantaged, such as women and minorities. The following ethnic groups are classified as eligible: Black Americans; Hispanic Americans; Native Americans (American Indians, Eskimos, Aleuts, or Native Hawaiians); Asian Pacific Americans (persons with origins from Burma, Thailand, Malaysia, Indonesia, Singapore, Brunei, Japan, China (including Hong Kong), Taiwan, Laos, Cambodia (Kampuchea), Vietnam, Korea, The Philippines, U.S. Trust Territory of the Pacific Islands (Republic of Palau), Republic of the Marshall Islands, Federated States of Micronesia, the Commonwealth of the Northern Mariana Islands, Guam, Samoa, Macao, Fiji, Tonga, Kiribati, Tuvalu, or Nauru); Subcontinent Asian Americans (persons with origins from India, Pakistan, Bangladesh, Sri Lanka, Bhutan, the Maldives Islands or Nepal). In 2011, the SBA, along with the FBI and the IRS, uncovered a massive scheme to defraud this program. Civilian employees of the U.S. Army Corps of Engineers, working in concert with an employee of Alaska Native Corporation Eyak Technology LLC allegedly submitted fraudulent bills to the program, totaling over 20 million dollars, and kept the money for their own use.[26] It also alleged that the group planned to steer a further 780 million dollars towards their favored contractor.[27]"

"

SBIC 2001-10 A, CUSIP 831641 DE2


Offering Circular $133,845,000 (Approximate) U.S. Small Business Administration Guaranteed 6.353% Debenture Participation Certificates, Series SBIC 2001-10 A Evidencing Fractional Undivided Interests in a Pool of 6.353% Debentures Due March 1, 2011 Issued by Small Business Investment Companies Distributions of interest payable March 10 and September 10, commencing

September 10, 2001

…

Upon a determination by SBA to transfer an SBIC into liquidation status, jurisdiction over the SBIC is transferred to the Office of SBIC Liquidation whereupon the SBIC is considered in liquidation status. At this point, an acceleration letter is sent to the SBIC citing violations and defaults, making demand for payment of the accelerated obligations and advising the SBIC that it has been transferred to liquidation status. SBA will make a Guarantee Payment of the outstanding principal and accrued interest with respect to such SBIC Debenture to the next scheduled Payment Date on or before the next scheduled Distribution Date for such Payment Date.

The Certificates are exempt from the registration requirements of the Securities Act of 1933, so no registration statement has been filed with the Securities and Exchange Commission. Neither the Securities and Exchange Commission nor any state securities commission has approved or disapproved of the Certificates or passed upon the accuracy or adequacy of this Offering Circular. Any representation to the contrary is a criminal offense.

JPMorgan Goldman, Sachs & Co. Credit Suisse First Boston

[

Serco

shareholders]

The date of this Offering Circular is March 14, 2001.

Management of SBA. The Administrator of SBA, its Deputy Administrator, its Chief Counsel for Advocacy, and its Inspector General are appointed by the President of the United States with the advice and consent of the Senate. The major small business assistance programs of SBA and the general administration of SBA are managed by officials appointed by the Administrator

[In 2001, the Chief Operating Officer of the SBA was Field McConnell's sister Kristine Marcy]

. The Presidential appointees together with the major program managers establish SBA policy with respect to operations under the Small Business Act and the Act and applicable regulations. Career personnel at various levels constitute the middle management of SBA and make the preponderance of program operations decisions in conformance with the applicable laws, regulations, and policies. Additionally, the Office of Management and Budget guides SBA's policies directly through the senior management officials and through circulars issued from time to time. The SBA Inspector General audits both the management of SBICs participating in the Program and administration of the Program within SBA."

Yours sincerely,


Field McConnell, United States Naval Academy, 1971; Forensic Economist; 30 year airline and 22 year military pilot; 23,000 hours of safety; Tel: 715 307 8222

David Hawkins Tel: 604 542-0891 Forensic Economist; former leader of oil-well blow-out teams; now sponsors Grand Juries in CSI Crime and Safety Investigation