Gangsters Out
Monday, February 27, 2012

Dave Pickton's revolting cover-up


Well, convicted sex offender Dave Pickton is in the news again. Earlier this month, scared women on Vancouver's Downtown Eastside put up posters
warning that the brother of infamous serial killer Willie Pickton
has been seen in the area. "BEWARE!!!! Don't be fooled!" reads the poster, under a 1995 picture of Dave Pickton.
Now, he contacts the newspaper claiming
he has started another nonprofit
and is fundraising for poor children in Africa. I think we have a legal liability to notify the good people of Ghana that Dave Pickton is a convicted sex offender.
Dave Pickton was convicted of rape in 1992 on the same pig farm his brother was convicted of murdering and mutilating numerous women. Not only that, but during Pickton's trial Dave was accused of another rape. The victim claimed in 1999 he tied her to the bed with bungee cords and tried to shove pills down her mouth. Sgt. Dan Almas said he was aware of that allegation, and agreed that pills and bungee cords were found in a search of the younger Pickton's bedroom but stated: "Someone who is alleged to have
committed a serious sexual assault does not a murderer make
." No but someone alleged to have committed a serious sexual offense should be charged and tried for that serious offense.
One of the most disturbing elements of the Pickton case was that
Dave Pickton knew where bodies were buried
on the farm. If that doesn't make him an additional suspect, it surely makes him an accessory to the crime.
Recently we heard that the
Hells Angels ran an illegal booze can on-site
right across from the Pickton farm which also contained a
grow op run by the Hells Angels
. Yet Dave Pickton was the one who ran another supposed charity called the
Piggy Palace Good Times Society
. So was it a Hells Angels booze can or was it Dave Pickton's?
Sometimes it's hard to tell
. Either way, letting him raise money for the disadvantaged is shocking to say the least. It's rather disappointing he still shows no regard whatsoever for the East Vancouver homeless. You'd think he'd have a little more compassion and remorse since so many of them were murdered and mutilated on his farm.
https://gangstersout.blogspot.com/2012/02/dave-picktons-revolting-cover-up.html
Robert Pickton's brother starts charity in Africa
Ian Austin / Coquitlam Now
February 29, 2012
Dave Pickton has started a foundation to help the poor in Ghana.
Dave Pickton, the brother of convicted serial killer Robert Pickton, is starting a foundation to help the poor in Africa.
Pickton told The Province on Sunday night that a trip to Ghana inspired him to help out.
"If you travel there, you will know why," said Pickton. "Kids don't have anything to eat."
Pickton said that during his travels in Ghana, he became ill after swallowing a tiny amount of tainted water. "I had a capful of water, and I got sick," said Pickton. "Clean water and food to keep them going is the key, and then getting some farmland."
Pickton said the plight of Vancouver's homeless is far less tragic than the poor in Ghana.
"Homeless people in Vancouver – they have clean water, they can get a free meal," he said. "These people have nothing – you can't compare it. When I think of it, tears come to my eyes."
Pickton arranged for Yahaya Seidu to call The Province from Tema, Ghana.
"Everything is going good so far," Seidu said. "When he [Dave Pickton] was in Ghana, he gave us some money. We are trying to find other people. We need good people to join with Mr. Dave to ease the suffering."
Seidu said northern Ghana is rampant with hunger.
"We are starving already for a long time," said Seidu. "Our aim is to provide clean water for the rural poor, and provide help so they can do better farming and get more food."
On the Pickton Foundation website, Dave Pickton refers to himself as the group's founder and the "owner and CEO of D&S Bulldozing Ltd." of Port Coquitlam.
The Pickton family's notorious Port Coquitlam pig farm was raided by police, who methodically searched and sifted for DNA evidence that eventually linked Robert Pickton to numerous murders of women from Vancouver's Downtown Eastside.
Robert Pickton, now convicted of killing six women, confessed in jail to killing 49 women, although the search found DNA or remains of only 33 women at his farm.
Wally Oppal is currently conducting the Missing Women Commission of Inquiry to help discover why police ignored the disappearance of dozens of women for years before Robert Pickton was arrested and charged.
http://www.tricitynews.com/news/robert-pickton-s-brother-starts-charity-in-africa-1.439154
Brother of Canadian serial killer starts charity in Ghana – Report
by Ekow Quandzie | February 27, 2012 | Ghana Business News
Dave Pickton, the brother of convicted Canadian serial killer Robert Pickton, is starting a foundation in Ghana to help the poor in Africa, Canadian news source The Province reports on February 26, 2012.
According to the report, Pickton said that a trip to Ghana inspired him to start the Pickton Foundation.
The foundation, a non-profit charitable organisation, is located at 80 Rose Lane, Lashibi-Tema in Ghana, according to the Foundation's website.
Dave's brother, Robert Pickton, born October 24, 1949 of Port Coquitlam, British Columbia, Canada, is a former pig farmer and serial killer convicted of the second-degree murders of six women. He is also charged in the deaths of an additional twenty women, many of them prostitutes and drug users from Vancouver's Downtown Eastside.
In December 2007 he was sentenced to life in prison, with no possibility of parole for 25 years – the longest sentence available under Canadian law for murder, available information on Wikipedia shows.
According to The Province, Dave Pickton was the subject of a recent warning posted in the Downtown Eastside after he was spotted in the gritty Vancouver neighbourhood.
He was convicted of sexual assault in 1992.
https://www.ghanabusinessnews.com/2012/02/27/brother-of-canadian-serial-killer-starts-charity-in-ghana-report/
PICKTON FOUNDATION is a non profit charitable organization formed by Canadian and Ghanaian partners to alleviate extreme poverty in the remote areas of West Africa and other parts of the world that are hard to reach.
There are lots of villages cut from civilization due to neglect by Governments to build roads and bridges connecting some of these remote areas to major towns. It is based on this assessment that we a group of energetic young men and women, together with our Canadian partners have taken it upon ourselves to help make a difference in the lives of these people that have been cut off from the rest of the civilized world.
We understand that some of the good people of this world aren't aware of how grave living conditions in the developing world is, especially in the remote villages in Africa. We feel that it is our call to alert the good people of the world of how hard it is for some people to even get a single meal in a day. Even though some good people have made it a habit to be donating to the poor, but often times, the individuals or organizations through which they send their donations, do not pass the donations on, to their rightful beneficiaries.
It is matters arising from these observations, that has given us the urge to embark on this mission.
WE WANT THE GENERAL PUBLIC TO KNOW THAT, PICKTON FOUNDATION IS REGISTERED AND INCORPORATED IN GHANA AND NOT CANADA. ANYONE SEEKING TO VERIFY THIS SHOULD CONTACT THE REGISTRAR GENERAL'S DEPARTMENT IN GHANA. THANK YOU!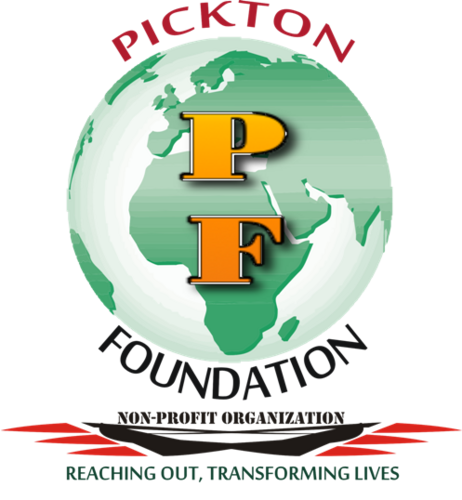 Pickton Foundation
picktonfoundation.org
Joined 18 Feb 2012
@Pickton_F • 2 Mar 2012
We are to construct boreholes for 6 communities drinking water from ponds frequented by animals. Give us a hand and help make a DIFFERENCE!