Source:
Malta Today
[WATCH] Five French nationals on surveillance mission to Libya dead in aircraft crash outside Malta runway
Turboprop aircraft crashed outside the Malta airport runway shortly after take-off at 7:30am • Flight was believed to be French Customs operation
tracing human
and drug trafficking routes • Remains of all five French nationals found
Matthew Vella / Miriam Dalli
October 24, 2016
A small-engine aircraft has crashed in Safi after developing engine trouble the minute it took to air from the MIA runway, in a tragic accident that left five French nationals dead. Witnesses on site of the rescue described the scene as a pile of charred, black metal parts, owing to the scale of the explosion that ensued as the aircraft, a Fairchild Metroliner MkIII, crashed into the ground.
The Maltese government confirmed that the flight was part of a French Customs surveillance operation, which has been taking place for the past five months and tasked with
tracing routes of illicit trafficking of all sorts, including human trafficking
and drug trafficking. But the French customs said in a tweet that it had none of its employees on board. Le Monde reported that three of the dead were secret service officers, while past reports link the CAE-leased aircraft to the EUNAVFOR Mediterranean mission.
The remains of all five French nationals have been found.
The government said that information, footage and eyewitness accounts, including those of three Armed Forces of Malta personnel at the nearby Safi barracks and two commercial airline pilots, clearly indicated there was no explosion prior to impact.
Please go to the
Malta Today
website to view video clip and read the entire article.
Five Die In Malta Runway Plane Crash
[electronic hijack?]
________
Source:
Victurus Libertas
Was Monica Petersen Killed By Hillary Clinton?
Monica Petersen, who mysteriously died two days ago, was a recent graduate of the Korbel School, a Research Fellow and an Assistant Director at the Human Trafficking Center. She had moved to Haiti to teach. Monica was a scholar-activist committed to serving the dispossessed and a clear and critical voice in the human trafficking field.
It has been reported on
Reddit
that Monica Petersen was in Haiti, investigating possible human trafficking connections to the Clinton Foundation. Petersen previously worked for the Colorado Human Trafficking Council's Data & Research Task Force.
Petersen was found dead on Sunday. Her death has been ruled a "
suicide
", but her family has been unable to find out any details about her death. This has become the norm for anyone who is about to expose or goes against the Clintons. I believe this brings the
body count
to the mid-thirties…
Petersen died only a few days ago, under suspicious circumstances, and now her friends on Facebook are looking for answers. Several close friends have made mentions on various Facebook posts that friends and family have no clear understanding of what happened to Monica except that she died on Sunday.
As we know from Wikileaks, Hillary has ties to convicted sex offender and child sex trafficker Jeffrey Epstein. In addition, Hillary was involved in the NGO run by Laura Silsby, the former director of the The New Life Children's Refuge. She was caught attempting to steal and smuggle 33 children from Haiti, most of whom weren't even orphans at the time.
Laura had claimed she planned to build an orphanage in the Dominican Republic, but authorities in the country said she never submitted an application for that purpose. Instead, Silsby located to Haiti. See more on Silsby
HERE
. Of course, Hillary got Silsby off the hook as soon as possible. Silsby's attorney (who was paid for by Hillary) was a
convicted sex trafficker
from El Salvador. See more
HERE
.
Please go to the
Victurus Libertas
to read the entire article.
BREAKING CHILD TRAFFIC Investigator Monica Petersen
Found Dead In Haiti-Investigating The Clinton's
________
Source:
sott.net
The killing of Serena Shim and the 'suicide' of former BBC journalist Jacky Sutton
The Burning Blogger of Bedlam
Tuesday, October 20, 2015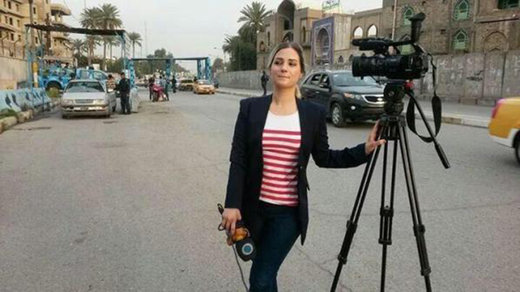 Twitter/Hamid Farajollahi
Reporter and mother of two, Serena Shim was killed in Turkey - "the largest prison for journalists". She had expressed fears for her own safety
Exactly a year ago - on October 19th, 2014 - the journalist Serena Shim was killed after reporting from Kobani in Syria as a war correspondent. Her death was almost certainly the work of the Turkish intelligence community. It's a rather remarkable, and depressing, 'coincidence' that just as I was sitting down to put together a post in tribute to her, I've just come across news that another journalist and activist, Jacky Sutton, has just been found dead in Turkey - exactly a year to the date of Serena Shim's suspicious death.
Former BBC journalist, Jacky Sutton (aged 50) is reported to have been found dead in a toilet in Istanbul's main airport. The British journalist (pictured below), who had been working as Iraq director for the Institute of War and Peace Reporting (IWPR), was in Turkey en route to Irbil in Northern Iraq.
Turkish sources have allegedly suggested that she has killed herself after missing a flight connection - a rather poor, even insulting, suggestion, which colleagues of Ms Sutton are dismissing.
In her role as acting Iraq head of the (London-based)
IWPR
, Jackie Sutton's role has been to support local journalism in countries affected by war and crisis. As
The Guardian
notes
, the organisation's previous Iraq director, Ammar Al Shahbander, was killed in a car-bomb in Baghdad on 2nd May this year. It is claimed the British woman's body has been found hanging from boot laces.
Sudipto Mukerjee, a director with the UN Development Programme, has said,
according
to
The Independent
; "Very difficult to believe that my colleague in Iraq, staffer and seasoned traveller Jacky Sutton committed suicide." Ms Sutton had, among other things, previously worked for the BBC World Service, reporting from Africa, the Middle East and London.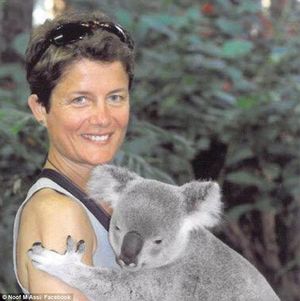 Former BBC journalist Jacky Sutton
As I said, this latest suspicious death in Turkey comes on the precise one-year anniversary of the equally suspicious death of Serena Shim, who was killed in a car 'accident' on the Turkey-Syria border in 2014, and
again illustrates both the dangers faced by truth-seeking journalists and the extent to which a corrupt Turkish state stands in need of investigation by international authorities
.
Serena Shim (October 10th 1985 - October 19th 2014) was an American-Lebanese journalist. The car 'accident' in which she was killed hadn't taken place inside the dangerous war-zone she had been reporting from, but had occurred on her way back to 'safety'.
It is also highly significant that Shim had very clearly expressed her concerns for her safety just prior to the 'accident'.
Shim had described her harassment by security forces as particularly unusual, noting that she had dealt with police and intelligence services before in various different countries, but that the Turkish activity was
a targeted response to something very specific
. She had said her own instinct was that Turkish security people were tracking her not because of her reporting in
Kobani
but on account of possible matters of far greater, more damaging, information she might've exposed concerning a concerted geo-political conspiracy.
On October 17th last year, just two days before her death, Shim had told Press TV that the Turkish National Intelligence Organization (MİT) had accused her of "spying".
She
stated
it was "probably due to some of the stories she had covered" about Turkey's role in the Islamic State terror group and particularly in regard to the militants in Kobani.
It was Shim who had reported on ISIL militants being smuggled across the Turkish border into Syria in trucks deceptively bearing the symbols of NGOs like the World Food Organisation.
The 29 year-old Shim had even said on air that she was "a bit frightened" by the danger posed to her by Turkey's MİT.
Please go to the
sott.net
website to read the entire article.
Serena Shim - What She Said
Former BBC Journalist, UN Investigator Allegedly Hangs Herself In Airport
Source:
The Free Thought
3 Years Ago Today, Rolling Stone's Editor "Conveniently" Died in Fiery Crash While Investigating CIA
by Andrew Emett June 18, 2016 •
6 Comments
Notorious for ending the career of a four-star general,
Rolling Stone
contributing editor Michael Hastings suspiciously died in a fiery explosion three years ago on the streets of Los Angeles. Although the FBI eventually admitted to investigating his work while CIA Director John Brennan continued to lead "witch hunts" against investigative journalists, Hastings' death was immediately ruled an accident while unanswered questions remain years later.
Early on the morning of June 18, 2013, freelance cameraman Scott Lane recorded a
dash cam video
of Hastings' Mercedes C250 coupe speeding south on Highland Ave and running a red light. Down the street, a surveillance camera at Pizzeria Mozza recorded a brief video appearing to show
two small explosions
near the bottom of his car moments before hitting a tree and bursting into flames.
Explosions: Michael Hastings crash caught on camera
Please go to
The Free Thought
website to read the entire article and view videos.
Further reading:
Making a Killing: The 1.2 Billion Euro Arms Pipeline to Middle East
List of journalists killed during the Syrian Civil War
55 Little Known Facts about Human Trafficking
Middle East the human trafficking capital of the world