Source:
The Horn News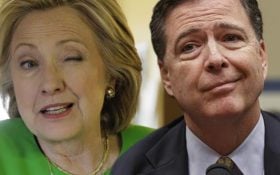 FBI ordered to exonerate Hillary 'at all costs'
September 29, 2016
308 Comments
Opponents of Democratic presidential candidate Hillary Clinton were shocked when no charges were filed against her by the FBI following the investigation into her controversial homebrew email server.
Now, one conservative law expert thinks he knows why – the FBI was ordered to exonerate Clinton at all costs.
"Why the FBI would look the other way in the face of destruction of evidence and obstruction of justice is very telling," Judge Andrew Napolitano said in an appearance on Fox News' "America's Newsroom" Monday.
"It tells me, and those of us that watch these things, that somewhere from above – the White House – they were told, 'Exonerate her at all costs, no matter what you see, because she's got to be available to run against Donald Trump,'" Judge Napolitano said.
Please don't wait to claim it… this kind of exposure will make a lot of high-powered politicos outraged, and I'm sure they'll stop at nothing to squash the information inside. Click here to RSVP and claim your copy now.
Texas Rep. John Ratcliffe backed Judge Napolitano's opinion during Wednesday's questioning of FBI Director James Comey, insisting that the fix was in from the start and asserting that the decision not to prosecute was made even before Clinton was interviewed in early July — a claim Comey vigorously denied.
"You can call us wrong, but don't call us weasels. We are not weasels. We are honest people, and we did this in that way," Comey said under hours of questioning at a House Judiciary Committee hearing. "Whether you disagree or agree with the result, this was done the way you would want it to be done."
Fellow Republican lawmakers are also unsatisfied. Conservative leaders grilled FBI Director James Comey on the FBI's year-long investigation into the mishandling of classified email, which concluded in July when the FBI recommended against prosecution and the Justice Department closed the case. They demanded to know why multiple key witnesses had been granted some kind of immunity, questioned him on his interpretation of the key felony statute at issue and argued that the outcome revealed a double standard in the treatment of powerful public figures.
Please go to
The Horn News
to read the entire article.
________
"The BOSS" Trey Gowdy Admonishes James Comey -
That Is NOT The FBI I Used To Work With
HILLARY BUSTED! NBC DRESSED INTERN AS FEDEX DRIVER TO DELIVER CLINTON DEBATE QUESTIONS A WEEK EARLY
Further investigation:
Abel Danger SMACKS DOWN Barry Soetoro as Trump Knows Hillary and FBI Comey Profited Billions 9/11 by Cloud Centric (C2) Crime Scene Investigation
USC-Dornsife Poll: TRUMP WIDENS LEAD After First Debate
BREAKING: Hillary's Tech Guy Just Broke! What He Leaked About Hillary Will KILL Her…