Source:
World Jewish Congress
Integration of migrants is critical, Pope Francis tells World Jewish Congress leaders
Tue, 27 Sep 2016
A delegation of the World Jewish Congress (WJC) led by its president, Ronald S. Lauder, was received by Pope Francis at the Vatican on Monday evening.
In his address, the pope spoke about the challenge to promote peace in the world and about the refugee crisis.
Francis said: "Europe often forgets that it has been enriched by migrants. Europe is closing itself up. Europe is lacking creativity. Europe has a falling birth rate, and problems of high unemployment."
The pope added: "We need to reflect on integration, which is important. The people who committed the terrorist attacks in Belgium were not properly integrated."
He also reiterated what he had told Lauder at a previous meeting, that a good Christian could not be an anti-Semite.
The Catholic pontiff said it was important that Christians and Jews speak out against brutality in the world. "We should go on a joint journey together to make the world more secure," the pope told the Jewish leaders, which included the heads of big Jewish communities in Europe and the Americas.
Ahead of the Rosh Hashana holiday, Pope Francis wished the Jewish world a sweet new year.
Pope Francis shaking hands with WJC President Ronald S. Lauder, with WJC CEO Robert Singer (r) and the WJC representative to the Vatican, Claudio Epelman, looking on
The pope said: "We need more friendliness and kindness, and we should not be afraid to speak out against brutality. We should go on a joint journey together to make the world more secure. We need to speak out for peace."
Lauder: 'We Jews have all been immigrants'
WJC President Ronald S. Lauder told the Catholic pontiff: "We Jews have all been immigrants. We understand the situation the immigrants find themselves in." He echoed the pope's words for peace: "We pray for peace. We need to live in peace."
The delegation praised Francis for his recent visit to Auschwitz, where he had chosen to remain silent.
Photos: Francesco Sforza/Vatican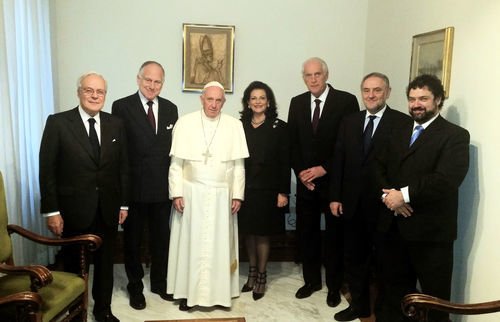 Photo (left to right): WJC Governing Board Chairman David de Rothschild, WJC President Ronald S. Lauder, Pope Francis, WJC Treasurer Chella Safra, President of Latin American Jewish Congress Jack Terpins, WJC CEO Robert Singer and Executive Director of the Latin American Jewish Congress Claudio Epelman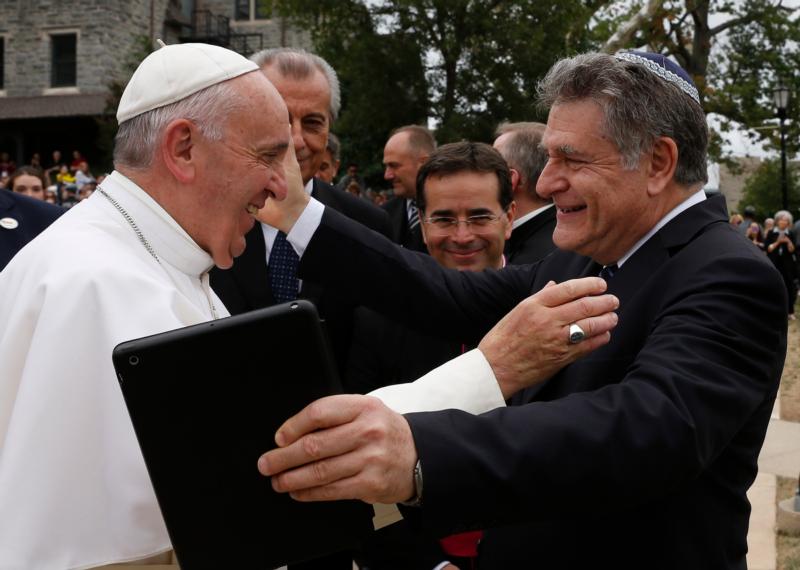 Pope Francis embraces his old friend Rabbi Abraham Skorka
Related:
Jewish Extremists Seek "Racial Purity" for "Israel", Multiculturalism for Everyone Else - Hate-Filled Ghouls Barbara Lerner Spectre (Deport Her, Sweden!), Anetta Kahane, George Soros - Europeans Don't Want Your "Open Society", György Boy - Bernard Kouchner, Franco-Zionist Extremist Windbag - Hypocritical Hebraic Rhetoric - Hungary's Viktor Orbán Sensibly Opposes the Sick Rothschild–Soros Agenda, Chooses Healthy National Self-Determination Instead - Ignoble Ultra-Zionist Scheme Failing Everywhere - NATO: Stop Meddling in the Middle East = Refugee Problem Solved
9/11: Israel's Grand Deception
'9/11: Israel Did It'
Paris attacks: who warned Éric de Rothschild?
Infamous Bloody Bataclan Photo Is a Fake That Could Have Been Staged Anytime