United States Marine Field McConnell
Plum

City Online - (

AbelDanger.net

)
September 26, 2016
1.
Abel Danger
(
AD
) claims that Hillary Clinton's associates in DOJ
Pride
tried to conceal an estimated $4.3 billion qui-tam procurement fraud in the Pentagon Renovation Program ('PENREN') by silencing the prospective whistle-blower John Bennett Ramsey – the father of the late JonBenet Ramsey – with a snuff film of his daughter's murder on Christmas Day 1996.
2.
AD
claims that in 1996 John Ramsey was installing Sun Microsystem servers in the Pentagon and discovered that his de facto boss, the former Lockheed Martin director Lynne Cheney had linked the UK MOD, DOJ, Wells Fargo and Citigroup banks and the Boeing company on the Federal Bridge Certification Authority (FBCA) in apparent preparation for variants of an "All Under Control" script from the BBC technological thriller, Bugs, to hijack droned planes on 9/11.
3.
AD
claims that after silencing John Ramsey,
Serco
and its root clients linked suites in the Marriott and Starwood hotel chains to the federal bridge public-key networks so Hillary Clinton and her DOJ
Pride
guests could attempt a coup d'état on 9/11 by flying patented drone devices into strategic targets in the United States including the Pentagon's US Navy Command Center in Zulu time.
4. United States Marine Field McConnell can help Donald Trump bring a qui tam action against
Serco
to discover how its shareholders, including the government of Saudi Arabia allegedly used patented (BUGS S01 E03) devices to stage the 9/11 attacks for Clinton and her DOJ
Pride
associates whom McConnell later identified from the download of a laptop at 2311 on 14 Oct 08 at the home of the late Glenn A. and Eileen O. McConnell, 832 Coach Way Annapolis MD 21401.
I Know Who Killed Jon Benet Ramsey
Donald Trump on 9/11 "BOMBS EXPLODED SIMULTANEOUSLY"
Trailer - Con Air (1997)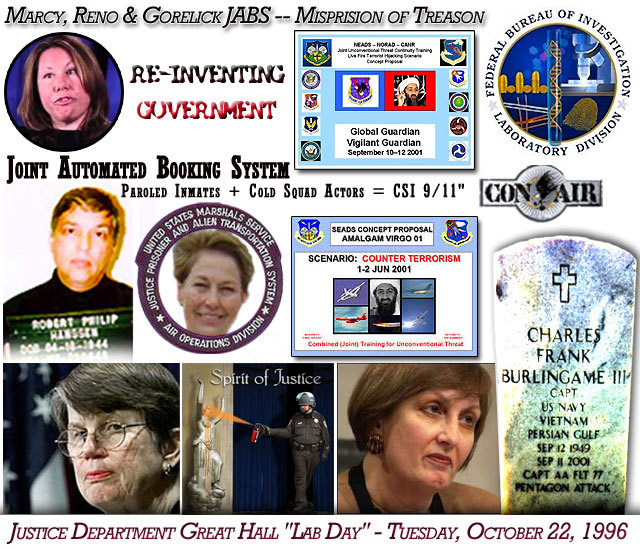 Comey: Clinton Made United States Secrets Vulnerable To Hostile Actors
Copy of

SERCO

GROUP PLC: List of Subsidiaries AND Shareholders!

[Note

HSBC

, British and Saudi Governments,

HSBC

,

Teachers' and

man

Gold

sachs]
Defense Ammunition Center
[Outsourced to
Serco
]
Serco

... Would you like to know more?
"Digital Fires Instructor

Serco

- Camp Pendleton, CA Uses information derived from all military disciplines (e.g., aviation, ground combat, command and control, combat service support, intelligence, and opposing forces) to determine changes in enemy capabilities, vulnerabilities, and probable courses of action." "

Serco

do a bunch more that didn't even make our story: As well as thanking God for his success, CEO Chris Hyman is a Pentecostal Christian who has released a gospel album in America and fasts every Tuesday. Amazingly, he was also in the World Trade Centre on 9/11, on the 47th floor addressing [Serco] shareholders.

Serco

run navy patrol boats for the ADF, as well as search and salvage operations through their partnership with P&O which form Defence Maritime Services. Serco run two Australian jails already, Acacia in WA and Borallon in Queensland. They're one of the biggest companies In the UK for running electronic tagging of offenders under house arrest or parole."
"John Bennett Ramsey (born December 7, 1943) is an American businessman, author, and father of

homicide

victim

JonBenét Ramsey

. He was the first to discover JonBenét's body in the wine cellar of the Ramseys' 15-room home in Boulder, Colorado, on December 26, 1996, just hours after her murder on Christmas Day.'" Career[edit]
In 1989, he formed the Advanced Product Group, one of three companies that merged to become

Access Graphics

. He became president and chief executive officer of Access Graphics, a computer services company and a subsidiary of

Lockheed Martin

.[3]"
"Who killed JonBenet Ramsey? New documentary looks at forgotten suspects including 'Santa Claus' figure 15:35, 23 SEP 2016 UPDATED 18:03, 23 SEP 2016 BY CHARLOTTE WAREING A new documentary explores more theories in the unsolved murder of six-year-old beauty pageant contestant JonBenet.
A new documentary explores more theories in the unsolved murder of

JonBenet Ramsey

, including suspicions 'Santa Claus' could be to blame.
Bill McReynolds attended a party at JonBenet's home dressed as Father Christmas days before she was found dead. In Discovery documentary 'Jonbenet: An American Murder Mystery', they look more closely at the colourful local character with a long white beard, who was discounted as a suspect by police. In police interviews JonBenet's father John is seen suggested family friend Bill could have been behind her death."
"From renovation to revolution: Was the Pentagon attacked from within? Orangutan. thu, 06/14/2012 - 11:37pm Kevin Ryan Posted on June 15, 2012 "I have no desire to attack the Pentagon; I want to liberate it. We need to save it from itself." Donald Rumsfeld, September 10, 2001 The official account of what happened at the Pentagon on 9/11 leaves many questions unanswered.[

1

] The work of independent investigators has also failed to address those questions. In an attempt to find answers, an alternative account of the Pentagon attack is considered.
An alternative account would be more compelling than the official account if it explained more of the evidence without adding unnecessary complications. Considering means, motive and opportunity might allow us to propose a possible "insider conspiracy" while maintaining much of the official account as well.
A few of the more compelling unanswered questions are as follows.
How could American Airlines Flight 77 have hit the building as it did, considering that the evidence shows the alleged hijacker pilot, Hani Hanjour, was a very poor pilot?[

2

]
Why did the aircraft make a 330-degree turn just minutes before hitting the building?
Why did the aircraft hit the least occupied one-fifth of the building that was the focus of a renovation plan and how was it that the construction in that exact spot just happened to be for the purpose of minimizing the damage from a terrorist explosion?[

3

]
Why was the company that performed the renovation work, just for that one-fifth of the building, immediately hired in a no bid contract to clean-up the damage and reconstruct that area of the building? (Note: The same company was also immediately hired to clean-up the WTC site within hours of the destruction there.)[

4

]
What can explain the damage to the building and the aircraft debris or lack thereof?
Why were the tapes from the surveillance videos in the area immediately confiscated by the FBI and never released? These questions should be considered along with the fact that U.S military and "Homeland Security" expenditures since the 9/11 attacks have totaled approximately $8 trillion.[

5

] This paints a picture that calls for an in-depth investigation into the people running the Pentagon, to see if they might have had the motivation and ability to plan and execute the attack.
What happened during the Pentagon renovation project should be of great interest. A preliminary investigation raises the possibility that the work done during that time could have provided the cover for an effective insider conspiracy. We should examine the people involved in planning the renovation project in order to begin answering the question of who might have benefited from the attack.
The history of the renovation project
Construction of the Pentagon began on September 11, 1941. It was completed in February 1943, and was called The Pentagon because it was a five-sided building that had five concentric rings (A through E) and five floors. Truly massive, with over 6 million square feet of gross area, the building met the basic needs of the Department of War, later ironically called the Department of Defense (DOD), for the next fifty years.
The renovation project was originally planned during the first Bush Administration, when Dick Cheney was Secretary of Defense (SECDEF). Because of this, Dick knew enough about the scope of the project that he could have, in later years, incorporated it into plans for an insider attack. It also happens that the ownership of the building was transferred, in November 1990, from the General Services Administration to the DOD, keeping the renovation project under full control of the military establishment.
The work began in 1993 with the construction of a power plant and then moved on to the basement levels of the building where the new National Military Command Center (NMCC) was being built. Over the ensuing four or five years the project was fraught with cost overruns and unexpected delays.
Early in the project, oversight was provided by John Deutch, the Deputy Secretary of Defense (DEPSECDEF). Deutch came to the job after a career in academics and at the Department of Energy. He was associated with Mitre Corporation, which in 1999 was in collaboration with a company called PTech to "look at interoperability issues the FAA had with NORAD and the Air Force, in case of an emergency."[

6

] Investigator and author Jamey Hecht has written that "The Ptech story is a crucial piece of 9/11 because the software was used to simultaneously coordinate the FAA with NORAD and the Secret Service."[

7

]
Deutch also worked with Science Applications International Corporation (SAIC), which has many connections to 9/11.[

8

] After his tenure as DEPSECDEF, in May 1995, Deutch became Director of the CIA. He left the CIA almost two years later and became a director at Citigroup, a company that was saved in 1998 by Prince Alwaleed of Saudi Arabia in a deal brokered by The Carlyle Group.[

9

] Deutch was allowed to keep his top-secret clearance for nearly three years after leaving the CIA (until August 1999), while he was being investigated for leaks of classified information.[

10

] Attorney General Janet Reno refused to prosecute Deutch and he was ultimately pardoned by President Clinton. During this time, Deutch also became a director of Raytheon and a member of the Bilderberg Group.
Throughout the Pentagon renovation project, oversight continued to be provided by the DEPSECDEF. The next in line for the job was John White, a Marine Corps officer whose career had included nine years with the RAND Corporation.[

11

] After his work at the DOD, he went on to join Deutch and others at Global Technology Partners, which was described by one of its senior partners as "an exclusive affiliate of Rothschild North America."[

12

] In the summer of 1997, the renovation project was turned over to White's successor, John J. Hamre. As the Undersecretary of Defense for Acquisitions and Technology, Hamre had already been involved and was a powerful figure in the department. Procurement was among the most important roles in DOD.
After his time as DEPSECDEF, Hamre became a trustee of Mitre Corporation at the time of its collaboration with PTech. Later, Hamre would become a director for ChoicePoint and SAIC. Coincidentally, the Choicepoint subsidiary, Bode Technologies, was hired to do DNA testing of victims after the 9/11 attacks. Richard Armitage, the Deputy Secretary of State who was among those who failed to protect the nation on 9/11, was also a director at Choicepoint and an advisor at Raytheon.
Therefore the backgrounds of the people who first planned and managed the renovation project suggest that some of them could have formed an effective Pentagon conspiracy. Of course, the Pentagon is the center of the U.S. military industrial complex and therefore the people running its programs would have stood to benefit from the extraordinary increase in military spending after 9/11.
The new plan and the environment in which it was drafted In 1997, a new plan for the renovation project was crafted by Hamre, reportedly in response to the mid-1990s terrorist attacks in Oklahoma City and abroad. This new plan appeared to be an effort to improve the resistance of the exterior of the building to an explosive impact, with additional actions taken to reduce the possibility of fire damage. The following improvements to the building were planned:
Reinforcement of the exterior walls with steel Backing of the exterior walls with Kevlar, to minimize shrapnel effect Installation of blast-resistant windows Installation of fire sprinklers and automatic fire doors Construction of a building operations and control center[

13

]
To manage the project, Hamre created a new position called the Pentagon Renovation Program Manager. The person selected for the job was Walker Lee Evey, a former Vietnam combat commander and NASA contract negotiator. Evey had been with the 1st Infantry Division in Quan Loi, Vietnam, in 1968 and 1969. He was later a top procurement officer with Air Force Systems Command but left the military in 1987 to join NASA. He returned to the Air Force in 1996 as a high-ranking acquisitions official working for Darleen Druyun, who later went to prison for conspiring with Boeing to defraud the American people.[

14

]
Immediately before being hired to manage the Pentagon renovation project, Evey worked on a top-secret Air Force "black project" in California that involved satellites.[

15

] Although reports don't identify the project, descriptions match the Milstar satellite system, a cooperative effort between the Air Force, Boeing, Lockheed Martin, and the U.S. intelligence center at Fort Belvoir.
Milstar is primarily a communications system that allows "satellites to communicate globally without using a ground station."[

16

] Theoretically, onboard Milstar terminals could have been used on 9/11 to communicate changes to the flight plans of the hijacked aircraft. Milstar operates with a low risk of detection or interception, was designed to operate for weeks without ground contact, and is "used to relay the most sensitive information between the President and the armed forces."[

17

]
In late 1995, Druyun had boasted about all the new DOD projects related to precision guidance of aircraft and munitions. These projects included Milstar, Peace Shield (a Saudi airspace control project with Boeing) and the nationwide Global Positioning System (GPS).[

18

]
Although Evey knew about satellites, surprisingly he did not know anything about construction when he was hired to lead the Pentagon project. It was in November 1997 that Druyun asked Evey about the job, although Evey made it clear that he "didn't know how to do construction."
Evey's education was in psychology and he had no experience related to the renovation of buildings. After a discussion with Druyun, and having resigned himself to the assignment, he thought — "Gee, if I'm going to do design and construction, I'd better start learning about this stuff."[

19

] It seems reasonable to suggest that Evey was hired for his abilities to maintain costs and control suppliers but also to maintain secrecy and control psychological reactions. The latter skills would come in handy for someone in the lead position of providing official answers to questions about the 9/11 attack, given that it was an inside conspiracy." "March 30, 2016 The UK's Ministry of Defence has updated a contract that will see US defence contractor Lockheed Martin and

Serco

, the UK outsourcing company, continue to play a role in managing the country's nuclear deterrent.

Serco

, which is in the midst of a turnaround strategy led by Rupert Soames, a grandson of Winston Churchill, said an updated contract to manage the operations of the Atomic Weapons Establishment has been agreed between the MoD and AWE Management Limited, a joint venture company involving Serco, Lockheed Martin and New York-listed Jacobs Engineering."
"All Under Control" is the third episode of season one of the

BBC

technological thriller,

Bugs

. The original airdate was 15 April 1995. Synopsis: The team is called in when a passenger jet is temporarily hijacked by remote control, and a ransom demand is sent to an airport by someone calling themselves 'Icarus'. Whilst Beckett clashes with the airport's head of security, Ros investigates the state-of-the-art navigation system (which is capable of fitting on a 1.44MB floppy disk) on board the empty jet. But then the doors lock, and the jet takes off with Ros still trapped aboard. Ed and Beckett must race against the clock to discover the identity of 'Icarus' before the jet runs out of fuel." "[

Serco

develops remote-control decoy and drone maneuvers for DOJ Pride in alleged Conair qui tam procurement fraud]

http://www.ufomind.com/area51/list/1997/jan/a07-008.shtml

"Con-Air" in 1/6 San Diego Union Tribune Nichols and McVeigh were transported in the dead of night in an operation much akin to a clandestine military operation, Little said. He did not want to go into details but mentioned that a decoy plane was among the ploys used to guard against possible attempts by supporters to free the suspects. Federal officials have always been circumspect about the fine points of prisoner movement. But ConAir soon could gain a higher public profile with the planned release in June of a movie by the same name. In the Disney film, Nicolas Cage plays a hapless prisoner who wanders into a hijack plot aboard a Marshals Service plane carrying a group of high-security inmates. The Hollywood marshals rough up some of the prisoners, and the plane crashes, leaving the real Marshals Service frowning on the silver screen's invention, said Kristine Marcy, a top official in charge of detentions

[and decoy contract hits]

.

"We don't beat up our prisoners, and our planes certainly don't crash," Marcy said on a recent trip to San Diego, where she was trying to find more jail space for federal prisoners."" "Understanding Unabom provides in depth insight into the coordinated activities of elements of the FBI, NSA, and CIA before September 11th 2001. Activities that included the manufacture and management of a series of high profile, random terrorist events and selective assassinations. The case explodes the fiction that the FBI and the CIA did not Communicate in high profile cases. Ultimately, it exposes the deep common roots, and the common personnel of many different dirty cases tracing all the way back to Rumsfeld and Cheney's coverup of the Olsen murder during the Ford Administration. The facts of Unabom have been covered up in a blizzard of ridicule akin to Kennedy's grassy knoll. … Patents were used for years for a paper trail cover for "black" operations payments by the CIA to avoid complications with IRS etc. For example...when the IRS asked "Where'd ya get the million bucks?".... "For Murder" was not an acceptable paper trail for a CIA operative. Over the years they used Patents instead...until recently, the most confusing and intractable paper source in existence. Dettling's residence was a palatial multi-million dollar mountaintop complex with 12-foot window panels overlooking Silicon Valley. Dettling drove a rare and expensive car. His closet had over a dozen high quality fur coats as gifts. [Photo] He spent money freely. [

Phone Call

] But Dettling had no substantial job for many years, and no identifiable source of income other than five US Patents. The Patents trace (via Assignee) to companies involved in supplying the Military, CIA and Intelligence agencies (United Technologies, MB Associates etc. [

Mitchel Page Resume

] and to NASA (See also: [

Plain Dealer

]). It is my opinion that Dettling did not have adequate scientific knowledge or abilities to create the concepts described by the Patents. (Patents [

3,771,152

], see also [

3,873,892

],

3,979,052

, [

3,979,052-2

], [

4,021,267

], and NASA Patent [

4,146,180

])." "Comey said that even though investigators had found no "direct evidence" of a breach by a foreign power or other "hostile actors," the FBI "would be unlikely to see such evidence" given the "nature of the system," which he described as a "complicated" mix of servers and mobile devices

managed by different administrators

. He likened the challenge that forensic investigators faced when examining one of those servers, which was decommissioned in 2013, to "removing the frame from a huge finished jigsaw puzzle and dumping the pieces on the floor."
Comey went on to note that people in "regular contact" with Clinton via her personal email had

themselves been hacked

; that Clinton's use of a personal account was "both known by a large number of people and readily apparent;" and that she "used her personal email extensively while outside the United States, including sending and receiving work-related emails in the territory of sophisticated adversaries."
Putting all those factors together, Comey said, "we assess it is possible that hostile actors gained access to Secretary Clinton's personal email account."
"

Serco

farewell to NPL after 19 years of innovation 8 January 2015

Serco

said goodbye to the National Physical Laboratory (NPL) at the end of December 2014 after 19 years of extraordinary innovation and science that has seen the establishment build a world-leading reputation and deliver billions of pounds of benefit for the UK economy. During that period under

Serco

's management and leadership, NPL has delivered an extraordinary variety and breadth of accomplishments for the UK's economy and industry. Some of the key achievements during that time have been:… It has been estimated that work carried out by the Centre of Carbon Measurement at NPL will save eight million tonnes of carbon emissions reductions (2% of UK footprint) and over half a billion pounds in economic benefit over the next decade…. NPL's caesium fountain atomic clock is accurate to 1 second in 158 million years and NPL is playing a key role in introducing rigour to high frequency trading [for Serco's front running banks] in the City through NPL [Zulu] Time."
"Al-Libi was believed to have been tied to

al-Qaeda

since its 1994 roots in the

Sudan

.[7] In 1995, al-Libi was granted

political asylum

in the United Kingdom, after a failed Al-Qaeda plot to assassinate

Hosni Mubarak

, then president of

Egypt

. An Egyptian request for extradition was declined on the grounds that al-Libi would not receive a fair trial. In 1996, MI6 allegedly paid a Libyan Al-Qaeda cell to kill

Colonel Gaddafi

.[8] Al-Libi would have been allowed to stay in return for aiding the alleged plot, which was unsuccessful.[8] In 1999, al-Libi was arrested by Scotland Yard and interrogated. However, he was released because he had cleared his hard drive and no evidence could be found to hold him. He evaded a team that was sent to follow him and was not seen for years. His flat in Manchester, where he was a student, was searched by police, who discovered a 180-page handwritten manual for Al-Qaeda followers[dubious – discuss], translated from Arabic to English, which became known as the

Manchester Manual

.[9]"
Al-Libi spoke Arabic and English. He had a scar on the left side of his face.[10] Because he was tall and bore a passing resemblance to Osama bin Laden, he was often used as adecoy when Bin Laden traveled.[7] "Support Services for Starwood Hotels Group Starwood Hotels Group, owner of some of the [Innholders] world's most prestigious hotels, has appointed

Serco

as preferred bidder for a £7m contract to provide a range of support services to the Sheraton Grand in Edinburgh, the Westin in Dublin and the 5 star Turnberry resort on Scotland's west coast. The contract, which has a 5 year term, is an extension to services already provided to other

[Innholders]

hotels in the Starwood Group and includes buildings maintenance and security, engineering support and

[WiFi]

help desk services." "Opened in 1994 as the successor to the Transitional Immigrant Visa Processing Center in Rosslyn, Va., the NVC centralizes all immigrant visa pre-processing and appointment scheduling for overseas posts. The NVC collects paperwork and fees before forwarding a case, ready for adjudication, to the responsible post.
The center also handles immigrant and fiancé visa petitions, and while it does not adjudicate visa applications, it provides technical assistance and support to visa-adjudicating consular officials overseas.
Only two Foreign Service officers, the director and deputy director, work at the center, along with just five Civil Service employees. They work with almost 500 contract employees doing preprocessing of visas, making the center one of the largest employers in the Portsmouth area.
The contractor,

Serco

, Inc., has worked with the NVC since its inception and with the Department for almost 18 years.
The NVC houses more than 2.6 million immigrant visa files, receives almost two million pieces of mail per year and received more than half a million petitions from the U.S. Citizenship and Immigration Service (USCIS) in 2011. Its file rooms' high-density shelves are stacked floor-to-ceiling with files, each a collection of someone's hopes and dreams and each requiring proper handling. ….
The NVC also preprocesses the chief of mission (COM) application required for the filing of a petition for a Special Immigrant Visa (SIV). Such visas, for foreign nationals who have performed services for the U.S. government in Iraq and Afghanistan, require COM concurrence before the applicant can file a petition with USCIS. The NVC collects the requisite documents from such applicants and, when complete, forwards the package to the U.S. embassies in Baghdad or Kabul for COM approval" "

Serco

do a bunch more that didn't even make our story: As well as thanking God for his success, CEO Chris Hyman is a Pentecostal Christian who has released a gospel album in America and fasts every Tuesday. Amazingly, he was also in the World Trade Centre on 9/11, on the 47th floor addressing [Serco] shareholders.

Serco

run navy patrol boats for the ADF, as well as search and salvage operations through their partnership with P&O which form Defence Maritime Services.

Serco

run two Australian jails already, Acacia in WA and Borallon in Queensland. They're one of the biggest companies In the UK for running electronic tagging of offenders under house arrest or parole."
"UK Cabinet Office – Emergency Planning College –

Serco

…..Types of Exercise Workshop Exercises These are structured discussion events where participants can explore issues in a less pressurised environment. They are an ideal way of developing solutions, procedures and plans rather than the focus being on decision making. Table Top Exercises These involve a realistic scenario and will follow a time line, either in real-time or with time jumps to concentrate on the more important areas. The participants would be expected to be familiar with the plans and procedures that are being used although the exercise tempo and complexity can be adjusted to suit the current state of training and readiness. Simulation and media play can be used to support the exercise. Table-top exercises help develop teamwork and allow participants to gain a better understanding of their roles and that of other agencies and organisations. Command/Control Post Exercises These are designed primarily to exercise the senior leadership and support staff in collective planning and decision making within a strategic grouping. Ideally such exercises would be run from the real command and control locations and using their communications and information systems [Feeling lucky, Punk?]. This could include a mix of locations and varying levels of technical simulation support. The Gold Standard system is flexible to allow the tempo and intensity to be adjusted to ensure maximum training benefit, or to fully test and evaluate the most important aspects of a plan. Such exercises also test information flow, communications, equipment, procedures, decision making and coordination. Live Exercises These can range from testing individual components of a system or organisation through to a full-scale rehearsal. They are particularly useful where there are regulatory requirements or with high-risk situations. They are more complex and costly to organise and deliver but can be integrated with Command Post Exercises as part of a wider exercising package."
"Base One Technologies, Ltd. is a DOMESTIC BUSINESS CORPORATION, located in New York, NY and was formed on Feb 15, 1994. This file was obtained from the Secretary of State and has a file number of 1795583." "

Serco

's Office of Partner Relations (OPR) helps facilitate our aggressive small business utilization and growth strategies. Through the OPR,

Serco

mentors four local small businesses under formal Mentor Protégé Agreements: Three sponsored by DHS (Base One Technologies, TSymmetry, Inc., and HeiTech Services, Inc.,) and the fourth sponsored by GSA (DKW Communications, Inc.). Serco and HeiTech Services were awarded the 2007 DHS Mentor Protégé Team Award for exceeding our mentoring goals."

http://www.dtic.mil/whs/directives/corres/pdf/100515p.pdf

Yours sincerely,

Field McConnell, United States Naval Academy, 1971; Forensic Economist; 30 year airline and 22 year military pilot; 23,000 hours of safety; Tel: 715 307 8222

David Hawkins Tel: 604 542-0891 Forensic Economist; former leader of oil-well blow-out teams; now sponsors Grand Juries in CSI Crime and Safety Investigation