United States Marine Field McConnell
Plum

City Online - (

AbelDanger.net

)
September 24, 2016
1.
Abel Danger
(
AD
) claims that Hillary Clinton's associates in DOJ
Pride
are concealing a qui-tam procurement fraud where
Serco
allegedly equipped passengers on Conair planes with patented devices needed to remotely hijack, drone and crash aircraft in visual range.
2.
AD
claims that on 9/11,
Serco
linked its MOD root client to world bankers and the DOJ Conair planes over the Federal Bridge Certification Authority and fraudulently enacted variants of "All Under Control" scripts – Episode 3 Season 1 – of the BBC technological thriller, Bugs, where a passenger jet was temporarily hijacked by remote control.
3.
AD
claims that
Serco
shareholders including
HSBC
and the Saudi government linked DOJ
Pride
planes with droned aircraft flown into the WTC Twin Towers where a phony leveraged lease allowed Wells Fargo to file a double-occurrence insurance claim after both towers were demolished by patented IEDs on 9/11.
4. United States Marine Field McConnell can help Donald Trump bring a qui tam action against
Serco
which will explain how it used patented (BUGS S01 E03) devices to stage a Conair snuff film on 9/11 for DOJ
Pride
principals later identified from the download of a laptop at 2311 on 14 Oct 08 at the home of the late Glenn A. and Eileen O. McConnell, 832 Coach Way Annapolis MD 21401.
Donald Trump on 9/11 "BOMBS EXPLODED SIMULTANEOUSLY"
ENHANCED VERSION: News Reports WTC7 Fell Before It Happens!
Trailer - Con Air (1997)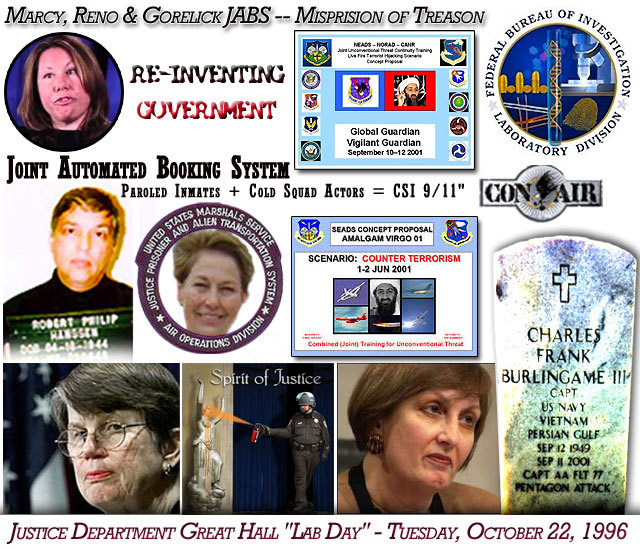 Comey: Clinton Made United States Secrets Vulnerable To Hostile Actors
Copy of

SERCO

GROUP PLC: List of Subsidiaries AND Shareholders!

[Note

HSBC

, British and Saudi Governments,

HSBC

,

Teachers' and

man

Gold

sachs]
Defense Ammunition Center
[Outsourced to
Serco
]
Serco

... Would you like to know more?
"Digital Fires Instructor

Serco

- Camp Pendleton, CA Uses information derived from all military disciplines (e.g., aviation, ground combat, command and control, combat service support, intelligence, and opposing forces) to determine changes in enemy capabilities, vulnerabilities, and probable courses of action." "

Serco

do a bunch more that didn't even make our story: As well as thanking God for his success, CEO Chris Hyman is a Pentecostal Christian who has released a gospel album in America and fasts every Tuesday. Amazingly, he was also in the World Trade Centre on 9/11, on the 47th floor addressing [Serco] shareholders.

Serco

run navy patrol boats for the ADF, as well as search and salvage operations through their partnership with P&O which form Defence Maritime Services. Serco run two Australian jails already, Acacia in WA and Borallon in Queensland. They're one of the biggest companies In the UK for running electronic tagging of offenders under house arrest or parole." "March 30, 2016 The UK's Ministry of Defence has updated a contract that will see US defence contractor Lockheed Martin and

Serco

, the UK outsourcing company, continue to play a role in managing the country's nuclear deterrent.

Serco

, which is in the midst of a turnaround strategy led by Rupert Soames, a grandson of Winston Churchill, said an updated contract to manage the operations of the Atomic Weapons Establishment has been agreed between the MoD and AWE Management Limited, a joint venture company involving Serco, Lockheed Martin and New York-listed Jacobs Engineering."
"All Under Control" is the third episode of season one of the

BBC

technological thriller,

Bugs

. The original airdate was 15 April 1995. Synopsis: The team is called in when a passenger jet is temporarily hijacked by remote control, and a ransom demand is sent to an airport by someone calling themselves 'Icarus'. Whilst Beckett clashes with the airport's head of security, Ros investigates the state-of-the-art navigation system (which is capable of fitting on a 1.44MB floppy disk) on board the empty jet. But then the doors lock, and the jet takes off with Ros still trapped aboard. Ed and Beckett must race against the clock to discover the identity of 'Icarus' before the jet runs out of fuel." "[

Serco

develops remote-control decoy and drone maneuvers for DOJ Pride in alleged Conair qui tam procurement fraud]

http://www.ufomind.com/area51/list/1997/jan/a07-008.shtml

"Con-Air" in 1/6 San Diego Union Tribune Nichols and McVeigh were transported in the dead of night in an operation much akin to a clandestine military operation, Little said. He did not want to go into details but mentioned that a decoy plane was among the ploys used to guard against possible attempts by supporters to free the suspects. Federal officials have always been circumspect about the fine points of prisoner movement. But ConAir soon could gain a higher public profile with the planned release in June of a movie by the same name. In the Disney film, Nicolas Cage plays a hapless prisoner who wanders into a hijack plot aboard a Marshals Service plane carrying a group of high-security inmates. The Hollywood marshals rough up some of the prisoners, and the plane crashes, leaving the real Marshals Service frowning on the silver screen's invention, said Kristine Marcy, a top official in charge of detentions

[and decoy contract hits]

.

"We don't beat up our prisoners, and our planes certainly don't crash," Marcy said on a recent trip to San Diego, where she was trying to find more jail space for federal prisoners.""
"SR INTERNATIONAL BUSINESS INSURANCE CO., LTD., Plaintiff-Counter-Defendant-Appellee, Copenhagen Reinsurance Co. Ltd., Employers Insurance Company of Wausau, Federal Insurance Co., Great Lakes Reinsurance PLC, Houston Casualty Co., Lexington Insurance Company, Certain Underwriters at Lloyd's, London Insurers, QBE International Insurance Limited, and Wurttembergische Versicherung AG, Counter-Defendant-Appellees, -v.- WORLD TRADE CENTER PROPERTIES, LLC, Silverstein Properties, Inc., Silverstein WTC Management Co., LLC, 1 World Trade Center LLC, 2 World Trade Center LLC, 4 World Trade Center LLC, 5 World Trade Center LLC, The Port Authority NY/NJ, Westfield WTC, LLC, Westfield Corporation, Inc., and Westfield America Inc., Defendants-Counter-Claimants-Appellants, UBS Warburg Real Estate Investments, Inc., Wells Fargo Bank Minnesota, N.A., As Trustee for the registered holders of GMAC Commercial Mortgage Securities, Inc., Mortgage-Backed Pass-Through Certificates, Series 2001 - WTC, and GMAC Commercial Mortgage Corporation, Defendants-Counter-Claimants, Gulf Insurance Company, Hartford Fire Insurance Company, St. Paul Fire and Marine Insurance Company, Swiss Reinsurance Co. UK Ltd., Tokio Marine and Fire Insurance Co., Allianz Insurance Co., Royal Indemnity Co., TIG Insurance Co., Zurich American Insurance Co., Industrial Risk Insurers, The Travelers Indemnity Company, and Twin City Fire Insurance Co., Counter-Defendants. SR International Business Insurance Co., Ltd., Plaintiff-Counter-Defendant, ALLIANZ INSURANCE CO., Gulf Insurance Company, Industrial Risk Insurers, Royal Indemnity Co., TIG Insurance Co., The Travelers Indemnity Company, Twin City Fire Insurance Co., and Zurich American Insurance Co., Counter-Defendants-Appellants, -v.- WORLD TRADE CENTER PROPERTIES, LLC, Silverstein Properties, Inc., Silverstein WTC Management Co., LLC, 1 World Trade Center LLC, 2 World Trade Center LLC, 4 World Trade Center LLC, 5 World Trade Center LLC, The Port Authority NY/NJ, Westfield WTC LLC, Westfield Corporation, Inc., and Westfield America, Inc., Defendants-Counter-Claimants-Appellees, UBS Warburg Real Estate Investments, Inc., Wells Fargo Bank Minnesota, N.A., As Trustee for the registered holders of GMAC Commercial Mortgage Securities, Inc., Mortgage-Backed Pass-Through Certificates, Series 2001 - WTC, and GMAC Commercial Mortgage Corporation, Defendants-Counter-Claimants, Copenhagen Reinsurance Co., Ltd., Employers Insurance Company of Wausau, Federal Insurance Co., Great Lakes Reinsurance PLC, Hartford Fire Insurance Company, Houston Casualty Co., Lexington Insurance Company, Certain Underwriters at Lloyd's, London, QBE International Insurance Limited, Swiss Reinsurance Co. UK Ltd., Tokio Marine and Fire Insurance Co., and Wurttembergische Versicherung AG, Counter-Defendants., 467 F.3d 107" "Understanding Unabom provides in depth insight into the coordinated activities of elements of the FBI, NSA, and CIA before September 11th 2001. Activities that included the manufacture and management of a series of high profile, random terrorist events and selective assassinations. The case explodes the fiction that the FBI and the CIA did not Communicate in high profile cases. Ultimately, it exposes the deep common roots, and the common personnel of many different dirty cases tracing all the way back to Rumsfeld and Cheney's coverup of the Olsen murder during the Ford Administration. The facts of Unabom have been covered up in a blizzard of ridicule akin to Kennedy's grassy knoll. … Patents were used for years for a paper trail cover for "black" operations payments by the CIA to avoid complications with IRS etc. For example...when the IRS asked "Where'd ya get the million bucks?".... "For Murder" was not an acceptable paper trail for a CIA operative. Over the years they used Patents instead...until recently, the most confusing and intractable paper source in existence. Dettling's residence was a palatial multi-million dollar mountaintop complex with 12-foot window panels overlooking Silicon Valley. Dettling drove a rare and expensive car. His closet had over a dozen high quality fur coats as gifts. [Photo] He spent money freely. [

Phone Call

] But Dettling had no substantial job for many years, and no identifiable source of income other than five US Patents. The Patents trace (via Assignee) to companies involved in supplying the Military, CIA and Intelligence agencies (United Technologies, MB Associates etc. [

Mitchel Page Resume

] and to NASA (See also: [

Plain Dealer

]). It is my opinion that Dettling did not have adequate scientific knowledge or abilities to create the concepts described by the Patents. (Patents [

3,771,152

], see also [

3,873,892

],

3,979,052

, [

3,979,052-2

], [

4,021,267

], and NASA Patent [

4,146,180

])." "The Science Of Tannerite, The Explosive Possibly Used In The Chelsea Bombs

Sam Lemonick

, CONTRIBUTOR The bomb that exploded Saturday in New York City used an explosive called Tannerite, according to news reports. Until now, Tannerite has mostly been known to target shooters. Now it's being implicated in a terrorist attack. Here are answers to some questions about an explosive you might not have heard of and its role in this unfolding story.
What is Tannerite?
Tannerite is the brand name of a binary explosive often used as a rifle target. Binary explosives are two-part mixtures of components that aren't explosive on their own. Tannerite is a

patented

, proprietary mixture of ammonium nitrate, ammonium perchlorate and powdered aluminum and a few minor ingredients. Generic mixtures of those chemicals, sometimes called ammonal, are sometimes also called Tannerite, like calling all facial tissues Kleenexes. Why are people using this stuff?
Tannerite is popular for target practice because it produces a loud bang and a puff of smoke when hit with a fast-moving bullet. That makes it more obvious—and more exciting—when you hit the target than, say, shooting a piece of paper.
The reason they use Tannerite specifically is because it's easy to get and relatively safe. Because the two components aren't themselves explosive, the Federal government doesn't regulate Tannerite like it does black powder or TNT. You can buy it online or in stores, and the individual components are available on their own. Okay. Is it dangerous?
It can be. Although Tannerite was designed to produce a relatively small explosion for safety, people have been seriously hurt and even killed using it. In most cases that happened when it was detonated inside a container, which fragmented and sent shrapnel flying at the victims."
"Ka-Boom! Tannerite's Patent Re-Issued

Dan Zimmerman

July 29, 2013 Tannerite's biggest claim to fame – besides having a Kleenex-like brand name used to describe pretty much everything in the explosive target category – is that it won't start a fire when it goes bang. Even if you use 200 lbs. of the stuff as FPSRussia claims to have done above. Meanwhile, Tannerite just got some good news from the US Patent Office which you can read all about after the jump . . .
Tannerite® Claims Victory
US Patent and Trademark Office Publishes Iron-Fisted Reissue of Tannerite® Sports, LLC Exploding Binary Target Patent
Pleasant Hills, OR (July 28, 2013) – Tannerite® Sports, LLC is proud to announce that its reissue patent has been approved by the United States Patent and Trademark Office. The reissue patent provides a much broader scope of coverage and protection of their intellectual property. The reissue patent was published on July 23, 2013.
"This is a landmark patent reissue for Tannerite® Sports, LLC as well as the entire binary exploding target category. Tannerite® Sports developed and marketed the first binary exploding target," said Dan Tanner, president of Tannerite Sports, LLC. "Other brands of exploding targets that have come out since Tannerite® was first developed are outright imitations. Now, the Tannerite® brand is being recognized as truly unique and innovative and so says the United States Patent and Trademark Office."
Tannerite® technical consultant Bruce Broline elaborates: "One driving force behind Tannerite® pursuing a patent reissue is that Tannerite®, the brand, has been generically referred to as the chemical composition in all binary targets – this is certainly not the case. That's akin to Band-Aid®, Xerox®, and Coke® being used to describe entire product categories. The reason we need to make this separation between the Tannerite® brand and other copycats is that we can't ensure nor do we trust the performance of their products. Ours are entirely safe when used as instructed and as a shot indicator.
"Tannerite® brand targets are formulated from the highest quality raw materials to ensure that they are safe to handle and do not start fires. This cannot be said of many competitors who may use inferior quality raw materials, other incendiary materials, or improper formulations," continued Broline.
"My ultimate goal was to develop a long range shot indicator that was absolutely safe and could not cause a fire. Tannerite® brand targets do just that," said Tanner.
"If I were that recreational shooter, practicing hunter or military firearms instructor I'd want to know with certainty my targets could not start a fire.
Why would anyone take a risk with one of the other brands?""
"USIS provided security-based information and service solutions to both government and corporate customers, in the United States and abroad. Its corporate headquarters were in Falls Church, in

Greater Washington, D.C.

[1] USIS was a part of

Altegrity Inc.

, a company headquartered in the Falls Church area that was owned by

Providence Equity Partners

.[2] …
History[edit]
USIS was founded in 1996 after the investigative branch of the

United States Office of Personnel Management

(OPM) was privatized. Its creation was due to an effort of Vice President of the United States

Al Gore

's effort to reduce the size of the civil service. Originally known as U.S. Investigations Services Inc.,[

2

] it was at first an employee-owned company.
The

Carlyle Group

invested in USIS and in 2003

Welsh, Carson, Anderson & Stowe

also committed capital to them. In 2007, Carlyle announced that it would sell USIS to Providence Equity Partners, a private equity firm, for US$1.5 billion.[3]
In the fiscal year 2012, USIS received $253 million for the contract work of the OPM, 67% of the OPM's contract spending for the fiscal year.[2] Background checks[edit]
Aaron Alexis background check[edit]
In 2007, an OPM contract investigator employed by USIS conducted the field work for the OPM-FIS background investigation[4] on Aaron Alexis, who has been accused of killing twelve people at the Washington Navy Yard on Monday, September 16, 2013.[5]
Edward Snowden investigation[edit]
In 2011, OPM contract investigators employed by USIS conducted the field work for the OPM security clearance re-investigation on

Edward Snowden

, who leaked classified documents beginning on June 5, 2013.[6]
On June 18, 2013, the Subcommittee on Efficiency and Effectiveness of Federal Programs and the Federal Workforce and the Subcommittee on Financial and Contracting Oversight, both of the U.S. Senate

Homeland Security and Governmental Affairs Committee

, held a joint hearing.[7] Michelle B. Schmitz, the OPM assistant inspector general for investigations, testified that USIS had been under investigation since late 2011, stating that it involves a "complicated contract fraud case."[7] Patrick McFarland, the OPM inspector general, did not reveal the reason for the investigation of USIS, and said when asked about Snowden's security clearance re-investigation, "We do believe there may be some problems."[6]
USIS response to accusations regarding Alexis and Snowden[edit]
In a September 8, 2014, media release, the company insisted that, despite being "the target of inaccurate and misleading public allegations," USIS is a responsible government contractor. It labeled as myth reports that USIS botched its field work for OPM background investigations on Aaron Alexis and Edward Snowden, calling the claim "absolutely false." The company asserted that "OPM confirmed in sworn testimony before Congress on February 11, 2014 that the investigative file compiled by USIS on Aaron Alexis 'was complete and in compliance with all investigative standards.'" USIS also said it followed all OPM-mandated procedures and protocols in its background investigation of Edward Snowden.
The company further clarified that it "does not grant security clearances and plays no role in making those determinations." The decision to grant or renew a clearance, said USIS, "is the sole responsibility of the federal government agency that requested the background investigation."[8] However, the OPM hired USIS to perform not only background checks but also secondary reviews of those checks to ensure that no one who shouldn't have access to state secrets was overlooked by mistake.[1]
Fraud investigation and charges[edit]
In June 2013, the office of Senator

Claire McCaskill

stated that USIS was "under active criminal investigation".[7] A statement from USIS stated that it was unaware that it was under criminal investigation.[7] It added that "USIS complied with that subpoena and has cooperated fully with the government's civil investigative efforts".[9] USIS, as the government's No. 1 provider of background checks for the United States, earned $253 million in awards this year alone.[10]
On January 23, 2014, the U.S. Department of Justice filed fraud charges against USIS. The suit was originally filed by a long time USIS employee, whistleblower

Blake Percival

. The suit, United States of America, ex rel Blake Percival vs USIS alleges that beginning in at least March 2008 and continuing through at least September 2012, USIS management devised and executed a scheme to deliberately circumvent contractually required quality reviews of reports of investigation of completed background investigations in order to increase the company's revenues and profits. USIS responded that the faulty checks "relate to a small group of individuals over a specific time period."[11] In August 2015, Altegrity agreed to forgo $30 million in payments the U.S. government owed to USIS in order to settle the case with the Department of Justice.[1]
Cyber attack[edit]
On July 7, 2014, the company said it was hit by a cyber attack prompting the US government to suspend its work with the firm. Experts who have examined the hack "believe it has all the markings of a state-sponsored attack," but did not detail possible suspects.[12][13]
OPM drops USIS[edit]
On September 9, 2014, the OPM confirmed it would not renew any of its contracts with USIS upon their expiration at month's end. USIS said it was "deeply disappointed with OPM's decision," which affects 3,000 employees handling a caseload that averaged about 21,000 background investigations a month for total fees of $320 million during the last fiscal year.[14]
Bankruptcy[edit]
In early 2015, USIS's parent company, Altegrity (also known as Corporate Risk Holdings) filed for bankruptcy.[

1

]" "Comey said that even though investigators had found no "direct evidence" of a breach by a foreign power or other "hostile actors," the FBI "would be unlikely to see such evidence" given the "nature of the system," which he described as a "complicated" mix of servers and mobile devices

managed by different administrators

. He likened the challenge that forensic investigators faced when examining one of those servers, which was decommissioned in 2013, to "removing the frame from a huge finished jigsaw puzzle and dumping the pieces on the floor."
Comey went on to note that people in "regular contact" with Clinton via her personal email had

themselves been hacked

; that Clinton's use of a personal account was "both known by a large number of people and readily apparent;" and that she "used her personal email extensively while outside the United States, including sending and receiving work-related emails in the territory of sophisticated adversaries."
Putting all those factors together, Comey said, "we assess it is possible that hostile actors gained access to Secretary Clinton's personal email account."
"John Bennett Ramsey (born December 7, 1943) is an American businessman, author, and father of homicide victim

JonBenét Ramsey

. He was the first to discover JonBenét's body in the wine cellar of the Ramseys' 15-room home in Boulder, Colorado, on December 26, 1996, just hours after her murder on Christmas Day.'" Career[edit]
In 1989, he formed the Advanced Product Group, one of three companies that merged to become

Access Graphics

. He became president and chief executive officer of Access Graphics, a computer services company and a subsidiary of

Lockheed Martin

.[3]"
"

Serco

farewell to NPL after 19 years of innovation 8 January 2015

Serco

said goodbye to the National Physical Laboratory (NPL) at the end of December 2014 after 19 years of extraordinary innovation and science that has seen the establishment build a world-leading reputation and deliver billions of pounds of benefit for the UK economy. During that period under

Serco

's management and leadership, NPL has delivered an extraordinary variety and breadth of accomplishments for the UK's economy and industry. Some of the key achievements during that time have been:… It has been estimated that work carried out by the Centre of Carbon Measurement at NPL will save eight million tonnes of carbon emissions reductions (2% of UK footprint) and over half a billion pounds in economic benefit over the next decade…. NPL's caesium fountain atomic clock is accurate to 1 second in 158 million years and NPL is playing a key role in introducing rigour to high frequency trading [for Serco's front running banks] in the City through NPL [Zulu] Time."
"In January 2015, the

Corinthia Hotel in Tripoli

was attacked by men affiliated with the

Islamic State of Iraq and the Levant (ISIL)

.[

1

]The hotel was popular with foreign officials and government workers; it had previously housed the Libyan Prime Minister.
In the early hours of 27 January 2015, ISIL-affiliated men detonated a car bomb in the parking garage of the hotel. In the chaos, an estimated 5 gunmen stormed past the local guard and entered the hotel, intent on killing guests.[2]
Some of the attackers survived the initial contact, leading to a protracted hostage situation.[3] Victims[edit]
Five foreigners died in the attack: one American, one Frenchman, and three Tajiks (including two women). The American, David Berry, was working as a contractor for an American security firm named Crucible. Five Libyan security personnel are also reported to have died in the attack.[4]
Perpetrators and motivations[edit]
The attack was carried out by men belonging to ISIL's "Tripoli Province", who are believed to have been natives of Libya. The attackers' stated objective was revenge for the death of

Abu Anas al-Libi

, a Libyan Al-Qaeda operative who was involved in the bombing of two American embassies in 1998. He was captured by American forces inside Libya in 2013, and died in an American hospital on 2 January 2015.[4]"
"Al-Libi was believed to have been tied to

al-Qaeda

since its 1994 roots in the

Sudan

.[7] In 1995, al-Libi was granted

political asylum

in the United Kingdom, after a failed Al-Qaeda plot to assassinate

Hosni Mubarak

, then president of

Egypt

. An Egyptian request for extradition was declined on the grounds that al-Libi would not receive a fair trial. In 1996, MI6 allegedly paid a Libyan Al-Qaeda cell to kill

Colonel Gaddafi

.[8] Al-Libi would have been allowed to stay in return for aiding the alleged plot, which was unsuccessful.[8] In 1999, al-Libi was arrested by Scotland Yard and interrogated. However, he was released because he had cleared his hard drive and no evidence could be found to hold him. He evaded a team that was sent to follow him and was not seen for years. His flat in Manchester, where he was a student, was searched by police, who discovered a 180-page handwritten manual for Al-Qaeda followers[dubious – discuss], translated from Arabic to English, which became known as the

Manchester Manual

.[9]"
Al-Libi spoke Arabic and English. He had a scar on the left side of his face.[10] Because he was tall and bore a passing resemblance to Osama bin Laden, he was often used as adecoy when Bin Laden traveled.[7] "Support Services for Starwood Hotels Group Starwood Hotels Group, owner of some of the [Innholders] world's most prestigious hotels, has appointed

Serco

as preferred bidder for a £7m contract to provide a range of support services to the Sheraton Grand in Edinburgh, the Westin in Dublin and the 5 star Turnberry resort on Scotland's west coast. The contract, which has a 5 year term, is an extension to services already provided to other

[Innholders]

hotels in the Starwood Group and includes buildings maintenance and security, engineering support and

[WiFi]

help desk services." "Opened in 1994 as the successor to the Transitional Immigrant Visa Processing Center in Rosslyn, Va., the NVC centralizes all immigrant visa pre-processing and appointment scheduling for overseas posts. The NVC collects paperwork and fees before forwarding a case, ready for adjudication, to the responsible post.
The center also handles immigrant and fiancé visa petitions, and while it does not adjudicate visa applications, it provides technical assistance and support to visa-adjudicating consular officials overseas.
Only two Foreign Service officers, the director and deputy director, work at the center, along with just five Civil Service employees. They work with almost 500 contract employees doing preprocessing of visas, making the center one of the largest employers in the Portsmouth area.
The contractor,

Serco

, Inc., has worked with the NVC since its inception and with the Department for almost 18 years.
The NVC houses more than 2.6 million immigrant visa files, receives almost two million pieces of mail per year and received more than half a million petitions from the U.S. Citizenship and Immigration Service (USCIS) in 2011. Its file rooms' high-density shelves are stacked floor-to-ceiling with files, each a collection of someone's hopes and dreams and each requiring proper handling. ….
The NVC also preprocesses the chief of mission (COM) application required for the filing of a petition for a Special Immigrant Visa (SIV). Such visas, for foreign nationals who have performed services for the U.S. government in Iraq and Afghanistan, require COM concurrence before the applicant can file a petition with USCIS. The NVC collects the requisite documents from such applicants and, when complete, forwards the package to the U.S. embassies in Baghdad or Kabul for COM approval" "

Serco

do a bunch more that didn't even make our story: As well as thanking God for his success, CEO Chris Hyman is a Pentecostal Christian who has released a gospel album in America and fasts every Tuesday. Amazingly, he was also in the World Trade Centre on 9/11, on the 47th floor addressing [Serco] shareholders.

Serco

run navy patrol boats for the ADF, as well as search and salvage operations through their partnership with P&O which form Defence Maritime Services.

Serco

run two Australian jails already, Acacia in WA and Borallon in Queensland. They're one of the biggest companies In the UK for running electronic tagging of offenders under house arrest or parole."
"UK Cabinet Office – Emergency Planning College –

Serco

…..Types of Exercise Workshop Exercises These are structured discussion events where participants can explore issues in a less pressurised environment. They are an ideal way of developing solutions, procedures and plans rather than the focus being on decision making. Table Top Exercises These involve a realistic scenario and will follow a time line, either in real-time or with time jumps to concentrate on the more important areas. The participants would be expected to be familiar with the plans and procedures that are being used although the exercise tempo and complexity can be adjusted to suit the current state of training and readiness. Simulation and media play can be used to support the exercise. Table-top exercises help develop teamwork and allow participants to gain a better understanding of their roles and that of other agencies and organisations. Command/Control Post Exercises These are designed primarily to exercise the senior leadership and support staff in collective planning and decision making within a strategic grouping. Ideally such exercises would be run from the real command and control locations and using their communications and information systems [Feeling lucky, Punk?]. This could include a mix of locations and varying levels of technical simulation support. The Gold Standard system is flexible to allow the tempo and intensity to be adjusted to ensure maximum training benefit, or to fully test and evaluate the most important aspects of a plan. Such exercises also test information flow, communications, equipment, procedures, decision making and coordination. Live Exercises These can range from testing individual components of a system or organisation through to a full-scale rehearsal. They are particularly useful where there are regulatory requirements or with high-risk situations. They are more complex and costly to organise and deliver but can be integrated with Command Post Exercises as part of a wider exercising package."
"Base One Technologies, Ltd. is a DOMESTIC BUSINESS CORPORATION, located in New York, NY and was formed on Feb 15, 1994. This file was obtained from the Secretary of State and has a file number of 1795583." "

Serco

's Office of Partner Relations (OPR) helps facilitate our aggressive small business utilization and growth strategies. Through the OPR,

Serco

mentors four local small businesses under formal Mentor Protégé Agreements: Three sponsored by DHS (Base One Technologies, TSymmetry, Inc., and HeiTech Services, Inc.,) and the fourth sponsored by GSA (DKW Communications, Inc.). Serco and HeiTech Services were awarded the 2007 DHS Mentor Protégé Team Award for exceeding our mentoring goals."

http://www.dtic.mil/whs/directives/corres/pdf/100515p.pdf

Yours sincerely,

Field McConnell, United States Naval Academy, 1971; Forensic Economist; 30 year airline and 22 year military pilot; 23,000 hours of safety; Tel: 715 307 8222

David Hawkins Tel: 604 542-0891 Forensic Economist; former leader of oil-well blow-out teams; now sponsors Grand Juries in CSI Crime and Safety Investigation