Source:
RT News
Soros gave Clinton step-by-step instructions on how to tackle Albania unrest – WikiLeaks email
August 12, 2016
U.S. Democratic presidential nominee Hillary Clinton by Chris Keane / Reuters
An email leaked by WikiLeaks reveals that when Hillary Clinton was US secretary of state in 2011, billionaire George Soros instructed her on how to handle unrest in Albania, stressing it "
needs urgent attention at senior levels of the US government
."
"Dear Hillary," begins the
email
dated January 24, 2011 from the founder of Open Society Foundations, Soros.
"
A serious situation has arisen in Albania which needs urgent attention at senior levels of the US government. You may know that an opposition demonstration in Tirana on Friday resulted in the deaths of three people and the destruction of property
," Soros says, according to the leaked email.
Read more:

Soros-funded DNC 'superlawyer' challenges voter ID laws to 'protect the Obama coalition'
Three men were shot dead as anti-government demonstrators clashed with police in the Albanian capital in late January of 2011. Supporters of the opposition Socialist Party refused to accept the results of a 2009 election, citing corruption and fraud, when then-Prime Minister Sali Berisha's Democratic Party won by a thin margin. Berisha accused the opposition of attempting to provoke a Tunisia-style uprising, saying "
the bastard children of Albania's own Ben Alis conceived Tunisian scenarios
."
"
There are serious concerns about further unrest connected to a counter-demonstration to be organized by the governing party... and a follow-up event by the opposition two days later to memorialize the victims
," Soros says.
"
The prospect of tens of thousands of people entering the streets in an already inflamed political environment bodes ill for the return of public order and the country's fragile democratic process
," he adds.
"I believe two things need to be done urgently,"
he adds
.
"1. Bring the full weight of the international community to bear on Prime Minister Berisha and opposition leader Edi Rama to forestall further public demonstrations and to tone down public pronouncements.
Soros told Hillary Clinton (as Sec of State) to intervene in Albanian domestic politics -- she did it like he said

https://t.co/6vENeaznOM

— WikiLeaks (@wikileaks) August 12, 2016
2. Appoint a senior European official as a mediator."
Soros suggested three candidates: Carl Bildt, Martti Ahtisaari, and Miroslav Lajcak, saying all "have strong connections to the Balkans."
"
The US and the EU must work in complete harmony over this, but given Albania's European aspirations the EU must take the lead
," he stressed, adding that his foundation in Tirana was "
monitoring the situation closely and can provide independent analysis of the crisis
."
Read more:

New Hillary leak: Wikileaks releases 20K DNC emails
Several days after the email was sent to Clinton, the EU did send one of Soros' suggested nominees, Miroslav Lajcak, to meet Albanian leaders in Tirana to try to mediate an end to the unrest, Reuters reported.
In March, WikiLeaks launched a searchable archive consisting of 30,322 emails from Hillary Clinton's private email server that she used while serving as US secretary of state. The 50,547 pages of documents cover Clinton's correspondence from June 30, 2010 to August 12, 2014, of which 7,570 were sent by Clinton herself.
Last month, the whistleblowing website published an archive of over 1,200 of Clinton's private emails pertaining to the Iraq War. Ahead of the release, WikiLeaks founder Julian Assange said the "upcoming leaks in relation to Hillary Clinton" would be enough to indict her.
Soros made a name for himself as the "
man who broke the Bank of England
" by engaging in questionable Forex hedging and betting against the sterling pound – which made him more than $1 billion in one day in September of 1992. Some have speculated that Soros has benefited from insider trading information when making investments. In 2002, a Paris court found Soros guilty of using inside information to profit from a 1988 takeover deal for bank
Societe Generale
.
________
Source:
Katehon
Soros proposed Clinton to govern unrest in Albania
Saturday, 13 August, 2016 - 12:30
Found within the WikiLeaks' Hillary Clinton email archive is an email with the subject 'Unrest in Albania,' in which Soros makes clear to Clinton that "two things need to be done urgently." He then directs the Secretary of State to "bring the full weight of the international community to bear on Prime Minister Berisha" and "appoint a senior European official as mediator."
Revealing the influence he wields within the corridors of power, Soros then provides Secretary of State Clinton with three names from which to choose. Unsurprisingly, Clinton acquiesced and chose one of the officials recommended by Soros — Miroslav Lajcak.
Sali Berisha is an Albanian cardiologist and politician who served as the second President of Albania from 1992 to 1997 and Prime Minister from 2005 to 2013. He was also the leader of the Democratic Party of Albania twice, from 1991 to 1992 and then again from 1997 to 2013. To date, Berisha is the longest-serving democratically-elected leader and the only President of Albania elected to a second term.
Miroslav Lajčák is a Slovak diplomat and currently the Minister of Foreign Affairs of Slovakia. He is also serving as Deputy Prime Minister. Until the fall of communism in Czechoslovakia he was a member of Communist Party. Lajčák is a law graduate from the Comenius University in Bratislava. He holds a Ph.D. in international relations from the State Institute of International Relations in Moscow and is also a graduate of the

George C. Marshall European Center for Security Studies
[AD note: This think tank comes under the auspices of the U.S. Department of Defense.]
in Garmisch-Partenkirchen, Germany.
________
Source:
Katehon
May 30, 2016
George Soros wants to destroy Macedonia, its name, language and identity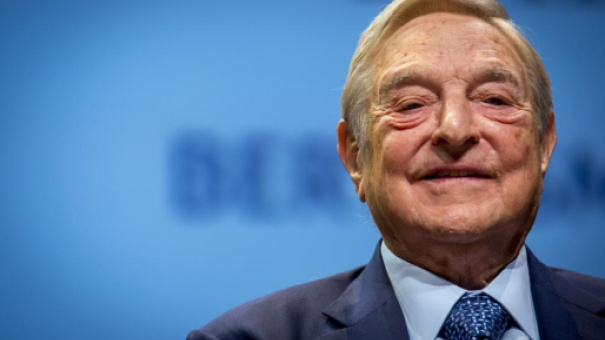 by Slobodan Tomic
On June 5th, Macedonia will face early parliamentary elections. For the last two years, western powers including the EU and USA have attempted to oust the current Macedonian leadership. Slobodan Tomic, a Macedonian publicist and independent analyst, shared with us his assessment of the political situation in the country ahead of the upcoming elections:
On Macedonian multivector foreign policy
Actually, I'd like to say that Macedonians are friendly partners for all four sides of the compass. We can't be enemies with America, and we can't be enemies with Russia, China or any other. Macedonia opens the gates for all four corners of the world. Normally, the principle form of our cooperation is to remain neutral between two sides. Macedonia has built a very good relationship with the Americans, since we have signed a technical agreement for cooperation etc, but we also have very good cooperation with Russia, especially now.
Our PM, Nikola Gruevski, completely reformed the mentality of the Republic of Macedonia. In Macedonia, we have only one problem: with the so-called NGO's, or non-governmental "society". These are evil organizations, since according to public opinion, George Soros is the real person who wants to destroy our country, its name, language, and identity.
Macedonia wants to continue to cooperate with all the world. We are also very happy to have good relations with Russia. Mr. Gruevski has opened more doors for the BRICS group.
On the anti-governmental protests
These protests were of course organized by Soros. I stick with this statement, because we as the electorate have paid for a so-called color revolution. Such color revolutions started, as you know, in North Africa. We know what then happened in Egypt, Algeria, Morocco, and Libya. This organization, this so-called self-proclaimed "open society organization", organized the protests in Macedonia. They have followed the same scenario as in Ukraine.
As I said before, Nikola Gruevski was a very smart prime minister, since he decided to resign after so many messages from the so-called international community which warned: "If you want to join NATO, you have to change the name of your country." Greece is the reason why this has been forced upon us. In the meanwhile, we can be an EU member, and Macedonia has done a lot in the past 10 years, reaching a high position as the country of Macedonia.
But I'd like to say that Mr. Gruevski is a very smart politician - pragmatic and a workaholic. There are no other politicians in the region like him. He brought many factories to Macedonia as well as investments and many new companies to the point that unemployment fell to 12% - this is huge progress.
Why does the EU want to topple Gruevski's government?
Macedonia is a real example of a multicultural country which is not a member of the EU. All countries can learn real multiculturalism and tolerance from us. Mr. Gruevski had the courage to invite the BRICS group to Macedonia, and this is the reason why our so-called western "friends" are so nervous. So they began a new strategy for Macedonia. In real politics, there is no place for emotions. In politics, there are only interests.
Macedonia occupies a crucial position, and it has been a gateway to stability and prosperity. Macedonia in fact saved the EU from much of the situation with refugees. Although it is a small European country, Macedonia is thus very important.
But what have we received in return? Europe always entices with a stick and a carrot. We got the stick, not the carrot, every time. This is the reason why I would never trust the EU.
The opposition in Macedonia is a puppet controlled by the West. They are criminals, who say "catch the criminals!". This is an anachronistic situation. And these people are ready to change the name of the country itself - this is what is happening in Macedonia.
***
The Macedonian people possess something very interesting. The authorities made a genetic research with the IGENEA institute of Switzerland. According to this genetic investigation conducted on the origins of European nations, 30 % of Macedonians in the present day Republic of Macedonia are indigenous people who trace their roots back to the ancient Macedonians. But this is a very big problem for those people who have problems with so-called "peaceful" countries and want to destroy Macedonia - have it vanish from the geopolitical map. They want to kill our identity, our name. They, the US, Germany, France, etc., want to experiment with us.
I'd like to point out that the Macedonian people have now completely woken up. We are not the same Macedonians who were pressured by Tito's regime. We are Macedonians, and not any other nation. Big countries like to manipulate Greece and force it against Macedonia in the media.
But we are Macedonians and we will never change our name or our identity. We are born Macedonians, and we can die as Macedonians. We don't fancy "enjoying" the so-called international community or alliances like NATO. Tomorrow, the EU could explode like a balloon, and NATO could too. This is not a peaceful alliance - it organizes bombings, etc. Yet Macedonia is a peaceful country, and we are nobody's enemies, not even the NATO countries'.
_______
Further reading:
Kerry to Introduce George Soros at Private State Dept. Event
How Soros-Funded NGOs Disrupt Real Democracy Around Russia's Borders
Bad Investment: The Philanthropy of George Soros and the Arab-Israeli Conflict - How Soros-funded Groups Increase Tensions in a Troubled Region
by Alexander H. Joffe and Professor Gerald M. Steinberg
RT Broadcaster Website Suffers Massive Two-Hour DDoS Attack
The money behind the transgender movemen - Billionaire George Soros opens his wallet to transform America