Source:
Aangirfan
MARCO RUBIO IS GAY?
Tuesday, 2 February 2016
Marco Rubio (center), reportedly
Marco Rubio, who has four children and claims to be a devout Christian, alternately attends Catholic and Baptist churches in south Florida.
Wayne Madsen reports on "Marco Rubio's coke house, gayish dance troupe, and foam parties"
According to Wayne Madsen:
1.
Florida Senator Marco Rubio was, as a high school and college student, known to be gay.
2.
This was both in South Beach in Miami, a popular gay area, and at college in Gainesville, Florida.
3.
In 1989, Rubio sang and danced in a South Miami High School troupe.
The troupe was based on the Chippendales and had a gay theme.
4.
In 1990, Rubio was arrested with his friend Angel Barrios and another male in Miami's Alice Wainwright Park, a park known as a pickup place for gays.
5.
Rubio grew up in Florida and Las Vegas.
His Cuban parents, who left Cuba in 1956, were Havana casino workers employed by the Jewish mob boss Meyer Lansky.
In Las Vegas, Rubio's father, Mario Rubio Reina, worked as a bartender in Las Vegas casinos while his mother, Oriales Rubio, was a hotel maid.
6.
Mario flunked out of Tarkeo College in Missouri.
7.
In Miami, Mario went around with his old high school friend Angel Barrios.
Angel Barrios started an on-line gay porn business called Flava Works, which live-streams sexual acts between black and Latino men.
8.
Rubio attended Santa Fe Community College in Gainesville.
9.
Rubio, Barrios, and two other students shared a townhouse in Gainesville.
The house was known locally as a "coke house," where cocaine was readily available.
The house had very frequent gay parties.
10.
In 1987, Rubio's brother-in-law, Orlando Cicilia, was busted by the Drug Enforcement Administration (DEA) for his role as a key figure in a cocaine smuggling ring in south Florida.
11.
After graduating from the University of Florida, Rubio attended the University of Miami Law School.
Rubio says that, in 1995, he attended a "foam party" in South Beach.
Foam parties in South Beach were almost exclusively gay events held at gay clubs.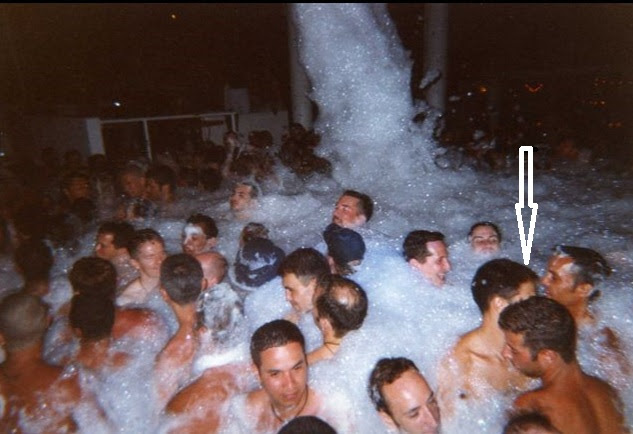 On the front cover of The Economist's
The World in 2016
, we see
Hillary Clinton
, but no sign of
Donald Trump
or any other weird US presidential contender.
However, The Economist thinks that the Republicans might choose
Marco Rubio
as their candidate and that the Republicans might just win if the US economy goes badly wrong before the US presidential election.
According to Marco Rubio, God has a plan for the universe, and this plan includes the 9/11 terror attacks and Paris terror attacks.
Rubio mad
So, according to Rubio, the CIA and its friends work for God.
Marco Rubio (above) appears to be a mind-controlled agent of Israel and the CIA.
From age 8 to age 11, Marco Rubio attended
The Church of Jesus Christ of Latter-day Saints
(the Mormons) while living in Las Vegas, [
5
] where his father worked as a bartender at Sam's Town Hotel and his mother a housekeeper at the
Imperial Palace Hotel and Casino
. [
6
]
Mohamed Atta frequented Las Vegas, a city linked to the CIA and its friends.
While studying law, Rubio (above) interned for U.S. Representative
Ileana Ros-Lehtinen
. [
12
]
Ros-Lehtinen's maternal grandparents were Sephardic Jews, originally from the Turkish Ottoman Empire, who had been active in Cuba's Jewish community. [
8
]
The 2016 US Presidential Race | Crimes of Empire
Comments:
Have more on Rubio: "Porndormgate" -- Rubio panders to evangelicals in Iowa while gay prostitution scandal from his past blows wide open, by Wayne Madsen
http://www.waynemadsenreport.com/articles/20160127
Cheers, Hausfrauleaks
http://aanirfan.blogspot.com/2016/02/marco-rubio-is-gay.html
Did Marco Rubio Engage With Gay Prostitutes in 1990?
WAYNE MADSEN EXPOSES MARCO RUBIO'S GAY PAST
Marco Rubio Wears Heels and Attended Gay Foam Party - Trump 2016
Matzo Man
Meyer Lansky Interview 1971
Related:
BREAKING! Khazarian Mafia stole Iowa – Marco Rubio owned by Lansky mob via gay orgies, cocaine
Neocon Closet Case "Ted" Cruz - Israel-Firster Born in Calgary, Canada - Not Eligible to Become U.S. President - Whiny, Pudgy, Queeny, Bitchy - Goldman Sachs Wife Heidi Nelson Is Rafael Edward Cruz's Beard - Yet Another CIA–Mossad Queer-Engineered Asset - Rafael Cruz, Jr.: Bad for Straights, Gays, Everyone Except Zionist Warmongers - Drop Out Now, Teddy Boy: You're Finished.
Zionist Crimes