Plum

City – (

AbelDanger.net

).

United States Marine Field McConnell has linked Hillary Clinton's procurement of Bowman radios for a Secretary of State Surveillance and Target Acquisition service, to Blue Mountain, the South Wales security company hired to protect late U.S. Ambassador to Libya, Christopher Stevens, who, in spite of Clinton's best pre-concussion efforts, fell victim to rape and a live-broadcast snuff-film murder in a Benghazi hospital on 9/11/2012.

Feeling laconic, McConnell invites Clinton's apologists to check the log of her Secretary of State calls to Blue Mountain prior to an alleged BOWMAN-in-the-middle attack on the late ambassador's' rectum and the DNA results after said rectum was tested by morticians deployed through Obama's snuff-film crews in DMORT Region V.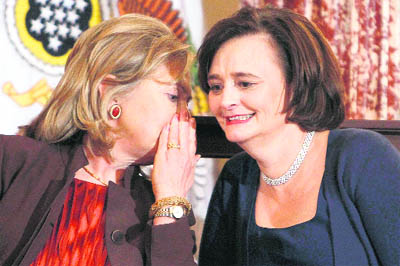 "U.S. Secretary of State Hillary Rodham Clinton (L) and former British first lady Cherie Blair talk during an event at the State Department on October 7, 2010 in Washington, DC. The event was held to announce the mWomen initative that is is designed to bring the benefits of mobile phones

[and BOWMAN-in-the-middle attacks]

to women in developing markets worldwide"
"OUR USA AMBASSADOR CHRIS STEVENS RAPED ON WAY2 HOSPITAL?!"
"Secretary Clinton Delivers Remarks on the Deaths of American Personnel"
Hillary Clinton - Tranfer Ceremony U.S. Consulate in Benghazi Victims
Happy New Year to a post-concussion Clinton; don't forget you can run but you cannot hide.
More to follow
PresidentialField Mandate
Abel Danger Blog