United States Marine Field McConnell has linked Rupert Murdoch's (PPE 1952) allegedly-authorized bribery of Bettina Jordan Barber – a strategy officer at the MoD in London with responsibility for Afghanistan – to his procurement of Entrust public root keys for the development of "Wag the Dog" stories such as the PACT* rape of U.S. Ambassador to Libya, the late Christopher Stevens, in a Benghazi hospital on 9/11 2012.
PACT* = Paperclip Alibi Crimewatch Timeline is the RICO M.O. of 9/11 2001 and 2012!
Feeling laconic, McConnell invites the Jim'll Fix It experts on U.S. counterintelligence after Kristine Marcy emasculated the FBI and its CSI experts (Donald Sachtleben), to take their fingers from where DOJ Pride suns don't shine and check bribes paid by Murdoch's Paperclip associates to procure MoD root keys for VideoGuard-encrypted Wag the Dog snuff-film projects between 2004 and 2012 (cf. Madeleine McCann, OBL doppelganger, Al-Hilli Family, Dark Knight Rises).
See:
Abel Danger Mischief Makers - Mistress of the Revels - 'Man-In-The-Middle' Attacks
Prequel:
Marine Links Obama's PACT with the Pedophile Devil to Murdoch's Entrust Key to Benghazi
"Ex News of the World Brooks and Coulson to face more charges"
"Benghazi Timeline - Fox News Special Report with Bret Baier - October 10, 2012"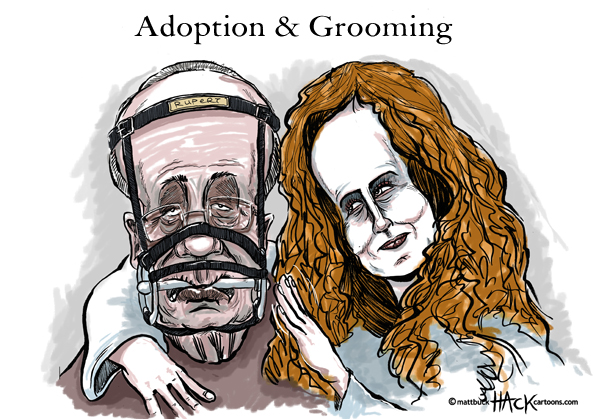 "The Guardian MoD official suspended following Operation Elveden charge Bettina Jordan-Barber suspended from MoD duties after charge for allegedly receiving payments from the Sun for information
Lisa O'Carroll
guardian.co.uk, Tuesday 20 November 2012 19.13 GMT
The Ministry of Defence has confirmed the suspension of Bettina Jordan-Barber. Photograph: Graham Turner for the Guardian
The Ministry of Defence official who was charged on Tuesday for allegedly received £100,000 from the Sun over seven years for information that led to
[sale of Entrust root key for Wag the Dog]
stories, has been suspended.
Bettina Jordan-Barber has been suspended from her current duties at the MoD, a spokesman confirmed, but she remains employed as a civil servant there.
Jordan-Barber currently occupies a role as deputy team leader and strategy officer at the MoD and has also held a position, since 2010, as an Afghanistan visits strategy officer, according to her LinkedIn profile.
The 39-year-old is a mother of two, according to her local paper the Wiltshire Gazette and Herald and lives in Bulkington, near Devizes.
The Crown Prosecution Service has charged her along with former News International chief executive Rebekah Brooks and the Sun's veteran chief reporter John Kay with "a conspiracy to commit misconduct in public office between 1 January 2004 and 31 January 2012".
"This conspiracy relates to information allegedly provided by Bettina Jordan-Barber for payment which formed the basis of a series of news stories published by the Sun. It is alleged that approximately £100,000 was paid to Bettina Jordan-Barber between 2004 and 2011," the CPS said.
The CPS said it took the decision to charge Jordan-Barber along with Kay and Brooks after careful consideration of the guidelines pertaining to the public interest in cases affecting the media.
• To contact the MediaGuardian news desk email editor@mediaguardian.co.uk or phone 020 3353 3857. For all other inquiries please call the main Guardian switchboard on 020 3353 2000. If you are writing a comment for publication, please mark clearly "for publication".
• To get the latest media news to your desktop or mobile, follow MediaGuardian on Twitter and Facebook."
"The New Zeaaland Herald
Tabloid paid MoD worker, says CPS
5:30 AM Thursday Nov 22, 2012
Sun paid defence officer almost $200,000 over eight years, prosecutors claim.
A senior civil servant at Britain's Ministry of Defence was on the payroll of the Sun for almost a decade, prosecutors claimed, as they charged the former editor of Britain's best-selling newspaper, Rebekah Brooks, and its chief reporter with plotting to bribe public officials.
Bettina Jordan Barber, a strategy officer at the MoD in London with responsibility for Afghanistan, allegedly passed information for stories to Rupert Murdoch's redtop tabloid between 2004 and 2012 in return for £100,000 ($196,000).
The Crown Prosecution Service revealed that charges of conspiracy to commit misconduct were being laid against Brooks, the Sun's long-standing chief reporter John Kay and Barber, following a police inquiry into newspaper payments to public officials.
They are said to have committed the offence during an eight-year period between January 1, 2004, and January 31, 2012.
The former News of the World editor Andy Coulson and royal editor Clive Goodman were charged separately with two counts of conspiracy to commit misconduct over an alleged plot to obtain contact details for the royal family.
Scotland Yard has been carrying out three sprawling inquiries into illegal newsgathering at News International's headquarters in Wapping, east London, prompted by alleged phone hacking at the News of the World, which Murdoch shut last July.
Operation Weeting into phone hacking, Tuleta into computer hacking and other breaches of privacy and Elveden into corruption of public officials have made 97 arrests, of journalists, police officers, civil servants, prison and tax officials and members of the armed forces.
As a result, 20 people have now been charged.
Brooks, who edited the Sun between 2003 and 2009, and five others, including her husband Charlie Brooks, have been accused of conspiracy to pervert the course of justice and conspiracy to hack phones. - Independent"
More to follow.
Presidential Mandate
Abel Danger