Quad Rotor at Sokol – Russell Williams – Old Gallows Rape
Fast and Furious Holder pointed to Magnotta ghoul show with a head on a plate
In the last chapter, Royal Dump had told Chips by way of PS Mr. Banister would participate as planned. Chips looks over his shoulder. He sees the Russian has a JABS-like device with a view seen by a remote Quad Rotor deployed at Sokol; his doppelganger is to be in the KZ of some Region 6 detail men. The Russian speaks softly; 'Chips, I am locked onto the shooter, awaiting your call'. Chips orders 'Smoke 'em, comrade'. A trio of poisoned fleschettes is fired into skull, neck and back of the shooter as he prepared to kill the doppelganger. Chips pauses as a speedboat goes by pulling three water skiers. He responds laconically regarding Judge Rosemary M. Collyer. He notes her linkage to Civil Case 1:08-1600 (RMC)'s Fraud Upon the Court. Agent 80W offers to stand watch as Chips and Atomic Betty crawl into the spacious trunk of the 31 STUD for an in depth security probe. Chips turns on a blue light. An incoming tells him Glamourboy's trip to see Queenie breath was not a conjugal visit to fill in for Phartingham as Harper is more Raymond Burr-esque in his preference in Occupy Uranus. Chips is interrupted by a pair of locked ankles and the elimination of the blue light. Agent Atomic Betty demonstrates a toxic mix of flexibility and willingness. She asks if Chips can detect how she prefers to be serviced given the VF-21 F11 Tiger with the tiger shark set of teeth. 31 STUD Agent 80W sees a black helicopter approaching with Blackwater crossed out and replaced with XE; this was crossed out and replaced with Academi. Chips sees crime scene spoliation of Russell Williams' last 4 rapes spreading from Old Gallows Road to Ottawa to Windsor Castle . Czech-Mate Agent CandyGirl sends Priority to Chips in Operations ROYAL DUMP, BONER and Czech-Mate; 'Rooster Cogburn has just posted 4th stop in the Luka Magnotta ghoul show; leaves only head on the plate to be discovered'. Umbrellaman authorizes Switchblade Cross and MacCheese to target Old Gallows and protect 'leaker'. Eric Holder is notified that Gabrielle Giffords was shot in the head and Judge John Roll was killed for being pro-gun and his plan to blow Fast and Furious cover at the time, exposing Holder, Clinton, Marcy and the Old Gallows Ghouls. Chips and Atomic Betty are prevented from reading entire message as a loud staccato sound indicates 'extremis'. Blue Light is extinguished. Atomic Betty whispers 'I'm nervous, rebrief me on Operation BONER'. Chips complies with side-oiler, pile driver. A PT13 aircraft flies overhead with a love message from Scott Walker and Field McConnell to Barry Soetoro and the Ghouls on Old Gallows Road . In the back of the 31 STUD, a breast-heaving Agent from Gatineau calls 'switch' and presents a doggy-style preference as doggy feces get briefed in Ottawa, Hollywood, Windsor and Old Gallows Road.
Chips took another look over his shoulder and he saw that the Russian had a playstation or JABS like device and was intently looking at the view seen by the remote Quad Rotor deployed at Sokol where Chips' doppelganger was to be in the KZ of some FEMA Region 6 detail men. Revelers in Sokol Hall didn't detect the silent Quad Rotor as it approached the designated shooter from dead astern as the triggerman had the dobbelganger squarely in this sight. The Russian in the middle of the back seat spoke softly "Chips, I am locked onto the shooter, awaiting your call".
"Smoke 'em, comrade" at which time Tacticus pressed 'launch' and a trio of poisoned fleschettes were fired into the skull, neck and back of the shooter prepared to kill the doppelganger. Though the shots were silenced, an accomplice saw the Quad Rotor so Agent Dwarf 'darkened ship' as the Czech Festival went on unabated was the Polka Band including a Mollie continued dancing in the dark.
The Czech Festival in Ennis was still well underway as the 36 Stud took the lead of the 40 Stud as Chips, Tacticus, CandyGirl and Aunt Maudie looked forward to a debriefing 123 miles due south of Tyler, Texas near a big lake and Camp Whispering Pines.
Chips detected the faint hint of clover just as a pair of blown tires from a semi rig just ahead seem to bear down on the pair of Wisconsin Studs not to be confused with Governor Scott Walker of Wisconsin who on 5 June, 2012, sent the Obama camp a harbinger of things to come on or before 6 November, 2012. The utter defeat of union goons and Kenyan quadroons of 5 June was immediately followed by marching orders issued by QE2 on 6 June to the gay PM of Canada that the failure of his Project HatFIELD and Project Evenhanded were now making her survival after the ITCCS event of 15 September, 2012 less likely. In a rare 'cyber move' the monarch had ordered to staid but never laid economist to bleach all Canada webhosts at DoT Canada of evidence that would prove that Project HatFIELD had failed to arrest Russell THE CANADIAN STALLION Williams prior to the murders of Marie Frances Comeau and Jessica Lloyd.
When Stephen Harper returned to the great white north on 6 June he immediately instructed his underlings to 'bleach Canada' during a 12 June 12 day where certain official Canadian would be 'unavailable'. Unavailable as in the CCTV camera's at Judge Alban Garon's condominium and the tube station where Gareth Williams walked into a death trap and unavailable like the security cameras surrounding Wedge One of the Pentagon on the morning that Baril-Bouchard-Williams-Findlay-Shelton prosecuted the TOPOFF attempt of the United States of America as authorized by John Profumo and his candy-ass Royal Seal; kiss my royal rectum Profumo. History may show that the Abel Danger imputed delay of 41 minutes in the case of Captain Jason Dahl's Flight 93 may have prevented the culmination of the plans made by jerkoffs including Lord Timothy Garden, Prince Phartingham, and Bush One to end the American sovereignty once and for all and cause America to be 'domino one' in the New World Odor, see also 4th Reich of the gay goosesteppers, capeche? However, Garden is planted, Phartingham is in hospital, and Shrub One is impersonating Robert T. Ironside and relies on his little boy Jeb to consort with the Chinese 'head of state', capeche? Advantage Abel Danger.
Agent Chips saw the sign indicating that Conroe, Texas was the next large town so, aware that the Huntsville Prison was behind them, he knew that the two Wisconsin Studs, both with US Marine Veteran Vanity Plates ( 36 STUD and WW2KIA ) would be able to slip into Whispering Pines unhampered by Texas Rangers, US Marshals or those pesky perverts deployed by USDOJ-Pride, see photo of Pastel Police prior to Operation ROYAL DUMP. Chips was aware that in Conroe there exists 32 same sex male households and 23 same sex female households. His thoughts along those lines led him to #24 Sussex and 1600 Pennsyvania where QE2 had established 'no sex households' so that she could maintain her iron-grip on 2 of her 17 colonies. At least she thought she could before Jun Lin's head arrived, on a plate, at a Crown Office involved in the Project HatFIELD, Project Evenhanded, ITCCS, and Russell Williams cover-ups that had been uncovered by Abel Danger's Global Private Intel network which, according to Ninja-1 radio in Montreal now has 17,943 agents worldwide deployed against evil. As the lead Studebaker signaled a left hand turn into the public access to Lake Conroe, Chips saw a 1917 Grey Dort with Saskatchewan Plates 27 STUD parked with a pair of orange colored folding lawn chairs facing the lake. Only one was occupied. As 36 STUD and WW2KIA were parked behind the Grey Dort, Chips excused himself and went to sit in the open seat facing the water. As he sat down next to Mr. Ed, his informant, selected F4 and 419 on a ghetto blaster and selected volume level 7 so their conversation would remain private.
"Agent Chips, regarding your comment to Dr. Isaksen of the Nicollet Clinic on 31 January, 2007 in response to his question is there something you cannot get out of your head I think you did the right thing in explaining to ALPA but not the 'crony doctor' that the illegal modifications that were done to 96 Boeings and 2 Raytheon A-3 Sky Warriors were indicative of an ongoing treason. Our office in Houston has tracked Rob Plunkett, Suzanne Kalfus, James Johnson and Peter Janhunen's complicity that resulted in the removal of Randy Babbitt….."
As he paused as a speedboat went by pulling three water skiers Chips responded in a laconic manner but in no way litigious if you get my drift regarding Judge Rosemary M. Collyer and her linkage to Civil Case 1:08-1600 (RMC)'s Fraud Upon the Court as well as her close ties to Georgetown where that secular university pressured her to give Wells Fargo a big gift in return for a quid pro quo, see also Goldman Sachs bankers + Warren Buffett + Offutt AFB + 9/11 Treason.
"Ed, I thought so, I will put 'grey dort' into Chapter 17 so you can see where, in time, this second email came to me, the info in first email is already in Chapter 17 and my email box is receiving lots of timely dirt on Harper-QE2-Obama-Cameron and their sinking ship of fools. I believe you are aware of the 7 June, 2012 meeting in China that relates to the arrival of Jun Lin's head in the jurisdiction of David Johnston?"
China Vitae - VIP Appearances & Travel
"The FIELD Office in Houston has a Marine vet over there monitoring the SCO and we have a lady in Ottawa monitoring #24 Sussex in wake of Glamourboy's scolding by the Jubilee Goosestepper bearded to Prince Phartingham. The relentless pursuit of evil by your Abel Danger Agents has resulted in a change of heart in City of London, Brussels and (redacted). Your proposal to end Cabal rule and establish new financial system has born fruit as the alternative you have suggested relating to New Gallows for Old Gallows Road traitors has Courtney Banks, Jay M. Cohen, Deb Brown and 'dragon lady' pissing like little girls, see also Al Gore. If you can meet me at MIDNITE ON THE WATER I will have our Canadian envoy brief you over a Cuba Libre composed of Barrelita Rum and Royal Crown Cola. Can you commit to the Midnight Rendezvous on the water to uncover the BANK JOB IN THE CITY?"
Before Chips could answer he saw the same speed boat zoom past pulling three skiers as a large house boat sauntered past temporarily blocking the view. Chips noticed when the speed boat emerged from the other end it was pulling two skiers but there was no ski rope and handle raising a rooster tail as their should be if the skier fell as opposed being cut loose. Chips pressed #311 on his Clipper Squirt Gun and Agent 80W emerged from the trunk of the 40 STUD wearing a pastel lavender bikini bottom, pink swim fins, a mask with snorkel, and a spear gun with a 5 round magazine of 12 gauge Dragon's Breath cartridge tips. Chips motioned an azimuth and flashed 5 four times. 80W finished her Shiner Bock, placed the empty at the shoreline and threw a nickel on the grass prior to swimming 20 feet from shore and allowing her weight belt to keep all of her submerged except her snorkel top disguised as a Loon, a disguise so real that a baby Loon approached the snorkel thinking its father had returned from far, far away.
Agent Chips and Mr. Ed continued sitting on the two folding lawn chairs as they awaited the engagement of Agent 80W and the submerged threat revealed by a FESTUS backdoor of JABS as heading towards their position ashore on the JABS-FESTUS monitor that Mr. Ed had projected on to the right hand door of his 1917 Grey Dort rag-top which was not gray. Mr. Ed pointed to the flashing green circles in front of and behind the submerged rent-a-seal like the rent-a-seals who were involved in the Obama-Osama fantasy and the 2005 Clinton LaFarge Rathke assault on New Orleans now being reviewed in Bobby Jingdal's New Orleans office according to BLBG attorneys singing like canaries to Chips in exchange for Abel Danger's assistance in the California/SEC lawsuit against Wells Fargo over MERS. Mr. Ed saw the surprised look on Chips' face and the 'classic sandwich' involving two underwater Dangerettes, one fluent in Spanish and English, one fluent in French and Arabic, both fluent in intelligence probes and 4 hour Astroglide enduros intended to enhance domestic tranquility of the United States of America now that Scott Walker and Agent Chips of Wisconsin have the attention of Phartingham's Beard and Myles Romney progeny. Seeing that the both green concentric circles now contained the target, Mr. Ed whispered into Chips' good ear "Atomic Betty has the stern while 80W gives him a face shot". Moments later there were four underwater detonations as the 'rent-a-seal' took four spears which demonstrates why being a Blackwater/XE/Academi rental mercenary pays 8 fold what a similar service member working in Panetta's 'foreign controlled' DoD pays. Panhead Panetta will probably wonder who linked him to Clipper telephones and the Pat Tillman trio. Anyone studying the evil done by Thunder Thighs and Dragon Lady will see Panhead a frequent consort. As a pair of turkey vultures landed on the floating carcass of the 'rent-a-seal', Agents 80W and Atomic Betty came out of the water, removed their masks and fins, and summonsed Agent Chips to a 1931 Studebaker model 54 which included a huge trunk fitted as a mobile OB-gyn lab, perhaps in Latin that would be labia.
As Chips observed the bouncing breast of the two Abel Danger 'swimmers' he thought about how fighter pilots always throw a nickel on the grass to honor departed fighter pilots, i.e. 'throw a nickel on the grass, save a fighter pilot's ass.' Chips smiled in recalling that during Viet Nam his favored fighter, the Chance Vought F8 Crusader was known both as the 'last of the gunfighter's' and 'the meanest mutha in the valley'. Chips wondered if anyone would throw a nickel in the grass for GHWB or Prince Phartingham when the two NWO pilot wannabes would join Lord Timothy Garden in Operation Dead.
Jeb Bush speaks about aging father, George H.W. Bush
Agent 80W offered to stand watch as Chips and Atomic Betty crawled into the spacious trunk of the 31 STUD for an in depth security probe. Chips turned on a blue light to get his bearings and saw the bottom of the Pastel Mint Green bikini bottom draped over a case box of Barrelita Rum next to a six pack of Royal Crown Cola and a freshly sliced lime.
WITNESSES - Wellstone:
They Killed Him (chapter 3) The Wellstone plane (41 Bravo Echo) flew over Rod Allen's home, nearly hitting the trees. This was 5 miles from Eveleth-Virginia Airport.There were no running lights, no strobeing lights, nothing. The turboprop was dropping, flying sideways-crabbed to the right. The eye-witness thought nobody was in control of the plane. And in the nearby woods, Mike Zupetz was scouting out a good spot for deer hunting season coming up next week when he heard rapidly repeating shots from a high-powered weapon. Then he heard the crash. The FBI told witness Mike Zupetz to keep quiet. His testimony subsequently didn't appear in the NTSB Report. Rod Allen's testimony about popping noise coming, perhaps, from the plane, was ignored. Pilot Gary Ulman expected to see black smoke from a plane crash, not the grey-white smoke that he saw. Ulman and Fayal Township fire chief Shykes got a close look at the melted fuselage. UPS pilot Ray Juntunen testifies that the weather was no problem a little earlier when he landed a Queen Air, sister-craft to the Wellstone King Air A-100.
Snowshoe Documentary Films: for social and economic justice
"Chips, I gain the sense that Glamourboy's trip to see Queenie breath was not a conjugal visit to fill in for Phartingham as Harper is more Raymond Burr-esque in his preference for sex partners, see also Occupy Uranus, capeche? Agent Styx had heard from Agent RPM that the rent-a-seal was to silence your voice as the anti Nesara goons in Congress/Senate/DoD had Paul Wellstone's voice silenced in the operation you infiltrated with Chief Pilot Ed Davidson (Northwest-Minneapolis) and the NTSB at Hibbing in 2002. I have an important written message for you sent by Agent RPM who noted that while Mr. Ed may move his lips, he doesn't speak very often. I have your written message in my waterproof cargo bay, if you know where my head's at."
Chips poured here a quadruple Barrelita Cuba Libre while he went to probe for her 'Camilla-like' message if you are aware of Prince Charles suggestion of what he'd like to come back as in a second life. Google it, a mere fiction writer working alone cannot make this stuff up regardless of what Peter Janhunen of ALPA and Judge Rosemary M. Collyer or Georgetown stipulate two while their fingers are crossed and the USDOJ-Pride dogs of war (Sotomayo, Kagan, Clinton, Napolitano, Marcy) are backing them down. Chips immediately went down south, not to be confused with the Obama-Rahm-Harper 'down-low' attested to by Larry Sinclair and in response to which Donald Young said the quadroon's fellatio was to 'die for'. Chips ungloved digits felt the silver cigar holder, see also Eric Holder's handler, i.e. Thomas Smolich, and retrieved the cigar container from 'the oven' so to speak, if you are picking up what I'm laying down or if you have heard the term 'she has a bun in the oven'.
Chips took the screw off tip from the cigar holder, and withdrew the written message from an Abel Danger informant from deep inside the bowels of Harper's Queer Canadian DoT.
OPP Agent Nightingale JABS-FESTUS message to Agent Chips, FYEO: Three copies of the 82 page report delivered to Queenie Breath were delivered to Foulkes-Johnston-Bentley today via the network involving Canada Department of Transport who will be bleaching their hard drives for 24 hours 12 June 12 per orders of the Queen. Also attached was an advance draft of Chapter 17 including these salient points: Field McConnell has linked a severed head sent by Luka Magnotta through Canada Post, to Canadian Governor General David Johnston's alleged development of Nortel JABS* to spoliate crime scenes. (JABS = Nortel Joint Automated Booking Station to move actors in and out of crime scenes) McConnell claims his sister Kristine Marcy's National Security Associates World Wide used Nortel JABS technology to monitor Magnotta crime scenes and ordered Chinese student Jun Lin's severed head mailed to a man-in-the-middle recipient to keep Johnston quiet, it is understood the head was to be on a plate. Presidential Field suggests that Canadian sniffer dogs should track recent movements of Magnotta, Mr. Lin's severed head and the NSAWW users of Governor General's Nortel JABS. The arrest of Eric Holder will precede the August construction of NEW GALLOWS for traitors at 1950 Old Gallows Road where the meaning of ACE IN THE HOLE will trump Courtney Bank's HOLE IN ONE, capeche? Nightingale. PS Operation BONER now fully prepared as Scott Walker became the first CHINK in OBAMAS ARMOUR, not to be confused with Armand Hammer who rang the bell of Al Gore on intel harvested via the JASPAR backdoor of JABS.
Was Air France Captain With a Woman When Flight 447 Was in Trouble?
"Chips, did you realize that the AF 447 crash involved a woman traveling along on a 'social trip' with the French Captain. When you were a wide body Captain in a DC10-30 or A330-300 do you think a svelte French speaking blonde with an hour glass figure and a moisture index of 103% could cause you to loose control of your jet if she got you into the CRF?"
"Not unless she could hook her ankles behind her neck like someone I once witnessed doing just that in a hotel lounge in Nashville in 1988…"
Chips was interrupted by a pair of locked ankles and the elimination of the blue light as Agent Atomic Betty demonstrated a toxic mix of flexibility and willingness, drenched in anticipation. Chips thought back to his days involved with removing instruments from the F11 Tiger at Quantico once flown by a Marine major as Blue Angel 2. Of course the Blue Angels traded their Tigers for Phantoms in 1969 which seemed somehow related to posturing in the back of the 1931 Studebaker as Agent Atomic Betty played some cover music on her ghetto blaster so her moans would not give Agent 80W, standing guard with a speargun and a confetti-less Taser, the right idea as Agent Atomic Betty proved her fluency in Operation BONER ( Barak Obama Nears Early Removal ) as both the Goosestepping Geriatric and GHWB pull the plug on Soros' dummy.
"Chips, regarding the VF-21 F11 Tiger with a tiger shark set of teeth, see if you can detect how I prefer to be serviced for the first 30 minutes."
Chips had his head in the game and enjoyed the instruction while up in the shotgun seat of the 31 STUD Agent 80W saw a black helicopter approaching and saw that Blackwater had been crossed out and replaced with XE which was crossed out and replaced with Academi.
What boneheads, she thought, as she knew the Academy Ace pumping Atomic Betty for clues would also be aware of the advancing threat due to FESTUS cling-ons in the JABS comm gear that ties Darrell Foulke's brother Reg to Courtney Banks, Kristine Marcy, Mary Elizabeth Harriman and Jane Pellerin in the crime scene spoliation of the Russell Williams last 4 rapes, and was now spreading from Old Gallows Road to Ottawa to Windsor Castle to Kimble Castle Colorado and the next logical place would be 'fag central', that portion of Los Angeles were homosexual Jews thought they could help plant a Mormon or a Muslim in the POTUS 46 slot. Apparently they were collectively unaware of the Scott Walker-Field McConnell sanction.
The horrific slaying and dismemberment of Chinese student Jun Lin bears enough similarities to a Hollywood murder earlier this year that Los Angeles and Montreal police have begun exploring possible connections as directed by Abel Danger.
It's believed that Montreal murder suspect Luka Rocco Magnotta, a publicity-hungry part-time porn actor, may have lived in Los Angeles for a period but it's unclear whether he was in Southern California earlier this year. In late January, the remains of Hervey Medellin, 66, a retired airline worker, who lived near the Hollywood hillside, were found by two dog walkers not to be confused with Abel Danger Walkers including Walker, Texas Ranger and Walker, Wisconsin Governor.
As Chips complied with Atomic Betty's presentation, his Clipper Squirt Gun vibrated signaling an incoming FLASH message with JASPAR certificate authority. While he kept his nose in her business, he passed her the Clipper so she could take the message while the pleasure index and the 'hint of clover' index became…..elevated. Immediately after passing the baton, as it were, Atomic Betty pulled him out by the ears and showed him the FLASH warning from Rooster Cogburn in Global.
"Chips, Dwarf and Otto Pilot see a JABS attack from the other side of the lake, ETA STUD FARM 35 seconds, black Academi Chopper, operated out of Ellington. Arm up."
Agent Chips excused himself from the tongue lashing of the hour glass figured blonde fluent in French, Arabic and fellatio and cracked the trunk open an inch to see, and target, the incoming UNKNOWN RIDER. He also saw Agent 80W focused on the black spot just above the lake surface and so he readied 311# on his Clipper but took a 'ladies first' approach to neutralizing the target. Chips' JASPAR started the auto countdown to 'kill' and in the 3-2-1-kill countdown the hostile Chopper was taken down by Agent 80W as she detonated 2100 pounds of C4 that had been piggybacked by an Abel Danger Agent in the 147th Fighter Wing but not the same guy who'd flown the WB57F into Fargo in 1987 as NASA tested the technology that caused successive failures of Ukraine and USSR wheat crops as the WB57F caused the rain to fall before reaching USSR ag FIELDs.
Seeing the target destroyed by 80W he lowered the trunk deck lid and asked Atomic Betty, "No, where was I".
She grabbed him by the ears and ensured he stuck his nose in her business causing them both to miss an incoming Priority Clipper from Agent CandyGirl who was flying the 1942 Interstate that had hawked the black chopper.
Czech-Mate Agent CandyGirl Priority Clipper to players in Operations ROYAL DUMP, BONER and Czech-Mate:
Rooster Cogburn has just posted the 4th stop in the Luka Magnotta ghoul show that leaves only the head on the plate to be discovered: http://news.nationalpost.com/2012/06/07/police-investigating-luka-rocco-magnotta-link-to-hollywood-dismemberment-killing/ Umbrellaman now authorizes Switchblade Cross and MacCheese to target Old Gallows traitors while protecting the 'leaker'. Eric Holder is now notified that after the Arizona shooting when Gabrielle Giffords was shot in the head and Judge John Roll was killed for being pro- gun and his plan to blow Fast and Furious cover at the time, exposing Holder, Clinton, Marcy, Foulkes and the Old Gallows Ghouls. A journalist / photographer who claimed the whole shooting was a staged affair and actors were used to portray the event, see also JABS-Pentagon Lawn. He interviewed a lot of people. He alleges the 10 yr old little girl was not killed. A lot of the what the major media broadcast did not add up with the facts, as per normal, see also Rebekah Wade and Rupert the Dick. When the Canadian media releases the address to which the HEAD ON THE PLATE was delivered, Project HatFIELD, Project Evenhanded and the caper planned for 20 June, 2012, will seem like 'childs-play'. Moles in Crown Offices in Ottawa, Washington and……."

Chips and Atomic Betty were prevented from reading the entire message as a loud staccato sound indicated 'extremis' and the Blue Light was extinguished. Atomic Betty whispered, "I'm nervous, please rebrief me on Operation BONER".
As Chips complied with 'side-oiler, pile driver, a PT13 aircraft flew overhead with a love message from Scott Walker and Field McConnell to Barry Soetoro, Queenie Breath and the Ghouls on Old Gallows Road. Meanwhile, in the back of the 31 STUD, a 44D breast heaving Agent from Gatineau called 'switch' and presented a doggy-style presentation as a lot of doggy faces were being briefed in Ottawa, Hollywood, Windsor and on Old Gallows Road. The meeting at Kimble Castle on 21 June may well cause the baby to be thrown out with the BATH water and in this case BATH does not refer to a BATH ALIGNMENT where a F4 Phantom's guidance/INS was given a Basic Alignment True Heading, capeche?
White House rejects special counsel for national security leaks
As Agent Chips continued throwing the bone to Atomic Betty, he missed an incoming Immediate Clipper/Festus because his Clipper Squirt Gun was masking all but FLASH messages during a security probe where US sovereignty and Atomic Betty's libido were the two main concerns.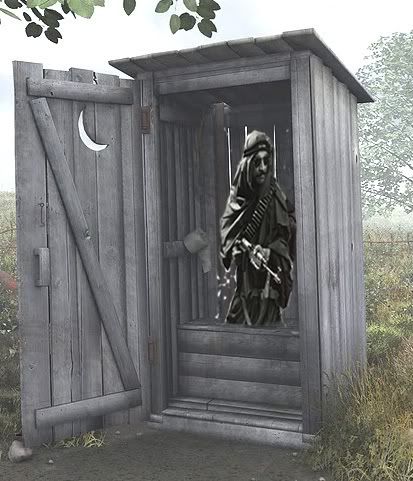 Global Hammer Rooster Cogburn Immediate Clipper to all player in Operations BONER, CZECH-MATE and ROYAL DUMP, copy Umbrellaman, Name Dropper and Corazon Dulce: The widely known translation of 'Al Qaeda', sometimes spelled 'Al Qaida', is 'The Base'. However, this is not the only translation of the ominous term. There is another. "Ana raicha Al Qaeda" is colloquial for "I'm going to the toilet"see also ROYAL DUMP or GRAN MAL POOP. A very common and widespread use of the word "Al-Qaeda" in different Arab countries in the public language is for the toilet bowl. This name comes from the Arabic verb "Qa'ada" which mean "to sit", pertinently, on the "Toilet Bowl". In most Arabs homes there are two kinds of toilets: "Al-Qaeda" also called the "Hamam Franji" or foreign toilet, and "Hamam Arabi" or "Arab toilet" which is a hole in the ground. Lest we forget it, the potty used by small children is called "Ma Qa'adia" or "Little Qaeda". Why would a terrorist group call itself 'The Toilet'? Did Osama really choose to name his terror network after potty humor? The CIA [British intelligence more than likely especially since Robin Cook is dead] came up with the name and are still laughing about it to this day. However, as the Geriatric Goosestepper undoubtedly shared with Canada's Queer One, Abel Danger's linkage of Robin Cook, Dr. David Kelly, Cameron, Obama, Zuma, Christopher Shale and Thatcher to the missing Pelindaba Nukes has caused Chicago's Scuttlegate, the New Madrid HAARP Quake and 2 other 'small fry' false flags to be aborted. The Queen is concerned that those meeting at Kimble Castle Colorado on 21 June will not help protect the London Olympics from a Pelidaba Pickle; advantage Abel Danger. "The truth is, there is no Islamic army or terrorist group called Al Qaida. And any informed intelligence officer knows this. But there is a propaganda campaign to make the public believe in the presence of an identified entity representing the 'devil' only in order to drive the TV watcher to accept a unified international leadership for a war against terrorism. The country behind this propaganda is the US." ~ Former British Foreign Secretary Robin Cook, Rooster Cogburn, Abel Danger Global Hammer, secure compound at Molly's On Main, Plum City.

While the message went into queue as Chips prosecuted 'doggy style, pile driver', the insatiable lady with the quintessential Abel Danger Knockers (44D) called 'switch..rabbit ears' as she impersonated a TV antenna. In the distance a dog barked, perhaps a Portuguese Water Dog owned by a Quadroon wrongfully entrusted by City of London to pull the plug on America. City of London and Wells Fargo were about to join Feinstein and McCain in wondering who the Old Gallows leaker is and how that relates to Halifax, Trinity, Foulkes, Baril, Williams, Bouchard, Findley, Jane Pellerin, Reg Foulkes, David Johnston, Johns, Crowley and the OPP Project HatFIELD failures. America has an Ace in the Hole, a little secret the traitors don't know. He is somewhere in the Heartland, say between Canton, Texas and Plum City, Wisconsin. The City of London may now officially line up and kiss my ass. More later, off to Virginia to build some new gallows.